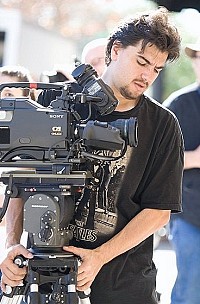 filming The Tenant
First of all, why don't you introduce yourself to those of us who don't already know you?
My name is Jose Zambrano Cassella. I am a Cinematographer and Director. Been working in this insane biz since 1988. My website: http://www.josecassella.com
Your most recent, not-yet-released film The Sacred - what can you tell us about that movie?
Its a pretty chilling story about a group of college students who venture into a patch of land deep in a central Florida river, a cursed patch of land, and then the crap hits the fan.
Film-website: www.sacredmovie.com
How did this project come into being in the first place?
I had just finished a wonderful but extremely exhausting shoot for a film called The Tenant (www.thetenantthemovie.com), I was out of it, and then I was approached by Shannon Reed, a filmmaker friend. She wanted to do something, she had the energy, it was contagious. I was beat. But somehow she convinced me. It was a low budget but I said "what the hell!?"
I wanted to make sure the script was compact, we could not afford much, I also wanted to make sure the project didn't end up looking like porn, it had to be visually impressive for me to be involved.
Sharon almost broke her neck on a watersport incident weeks before shooting, so she had a neck brace for the duration of the shoot!, THAT made me more convinced that this project had to be special.
The film has a Native American theme to it. Did that at all influence your directorial style, and how would you describe the style of the film as such?
It didn't influence anything really. As a director one has to translate what is on the page into visuals. That is the job. So I just applied my style and used natural tones and colors for the whole thing. The backdrop for the characters is the woods, lakes, etc, so it had to look natural. But it was a challenge to make every shot count with such a fast shoot and no money.
How far will the film go concerning violence and gore?
There is some violence and gore, but not much, I went old school. So many horror films nowadays just show so much. I didn't have too much to play with so that helped (lol). But I just decided to let the ambience, the sacred land be a character, let sounds and atmosphere scare people instead of showing too much gore.
A few words about your cast and crew?
Remember these names. Jessica Blackmore, David Mackey, Ryan Marsico, Lauren Brown and Jordan Wall. All in LA now and all taking off. We got so lucky with these talents, they made the film. I've never been so fortunate, it was painless and easy to cast.
The crew worked so hard, we shot during one of the worst tropical storms to go through Florida, and we got rained on almost everyday. I credit this wonderful crew of film students and young professionals for making this film look and feel like a million bucks.
When and where will the film (tentatively) be released?
Not to brag, but we are getting tons of offers for distribution, but one has to be careful because most of the time the primary goal of sales agents and distributors for indie films is to royally SCREW the filmmaker. So we are looking at offers and hopefully the film will be out mid year 2010.
Not too long ago, you released Second Coming - a few words about that one?
It was hell, I love the film and for the budget it is a miracle, it looks great, has great moments, but the producers really did a number on me and prevented me from getting the things I needed to get the film I wanted. Didn't even have a final cut. So I had to detach myself. Its the old cliché... why hire a Director if you won't allow him to release the film he directed the way he intended?
BUT, all in all, it was well received and actually selling very well. I am proud because many could not do what we did there for the budget we had.
Plus I met the best producers and friends in my life there. So it was good... it just took a long time for me to realize this.
Your debut feature as a director was Delivery - what can you tell us about that one?
Delivery, the classic, the masterpiece (lol). I am actually very proud of this film. Shot it for like $4,500, and it looks better than most of the $100,000 plus B-movies out there.
Had a shitty camera, a water hose (for the rain), and 2 work lights - that's it. And it came out, Warner Brothers loved it and released it! It was so funny seeing this microscopic flick start out with the WB logo :)
Met the wonderful and supremely talented Tara Cardinal [Tara Cardinal interview - click here] there (she is amazing) and Matt Nelson, the lead actor, who gave it his all. I love the film and the ones that don't can blow me. That is all I have to say on that.:)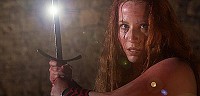 Tara Cardinal in
Speaking of ... Delivery was also the feature debut of actress Tara Cardinal, on whose upcoming Legend of the Red Reaper you lent a hand. Could you talk about that project for a bit?
Tara, who is one of the most talented and driven people I have ever met, contacted me about this project. I thought Legend of the Red Reaper was already finished years before. It broke my heart to find out it wasn't and became intrigued. That and the fact that I had not seen Tara in years, really wanted to connect with her again.
She sent me the rough cut of her film and I saw there was quality there, I saw so much effort and time put into a project, it was such a good story, it should not be wasted, something like this should not just fade away. So I asked her if I could help, she agreed and pre-production on a new Legend of the Red Reaper shoot began.
We shot in December 2009, it was a double treat for me, shooting some cool visuals for such a fantastic concept and meeting Tara again after all these years. She had not changed, she was as beautiful as the last time I saw her :)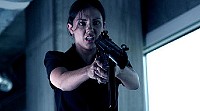 Wish
Besides features, you have also directed two shorts, Mina and Wish. What can you tell us about those?
I have been a DP for so long, sometimes I feel like telling stories that intrigue me. These shorts were intriguing so I made them. Mina will be a full feature film in the future, pre-production has been happening on that one for a while. Both shorts did great at festivals, specially artsy fartsy festivals that don't care about horror or fantasy, I was amazed by that.
Any other films you have directed I have forgotten to mention?
You can ask many DPs and they will tell you they were really the directors of this and that film they DP'd. When I work with a Director that thinks directing is just dealing with actors I have to then actually "direct" the film by blocking and exploring the scene. It's a thin line... so If I follow this theory of mine I've directed a lot of films!
Any future projects you'd like to talk about
My next film is called Projections, then it will be the feature film version of Mina. After that a documentary on Tinnitus for Nova or Discovery.
And after that a long vacation on a deserted island, so I don't lose my mind.
Your films were pretty much all shot in Florida. What can you tell us about the Florida film-scene?
It's alive and very healthy. Lots of great people and talent. I lived in LA for 9 years in the past, when I got to Florida people thought LA people were genetically superior or something, they kiss your ass so much. But the reality is that there are crew and actors in Florida that are as good as the ones in NY and LA.
Your films so far all have a horror theme to it. Is horror a genre especially dear to you?
Not really, it just has been that way, Horror has been cheaper to shoot :) - my next film is a paranormal thriller so I won't do horror for a while.
You also usually write or co-write your films. What are your main inspirations as a writer?
I don't like to think of myself as a writer, I have too much respect for writers, especially the ones from the golden era of Hollywood.
I write as if I was watching the film - and it always end up being 120 pages (lol).
But I get inspired by the great films of yesterday, not the latest crapfest that came out last week. I strongly believe filmmakers HAVE to watch older films, go for the good stuff.
How would you describe your approach to directing?
To be right in the scene, I HATE directors who sit on their ass and yell "action". I rather be right behind the camera, lighting it, shooting it, creating it. THAT is what a director is to me.
That is why a director has to know Cinematography and Editing. I strongly believe this. Why let someone else do this, its YOUR film.
You broke into the film business as a cinematographer though. A few words about the cinematographer Jose Zambrano Cassella?
I have had a charmed life as a Cinematographer, it was tough, it was hard at first, but I've been lucky, I've shot for the best and the worst, I've done it all and in every format. My dream of shooting images came true. I love to shoot, if I could not do it I would die, its that important to me. Its like breathing, like eating, it is life.
I am the kind of DP that will fight, till the end to get a great image on film or HD, regardless of budget. I am passionate about this.
You have literally made hundreds of commercials. How does making those differ from making feature films?
There is more money in commercials per day versus a feature. I can use the newer toys, lenses, cameras. On a feature we have to be more conservative.
On commercials I get to practice, I train, in features I put this experience to use.
Besides all that, you are also a musician and have released 2 CDs so far. What can you tell us about your music, what does it sound like and where is it available from?
I have always loved music, it is my FIRST love. I play drums, bass and keyboards. I went to a Motley Crue concert 5 years ago and it was so loud, it left me with the nightmare of Tinnitus (constant 24/7 ringing in the ears). Thank god it slowly faded away, but for some it goes on and on, forever.
I started making music during the times with Tinnitus, it was a way to escape. Its ambience music with emphasis on beats and musical textures. I could play Metal because it would be louder (lol).
I made a PSA about Tinnitus, to spread awareness, it was seen by at least 10 million people, it hit a nerve. I re-posted it recently, it is here:
http://www.youtube.com/watch?v=OE5fIoveLoM
Also, for the ones for this problem, visit the American Tinnitus Association www.ata.org
My CDs are available here:
http://www.cdbaby.com/Artist/KS
Your website, MySpace, Facebook, whatever else?
http://www.vimeo.com/5612020
http://www.vimeo.com/4511934
http://www.vimeo.com/4512036
http://www.josecassella.com
http://www.sacredmovie.com
http://www.facebook.com/SacredMovie
http://www.myspace.com/josecassella
http://www.minathemovie.com
http://www.myspace.com/secondcomingthemovie
http://www.myspace.com/deliverythemovie
http://www.myspace.com/kokiband
Your main influences as a director?
Stanley Kubrick, Brian DePalma, John Carpenter, David Lean, David Cronenberg, David Lynch, George Miller.

Feeling lucky ?
Want to
search
any of my partnershops yourself
for more, better results ?

The links below
will take you
just there!!!

Find Jose Zambrano Cassella
at the amazons ...

amazon.com

amazon.co.uk

amazon.de
Looking for imports ?
Find Jose Zambrano Cassella here ...
Something naughty ?
(Must be over 18 to go there !)

Your favourite movies?
So many, here is the list from my facebook:
- Don't Look Now (1973)
- The Wicker Man (1973)
- The Omen (1976)
- Animal House (1978)
- The Other (1973)
- Cria Cuervos (1973)
- Where the Eagles Dare (1968)
- Pat Garrett and Billy the Kid (1973)
- Frankenstein and the Monster from Hell (1973)
- Ben Hur
- Star Wars
- Jaws
- Rebecca (1948)
- Treasure of the Sierra Madre, Key Largo and The Maltese Falcon
- Invasion of the Body Snatchers (1978)
- The Fly (1987)
- Planet of the Apes (1972)
- Brainstorm and Creepshow (1983)
- Doctor Zhivago, Bridge over River Kwai and Lawrence of Arabia
- Escape from New York (1978)
- Magic (1978)
- Dog Day Afternoon, Serpico, Twelve Angry Men
- Theater of Blood (1973)
- Village of the Damned (1960)
- The Conversation, Tron, Poltergeist
- An American Werewolf in London (1980)
- Xanadu (1980)
- The Great Escape, The Guns of Navarone
- The Dirty Dozen (hell yeah!)
- The Wild Bunch
- The Thing (1983)
- Maniac (1980)
- Dawn of the Dead (1978)
Anything from Hitchcock (except Topaz)
... and of course, movies you really deplored?
Saw-series, Transformers-films, Twilight especially. Anything that is made by people who confuse good storytelling with just loud explosions and quick cutting. And in the case of Twilight... for making Vampires gay.
Anything else I have forgotten to ask and you are just dying to mention?
Oh...I hate Raggaeton music and most of today's Hip Hop. I am passionate to point out that Lil Wayne, Daddy Yankee, T.I. and Ludacris are supremely untalented. (lol)
Thanks for the interview!
Thanks!!!