Your new film Siphoned - in a few words, what is it about, and what can you tell us about your character?
The film's promo poster says it all - "You can't chase a dream with an empty tank"! I love that quote. The film is basically about two struggling actors in LA who happen to be roommates. They're trying to figure out a way to make some cash while they are waiting for some acting money to come in, and Kurt (Josh Mitchell [Josh Mitchell interview - click here]) has the bright idea to siphon gas from cars to earn some dough so that they can fill their own tank to make it to auditions during pilot season. This decision leads to some disastrous consequences - I don't want to give away too much, but everything spirals out of control. My character is Chris - he is a little more introspective and contemplative, but he's definitely not the smartest guy in the bunch. He's easily influenced by Kurt, even though he knows what they are doing is a bad idea. He's very naive, and sort of dumb in a way. I think he's one of those guys who is book smart, but not necessarily street smart. Or any other kind of smart, for that matter. It was a really fun character to play.
How did you get involved with the project in the first place?
I submitted for the project on Actors Access and Josh [Josh Mitchell interview - click here] asked me to come do a reading and meet with him. I originally came in to read for the character of ďBrent,Ē which ended up being played by Bruce Kade [Bruce Kade interview - click here]. Itís the scene where Kurt runs into his actor ďbuddyĒ outside and they have a conversation about an upcoming Jon Favreau pilot audition. Josh ended up thinking I would be a better fit for Chris, so we discussed the project, and ran some lines. We share a lot of similar views on the story, the characters, and we really just hit it off. We stayed in touch over e-mail, and a couple days later, he let me know that he wanted to officially offer me the role of Chris!
You of course have to talk about your director and co-star Josh Mitchell for a bit, and what was your collaboration like [Josh Mitchell interview - click here]?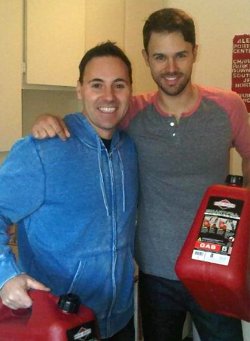 Josh Mitchell, Josh Thrower
Josh has honestly been awesome from the start. He really has a unique vision and outlook on things. Heís very creative, not just with writing and coming up with ideas, but heís a really visual guy. I canít even begin to wonder how much is going on inside his head at once, but somehow he manages to harness it all and make things happen. Working on this film was a 101 on guerilla-style indie filmmaking. First scene, take one. Okay, take two. Got it, letís move on. Heís super fast-paced and knows what he wants. Heís easy to work with, in my opinion, because heís able to really motivate people. I remember it was early in the morning on the first day of shooting, and the crew was a little sluggish since it was early. Josh walks onto set and just starts giving this vivid depiction of the opening scene of me cooking the ramen. With his thick Boston accent coming on full force, he goes into it, ďWater boiling! BOOM! Siphoned! Cut. Josh punching the ramen! Cut! Me walking into the apartment! Cut! Weíre fucked! Cut! BOOM!Ē He had this look in his eyes that just riled everyone up. From that point on, we were off to the races. It was cool too because he was constantly asking me my opinion, and he made me feel like a part of the creative process. Heís willing to take on ideas from others, and works well with people. With Josh, thereís no time to slack and get lazy Ė if youíre not ready to work, heís going to leave you in the dust. Heís thinking multiple shots ahead, which is crazy! Shooting this film was an amazing opportunity that Iím extremely grateful to be a part of. Heís one of the few people in this town who talks a good game, but actually does the things he says and follows through. Most people donít walk the walk, and with Josh, he doesnít just walk the walk Ė heís in a full on sprint.
Since you play a struggling actor in Hollywood in Siphoned - how much of yourself did you find in your character, and how did you approach your character to begin with?
I can relate to a number of things with Chris (except for the siphoning gas part Ė havenít done thatÖyet). For starters, I know what itís like to be waiting for money to come in from a gig I did months prior. I know what itís like to submit myself for projects on my own, multiple times per day. Luckily, Iím able to have my own place, and I donít have to have a roommate any longer, but I know what thatís like. I know what itís like to not book anything for a while and get down about it. To me, Chris seemed like a guy who definitely puts a lot of thought into everything Ė almost like he over-thinks everything. I tend to do that as well, but Iím a lot better about it than I used to be. Even though Chris knows the difference between right and wrong, he still goes along with a stupid idea knowing itís going to probably end badly, but Kurt is pretty persuasive. I wanted Chris to come across as very naÔve, sort of silly, sort of nerdy (but cool nerdy), and still have some level mystery about him. Kurt is the opposite - he makes the brash, reckless decisions and doesn't care who he affects as long as he makes it out on top. I think we played well off of each other, and had this bickering back and forth thing going on that just worked. As a character, I wanted Chris to have a motivation, but maybe he doesnít even know what his own motivation is, which seems to be the worst kind of stupidity - motivation without ambition. Hopefully I was able to convey that on screen! J
What can you tell us about critical and audience reception of Siphoned so far?
So far, itís been better than I ever expected. We had over 1,000 unique views in less than 48 hours of release, which was unbelievable. Iíve received a lot of positive feedback and reviews thus far. Iíve been doing a few interviews like this, and Iím even doing some radio interviews across the country. A lot of people have sent me awesome messages and e-mails giving me their opinions. Many people wanted it to be a feature length, others are asking about sequel already! A lot of people think Josh and I played well off of each other and want to see us in something else again. I know Josh has some great scripts he wants to produce, so if you want to see him and I in another film together, let him know so he can cast me in his next project! I would love to do work with him again.
Let's go back to the beginnings of your career: What got you into acting in the first place, and did you receive any formal education on the subject?
Iíve always loved movies. When I was a kid, I loved big blockbuster films. My mom always loved movies. Her favorites are Jaws and A Nightmare Before Christmas (as well as Everafter, An American President, and a number of other soon-to-be-classicsÖ.*sarcasm*). My dad is really into classic films, so he sort of got me interested in some of the classics (Itís A Wonderful Life, Sunset Blvd, etc.). I never thought I could actually work in film and make a valid living and career out of it. I still donít think itís real sometimes, but every time I work on a project and I can see the end result, itís a magical feeling. I grew up playing sports, and theatre was never the ďcoolĒ thing. It was all about basketball, football, and baseball where I grew up in Colorado. I mainly played basketball and football, and it wasnít until I was in college at CU-Boulder where I realized I might want to express myself through acting. I took classes at the Colorado Springs Fine Arts Center one summer, and loved it. After taking classes there, I had one audition during college, and I memorized this dramatic monologue before going in. I definitely bombed the audition, so I didnít try very hard to find auditions after that. I booked a part off of a headshot in a film called Poopie The Clown or something like that, as a homeless guy, but I bailed last minute because of stage fright. After that, I didnít really pursue it, but I took some theatre classes and after switching my major a million different times, I settled on Film Studies after taking a film history course. I realized I wanted to study film history and critique it Ė so thatís what I did. I took production classes too, and even got accepted into the BFA program, which I subsequently turned down, in favor of graduating on time and moving to Los Angeles. After working in LA for a couple years behind the scenes, I realized that I was more interested in the people in front of the camera, and I really thought, ďHey, I want to do that. I want to play a character and pretend to be someone else. I will make this happen.Ē I phased my way out of production, and started taking classes at The Acting Corps in Burbank. Since that time, I have had a couple of different commercial agents. Iím currently with TAG Models/Pantheon Talent and Tag Turner (my agent) is awesome. Iím currently taking classes at Scott Sedita Studios weekly, and I attend casting workshops all the time (I highly recommend these). As I said before, I go to a lot of plays, watch a lot of movies, and Iím always reading a film-related book. I think itís important to stay well rounded and knowledgeable on the field as a whole.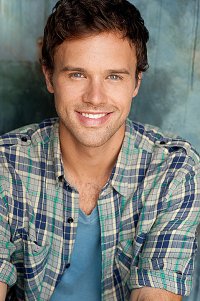 What can you tell us about your filmwork prior to Siphoned?
Siphoned is my first lead role in a short film. Prior to Siphoned, I was in a feature film called Herpes Boy that won Best Comedy at Comic-Con in 2010 and the audience award at the Austin Film Festival. It stars Beth Grant (Donnie Darko) and Octavia Spencer (right before she won her Oscar for Best Supporting Actress in The Help). I played a douche-bag jock who makes viral video mockeries of the main character. You can check it out on iTunes!
Other than that, I havenít had a ton of major film experience (other than student films, and bit roles here and there). Iíve done the ďextraĒ work thing for a bunch of shows. Although it didnít require much acting, I was a season regular on the 5th season of Millionaire Matchmaker on Bravo. I was Pattiís driver. You can catch the episodes on TV quite often, as they air the re-runs constantly. Other than that, most of my experience has been in commercials and print Ė Iím really just getting started! Iíve done a commercial for Funny or Die, Pepsi Next, Vinki (a Korean juice drink), Glamour Kills (a clothing company), and a few others like Pantech and a Sony Ericsson camera spot.
Any future projects you'd like to share?
I was in a music video recently for a David Guetta song Ė it could possibly be the official video for the single, pending his decision, so hopefully that will be available to the masses online soon. Either way, people will get to see it at some point. Things have been off to a great start thus far in 2013, so keep an eye out for me Ė I donít want to give away too much, but stay tuned to my website (www.joshthrower.com) for updates! J
Besides films, you have also done lots of commercials, music videos and the like. How does making these compare to making actual movies?
I love doing commercials. The auditions donít usually require memorizing any sides Ė you usually go in and they have you improv a scene. Those are a lot of fun for me. Print gigs are great too Ė Iíve done a couple of big shoots for major brands like Coca Cola and General Motors. Scripted film and TV is on a whole other level. I love memorizing lines, playing a character, reading scripts, analyzing every little detail Ė Iím a weirdo like that. Iím definitely not a ďmethodĒ actor by any means, but I could see how actors like Daniel Day Lewis fully immerse themselves in a character to prepare. I love the entire filmmaking process Ė I mean, I have a bachelorís degree in film studies. Thatís got to count for something, right?
You've also worked in various other positions in filmmaking besides acting. Do talk about your non-acting gigs for a bit, and which were your favourite jobs, which could you have done without?
Iíve held all kinds of positions, especially out here in Los Angeles. When I first moved out here, I was doing production assistant work. I sent my resume and contact information to every posting I could find on Craigís List (there was still some decent gigs posted on there in 2007!). My first gig was a PA job on a show called On The Lot, which was a Fox reality competition show for filmmakers. I was a PA to the 1st Assistant Director of one of the units. It really opened a lot of doors for me. We got to work on the Universal back lot on my first studio experience. One night, after the crew was gone and I was the last one left in the trailer finishing up the grunt work, I was walking back to my car and I was alone on the back lot. I started walking around and was just mesmerized by the sets. I walked up the steps to the famous Back to the Future clock tower, and I just felt completely at home. At that moment, I knew that I wanted to be in the industry. Itís still one of the coolest memories I have Ė aimlessly wandering the Universal back lot at 2:00 AM. After a period of doing PA work, I got into casting for reality shows and began working with a casting producer. While working for her, I was able to travel and do a lot of amazing things. We did the casting for a show on NBC called Americaís Toughest Jobs. Her and I went on the road during production, and I got to spend three months in Alaska, Texas, and Washington, among other places. I got to step foot on a crab-fishing boat in the Bering Sea, stand in the below-zero air in the Arctic Circle in a little town called Deadhorse, and see firsthand what it takes to maintain and drive a monster truck. It was one of the best gigs I have ever been a part of. After about nine months working for her, we parted ways and I ended up getting a job working at a hotel stocking the mini-bars in the rooms. While doing that job, I was also writing/producing music at the time, and a friend of mine who I met at the hotel also happened to be into the same stuff, so we formed a hip-hop group and began producing, writing, and rapping all of our own stuff (yes, I was a rapper). We started doing shows and performed all over Southern California. Eventually, I got a job at the same hotel as a supervisor in one of the restaurants and did that for a year. After leaving there, I ended up getting that job as a driver for Patti Stanger on Millionaire Matchmaker. After that gig, I worked with another high-profile celebrity as a wardrobe assistant. Now, Iím working a retail store here in LA, which allows me the flexibility to have a full-time acting career and helps pay the bills. Itís amazing and Iím grateful that I can do something other than waiting tables as an actor (not that there is anything wrong with being a waiter or bartending).
Iíve always been the type that is grateful for every opportunity, and I have a hard time turning down any gig. Even in jobs that I didnít have as much as fun at, I still find the positive things in every situation. In high school, I cleaned bathroom and filled water coolers on a golf course. Most people wouldnít want to clean bathrooms, and Iím no exception to that, but I got to drive a golf cart for all 8 hours of my shift Ė what could be better?!
How would you describe yourself as an actor, and what do you draw upon to bring your characters to life?
Iím honestly still trying to figure out myself as an actor, and I think every actorís career is constantly a work in progress. I would ideally like to bring honestly and a sense of humor to the table. I would like to play characters that other people can relate to. I try to draw upon my own experiences when Iím analyzing a script. If my character is in the middle of a break-up, I relate my own experiences to that situation. Itís really fun for me to play roles that are the opposite of what their counterpart would be in my life. Like, if my character is breaking up with their significant other, I try to imagine how girls that broke up with me at one point in my own life would feel and I try to channel that. Does that make sense? Itís fun and kind of twisted in a way to pretend to be the person on the opposite end of the spectrum. One thing Iíve learned about acting, which I think was hammered home while taking classes at The Acting Corps in Burbank a few years back. I had a great instructor named Ben Mathes and he basically taught me that in a scene,ďless is usually more.Ē Basically, if in a scene, your character is angry and it seems like the natural thing to do would be to yell to express your anger, try doing the opposite Ė convey your anger in a quiet, subtle way. It usually has more of an impact. I still have so much to learn, and luckily, Iíve been able to surround myself with some amazing people to learn from.
Actors who inspire you?
There are so many. Honestly, anyone who acts is an inspiration to me, because it is an extremely difficult art. I try and go to a play every week, just so I can watch actors in action. I just saw an amazing version of a play called Benched in North Hollywood. The acting was phenomenal Ė one of the main actors was the guy who played Marla Hoochís dad in A League of Their Own.
As far as classic film actors, William Holden, Jimmy Stewart, Cary Grant, Errol Flynn Ė these guys are all amazing. I think William Holdenís character in Sunset Blvd is a lot like my character in Siphoned in terms of personality and demeanor, as well as choices he makes. Of course, you have to go with Jack Nicholson, Pacino, DeNiro, etc.
As for newer actors, there are so many. I think Giovanni Ribisi is extremely underrated. Bradley Cooper as well (Silver Linings Playbook was phenomenal). I think Ryan Gosling gets better with each movie he does. Leonardo DiCaprio and Jamie Foxx were unreal in Django Unchained. As big as Brad Pitt is, I still think he is somehow underrated, if thatís even possible. I thought Tupac Shakur was an amazing actor, and unfortunately, he didnít get to do very many films before his untimely passing (same goes for Heath Ledger). I think Joaquin Phoenix is great (The Master was ridiculously good). Joseph Gordon-Levitt has been killing it lately. Liam Neeson is so fun to watch in the Taken films. Robert Downey jr is great too Ė he just has this swagger about him that makes you want to be his best friend and hang out with him. Same with Johnny Depp.
Your favourite movies?
My favorite movies are Lost Horizon, Rear Window, The Shawshank Redemption, Beautiful Girls, Casino, Vertigo, Bend of the River (Jimmy Stewart western), The Shining, and so many more. Iím a big fan of Frank Capra films, Hitchcock, Kubrick, Scorcese, all the usual suspects. Iím a fan of the big blockbuster flicks Ė all the Harry Potter movies, Star Wars, Lord of the Rings, anything that is epic and on that grand of a scale. These films are what makes going to the movies fun.
... and of course, films you really deplore?
There is a pretty bad one called Blood Moon that came free with the purchase of the Lucky Number Slevin DVD. I still canít figure out if Blood Moon was meant to be funny or not Ė Iím guessing not. The main character is an Eddie Murphy-Beverly Hills Cop wanna-be, and on top of being a cop, he does magic tricks at inappropriate times on crime scenes (from what I remember). Itís a weird flick, but I actually suggest people go and check it out. I canít really think of any films I deplore Ė I mean, there are movies I wouldnít watch again. Not to cop out on this one, but I donít want to trash anyoneís art Ė if someone wrote a film and went to the great length of shooting it and releasing it Ė there is something to be said about that and Iíd rather praise someoneís creative effort than bash them for what I personally deem to be terrible. One manís trash is another manís treasure. Itís okay to wrap up the interview with a clichť, right?!
Your website, Facebook, whatever else?
www.facebook.com/throwerj (add me on Facebook!)
www.vimeo.com/58756500 (link to Siphoned)
www.wickidpissapublicity.com (Josh Mitchellís site)

Feeling lucky ?
Want to
search
any of my partnershops yourself
for more, better results ?

The links below
will take you
just there!!!

Find Josh Thrower
at the amazons ...

amazon.com

amazon.co.uk

amazon.de
Looking for imports ?
Find Josh Thrower here ...
Something naughty ?
(Must be over 18 to go there !)

Anything else you are dying to mention and I have merely forgotten to ask?
Last words. I want to give a big thank you to my Mom and to my whole family, as well as my friends Iíve grown up with. Without them, I wouldnít be able to follow the dreams I am able to fulfill now. Love you guys!
Also, some of my favorite quotes ever are in Jimmy Stewart films Ė morsels of life lessons, if you will. ďI always have a wonderful time, wherever I am, whoever Iím withĒ is a quote of his from Harvey. ďIn this world you must be oh-so-smart or oh-so-pleasant. Well for years I was smart. I recommend pleasant and you may quote me.Ē That one is from Harvey too. Another one I abide by is ďIf we donít try we donít do, and if we donít do, what are we on this Earth for?Ē, which is from Shenandoah. Go watch some James Maitland Stewart films, and learn a thing or two! If there is something you want to do, go and do it. Every second you spend not pursuing something, there are thousands, if not millions of people, out there already doing the thing you want to be doing. Go for it. Why not?
Thanks for the interview!
Thank you so much for the opportunity to speak with you! To anyone reading this, please do me a huge favor and go watch Siphoned! If you already saw it, watch it again and then share the link! :)