Your new movie Diablo Rojo PTY - in a few words, what is it about?
It's the story of Miguel, a Diablo Rojo type bus driver, who one night after his usual route falls prey to the curse of a witch. That curse will drag Miguel and everyone around him on a bus trip to the depths of Panama.
A very basic question, why revolve your story around a Diablo Rojo bus?
I was born and raised in Barcelona, I started coming to Panama ten years ago, and if something captivated me at all levels, it was this type of bus. Until a few years ago it was the only means of transportation in Panama, since Panama didn't have its own transportation system (the first subway line is only six years old) and these have been the only buses throughout history. They were school buses from the United States that came to Panama second hand. Once here they were cleaned, they tried to repair, and as if possessed by a horror-vacuii, they filled them with paintings, lights and decorations to create true sanctuaries of popular culture and personal tastes of the driver. I think that for the first time in my life, when I met the Diablos Rojos, I was able to see that only place in the world where you can see religious paintings of Saints and Virgins mixed with characters from Conan the Barbarian, along with phrases from the Bible, sexual sayings or jokes, the only place in the world where a realistic painting of Freddy Krueger is combined with the shield of the Futbol Club Barcelona, a Leprechaun drawing in full color, Count Duckula or Bin Laden's face. The social problem with the Diablos Rojos comes, as their name says (Red Devils), because people are afraid of them. When I asked why they were afraid of them, people told me that these buses kill more people than they carry, and that in truth they have a very wild world of their own. Though many drivers come from generations of bus drivers, it has been very common to see drivers without a license, totally drunk or racing with other buses to catch passengers (I have experienced that in first person, hahaha). I honestly could not be that fascinated by this world of the Red Devils without ending up dreaming of seeing one starring in a horror movie.
(Other) sources of inspiration when writing Diablo Rojo PTY?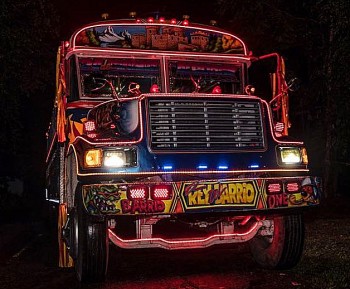 The world of the Red Devils is especially known in Panama City, a fairly small city, and the rest of the country is dominated by agriculture and livestock, which creates a well-separated cultural barrier between both worlds in such a small country. Sol [Sol Moreno interview - click here] was born in David, Chiriquí, and it's there that I met her family and friends. Something very special happens in those places, when several people get together to hang out and talk, it's totally impossible that they do not start to tell horror stories about experiences they have lived through in the first person, being with a grandfather there is like talking with Stephen King. Inside there are a thousand monsters and legends typical of Panama, and they are faithfully believed without the slightest trace of doubt. I spent years listening stories from friends and family from all ages in Chiriquí, there it's very normal, even in education - in Panama there's a book called Panamanian Narrations and Legends that has been handed out for generations in schools, and tells the stories of La Tulivieja, the Cadejo, the elves ... over time I became absolutely a fan of these stories, and in addition to paying attention to dozens of testimonies, I began to acquire books on all this imaginary. Two different worlds were merged within the same country, and in my head everything was taking the form of the story that drives Diablo Rojo PTY's plot.
What can you tell us about Diablo Rojo PTY's approach to horror?
The film in style is closer to the style of some genre movies from the 80s. I'm not saying that it's a tribute, rather it is in the aspect that being terror, it doesn't avoid comedy, action, drama, adventure, or fantasy, as was somewhat more common in genre movies from that decade. I think many people relate it to that decade because nowadays it is much more common to find movies that focus on a single subgenre, creating stories that can be easily classified as horror-comedy, haunted houses in a serious and soporific atmosphere, or plots only prepared to offer jump-scares, and with this film we show to many people a slightly broader approach to all the elements that can coexist together in a horror movie.
I've read somewhere that Diablo Rojo PTY is Panama's first horror movie - is that true even, and what made you choose to make a horror movie to begin with, is that a genre you're particularly fond of?
This is a very interesting question, in fact Panama is a country where there has been no film industry in general, it is something very recent. There have been times where short films have appeared at the times of the video tapes, we have constant contact with the film archive of Panama and I always try to rescue and know everything that exists, and although a few dealt with legends like La Tulivieja, none of them were definitely horror movies. Around 2004 a film was made titled La Noche by Joaquin Carrasquilla, it was the first and only time that someone made a feature film in Panama presenting it as "suspense", although there are divided opinions about whether the genre is horror or a kind of drama with supernatural ending. I like to think that it was a film to consider in some aspect, since there is no other feature film that could have come close to the horror genre.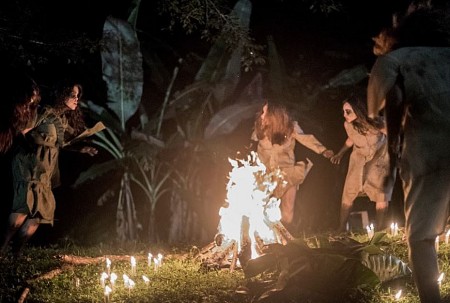 In the world of short films, there are directors who have been making horror shorts for some years, such as Haslam Ortega, and in theater many horror works have been made. Sol Moreno (the director) [Sol Moreno interview - click here] and I, we are horror-fans to the core, we have been dedicated our true passion for almost two decades, we had for about six years a horror shop in Barcelona where we gave talks and special effects workshops, it was called The Monster Museum, and it was also a small horror museum with original monsters from underground movies in Spain. We are also responsible for the festival and magazine HorrorVision, as well the Panama Horror Film Fest, which this year celebrates its fourth edition. This story is born from this chain of sick obsession, all the short films that I have made, and even my previous feature film have been heart and soul for this genre of cinema that I like, my passion for the movies comes very directly from the world of horror.
What were the challenges of bringing Diablo Rojo PTY to the screen from a producer's point of view?
My biggest challenge was working out of my comfort zone. I had been living in Panama for a short time and it was not easy to contact professionals from all areas to put together a technical team. The challenge was this, I was Spanish, but the film was Panamanian, it was Panama, its characters, its legends, and I needed the whole team to be part of that universe, so as a producer it was my responsibility to get a team together in Panama looking for and knowing everything from scratch. All the materials for the different departments had to be obtained without being able to take on the distributors or supply companies I knew in Barcelona, and all of this was the biggest challenge I had to face. Along with me, I was lucky to have a great friend in the role of production manager, Ernesto Mantovani, who luckily helped me a lot in all this process as an experienced Panamanian producer. Like the rest of the human team, the experience was incredible because at all times I felt the support of all the people who worked on the film, despite the challenge, the help from everyone was something that definitely helped me. In general for me the biggest challenge was that initial challenge, added to having to adapt to another system and learn film laws or ways to process any management in a country that I was still beginning to know, it was not a challenge, it was a tremendous madness!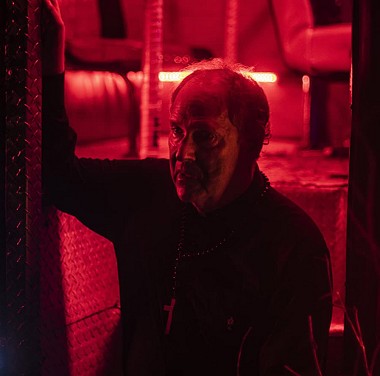 How hands-on or hands-off are you as a producer, and how little or much creative control do you demand during a shoot?
The main objective is that everything is under control, and what never happens is precisely that, that everything is under control. I spent months and even years during the development and pre-production processes of a film, but when shooting arrived, that project has already suffered thousands of unforeseen events and changes, however tight everything is, and those unforeseen events multiply during those weeks of shooting sessions, that's why sometimes as a producer I don't like creative freedom during the filming itself, from my point of view as a producer I see much more those external setbacks than the rest of the team during that phase, and I fear for the integrity of the concept behind the one that goes into production. Anyway, in the end it is inevitable to have to create solutions to unforeseen chains in filming, and in my experience, you must often trust actors or crew and listen to their suggestions, they are less crushed by the stress of setbacks of production and they usually give you great ideas and solutions, so although I am very fearful and think about it three times, I don't like to restrict creative freedom and all opinions.
What can you tell us about Diablo Rojo PTY's cast, and how much of a say did you have regarding casting?
At the first casting call many people signed up, most from the world of theater and some with experience in film and television. We later contacted a much appreciated casting director in Panama, Nyra Soberón, who began with us to better outline the search for the entire cast. For my part, during the script process, I had searched years ago for references from Panamanian actors to put a face to my characters, and in my mind, Father Andrés was an actor named Leo Wiznitzer [Leo Wiznitzer interview - click here], who in other films had already casually interpreted the healing role. Once in Panama we met in person through all this casting process, he helped us and supported us in everything from the first moment, it was thanks to him that we carried out the definitive casting tests where practically the entire cast appeared. Our problem was Miguel, the main character, after so many candidates we did not have the ideal actor. Leo told me about Carlos Carrasco, and of course he was ideal and perfect for the character, but someone of his professional stature seemed totally impossible to me, as he had been in cult cinema and blockbusters in Hollywood his entire career.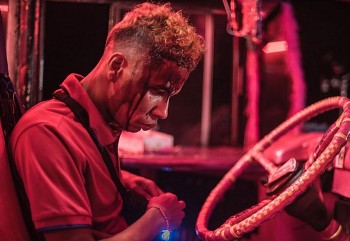 Thanks to Leo, who is a great friend of Carlos Carrasco, I got in touch with Carlos and he turned out to fall in love with the script and the project, so in this way we were fulfilling a dream, while for the first time Carlos Carrasco was in a movie in his own country. Working with the cast was incredible because in one way or another I admire each one of those people a lot, I knew some of them by theater, as is the case of Alejandra Araúz [Alejandra Araúz interview - click here], who had already played the role of Josefina in a different story about the Tulivieja myth, and others I was discovering and today I follow and admire them very much. Personally I'm super happy with the experience and the result.
A few words about the shoot as such, and the on-set atmosphere?
I feel very fortunate to have been part of that family, during filming, despite the environmental conditions and all the setbacks, the atmosphere that was experienced was unforgettable, the professional and human quality of the team I admit was exceptional. The entire film was filmed at night, and in Panama, the atmosphere in jungle places is a real hell, you cannot imagine the amount of strange insects that appear in the middle of the jungle when lights are turned on with the intensity used in a shoot. The bus itself with the lights on was already an attraction for the bugs of the place.
We were filming near the river, and we had a paramedic with antidote for certain snakes with us, as well as another guy who combed the area with a machete for safety, since there were scenes of witches or "rabbit Indians" where they had to go without shoes. All in all, considering that we have a rather macabre sense of humou, we had a great time shooting real rituals in the cemetery and creating fires, although to be honest, I have to admit that we ever suffered paranormal phenomena during filming, and in some scene we were left without security guards because they were suddenly afraid and someone from production crew had to accompany them back home ...
Anything you can tell us about the audience and critical reception of Diablo Rojo PTY?
Curiously, before the premiere of the film, we were already receiving criticism and disqualifications from some very religious sectors of Panama that perhaps were not prepared for a horror film to represent Panama, and less with the word "Devil" and dealing with these issues, but magically after the premiere everything changed. The premiere was held with more than 400 people, and it was on the bill for about two weeks, the reviews were very good from the general audiences, and from there we jumped straight to the official section of several international festivals. The film won several awards and it was really with the acceptance of the horror fan audiences when we could breathe, the reception is being amazing.
Any future projects you'd like to share?
At this moment we are working on the sequel to Diablo Rojo PTY, I prefer not to advance details but if something I can assure you, is that you are not safe on the road, the Red Devil is still alive, if you find him at night ... get out of his way!
How did you get into the filmworld even, and did you receive any formal training on the subject?
I've been passionate about cinema since I can remember, maybe in the 80s I liked everything I could see on video or television, but in the 90s I directed my attention totally towards genre cinema in all its variants and all their times. My passion was more than just horror-fan, if I made short films with friends I was basically guerrilla, and so for years I managed to direct and produce many short films and even a feature film, while my academic knowledge was always directed to graphic design, sound and music, the rest, in the field of production or script, my training is limited to technical script and production books that I have bought over the years and many others that friends who studied these film career have passed on to me, although the most valuable has been what I have learned without remedy when facing a new production.
Going through your filmography one can't help but notice you've worked in quite a number of positions in filmmaking - sowhy is that, which jobs do you enjoy the most, what could you do without?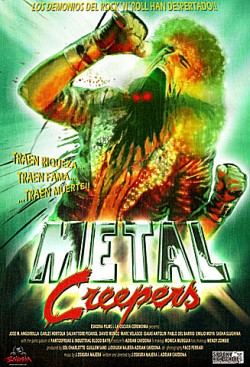 Although I have practically always been a music composer, I have been producing low-budget guerrilla films for years, I'm very close to all the processes involved in each position in production, but I'm definitely very tied to the combination of script and production, it is something that is difficult for me to separate due to the way I work, I feel that there is a certain advantage when the film you want to make is clear, in the script process I understand the film you are looking for and as a producer I respect the writer's work more than anyone else. Direction is something very close to all this vision, but if I have to choose, I prefer to focus on script and production during filming, I especially trust working with Sol [Sol Moreno interview - click here] who knows the intention of the project so clearly and has an artistic vision that allows everyone to bring her technical plan to life on the screen. In post-production as a producer, I have to supervise all the processes, but I admit that I cannot separate myself from the sound part. In short, although where I trust myself the most is in the music for soundtracks, in the case of Diablo Rojo PTY I decided to contact a composer that I greatly admire, Ricardo Risco, assistant director of the Panama Symphony Orchestra, who got exactly the type of music I was looking for, recording the original soundtrack in real time with an orchestra of almost twenty musicians. For me it was a brutal experience to see someone of his level doing that work. In the final version, we ended up inserting two of the songs that I composed for the film while writing the script, it remained as the main theme and although the soundtrack was done by Ricardo Risco, it was a brutal experience to be able to put my bit.
What can you tell us about your filmwork prior to Diablo Rojo PTY, in whatever position?
In fact, my previous works have always been in the low budget field, I went so far as to produce a feature film entitled Megamuerte with just three thousand dollars that premiered at the Sitges Fantasy Film Festival, and ended up touring official sections of international festivals such as the Butt Fest in Holland, Buenos Aires Rojo Sangre in Argentina or Nevermore in North Carolina in the United States. The rest of the works have always been gore shorts, the short film that perhaps received the most awards and international visibility was Metal Creepers, made together with Adrián Cardona from Eskoria Films.
Writers, producers, filmmakers, whoever else who inspire you?
Definitely I am inspired by characters like Wes Craven or John Carpenter, I think it's precisely these characters who serve as a reference when many times it's time to face an industry where historical memory was lost. For me they are the relay that the horror genre took from the way of working of Chaplin or Buster Keaton [Buster Keaton bio - click here], they were actor, stunt performer, screenwriter, producer, director, editor and they even composed the music!! I think with the industrialization of cinema, and getting closer to independent cinema, a stigma has been created towards new filmmakers who perform several important functions in production, and it's something that I find fascinating about multitasking filmmakers, I feel that a very particular movie comes out. On the other hand, I am a big fan of independent artists such as Frank Henenlotter, producers of gore comedy like Troma, the movies that Full Moon or the old Empire released, I think they are all a source of inspiration for me, and all of them are also characters that motivated me to want to produce this type of genre.
Your favourite movies?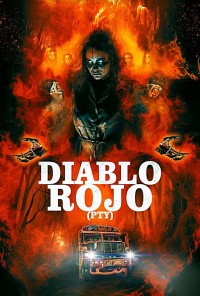 Feeling lucky ?
Want to
search
any of my partnershops yourself
for more, better results ?

The links below
will take you
just there!!!


That would be the most difficult question, as I said I'm a fan of the North American independent producers, but there are so many films of the Mexican cinema that I love, so many Japanese monster movies, so many giallo, so much German gore and so many jewels from the Ramsay family in India… that I decided for a few it is impossible for me. I can admit is that there are movies like Gremlins or Re-Animator that have managed to keep me in love all my life with monsters and slimy fluids, or movies that I rented in the video store as TerrorVision or Little Shop of Horrors, that marked me for life.
... and of course, films you really deplore?
I don't know if there are horror movies that I hate, as far as the genre is concerned I'm a "cinéfago" (a movie eater), there are people who say that I like trash movies, but when I think about trash movies, only Sandra Bullock's romantic comedies comes to mind. Maybe I feel a little disappointed when I see new productions where I detect for miles that there is no horror fan in the production, movies without the slightest cinematographic reference, loaded with CGI and jump-scares, but I can still see them, the same with the found footage, I don't really like that kind of movies, but there are quite a few exceptions such as Cannibal Holocaust.
Your/your movie's website, social media, whatever else?
I leave you a link so you can listen to the wonderful original music of the film: https://diablorojosoundtrack.bandcamp.com/releases
Anything else you're dying to mention and I have merely forgotten to ask?
Be careful, the night is full of monsters... and a bus. It's out there, anything could happen!
Thanks for the interview!