Your new movie End of the Road - in a few words, what is it about?
J- A small-town waitress offers a warm meal to an enigmatic drifter in a rundown diner, unintentionally setting a vicious and calculative werewolf loose on the diner's colorful population.
B- End of the Road is the struggle of a young woman finding her place in the world and a young boy on the verge of puberty. The werewolf transformation is really just a metaphor for the changes we all go through at some point in our lives. In my mind, Ryder's unnaturally swarthy appearance comes from the terrible affliction that has been bestowed upon him, growing up. So really this film is just a "coming of age" piece. *Joe (J. Spencer) gives Blaine a perplexed stare. Blaine finally laughs.
How did the project fall together in the first place?
J- Blaine read my first crack at a feature-length werewolf script (Through the Woods) and the craving for movie making could not be denied. We struggled over many a meeting with how we go about actually making an adequately budgeted feature film. And then it hit us... We needed to make a werewolf short that highlights the type of characterization, pace, thrills, chills and creature design we had in mind for a feature. The werewolf short would be used as a striking calling card to help get the feature-length werewolf movie made.
J., what were your sources of inspiration when writing End of the Road?
J- End of the Road's inspiration came from Grimms' Fairy Tales and other ancient stories that were read to children to make them more cautious and wary of the dark world outside their homes. I'll also say it came from my early years of watching old episodes of The Incredible Hulk on the Sci-Fi Channel.
Is the werewolf genre a genre at all dear to you, and some of your genre favourites?
J- The werewolf genre is extremely dear to me. The main reasoning being the feeling that it hasn't been properly represented for some time. When I was a kid, my mom took me and my brother to a special makeup FX exhibit at a museum. There, on display was the werewolf from An American Werewolf In London. On a monitor nearby, they had the stellar transformation sequence playing on a loop. That, combined with repeated viewings of The Howling (only during the day though, my young mind couldn't watch at night) made me the werewolf lover that I am today.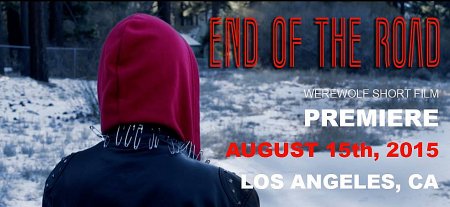 B- Werewolves have always been criminally under-used as a genre. As a child I was terrified of them. They're intrinsically scary. Werewolves evoke an ancient fear of the wild and what could be lurking in the night. There's an untamed-ness to them at I think all little kids can relate to. I would echo Joe (J. Spencer) with his pick, The Howling being my first real exposure to the genre. I watched it at my buddy's place when I was 8 and ended up staying up all night scared out of my mind while everyone else in the house slept.
J., what can you tell us about your directorial approach to your story at hand?
J- The term we threw around in pre-production when referring to the directorial approach was "Grindhouse Coen Brothers". Haha! I worked with the actors on bringing out the more colorful side of their characters, making the performances as big as the audience would allow without going too far into hammy. The goal was to make sure everyone left an impression right away. This is a short after all and we don't have much time to introduce them before the slashing and tearing begins.
Do talk about the special effects in your movie for a bit, and how were they achieved?
B- The special effects in End of the Road were a combination of practical and digital. Joe and I grew up with movies that utilized miniatures, bigatures, matte paintings, real creature suits and make up. While we knew there was going to be a need for compositing and rotoscoping, we stayed very committed to the idea of having physical effects there on set. Practical effects stand the test of time so much better than 3D modeling that, within 5-10 years, already feel dated.
J- Agreed 100%. There's too much of an uncanny valley between real blood on monster flesh and digital blood on monster flesh. Compositing practically-made monster puppets into the shot of Betsy (Tatum Langton) backing up against a counter looks more real because it is real.
You also have to talk about your main location, the diner, and how did you find it, and what was it like filming there?
J- The diner is actually not real! What I mean to say is that we utilized a fantastic stage space (Remmet Studios in Canoga Park, CA) to shoot out the interior of the diner. And the exterior shots of the diner were actually matte paintings by our fantastic poster artist, Blake Armstrong. The decision to create our own diner was based on how much time we had to shoot (only 2 days!) and space. With a stage space, we had the ability to literally remove walls in order to free up space for camera movements, staging, etc. Not to mention the amount of (fake) blood and gore we were throwing around this place. Even with a stage space, we were still shooting down to the wire on this one. As we were filming the final sequence, the remaining crew were working just off camera taking down set dressing, furniture, walls and even floor tiles that had absorbed too much fake blood.
B- He's not joking. *Blaine laughs
Blaine, what were the challenges of making End of the Road from a producer's point of view?
B- From a producing stand point End of the Road was an amazing challenge. There's something to be said for a project with a limited budget and limited time (although they can all feel like that). After the Kickstarter money came in we went through 2 and half months of pre-production, really mapping out everything we were going to need before we stepped foot on set. We had to be very smart and creative with our funds on this film and, to be honest, I feel the constraint only enhanced what ended up on screen. It forced us to really trouble-shoot and come up with new concepts and ways of creatively getting the most out of the content we had in front of us. The production gauntlet, in terms of time, was very intense. We ended up shooting 30+ set-ups a day on the sound stage at Remmet Studios for 2 days and then 1 brutally cold, snowy 6 hour day up in Big Bear. There really wasn't too much room for error when it came to making our days and the cast and crew were a dream to work with. Joe and I thrive off the collaboration that comes with filmmaking and every single person on the crew has an impact on the final product. This film was only possible through the professionalism and passion of the 100+ beautiful souls who worked on this project. Everyone knew what had to be done and kept the lines of communication open in the trenches. It was magical.

What was the collaboration between the two of you like during the shoot - and how did you first meet even?
J- Blaine, myself and several other crew members (Taylor Nida - 1st A.D./ editor, Eliot Murray - co-üroducer, Matt Nemeth- still photographer) have been making movies together since high school in the Pacific Northwest. Years later, we all found ourselves here in lala-land (Hollywood, CA) and started getting together annually to catch up.
B- After about the third or fourth catch-up meeting we looked at each other and asked "why aren't we making things together anymore?!" And then started down this path. Those years and years of young filmmaking together have really given us a short hand with each other that's unique. While Joe is a true artist at his craft and I dabble more in the business / logistics side of things we really do have a pure sense on collaboration when it comes to the final product. He and I bounce back and forth between the two sides quite seamlessly and wear each other's hats when need be.
Do talk about your cast, and why exactly these people?
J- Let's do a rollcall...
Tatum Langton plays Betsy (main character) and was the very last audition we did. We knew right away she was Betsy. She had the right look of terror and pitch-perfect scream.
Daniel Van Thomas portrays Ryder. The host of the werewolf virus. Dan is a perfect combination of genre lover and committed actor. This made his portrayal a deep-cut tragedy.
Travis Coles is (surprise) Travis. The terrible assistant manager at the diner Betsy works at. His very presence puts a smile on your face, making his character a cocktail of love-to-watch-you-live/love-to-watch-you-die.
Elester Latham plays the diner's Cook. The man exudes emotion with such ease we ended up giving him more to do during shooting.
Randall Wulff got the part of Eugene, the gruff trucker. Randall was willing to wrestle a pig for us if we asked (his suggestion).
Lisa Kay Jennings is Lisa (girly girl #1 on a roadtrip) and Sheena Sachdev is Sheena (girly girl #2 on a roadtrip). They've been our friends for years and we knew they would be OK with getting mauled by a werewolf. *Joe laughs
Sharron Shayne portrays Mrs. Taffy (older woman sucking on a milkshake) because she came to the audition with wardrobe options and was always pushing to be more risque.
Charles David Brettner was Mrs. Taffy's sleazy date, Manuel. Charles was an incredibly down to earth guy who was excited to be a part of the process. Not to mention we killed him on his birthday! *Joe laughs
Dmitrious Bistrevsky was the unlucky soul in the Wolf suit. He was one of our first auditions and we knew right away we had our guy. Dmitri's easy-going nature is heavily contrasted with his sheer size. Which is why we knew he would be perfect in a roll that required days and days of claustrophobic makeup testing and fittings and hours on set just being put into the suit.
What can you tell us about the shoot as such, and the on-set atmosphere?
J- Through the bloody, time-consuming gauntlet that was the shoot, the cast and crew were in terrific spirits and I am 100% positive it was because we were making a WEREWOLF movie. Everyone loves werewolves and wants to be a part of something lycanthropic (in our humble opinion).
B- Yeah the atmosphere on set, while being very high energy, was extremely fun and light. Everyone just seemed happy to be there. I mean this isn't saving lives or drawing borders, this is Neverland! It's all make-believe. It felt like play most of the time. I can't really describe the feeling I got when I saw that many people really buckling down for the cause and not afraid to get dirty. My cold calculating producer heart grew 3 sizes that day. *Blaine laughs
The $64-question of course, where can your movie be seen?
End of the Road is available to view and/or download (for free!) at the Unmanned Media website. Check out the werewolf thrills and chills by clicking on the link below!
http://www.unmannedmedia.com/#eotr
Anything you can tell us about audience and critical reception of End of the Road yet?
B- So far the response has been outstanding! We had a packed, rowdy, werewolf-loving house for the premiere at The Downtown Independent in Los Angeles. All of the reviews we've received to date have been positive and people have been doing nothing but whispering oreos (sweet nothings) in our ears. It's quite the experience to see and hear from so many werewolf lovers out there. Joe and I are really enjoying this part of the process.
J- You took the words right out of my mouth, sir.
Any future projects you'd like to share?
B- YES, of course!
J- Over the course of End of the Road's post-production, Eliot Murray (co-producer) and I wrote a feature-length script that is not only a kinetic action movie, it will also be a triumph of the werewolf sub-genre.
B- Bad Meat is our next big venture, and universe willing, our debut "statement" feature-length movie! We're very excited for this film and we're in development mode right now.
J- the story is about an eclectic group of heroes in a ZOMBIE apocalypse who take refuge in an abandoned meat packing plant, only to discover an even more sinister creature exists in its bowels… A WEREWOLF.

Feeling lucky ?
Want to
search
any of my partnershops yourself
for more, better results ?

The links below
will take you
just there!!!

Find End of the Road
at the amazons ...

amazon.com

amazon.co.uk

amazon.de
Looking for imports ?
Find End of the Road here ...
Something naughty ?
(Must be over 18 to go there !)

B- It's World War Z and Underworld meets Mad Max: Fury Road. A frenetic horror-action movie grounded by true emotional weight in a well-defined and terrifying world. Infecting the creature feature with sex, drugs & rock n' roll.
Your/your movie's website, Facebook, whatever else?
http://www.unmannedmedia.com - Unmanned Media's official website. Where you can check out news, announcements, upcoming projects and be able to view all past projects.
https://twitter.com/EndofTheRoadMov - End of the Road's official Twitter page.
https://www.facebook.com/EOTRMovie - End of the Road's official Facebook page.
Anything else you're dying to mention and I have merely forgotten to ask?
J- Just that if you're a fan of werewolf movies or horror in general, check out End of the Road! It's only 11 minutes and available to stream or download here: http://www.unmannedmedia.com/#eotr
Thanks for the interview!