Your film George's Intervention/George: A Zombie Intervention - in a few words, what is it about?
The short answer is that it's about an intervention for a zombie. The little bit longer answer is, George is a zombie and all of his friends have gathered to try and convince George to stop eating people and to enter zombie rehab. But through the course of the night the intervention doesn't go as planned and there are some... eatings.
Where did the initial idea for George's Intervention come from, and what can you tell us about the writing process and about your cowriter Brad Hodson?
Brad and I wanted to start a production company. But as we started the process of writing business proposals, we realized that while we had some solid scripts, we didn't have any product (to show potential investors that we can actually make a movie). So we brainstormed, "What could we do on a super low budget that would be fun and interesting?" Thus, George's Intervention was born. As for the writing of the script, Brad and I divvied up the characters (he wrote for some and I wrote for others). We wrote several scenes separately, emailing drafts back and forth. While some of the bigger scenes we wrote together.
Your approach to zombies differs considerably from the genre conventions set up by George A.Romero. Would you like to elaborate?
We wanted to do something different with the zombie sub-genre. Ever since Night Of The Living Dead, there have been hundreds of micro-budget zombie movies about a group of bickering characters holed up in a house/cabin/bar/school/etc fending off zombies. Why make another one? Why not take the zombie convention and turn it on its ear and do something we hadn't seen a hundred times? Of course, there are some "zombie purists" who are angry that we "pissed all over George A. Romero". But contrary to popular belief, Romero didn't invent the zombie. The first zombie film was White Zombie in 1932.
With George's Intervention being a zombie movie, is that a genre at all dear to you, and your genre favourites?
I do love a good zombie flick. Unfortunately, there are sooooo many bad zombie movies out there. Dredging the bottom of the barrel in the hopes of finding a gem can be - well - a little discouraging to say the least. But my favorite horror genre is supernatural. I love the unexplainable. I think that's why I love the writings of H.P. Lovecraft so much. Supernatural. Unexplainable. And horrifying.
How did the whole intervention-idea get into the zombie-mix, and do you have any personal experiences with interventions?
Either myself or my co-writer Brad had stumbled upon the A&E series Intervention. There was one episode about a guy addicted to gambling that was hilarious. Now, don't get me wrong, there's nothing hilarious about gambling addiction. It's very destructive. But this guy in the episode - his "character" if you will - was so over the top and the things he said were so outrageous, it was ripe for parody. I personally do not have any experience with interventions. So Brad and I had to do some research.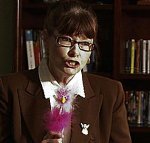 Lynn Lowry
You just have to talk about genre veteran Lynn Lowry and her wonderful performance as klutzy interventionist for a bit?
I love Lynn to pieces! Honestly, I think Lynn should do more comedy. She's VERY funny in the film. She has a fantastic comedic timing. The only other true comedy that she's done was Radley Metzger's Score (1974). Lynn totally understood the character of "Barbara" and brought some great ideas to the table. She's a fantastic actress and approaches all her roles with great professionalism. She needs to work more. So all of you budding filmmakers out there - hire Lynn Lowry! :-)
A few words about the rest of your cast?
We had a great cast. That's one of the things that the reviews have talked about the most - how strong the cast was. I had previously worked with Peter Stickles on Psychosomatika, which I co-wrote. So I always had Peter in mind for "Ben". Michelle Tomlinson [Michelle Tomlinson interview - click here] was an actress I knew prior to George's Intervention, but we had never worked together. It was great to finally get that chance. Brad knew Carlos Larkin, who was quite the scene stealer as the title character, "George". Shannon Neil, Vincent Cusimano and Adam Fox also come to the project via Brad. We actually cast the film BEFORE we wrote it, so Brad and I were writing for people/characters that we already knew. It was a great approach and helped us complete the script very quickly.
How would you describe the directorial approach to your subject, and how easy/hard was it to balance the gory and the funny aspects of the story at hand?
We always approached George's Intervention as a comedy first and a horror film second. There are two types of character comedies: One in which the characters are "in" on the joke (and wink at the camera) and the other in which the characters are completely oblivious to the joke (and take the situations seriously). I chose the latter. I think comedy is funnier when played with a straight face. Take Leslie Nielsen for example. In Airplane, Leslie Nielsen played his character very seriously. And it was hilarious. By the time he made 2001: A Space Travesty his performance WAS a travesty. Self aware. Very silly. And not funny.
How would you describe George's Intervention's brand of humour?
One review called our film "part drawing room farce and part murder mystery". Farces and British humor were major influences on the script. I would also say that the film is more of a word comedy than a slap-stick. It could probably translate very well into a stage play. Hmmm... Now there's an idea. :-)
And for all the gorehounds out there, would you mind to go into the special and gore effects of George's Intervention for a bit?
The gore and makeup effects were created by Tom Devlin of 1313FX. I met Tom years ago when I posted an ad on Craigslist for a makeup artist for a horror trailer that I was shooting. The idea was to shoot a trailer in order to raise money for a feature. Well, that didn't happen. But it did introduce me to Tom. And Eric Dean, who played "Steve" in the film. Eric was in that failed trailer. Tom Devlin has gone on to great things, including season one of SyFy's Face Off.
Let's go back to the beginning of your career: What got you into filmmaking in the first place, and did you receive any formal training on the subject?
I always loved movies. When I was a kid, I used to lock myself in my room for hours and make stop-motion films (using my dad's super8 movie camera) starring my Star Wars action figures. The Empire Strikes Out was one of my greatest epics. I made live action horror adventures starring the neighborhood kids. Then my dad bought a video camera. One of the first. We're talking old school, in which there was a camera and a separate VHS deck that you had to sling over your shoulder. It was bulky. And very heavy. That video camera became my new "toy". All of these super8 and video films helped prepare me for film school. Eventually, I attended California Institute of the Arts and received my Masters in Film Direction.
Before George's Intervention, you directed quite a few shorts. Why don't you talk about those for a bit?
Short films are a great way to cut your teeth. The first short film that I made that got a bit of recognition was Nightshadows. It made the film festival rounds in 2004-2005, winning several awards. It actually still plays. It screened at a couple of film festivals last year! It found it's way onto a horror shorts compilation DVD in France. But never quite made it to DVD here. But it is up on the IMDb - if anyone's interested. :-) http://www.imdb.com/video/wab/vi4060021273/
Since George's Intervention, you have gone back to shorts with Divination, starring once again Lynn Lowry. A few words about that one?
Divination was kind of an afterthought. A happy accident. I already had a trip to Alabama and New Orleans planned. My friend - and producer of Divination - Ryan Blake George said, "Hey, since you're coming, why don't we make a movie?" And so we did. I whipped up a script. Asked Lynn if she was interested in taking a little vacation to Alabama. We flew her out and shot the film in two days. Since then, Divination has screened in over a dozen film festivals (with more screenings in 2012) and won seven awards to date (hopefully many more).
Any future projects you'd like to talk about?
I just finished writing a feature film script that Lynn Lowry commissioned me to write (for her). I have a short film called The Thing From Beyond The Threshold that I'd like to shoot this year. Plus two other feature scripts that I'm currently working on - including a feature version of Divination.
Directors who inspire you?
My favorite directors are actually not horror directors. Joel and Ethan Coen. Steven Soderberg. These are filmmakers who make what they want, regardless of what others (i.e. the studios) want or think. They cross genres and take chances. Most of their risks pay off, but they aren't afraid to fall on their faces. My favorite genre directors are: David Cronenberg. Peter Jackson. Guillermo del Toro. Again, these are filmmakers who take risks and try different things. They have interesting and challenging ideas. And a beautiful visual flair.
Your favourite movies?
Jaws, The Exorcist, The Shining, Carrie, The Thing, Close Encounters of the Third Kind, The Lord of the Rings Trilogy, Pan's Labyrinth, Out of Sight, The Big Lebowski.

Feeling lucky ?
Want to
search
any of my partnershops yourself
for more, better results ?

The links below
will take you
just there!!!

Find J.T. Seaton
at the amazons ...

amazon.com

amazon.co.uk

amazon.de
Looking for imports ?
Find J.T. Seaton here ...
Something naughty ?
(Must be over 18 to go there !)

... and of course, films you really deplore?
Your website, Facebook, whatever else?
http://www.georgesintervention.com
http://www.facebook.com/divinationfilm
Anything else you are dying to mention and I have merely forgotten to ask?
Actually, yes! I co-started and co-run a horror film festival with my friend and business partner, Ryan Blake George - The NEW ORLEANS HORROR FILM FESTIVAL.
Last year was our inaugural year. And it was a huge success. We received almost 300 submissions (pretty damn good for a first year festival). We had many of the filmmakers in attendance and they had a great time (who wouldn't have a great time in New Orleans, on Bourbon Street, on Halloween weekend?). This year we're partnering up with a couple of other great horror film festivals. And 2012 is going to be bigger and better. The NOHFF takes place on October 25th - 28th, 2012. Visit the website at http://neworleanshorrorfilmfestival.com/
Thanks for the interview!