Your new movie The Evil Gene - in a few words, what is it about?
It's about an FBI agent who must figure out what's real and what's not real in the middle of a tense situation at a prison where all of the inmates are natural born killers.
What were your inspirations when writing The Evil Gene?
I got the idea for the script after reading an article about research the University of Connecticut was performing on Sandy Hook killer Adam Lanza's DNA. I was astonished to find that there is a lot of debate among geneticists as to whether there is a genetic marker that predisposes some people to commit violent acts. If you go searching online, you'll find a lot of articles in scientific journals and even a few books on the subject. Although the scientific research is real, the characters and situations in which they find themselves are entirely fictional. However, I still did quite a bit of research to ground the story in a sense of realism.
To what extent could you identify with Griff Krenshaw - or indeed any of the lead characters in The Evil Gene?
As a working mom, I found Dana most relatable, personally. I related to her desire to protect her child and her sense that some of her colleagues may not see all her talents and abilities because they just see her as a wife or mother.
Do talk about your movie's approach to horror for a bit!
We spent quite a bit of time designing background and offscreen sound for the film. If you think about it, sound is literally half of what you experience when you watch a film, and sometimes a disturbing sound can get to you emotionally even before you see a bloody visual. We tried to take advantage of terrifying or horrific sounds wherever we could, even if we weren't going to get any gore, just to set a mood of fear and impending violence.
The Evil Gene is mostly confined to your main location, a windowless correctional facility - so what kind of a challenge was it to keep things interesting with rather limited interior sets?
The key to it all working is the number of sublocations and moving around among them. So, for example, moving from the cell block to Mobley's office to the hallway, to the men's room, etc. What was really hard was that all of those sublocations couldn't be had in one place, so we actually shot two different locations for the prison interiors, and had to be very careful to match them.
What can you tell us about your overall approach to your story at hand?
While still being scary and disconcerting, I also wanted there to be a certain realism and grittiness to the story. That affected how we shot the film and some of our choices about costumes, props that sort of thing. So, for example, we shot quite a lot of handheld and we used overhead fluorescent lighting because we wanted the story to seem like it was really happening somewhere.
Do talk about your key cast, and why exactly these people?
Richard Speight jr and Cameron Richardson are both very talented actors and fantastic fun to work with on a film. Richard brought the combination of confidence and vulnerability that we were looking for in Griff. Cameron impressed me as being able to project all of the qualities about Dana that made her seem less threatening, which then only heightens the suspense later when it becomes clear that everyone is threatening in some way or another.
A few words about the shoot as such, and the on-set atmosphere?
I had an amazing cast and crew with me for the journey. Sometimes you hear about films where people didn't get along on set, or there was a lot of behind-the-scenes drama. That was not this film at all. We really had a small family going during principal photography, and working with such talented people was a dream come true.
Anything you can tell us about audience and critical reception of your movie?
So far, we've had a number of really good reviews, and I've been really pleased about the reception we've received in the press. It's also been really cool to hear from people who saw the movie and liked it, and pop by one of the film's social media sites to tell me what they liked most. I probably enjoy that the most – getting messages from people over social media saying that they saw the film, and telling me what their favorite part or character was.
Any future projects you'd like to share?
I've got several scripts still brewing in the background these days, so stay tuned for next project.
From what I've heard, besides being a filmmaker you're also a practicing lawyer - so what can you tell us about that aspect of your career, and what got you into filmmaking eventually?
I've been a commercial litigator for about 15 years now, and I got into litigation because I have a flair for making good stories come together out of disparate pieces of information. There is definitely a storytelling aspect to good trial lawyering. It is perhaps not that surprising, therefore, that there are a lot of trial attorneys who write on the side – whether it's short stories or crime novels or something else. I tried to work on a novel for years, but kept putting it down to meet a work deadline, only to have difficulty picking it back up later. Writing screenplays finally proved to be something I could do between big deadlines. And after I started writing screenplays, the rest of filmmaking came from there for me.
What can you tell us about your filmwork prior to The Evil Gene?
Unfortunately, this is the first film I was able to get across the finish line in any capacity – writing or directing. So this is the very first installment for me.
How would you describe yourself as a director?
I think every director has their strengths and weaknesses, things they enjoy doing and things they find difficult. I think I'm very different from most directors starting out in filmmaking today. I think that the things that set me apart as a newer director include (1) a stronger focus on casting and working with actors than many starting directors, (2) an interest in and an eye for production design, and (3) a willingness to work with VFX, even though I don't come from a VFX background.
Filmmakers who inspire you?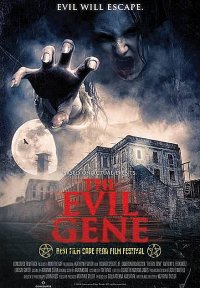 Feeling lucky ?
Want to
search
any of my partnershops yourself
for more, better results ?

The links below
will take you
just there!!!

Find Kathryn F. Taylor
at the amazons ...

amazon.com

amazon.co.uk

amazon.de
Looking for imports ?
Find Kathryn F. Taylor here ...
Something naughty ?
(Must be over 18 to go there !)

In terms of the movies they've made, I'd say that David Fincher and Ridley Scott are two of my favourite directors working today. In terms of watching how they navigate their careers and the choices they make, I like to see what Paul Haggis and Steve Zaillian are doing because they are great examples of filmmakers who started out as writers and branched into directing and producing. And I would add Kathryn Bigelow to the list because she has not allowed the fact that
she is a woman to shape her choices about the films she makes, and much of the subject matter she tackles is in a genre or milieu that's often seen as traditionally "male." I think she's an inspiration to a lot of women filmmakers starting out today.
Your favourite movies?
That's a tough one because there are so many favourites, and I believe that you can't really force comparisons between certain genres. In the horror genre, some of my all-time favs are The Shining, Psycho and The Exorcist. In the last 10 years or so, some of my favorite horror films have been The Others, Frailty, The Exorcism of Emily Rose and Mama. Within the last year, I'd say The Witch and It Follows have been my favorites
... and of course, films you really deplore?
While I love certain kinds of horror, I can't stand torture porn horror like the Hostel series or The Human Centipede.
Your/your movie's website, Facebook, whatever else?
Our website is www.theevilgenemovie.com, like our Facebook page is TheEvilGene, and follow us on Twitter @theevilgene.
Thanks for the interview!