Your upcoming movie I Need a Sign - in a few words, what is it about?
The upcoming film I Need a Sign is based on many true life situations a parent (hearing) having a deaf child and listening to doctors' views on the best communication (spoken language) - but for the deaf child they are denying them the right to be deaf, to learn to sign.
Eventually the mum (Annie) played by Sharon Spink [Sharon Spink interview - click here] and Jesse learn to sign their connection, and their bond grows. The father, Chris (played by John Naylor), at the end of the film saysíI love youí in sign language which brings them together as a family.
Now I'm sure the message of I Need a Sign means a lot to you, and I'm guessing it's (also) based on personal experiences - want to elaborate on that?
Yes itís also based on the communication struggles I had with my mum from a being young child. I never really had proper sign language at home, it was spoken English.
Other sources of inspiration when writing I Need a Sign?
I also coach sign language which gave me the initial idea, to link them both together.
What can you tell us about the intended look and feel of I Need a Sign?
The intended feel of the film is to bring to attention awareness of deaf identity, sign language, and how to encourage people to feel comfortable to lean the language to communicate with a loved one.
Since you're an actress as well, will you at all appear in front of the camera in I Need a Sign, and if so, what can you tell us about your character?
Yes I am an actress, and no I am not going to be in front of the camera for this one. Because I feel I am not a fit for any of the roles at this time. However I will be behind the camera to direct and work with the camera man to make sure itís right.
Do talk about your key cast, and why exactly these people?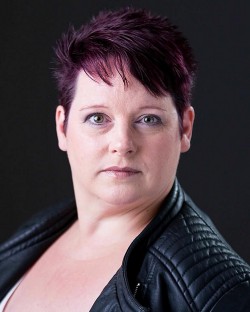 Sharon Spink
Sharon Spink [Sharon Spink interview - click here] is an amazing actress from Northern Star Acting, she also knows the signs for the film, John Naylor is the image I have for the father and they are a fab fits for the family I had in mind. But I still am in search for the child, originally I was thinking a boy but now either sex is fine. Must be deaf and can sign too.
As far as I know, your movie's currently in its fundraising stages - so what can you tell us about your campaign?
Yes itís in the fundraising stages, I would love to pay the actors for a fabulous job, also I want to get the film published and into film festivals - which cost money -, to pay for venues and equipments. Which at the moment as it stands I will be paying, so will be minimal.
https://www.crowdfunder.co.uk/i-need-a-sign
Once the funds are raised, what's the schedule? And any idea yet when and where the film might be released onto the general public?
It will be entered to film festivals and social media, my website, and I will enter it to medflies, the more publicity the better, it will also be shown anywhere that requests it.
Any future projects beyond I Need a Sign you'd like to share?
Yes I have a few more projects up my sleeve and will be working on them one at a time. And most of my projects are bridging the gap between deaf people and hearing people. Sign language and spoken English.
From what I know, you first entered the filmworld as an actress - so what got you into acting in the first place, and what can you tell us about your training as an actress? And considering your condition, did you ever feel you had to overcome extra obstacles?
Yes I started acting as a child, I loved it, I went on to deaf drama school for 3 years, but then it collapsed through lack of people. Which left me feeling disappointed and because at the time I didnít have the confidence to join a hearing one. I let life go by for 14 years and in August I joined Northern Star Acting, I went from someone who has very little understanding and knowledge of the industry, and really shined through the classes and inspired people with the obstacles I face, my deafness, visual impairment, and my health has given me difficulties recently, leading me to think on the things I want to achieve and goals that I had for 5 years time and achieving them now. But instead of letting them break me I used it as a way break the walls in front of me and shined.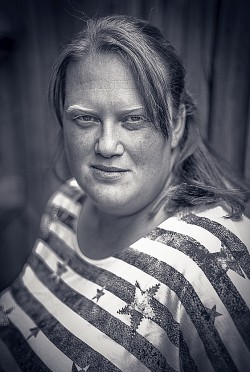 Everyday I face obstacles to be me, and I have no shame saying some days are harder than others. Iíll go into some details, I had meningitis as a child it left me with a lot of difficulties, losing my hearing overnight, which for a child is a big trauma, overcoming deafness, losing my vision as a young adult threw spanners into the works, learning to live with new abilities and understanding what the future may or may not hold for me. And having dyslexia on top which was diagnosed late at the age of 19, part of dyslexia is again memory problems. Reading and writing, speech and language hasnít been my strongest points, but through sign language I use BSL again, it is picking out the important words to get messages across. Living with both sight and hearing loss is not easy but I have NOT for 1 min let it barrier/define/limit what I can do, I have found ways round it, I have opened my mind to other possibilities.
What can you tell us about your filmwork prior to I Need a Sign?
Prior to doing this film, I have been extra in The Hunters, Suicide Kelly, a main role in the feature film Hello, and one of the films they cut my part out because they werenít happy with it. And because I wasnít getting much work I decided to bring work to me through my own creation, my own ideas, and looking at films out there thereís very little involving the deaf community so my idea is to mix it up a bit and involve everyone.
What made you want to pick up work behind the camera as well eventually?
The main reason I am doing this is because I have always seen that thereís a way to bridge the gap between deaf and hearing communities and that I need to break the wall to show that everyone is an equal in society, so equally both language and both communities should unite as one to help and support each other.
What inspired me took me a very long time to achieve, I grew up with the saying deaf people canít work, deaf people canít do this & that, and it was conditioned into me, however I have always been rebellious, I achieved GCSEís and college qualifications that school told us we canít, I got a job for 4 years and left on disability discrimination, everything in life has been against me and I have challenged them head on. Dealing with bullying at school, because I am academically bright and know what I want from life and fought every door that has closed upon me, and never accepted the answer no.
If thatís not inspiring, then I donít know. I am naturally a rebellious person and will fight for what I think is right.
How would you describe yourself as an actress, and some of your techniques to bring your characters to life?
I describe myself as a actor that does well, that has the advantage of both spoken language and sign language, I actually believe I am very expressive and more in character when I sign, because I donít know different vocal tones and how to adapt my voice because I havenít had the hearing or been taught how to. I am not saying I wouldnít put myself out to learn but at the moment I donít have the knowledge. I can do a variety of regional variations in sign language naturally, Cockney, Leeds, London, Birmingham, Scotland etc because I have met so many deaf people through my life. However we learn new things everyday and I LOVE learning and CHALLENGING myself with new things.
Actresses, writers, filmmakers, whoever else who inspire you?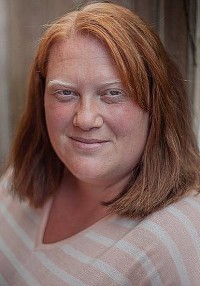 Feeling lucky ?
Want to
search
any of my partnershops yourself
for more, better results ?

The links below
will take you
just there!!!


People that inspire me, really anyone that puts themselves out there, but Cherylee Houston and Deanne Bray, both of them have disabilities and are fab actors, also another big inspiration is both of my coaches, Eirian Cohen [Eirian Cohen interview - click here], business and mindset coach, and Molly Simpson my acting coach. Encouragement and determination bring us out to be the real us, finding our purpose in life, helping with acting skills and giving us the pushes we need to go forward. And a fantastic tribe of support at Northern Star Acting, the tribe is full of like-minded people that are succeeding. I have said this at many stages - impossible = Iím possible, and itís true!
Your favourite movies?
My favourite movies are Annie, Oliver, favourite TV programs Sue Thomas F.B.Eye, and BBC seehear deaf programme, Switched at Birth.
... and of course, films you really deplore?
I donít watch enough films to dislike any.
Your/your movie's website, Facebook, CrowdFunder, whatever else?
https://www.crowdfunder.co.uk/i-need-a-sign
https://www.facebook.com/I-Need-a-Sign-372967859873948/
Anything else you're dying to mention and I have merely forgotten to ask?
I would like to thank Eirian [Eirian Cohen interview - click here] and Northern Star Acting for taking me on, giving me a chance, and this just showed they made the right choice.
Thanks for the interview!