Your upcoming movie Within These Walls - in a few words, what is it about?
Summing up my films in a few words is never easy. As you know, I tend to write very complex films with many elements and different surreal and psychological realities. Within These Walls is really about fear, loss, entrapment, and a complete lack of control of oneís body and mind against an unknown entity.
With Within These Walls being a ghost/haunted house story - what drew you to the genre, and what do you think will set your movie apart from the usual genre product? And other sources of inspiration when writing Within These Walls?
The director of Within These Walls, James Tucker, wanted to do a haunted house/ghost story, partially to take advantage of an ideal location for this type of film. It was also something more attainable as it would require less of a budget than some of my other scripts. James and I worked very closely, and luckily our ideas, goals, passions, and insight regarding this film and what we wanted to do were completely spot on. Weíve already worked very well off of one another, bringing out great artistic possibilities.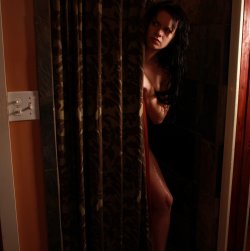 We both really liked the idea of being trapped in oneís own home and even worse in oneís own body as our main character becomes a slave to this evil spirit that has turned her home in to a personal hell she canít escape. We took a very gritty, disturbing, taboo approach to this. Itís far more than a girl just being spooked. The torment she goes through - with no hope of an end to it - is really hard to even wrap your mind around, how someone could deal with something like that. A lot of the terror mirrors personal horrors people actually do have to endure, weíve added this non-physical entity to the mix to be the one demanding her pain and suffering at its hands. Thereís also a very surreal element through dreams that take us down a troubling path of discovery and haunting truth.
You not only wrote, you'll also play the lead of Within These Walls - so to what extent was your character based on your own personal experiences, and what will you draw upon to bring the character to life?
There are certain common factors I have with my character, Alaina. Sheís a writer who has just graduated college and has moved back in to her childhood home, which her mother died in. Sheís hoping to focus on her writing and to find a story that speaks to her. Alaina is very consumed with dreams and looking in to her sub-conscious to reveal a unique story. Granted I luckily havenít experienced the horror she has even at the beginning of the film alone, the writer, mindset, and some aspects of her personality are reflective of me. One very universal quality she holds as the film escalates is even when she seems like a complete victim, even enduring this makes her strong. Life is full of struggles for us all, but keeping on going even among struggle means that you havenít let it beat you yet.
I've read somewhere that Within These Walls will be very minimal in approach - care to elaborate?
Even if we had the budget, we donít want CGI ghosts here. Weíre trying to keep this based in reality of what it would be like if a girl was trapped in her home with a lingering spirit. Thereís a slow build up since thatís part of getting Alaina tense and scared; making her more open to believing and therefore making her more vulnerable to the power it holds. Suspense, tension, and mystery of both the past and present are major elements at work. Weíre taking a more realistic approach with practical effects and little if any CGI. There will be gritty and atmospheric visuals, but the story and overwhelming terror is really the most powerful aspect.
What can you tell us about your director James Tucker, how did you first hook up, and how did you come to the decision to work on this project together? And what makes him the right man for the job to begin with?
As I described somewhat earlier, it is he who decided I was the right girl for the job! This concept was something he had in mind and he chose me to bring out his vision. Actually, it really took on a life of its own from there and became something much darker than what it started out as. Iím very excited to work on this project with him and believe we will really be able to create something remarkable together; this film only being the beginning of that.
I think one of the key elements of your film is the location. Anything you can tell us about that aspect of Within These Walls yet?
Itís a very heavily isolated film and I think our location is perfect. Itís not the stereotypical old, creepy looking house. It has a modern feel to it in some aspects, but the house itself is over 100 years old and has shades of a Victorian feel. It has character and history. This starts out as a place Alaina feels safe, although itís slowly infected by the tragedy that occurred there, which is only the beginning of the darkness that is to consume the house. It takes away this false sense of safety and turns it in to a cruel prison. At some moments it seems so normal, but Alaina is pushed to know that there is no longer anything normal left to this place. There are a few other locations, especially within her dreams, which serve as a partial escape, but end up becoming equally horrifying as she canít escape from the mental torment she is under even as she sleeps.
What can you tell us about your intended cast yet?
Cory Graham will be playing a paranormal investigator and director, James Tucker, will also be playing a featured role. Itís going to be a very small cast, but that also adds to how alone the main character is for majority of the film.
That said, we are still working on casting some of the supporting roles. Those interested feel free to submit through our casting call: https://www.facebook.com/photo.php?
fbid=475432272545702&set=pb.460151327407130.
-2207520000.1372218224.&type=3&theater
As far as I know, Within These Walls is still in its fundraising stages as we speak. So what can you tell us about your fundraising efforts?
Our campaign is currently live on IndieGoGo:
http://www.indiegogo.com/projects/within-these-walls/x/323841?c=home
We have the teaser trailer up there for anyone to view and give them a feel of the horrifying struggle at hand. There are a number of perks available including reserving your copy of the film, either a digital download or physical DVD. We also have a number of promotional prints from the film that will be autographed and sent out to donators. The perk level goes up to being able to get an executive producer credit on the feature and even seeing exclusive footage that will not be released to anyone else in any other way.
Iíve had success with IndieGoGo in the past, including with my last short horror film, Words Like Knives. It seemed like this was the feature to try the crowdfunding attempt with as we already had a lot in place including the location, equipment, and since we needed a very limited cast.
There are really very few mainstream horror films anymore that really represent what the horror genre is capable of. The best examples of this anymore are independent and foreign films. James and I are very focused on making a creative and gripping horror film, thatís heavy on genuine characters with universal struggles and strength to bring out. We will deliver a disturbing horror film with depth and haunting exploration upon funding.
Once the funds are raised, how do you plan to proceed - and even though I know it's probably waaay too early to ask, any idea when the movie might be released yet?
Once we raise the funds, we will be able to shoot shortly after, tentatively around late August or September for a 10 consecutive day shoot. After post-production the film will be rearing to go forward on the film festival circuit around the country - and possibly other countries as well, definitely submitting to the many wonderful horror and genre festivals out there. Of course, no matter where you are, you have the option of buying the film now and being the first to see it when itís completed when donating to the IndieGoGo campaign. We also do have goals for distribution beyond film festivals so it just depends on what happens from there.
Any future projects beyond Within These Walls?
I just filmed my scenes for Axe to Grind last month, where I play the younger version of the main character (played by Debbie Rochon [Debbie Rochon interview - click here]). I had a few very intense scenes, centering around the characterís tragic past. Itís another case of psychological perceptions coloring oneís opinion, which is definitely something that is very satisfying to explore and bring out. Itís an incredible script with an even better group of very talented people that made it happen. Iím honored to have been a part of the project! Itís in post-production now, but I believe big things will be happening with it!
I have a few other projects in the works as well, both acting and writing. I will make sure to share as things develop further!
Your/your movie's website, Facebook, IndieGoGo, whatever else?

Feeling lucky ?
Want to
search
any of my partnershops yourself
for more, better results ?

The links below
will take you
just there!!!

Find Kelsey Zukowski
at the amazons ...

amazon.com

amazon.co.uk

amazon.de
Looking for imports ?
Find Kelsey Zukowski here ...
Something naughty ?
(Must be over 18 to go there !)

No problem, here are a few helpful links you can reach me at and take a closer look at some of my work!
Personal Facebook: https://www.facebook.com/kelsey.zukowski
Within These Walls Facebook: https://www.facebook.com/withinthesewallsmovie
IMDb: http://www.imdb.me/kelseyzukowski
Twitter: https://twitter.com/KelseyZukowski
Model Mayhem: http://www.modelmayhem.com/KelseyZukowski
Within These Walls Casting Call: https://www.facebook.com/photo.php?
fbid=475432272545702&set=pb.460151327407130.
-2207520000.1372218224.&type=3&theater
Anything else you are dying to mention and I have merely forgotten to ask?
Thanks for the awesome interview and for showing interest and support for indie horror. Itís the tight knit, passion-filled community that keeps the genre thriving!
Thanks for the interview!