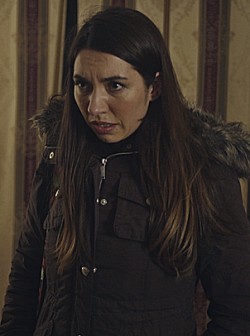 courtesy of R&F Entertainment
Your new movie Maturing Youth - in a few words, what is it about, and what can you tell us about your character in it?
I think the title pretty much says it all. It's about growing up, learning to see what's important outside of ourselves, having compassion for others. My character Sadie is a young mother who's made some really questionable choices in life. She's feeling angry at the world.
What did you draw upon to bring your character to life? And how much Kim Paris can we find in Sadie?
I hope there's not much of me in Sadie, but I think we can all relate to feeling angry at times, stuck in hopeless situations, feeling like the world owes us something. Hopefully we can put those feelings in check before acting on them. But Sadie doesn't really have that kind of self-awareness. She definitely has a victim mentality and harbors a lot of anger. She's one of the most reckless characters I've ever played. Of course, as an actor it's my job to understand her perspective, not to judge it. So it was interesting to get into her mindset and find the reasons for her actions.
How did you get involved with the project in the first place?
I met Chase Michael Pallante [Chase Michael Pallente interview - click here], the producer, a couple years ago at Grove Film Festival in Jersey City. I approached him after the screening of his short horror film Defarious and told him I'd like to work with him. A few months later, I had the pleasure of announcing his "Best Film" win while co-hosting the Northeast Film Festival Horror Fest awards ceremony. Shortly after that, my friend sent me a casting notice that his production company R&F Entertainment had posted, so I submitted, auditioned, and eventually got the part.
What can you tell us about your director Divoni Simon [Divoni Simon interview - click here], and what was your collaboration like?
Divoni is an up-and-coming director with a huge passion for film and music. He had so many films he wanted us to watch in order to prepare, playlists that he wanted us to listen to, specifically designed for each character. He has a lot of heart and I really respect that. At one point though I wasn't sure what type of inspiration he wanted me to get from the films he had me watching, so I asked him and he said something like, "I want you to see what it feels like to be a single mother." And then I was like, "Oh. I come from a broken home. I've been around single mothers experiencing painful, heartbreaking situations my whole life, so I think I've got this."
What can you tell us about the shoot as such, and the on-set atmosphere?
As I mentioned, this was my first time working with Chase. I was impressed with how organized it was on-set. We shot more than 30 pages in less than three days so the schedule was very tight and we didn't do more than 2-3 takes for each scene.
Any future projects you'd like to share?
Yes! I have several films in post-production and a few that are currently making the rounds in the festival circuit. One of those films is The Question, a short romantic drama that screened at the Northeast Film Festival in Teaneck, New Jersey.
I'm also excited for the upcoming release of The Making of Meathook in the Mountains, a short behind-the-scenes mockumentary about the making of a really bad horror film. That film was directed by Ryan Reid, who directed me in the sci-fi 33 Years, and who has become one of favorite collaborators. He's one to watch for sure.
What got you into acting in the first place, and did you receive any formal training on the subject?
I can't remember a time that I didn't want to act. It's always been with me. I was in the drama club in high school and studied acting in college, along with various studios around New York City (HB Studio, Stella Adler, and most recently with renowned acting coach, Anthony Abeson).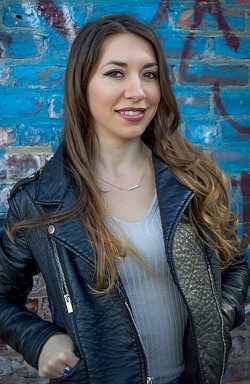 photo by Nestor Correa Photography
courtesy of R&F Entertainment
What can you tell us about your filmwork prior to Maturing Youth?
I had shot a decent amount of films before Maturing Youth. In the summer of 2016, I starred in my first feature film, Death at a Barbecue, which was directed by Larry Rosen. Shortly after, I had a supporting role in the zombie apocalypse feature Into the Outbreak, another Larry Rosen film. Both are now streaming on Amazon Prime, which is super exciting.
How would you describe yourself as an actress, and some of the techniques you use to bring your characters to life?
As my acting coach Anthony Abeson says "No recipes, whatever works." I use all types of methods. For me, the most important thing is really fleshing out the past, mapping out the key things that happened in the story before the story you're actually going to watch on screen begins.
I do a lot of writing as my character. I'll write journal entries as my character, or letters to important people in my character's life. As you may know, there's A LOT of down-time during filming, so if anyone's looking for me they can probably find me sitting alone somewhere writing out my character's thoughts.
Another fun thing I like to do is think about my character's scent and what type of perfume she would wear, if any. I learned that from Marsha Mason (Grace and Frankie), another phenomemal acting teacher that I am so grateful to have studied with.
Actresses (and indeed actors) who inspire you?
I credit Amy Adams' role in The Fighter for inspiring me to get back into acting and finally pursue it fully. Christian Bale blows my mind. Cate Blanchett, John Malkovich, Glenn Close, Daniel-Day Lewis - They've all been incredibly inspiring to me.
Your favourite movies?
I could watch There Will Be Blood a thousand times. Royal Tenenbaums is an all-time fav. I also love foreign film. Some of my favorites are Respiro (directed by Emanuele Crialese), Nowhere in Africa (directed by Caroline Link), and Chocolat (directed by Claire Denis - not the one with Johnny Depp, although that one is great too). And then there's an amazing short called Death and Disco Fries by one of my favorite Brooklyn filmmakers, Dennis Cahlo. It's in the festival circuit now - you gotta see it!
... and of course, films you really deplore?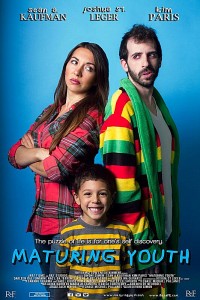 Feeling lucky ?
Want to
search
any of my partnershops yourself
for more, better results ?

The links below
will take you
just there!!!


I don't think I could possibly deplore any film. I have so much respect for anyone who has a creative vision and not only sets out to realize that vision but also completes it. Even if a film doesn't particularly speak to me or move me, I have so much respect for the hard-work that goes into creating it.
Your website, Facebook, whatever else?
Sure! You can find me at:
Instagram: @sinisterfoxy
Twitter: @sinisterfoxy
Follow the film here:
Instagram: www.instagram.com/maturingyouthfilm
Facebook: www.facebook.com/maturingyouth
Website: www.MATURINGYOUTH.com
Anything else you're dying to mention and I have merely forgotten to ask?
Thanks for asking! The world premiere for Maturing Youth is Sunday, October 21st at the Cutting Room International Film Festival in New York City. I'm grateful to have been nominated "Best Actress" and many of my castmates were nominated for awards as well including "Best Film". We're all so excited to share this film and can't wait to meet some of our fans there! Tickets are available at www.maturingyouth.com. Iím so grateful to have been a part of it. I was surrounded by immensely talented people and itís really a beautiful story!
Thanks for the interview!