Your new movie Dwelling - in a few words, what is it about?
Ellie, an occultist, driven by a horrific experience in her past involving her sister, River, delibriately purchases a famous haunted house. With River now institutionalized, Ellie and her fiance Gavin, receive custody of her gifted daughter, Izzy. Even so, Ellie is willing to put herself and her new family at risk in order to seek contact with her deceased mother.
Living inside the house, named Amara, is a malevolent spirit trapped within a painted black mirror. As Ellie's only conduit to the otherside, she reveals the glass, unleashing a dark being dead set on collecting her niece's soul.
As each day passes, the energy of Amara grows, and the threat to the family becomes more significant. In the end, Ellie must determine what she's willing to let go of: her past or her future.
Kyle, what were your sources of inspiration for writing Dwelling?
Dwelling has a lot below the surface that inspired the storytelling of the film. The sources stem from childhood and family experiences with the paranormal to call-backs to 70s horror classics. Donner and Polanski's use of tension and suspense in The Omen and Rosemary's Baby played parts in how I approached the story structure. I wanted to make a slow burn and bring it to modern day, as well as not explain everything about what's going on, I wanted the audience to work for it. Mainly because at its center it isn't about the house, or the mirror, it's about Ellie needing to let go, similar to Bruce Willis' Malcolm in The Sixth Sense.
I wanted to make Dwelling feel real, like it could happen in our reality. No CGI or fake anything that would pull you out of the movie, where too many of the genre easily succumb to that nowadays.
Brandyn, how did you come aboard the project, and to what extent could you indentify with its content?
Kyle and I have worked on a few short films together before commencing this one. I directed and produced a short in 2013 entitled Scope of Practice, and that was the film that made me realize that directing is not my forte. On set, I found more of an innate ability to oversee things and keep them moving along. Kyle is a very gifted writer and his sense of direction far exceeds my own. I think we both found mutual trust in one another in the aspects that suit us well. He had this idea brewing in his head for a while and knew that he could trust me to make it happen for him. I was able to trust him and the crew we hired to create a quality product. This was our first feature film so having trust in one another and our crew was absolutely paramount.
The idea of wanting to speak to someone we lost one last time is something I think anyone can relate to. Myself, personally, I lost a cousin who I always looked at like a daughter/niece roughly one month before we started filming Dwelling. She died very unexpectedly of a blood clot in her brain. I didn't know how to take it because we were estranged for about a year prior and I never would have thought something like that could have happened. She was 20 years old and 4 months pregnant when she passed away and also left behind a 1 year old son. About a year before she passed, I felt I did everything I could to help her start a better life but when she went the opposite direction, I grew strong a sense of apathy for her. It took almost a year and a half after she died to alleviate myself of the guilt and the relentless thought that I could have done more. I don't know what I would say to her if I could talk to her again, but I always wished I could have done a better job and saved her from the road she was going down. The moral of the story is that life is too erratic to hold onto guilt and anger. If you have something you need to say to someone, say it while you can. If you watch the BTS video for Dwelling when the DVD comes out, you'll see that quite a few of our characters have had situations where they wish they made it right with someone because you never know when their time might be up. The death of my cousin just recently influenced me to swallow my pride and make peace with someone I was also distant from and does not have a whole lot of time left. If there's anything you should take away from Dwelling, it's to love people while they are still with you, and let them go when they are not.
With Dwelling being a horror movie, is that a genre at all dear to either of you, and do talk about the movie's approach to horror?
Brandyn: I'm speaking for myself on this one, but horror is not my favorite genre. I can appreciate a lot of the classics but I've never been huge fan of the genre itself. However, when it comes to horror/thriller movies, Kyle and I seem to have similar tastes. We both like movies that haunt you. When I say haunt, I mean make you scared to sleep at night or be alone. Not movies that make you jump for a second because someone came around the corner. That's ultimately what Kyle wanted to do with Dwelling. When we initially took this on, I was looking at it from more of a business standpoint. I wanted to make a movie we could sell without selling our values. If we were going to do a genre that we knew would get an easy following, we felt paranormal would be the best route to go. I was really hoping to scare the shit out of people with this film just because of how disappointed I've been with the paranormal films that came out in the years before this one. Although we got some great reactions at our local screening in Buffalo, I think we could have done a lot better in that aspect. I was, however, pleasantly surprised with two aspects that I never thought would come to light prior to going into production. One is that this film actually has substance and that is something that majority of films in this genre lack. Second thing I will answer in the "casting" question below…
Kyle, what can you tell us about your directorial approach to your story at hand?
I feel the core of Dwelling is universal, we have all lost a loved one that was dear to us, and the majority would love to see or speak to them one last time. That alone is what I thought helped drive the direction of this film. It's relatable, everyone has their own story to tell, and that's exactly what we did. We had conversations and cast actors that identified with the heart and soul of the story's message. With all that behind us I wanted to make the film feel genuine and all the terror organic. It's progressive, how the story unfolds; we build and see reactions that we would actually expect from real people. As opposed to the usually standing and yelling at the screen of, "Why haven't you moved out?" I wanted tension and suspense to be the main motivator in everyone's playing cards. And I looked to the film The Orphanage for a lot of pointers on how to do that.
Brandyn, what were the main challenges when producing Dwelling?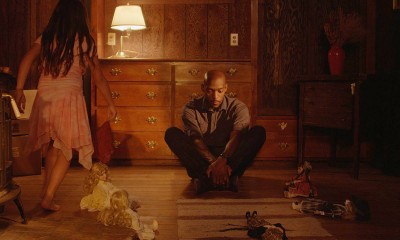 It's currently December 2016 and we went into pre-production in April 2014. Since then, we've experienced an insane amount of challenges. The one that stands above all is definitely finances. We were very much in over our head after principal photography and found out pretty fast just how expensive feature films are. Our crowd fundraiser brought in just enough for us to pay off our key talent and crew but after those funds were exhausted, we had to start borrowing money from family and friends. We launched two beer blasts and started digging into our own bank accounts as well. I ended up maxing out several credit cards and putting myself in a very dangerous financial situation because of a mishap that occurred earlier this year with one of our ex-crew members. Without getting into too much detail, we lost $5000 and were buried at that point. We had to decide whether or not we were going to take action against it, or eat the costs and drive on. We decided to get back on our feet, drive on and finish this movie no matter what. If it weren't for crew members that stepped up and helped us out by lowering their rate and working overtime for us, we wouldn't have been able to finish this movie. We owe them a great deal of gratitude for that. For a little more background on that, check out our post-sound BTS video: https://www.youtube.com/watch?v=UOJLsxleKCs
What can you tell us about Dwelling's cast, and why exactly these people?
Brandyn: The only person we originally had cast was Devanny Pinn (plays "River" in Dwelling) [Devanny Pinn interview - click here]. Her role was going to be "Marcy" the realtor (now played by Alexandra Merritt Mathews). I met Devanny on another local film about a year before Dwelling was an idea. She and I bonded almost instantly and we more or less understood each other. At the time, she was known as "Scream Queen Devanny Pinn". I knew that if anyone knew how to create exposure for us, it was her. She rounded up a ton of people to audition for us and next thing you know Dwelling was getting submissions from all over the country and Canada. It was a close call casting "Ellie", but Erin Marie Hogan 100% knocked it out of the park with her audition and in the film itself. I'll let Kyle talk about the rest but there is one thing I wanted to mention which is part two of one of the previous questions… Finding our "Gavin" was probably the most difficult casting decision. We had quite a few auditions but none of them were really what we were looking for. My co-producer Arlynn Knauff and I ended up getting a late video submission from Mu-Shaka Benson. Upon watching it, we called Kyle immediately and told him he has to see it. We found our Gavin. We didn't realize until after the film was wrapped and the trailer was posted on major YouTube channels just how much hatred we would get for casting an African American male as one our leads in a paranormal thriller. The comment section was mortifying. However, seeing the comments actually made us realize we are doing something right. If there's anything I enjoy more than creating or taking part of a film that makes you think about your life and the world around you differently, it's making a film that crushes cinematic stereotypes. If you aren't pissing a few people off in the process then you aren't making a difference. We'd rather make a movie that depicts reality, not a movie that mimics other movies and typecasts people of different ethnicities to standards set by other works. We're expecting a lot more hatred once this film is released, and we are happy to embrace it. I think this is something many filmmakers should start doing and not be afraid of. Media has such a powerful impact on how we perceive each other and I think that if we want to start getting people to see the truth in reality, then we shouldn't hesitate to do it in entertainment.
Kyle: Abigail Mary who plays Izzy in the film is by far the biggest best surprise you could have imagined. We had the "problem" of casting a child in a horror film, something the genre is actually rather strong at, and it quickly became no problem at all. Abby is a natural, he personality is so fun and wise beyond her years and beyond that she could pull from her own personal life. Abby had dealt with paranormal interactions herself, some great stories, so for me it made it a lot easier poking the fire for the moments I wanted.
Bill Brown is the grandfather of Buffalo area film, and we designed the role of Dr. Thorn for him. He's a good luck charm, and of course he delivered.
Josie DiVincenzo as our Mother was a godsend. We needed power for such a small role that might not see a lot of face time, but whose presence is felt throughout. She brought us to the next level.
Our other child actresses (Mackenzy and Emma) took great turns in their supporting roles, they both have a bright future. Alexandria swooped in and delivered exactly what we wanted. And Mr. Fattie King gave use everything he had as his turn as the monster.
You also have to talk about your main location, the haunted house, for a bit, and what was it like filming there?
We shot there 10 days straight and boy was it rough. From high humidity and no airflow to settled dust filing our lungs. A handful of us including myself became terribly sick from the place and weather, but we battled on. The setting was too perfect, eerie in every room, like each other was plucked from a different decade. And we didn't even go into the basement, which was probably the most frightening of all, petrified spiders included.
What can you tell us about the shoot as such, and the on-set atmosphere?
It was actually one of the most laid back and purely fun sets I've ever worked on. Everyone seemed to have this buzz about them, we all knew we had something special on our hands, and I think it shows in the end. It's odd, but you always seem to have the most laughs on the films that have the most twisted plots.
The $64-question of course, when and where will the movie be released onto the general public?
We do have distribution through a major company but cannot announce the details just yet. We should know our release date within the next few weeks. Please follow our fanpage in the link below to keep updated on that.
Any future projects you'd like to share?
Brandyn: Nothing in the works right now. I'd like to take a long vacation once this film is all over and decide what I'm going to produce next from there. I'm still acting and might be putting a few small projects together but nothing major until I've fully recovered from this one.
Kyle: I'm currently working on my next feature screenplay that's a neo-noir thriller. I'm hoping that the exposure of this film will help make that one possible. Other than that, a short film I co-wrote called Locke, directed by Joe Blodgett and produced by one of the companies attached to Dwelling, NDstudios, will be released sometime next year.
Your/your movie's website, Facebook, whatever else?

Feeling lucky ?
Want to
search
any of my partnershops yourself
for more, better results ?

The links below
will take you
just there!!!


We have a domain but the website is still not set up yet. We should definitely have it up and running at some point in 2017.
www.facebook.com/dwellingmovie
www.facebook.com/bewilderedmedia
Anything else you're dying to mention and I have merely forgotten to ask?
Yes, we'd like to personally thank Brandon Slagle [Brandon Slagle interview - click here] and Devanny Pinn [Devanny Pinn interview - click here] for pushing our film as far as they did and guiding us through the distribution process. We'd be very lost without them and learned a lot about the business end of filmmaking because of them.
Thanks for the interview!