Your new movie Photokill - in a few words, what is it about?
It's about a thief who steals a camera that he later discovers contains photos of a hideous crime. Now he and his girlfriend fear they are the next target as the photographer seeks revenge.
How did the project fall together in the first place?
I was looking for a new film to shoot after strictly working in photography for quite a while. Then Tom presented me with a horror/thriller idea based around photography. It was a good script and it had all my favorite elements in the story, so we ran with it.
What can you tell us about Photokill's writer/fellow producer Tom Bragg, and what was your collaboration like?
Tom has been working with me as a writer on and off since 2000. As always, this project went just as smooth as all the other work we did together. Besides being a very talented writer, he's invaluable to have on the set as well.
Two what extent could you actually identify with each of Photokill's three protagonists?
Well, we all have different sides to us. For example, I'm an extremely nice guy but some days I can easily turn into The Hulk, and some days do. In Photokill I can definitely relate to the revengeful villain. I think we all can. It's just that this guy is a maniac and acts on impulse. Then there's Max who we eventually learn is a coward. We all have something or a situation we're fearful of. And Max's reaction is to run in this situation rather than face it head-on. Allie just wants to be happy and loved, even if she has to be a bit sinister in obtaining that. Just sides that many of us have but heightened to make the story work.
Do talk about Photokill's approach to horror for a bit, and is that actually a genre dear to you, and why (not)?
Well, all of my films have either a horror or thriller element to them if not both. I have loved horror films since I was a kid, it runs in the family lol. What made me decide to want to be a filmmaker is the film Night of the Living Dead. So, when Tom came up with this story which incorporated the horror/thriller element & photography all weaved into one, I was hooked.
You of course also have to talk about Photokill's brand of comedy, and how does it correlate with your personal sense of humour?
While I do love horror, I also love comedy. Especially classic comedies like It's a Mad, Mad, Mad, Mad World, Caddyshack, Fatso etc. So it was fun finally incorporating some comedy into my horror, which the actors handled with ease.
A few words about your overall directorial approach to your story at hand?
I gave the actors open space to explore their characters. It is always fun seeing what they come up with. Of course there are guidelines to make sure they won't go crazy, cause they will! But, I keep the set light and try to make it like we're one big 'family' making a movie. If it's not an enjoyable experience, why do it?
What can you tell us about your key cast, and why exactly these people?
Well, we previously worked with Mike Funk on a previous movie (Help Wanted). We knew we needed someone who could handle the dramatic part of the role as well as the comedy. Mike Funk fit the bill perfectly and we were happy to have him back. We found Lauren A. Kennedy by going through reels and short films. We knew instantly when we saw her we wanted her for the role. She plays the part so naturally and eventually a little devilishly as well. Both Lauren and Mike have already won festival awards for their roles in Photokill. They're both are extremely talented actors and also handle the business side just as well. And there's another talented actor in Photokill and his name is Drew Maniscalco. We've been working with Drew since 2007. He's been nominated several times for an earlier film we did called Addicted. Like that movie, he also plays the bad guy you love to hate in Photokill. He definitely can play other type roles, but he plays villains with such eeriness. Either with his evil laugh or the subtle raise of an eyebrow, you know the other characters are in big trouble.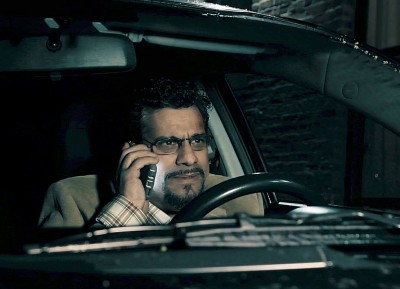 Do talk about the shoot as such, and the on-set atmosphere!
As always the on set atmosphere is always a fun one. I have great group of people working with me and everyone knows exactly how to get the scene done. With the actors, I've been called by many of them as an "actor's director" meaning I let the actor explore their character and add their own flair to the role. Of course if I do not approve or if they go overboard I'll reel them back in. The majority of actors I've worked with love this style of directing.
The $64-question of course, where can your movie be seen?
Right now it is in its 20th film festival, but eventually on DVD and then online (further down the road).
Any future projects you'd like to share?
Tom wrote a great little drama To Be Normal, which is in preproduction now. It has a 'twist' ending as most of my films do.
What got you into filmmaking in the first place, and did you receive any formal training on the subject?
No I am self-taught. I asked my parents a long time ago for a camera and started making little films around my neighborhood with my friends.
What can you tell us about your filmwork prior to Photokill?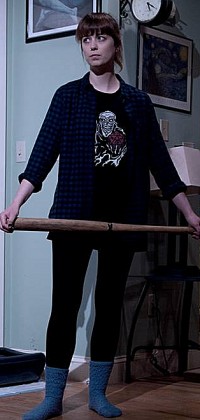 Feeling lucky ?
Want to
search
any of my partnershops yourself
for more, better results ?

The links below
will take you
just there!!!


Most of my work are short films. Being a big fan of The Twilight Zone I love the short film format. I had my own series a while back entitled The Mind's Eye which I called my version of The Twilight Zone. I have done a few features in the same vein as Creepshow.
How would you describe yourself as a director?
I'm hands-on in every aspect. I shoot my own films and also edit them. But, as far as a director, like I said previously I'm an actor's director. I like to let the actor explore their character a little. I look at it this way, they are bringing that character to life so I want to hear what they have in mind. It could be smoking a cigarette, wearing glasses or a wardrobe choice etc... whatever makes the character stronger makes the film better. So, I am good with it.
Filmmakers who inspire you?
George Romero, Steven Spielberg, John Carpenter, Martin Scorsese, Alfred Hitchcock, Ron Howard.There are a lot...
Your favourite movies?
Night of the Living Dead, Halloween, Texas Chainsaw Massacre, The Godfather, Jaws. This list would be too long, lol!
... and of course, films you really deplore?
Honestly I can't name any at the moment. I find something good in any movie. Even if I just study the lighting in a movie I partially don't care for. There's always something I can take away from a film.
Your/your movie's website, Facebook, whatever else?
Anything else you're dying to mention and I have merely forgotten to ask?
You basically asked it all! I would just add to those just starting out: Just get out there with whatever camera you can get your hands on, even a cell phone! Make your movie, tell your story. It's the best feeling seeing a finished product and the audience's reaction to what you've created.
Thanks for the interview!