You only very recently starred in In Fear of's episode Autophobia: Fear of Abandonment - in a few words, what is it about and what can you tell us about your character in it?
Mickey is your classic "Nice Guy" that always finishes last. He is a hopeless romantic that is pissing his life away in the name of love, however thanks to the demented mind of writer director Scott Perry [Scott W. Perry interview - click here] there is definitely a new twist in this classic theme.
What did you draw upon to bring your character to life? And is the fear of abandonment something you can personally relate to?
I would be surprised if there was a man or woman alive who hasn't at least once in their life been the victim of an unrequited love. I have definitely been there and I had even explored the theme in one of my early films, Done.
Related to that, What are you personally afraid of?
Running out of time. Not getting to do all the things I want to do, and tell the stories I want to tell before I go.
How did you get involved with the project in the first place?
I met Scott and Steven-Mark Glassner [Steven-Mark Glassner interview - click here] at the Macabre Faire in Long Island , they were promoting In Fear of and I was promoting Jacob. We all really dug each others work. Then we met again at Monster Mania and it was there we decided to collaborate.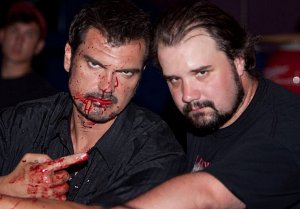 Larry with Scott W. Perry
What can you tell us about your director Scott W. Perry [Scott W. Perry interview - click here], and what was your collaboration like?
Scott is a super great guy! I had great confidence and trust in him from seeing his work.
Do talk about the actual shoot for a bit, and the on-set atmosphere!
This shoot was one of my favorite experiences to date. There was a real spirit of team and everyone just clicked. You could feel the chemistry. We shot on location in Beaumont Texas and the sets were incredible. Local film commissioner Thomas Hall went above and beyond providing everything we needed and I must say the cast was amazing, the beautiful Mayra Leal was phenomenal we connected really quickly and had a great time working together. Matthew Carter and Nick W. Nicholson absolutely killed it with their performances as well. And our crew was top notch, Scott and Steven had a clear vision and knew exactly what they wanted and the rest of our crew rocked! It was a blast!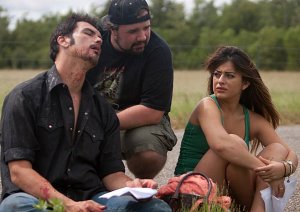 Larry with Scott W. Perry, Mayra Leal
Any future projects beyond Autophobia: Fear of Abandonment?
I am doing a lot of work with Blanc Biehn Productions, first up in November I am acting in a movie called Altered Perception directed by Kate Rees Davies, then in December I am getting back in the director's chair for a few flicks, Night Maire, a dark thriller staring Jennifer Blanc Biehn. After that is my western called The Sound of Thunder staring Grace Powell and a few others I can't mention yet, followed by The Night Visitor IV and Reptilians and some of the other projects I acted in will be released such as Shawn Welling's thriller The Legend of Darkhorse County and Patricio Valladeras Hidden in the Woods. The best way to keep up with me is by following me on Twitter, Facebook or IMDb.
What got you into acting in the first place, and did you receive any formal training on the subject?
It is something I just fell into. I never was formally trained. I learned most of my skills working in the haunted house business, I picked up the filmmaking aspect much later from reading books, watching behind the scenes featurettes and working on actual film sets.
Before you got into movies, you spent many years working with various haunted attractions, right? So what can you tell us about that part of your career?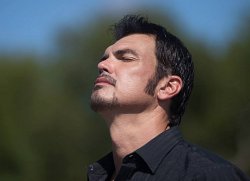 I grew up during the 80's home video explosion. So every weekend I would take home movies like Nightmare on Elm Street, The Evil Dead, Nightbreed or science fiction movies such as Star Wars, Terminator and Aliens. Then I would buy copies of Fangoria or Starlog and spend countless hours trying to recreate the special FX and building props. Had I grown up in California I probably would have become an FX artist, but Alvin Texas is nowhere near there and I had no outlet for my creativity. Well not until a friend took me to a professional haunted house in downtown Houston and I got hooked! I started building my own haunted houses in high school with one goal in mind. I wanted to deliver an experience like no other. From the time you stepped through the door I wanted everything you could see, everything you touch, taste or smell to seem as real as possible. I eventually grew to the point where I was running haunted attractions that had budgets well into 6 figures and employed over 40+ Actors and a team of special FX artist. Eventually I was getting really burned out. I would spend a ton of time and money creating these perfect scenes and I would get frustrated because they never stayed perfect. The guest may come through and catch the actor off guard drinking a soda or half way through the night an effect or prop would break or get destroyed. After one particularly stressful night I had about had it when someone walked past me and said "You should take a picture, it will last longer" and it hit me. I was already writing themed stories, building sets, costuming and training actors, building props and special FX? I just needed a camera.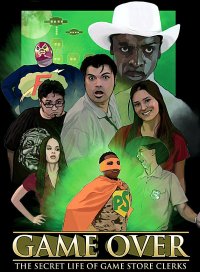 How did you get into films then, and what can you tell us about Game Over: The Secret Life of Game Store Clerks, which I understand was not only your acting but also your writing and directing debut?
Game Over is what I would consider my film school. It is where I was allowed to run free do exactly what I wanted and most importantly fail. What I learned making that movie has been invaluable to me over the years. It was really hard but I didn't quit. Making movies is my passion so I reevaluated everything, adjusted and moved forward. Hopefully it is something the world will never see. Definitely not meant for mass consumption!
You of course also have to talk about your latest films as a director, Jacob, and how do you think you've grown as a director?
Other than telling you the names Night Maire and The Sound of Thunder there is not a lot I can share other than that I am extremely excited to be working on them.
As far as growing as a director, I started off trying to control everything. I wanted to touch every piece that you see on screen to ensure my vision was coming across - learned the hard way that I can't do it all. A good director understands and embraces the art of delegation. You can still realize your vision with out being the lone ranger so to speak. I can be a more effective director by putting the right people in the right places. You get department heads that you trust and they own what they do. That way I can focus on performance with the actors and getting what I want visually with the cinematographer. That is the only way you can capture the feeling you are going for and want to share with the audience.
Any other films of yours (in whatever function) you'd like to talk about?
I think I covered it all above, I am really excited about all the projects I am involved in, whether I was just acting - Darkhorse County and In Fear of -, producing - Hidden in The Woods and The Girl -, or directing - like the upcoming movie Night Maire and The Sound of Thunder. I am seriously stoked and feel very blessed!
How would you describe yourself as an actor, and some of your techniques to bring your characters to life?
I have one golden rule, in acting and directing. No False Moments - I strive to make everything as real as possible. I immerse myself in my characters 100%. I feel everything they feel and try to play it honestly. I think about the situation, what is at stake and how I would feel in the same situation and I go for it. I know when I am watching a movie or TV show if the actor on screen is not 100% in it and I don't believe them it ruins the story for me.
Actors (and indeed actresses) who inspire you?
Michael Biehn is my favorite actor. I grew up watching him in many of my favorite movies. The thing that makes Michael special to me is that you always believed him. It didn't matter if he was fighting Terminators from the future or locked into a life or death showdown with Doc Holiday, there was never a false moment.
Your favourite movies?

Feeling lucky ?
Want to
search
any of my partnershops yourself
for more, better results ?

The links below
will take you
just there!!!

Find Larry Wade Carrell
at the amazons ...

amazon.com

amazon.co.uk

amazon.de
Looking for imports ?
Find Larry Wade Carrell here ...
Something naughty ?
(Must be over 18 to go there !)

My favorite movie of all time is Jaws. It is a classic that still works even today, the characters are classic and played to perfection by the cast and beautifully willed into being by Steven Spielberg.
.. and of course, films you really deplore?
The Village by M. Night Shyamalan. I don't know why but I am still really bent about that movie. He was so close but... oh well.
Your website, Facebook, whatever else?
http://www.imdb.me/larrywadecarrell
https://twitter.com/LarryWCarrell
https://www.facebook.com/pages/Larry-Wade-Carrell/116240515067623?ref=hl
Thanks for the interview!