Even if we have talked about it at length before [click here], could you once again fill us in on the concept of your In Fear of-series?
Sure. In Fear of is an anthology series in the tradition of Tales From The Crypt, Tales From The Darkside, and The Twilight Zone about our most basic of fears, our phobias, done with a collective team of independent filmmakers. Each filmmaker is given a phobia as an assignment and has to deliver a 5-15 minute episode showcasing that phobia. While many know the common phobias such as Arachnaphobia or Clownstrophobia, whatís interesting is that there are hundreds of clinical phobias out there that just show how easily we can be frightened.
So what prompted you to make season 2 in the first place?
A second season was always in the works from day one, from the first day of shooting Monophobia: Fear Of Being Alone. The first season was successful in that it got the word out and had a lot of people and filmmakers interested, which personally was my goal all along. The first season served as a great test to see if a concept like this could work and it did. The response overall has been tremendous and we havenít even begun tackling the many phobias that inhabit us.
What phobias are you going to tackle in this season 2, and why these?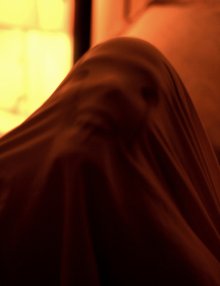 Scotomaphobia: Fear Of Blindness
Weíre doing 13 episodes this time around (maybe more) and weíre going to tackle some common phobias and not so common phobias. Iíll go more into detail on them as each director chose a phobia because they either knew someone who related to the phobia or had the phobia at some point in his life themselves. For me, some phobias I found intriguing to do and in the case of one, I had an old script that I realized fit into one phobia perfectly. The phobias are so varied yet some are going to be surprised that some of these phobias do exist.
Related to this, do you have any pet phobias you'd love to bring to the screen but haven't/won't yet?
Well, I recently (and currently) am dealing with conquering one fear which was a Fear of Dentists, as I had a tooth abscess that got so infected I was hospitalized for a brief period last week and had a tooth removed (and infection still drained). For years, I was afraid to go to the dentist after a few bad experiences when I was younger and now am regretting it because had I gone regularly this probably wouldnít have happened. Live and learn.
One phobia that Iíd love to do and am thinking about it because it fascinates me that someone would have it is Chromophobia: Fear Of Colors. Thereís an idea Iíve written but need a little money to fulfill that one if Iíd like to.
As with season 1, you direct a fair share of the episodes of this season yourself - so what can you tell us about your own episodes?
Iím directing five this season, originally it was three but there were a few ideas that I really liked and wanted to direct them, so am looking forward to doing all of them.
First is Gerontophobia: Fear Of Aging, which was written specifically for Suzi Lorraine [Suzi Lorraine interview - click here], who I enjoyed working with so much on Thanatophobia: Fear Of Death, that I knew sheíd be perfect for this. Suzi has a good knack for comedy and I thought the idea of an aging lothario meeting a woman he stood up 30 years earlier who hasnít aged a day quite interesting. Itís a spiritual successor to Monophobia in terms of its humor and through Suzi, I cast Doc Dougherty as the male and am looking forward to working with him. Heís a good natured, naturally funny dude.
Suzi referred me to Rachael Robbins, who worked with her on Captured Hearts, which Rachael co-wrote and also starred the legendary Robert Loggia, Tony Tood of Candyman-fame, and the late Charles Durning in his last role, for an episode and I gave Rachael a list of phobias to choose from and I would write a script for her. Rachael chose Dementophobia: Fear Of Insanity and from there I came up with a really cool idea that Rachael responded to immediately. Suzi is producing with me and itís one of those collaborations thatís been enjoyable.
Dysmorphobia: Fear Of Deformity is a script that was intended as a stand alone short film and came close to making it last year, but when the series started to take shape I put it on hold. However, upon looking at the script again (originally titled Fragile) I realized it fit into that phobia and added it to the series. Personally, this was a script I really wanted to make and am happy to have it part of the series, as it is going to be the one closest in tone to the episodes of the first season: no dialogue, visually stunning, emphasis on action. Heather Drew is a great actress I met recently who will be starring in it alongside actress/contortionist Miss Ekaterina, whose work is mind blowing. The combo will make for a completely unique film that will fit right into the series.
One episode that will be talked about is Merintophobia: Fear Of Being Bound Or Tied Up, which is completely opposite from the others in that it will be very intense. There is a fear of being helpless and not being able to do something while watching someone you love get killed before your eyes. Itís a very horrific episode and one that will be a challenge without bordering on that line between fear and fetishism. We had that with Podophobia: Fear Of Feet, but I feel it is one of the stronger episodes of the first season.
Finally, I am directing Autophobia: Fear Of Abandonment, which is still in development but will be going to Texas. Itís the first film Iím directing off an idea thatís not my own and filming with a new crew and in a place Iíve never been. The idea and locations will make it unique and I canít wait to make it in the summer.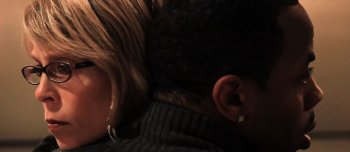 Scotomaphobia: Fear Of Blindness
Do talk about your co-directors and their episodes for a bit, and why exactly these people?
Iíll begin with Jeremiah Kipp [Jeremiah Kipp interview - click here], who is returning from season 1 and chose Scotomaphobia: Fear Of Blindness for his season 2 episode, which is currently in post-production. It was an intense six day shoot and chronicles a downward spiral of Emily (Susan Adriensen) after she discovers sheís losing her vision. Some of the images conjured by Kipp, Adriensen, and cinematographer Steven-Mark Glassner [Steven-Mark Glassner interview - click here] are just stunning and overall will be a strong fever dream of a film. I love working with Jeremiah especially on set because he just knows how to get the best out of his actors.
Thomas Norman is a filmmaker who I met on the set of Apehephobia: Fear Of Being Touched (he was one of the hands), and his film Just Like You played in the same block as my film Something Just at the Terror Film Festival last year. I believe it was at that festival where he proposed an episode about being poisoned - Toxiphobia - because he has a friend who actually has that condition. It was fascinating and immediately had him aboard. We just completed two days of filming with Kelly Rae LeGault (also returning from season 1) [Kelly Rae LeGault interview - click here] and Pete Mizzo and are ready to shoot the final day soon, but the shoot so far has been great. Thomas is a fantastic director and I am proud to work with him.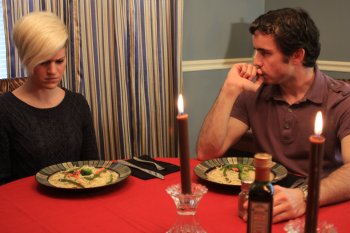 Toxiphobia: Fear of Being Poisoned
Hydrophobia: Fear Of Water is a script written by cinematographer and series producer Steven-Mark Glassner and he hired his good friend Sean N. Ihne to direct it. Sean works as an editor for Time Warner and the NHL but has made a few good short films that Steve showed me, Reclaiming The Spirit and Faint By Numbers. Steve is a professional and has a great attitude, and Hydrophobia is his first attempt at horror. Itís a very intricate episode and might be one of the longest but it was a concept that Steve presented the very first time I met him. The concept began on an actual shipwreck on Long Island that we wanted to film, and heís taken it to a whole new level.
Agraphobia: Fear Of Sexual Harrassment was a phobia chosen by Bradley Creanzo, after working with him on Scotomaphobia (and giving a terrific performance). Bradley is a great guy and a product of the 1980s. Everything about him is 1980s. Look, hair, film style, wardrobe, and in his house he has one of the most impressive VHS collections Iíve ever seen. What sold me on his episode is that itís going to look like a slasher film and a lost episode from one of Bradís favorite series (and one that is often overlooked), The Hitchhiker, and that I feel will bring his talents to the forefront.
Stolis Hadjicharalambous is a director Iíve known for several years and have been friends with. At the age of 20 he directed a feature film, Crossed, and he has a ton of experience in addition to being a great director and editor. I hired Stolis to direct a script given to me by a good friend, PJ McIlvaine, who has sold a few screenplays, including one directed by Eric Stoltz and starring Karen Allen of Raiders Of The Lost Ark fame. The subject chosen was Taphaphobia: Fear Of Being Buried Alive, and Stolis wanted the challenge of making a straight horror film. Itís going to be fun working with some of his team again, as they did a great job with me on Insatiable.
Alfredo Salvatore Arcilesi [Alfredo Salvatore Arcilesi interview - click here] is a filmmaker I met at the Macabre Faire, and upon seeing his film For Clearer Skies, I just knew I had to work with him. Steve Glassner [Steven-Mark Glassner interview - click here] had proposed an episode for Mnemophobia: Fear Of Memories, and originally I was going to direct it but felt it was too much to handle so when we looked at directors we wanted, Alfredo was at the top of the list. Alfredo comes from Canada and will be filming on Long Island so itís a new experience for us all, but recently we had a production meeting where he pitched his episode idea, and it literally gave me goose bumps. Alfredo is a filmmaker definitely to look out for.
One filmmaker making a return to filmmaking is Robert L. Brodmerkel [Robert L. Brodmerkel interview - click here], who many know simply as Horror Bob from his website Horrorreview.com since 1999. Robert is also a filmmaker who took aside the time to raise a family but is looking to get back into the business. He wrote an idea for Agoraphobia: Fear Of Leaving The House for the series, and itís a script that Rod Serling would be proud of. I am proud that Robert chose In Fear of to make a return to directing and we are in the process of putting that together. I hope to have a few surprises about that as well.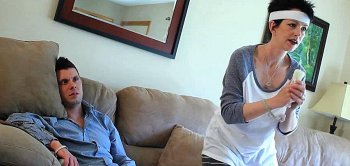 David Marancik, Debbie Rochon in season 1's Monophobia
Finally, while there is no director announced yet for the last episode mentioned, it is a concept that was written by Debbie Rochon [Debbie Rochon interview - click here], returning from season 1, and was pitched to me at last yearís Buffalo Screams Film Festival, where Monophobia won the award for Best Horror Comedy Short Film. Itís a really cool idea and one to be happy to collaborate with Debbie on, as she is just a joy as an actress and person. An announcement will be made on that shortly.
Anything you can tell us about your casts yet?
Aside from those mentioned above, there are a ton of great talents on board for Season 2.
Returning from season 1 is Debbie Rochon in an episode she wrote and I'm looking forward to working with her again. Debbie has become a good friend and this is another episode that will showcase her talents not just as an actress, but as a total filmmaker. Sheís one of a kind and it shows. Her episode by far will have the largest cast assembled for one episode and will be a great time.
David Marancik will be co-starring not only in the episode with Debbie but in another episode, Merintophobia, with Kaylee Williams, who Iíve wanted to work with for a long time and am thrilled to be working with her on this. Weíve been in some good discussions on the role and sheís ready for it. Sheís very sweet, talented, and brave to take on such a commanding role. Thereís a third pivotal role yet to be cast but am in the final stages of doing so.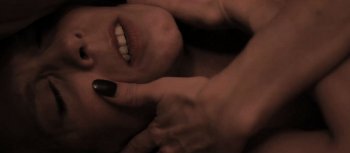 Susan Adriensen in Scotomaphobia: Fear Of Blindness

Jeremiah Kippís Scotomaphobia has a terrific cast, with Susan Adriensen, a good friend since I met her in character as Sno-Cakes on The Blood Shed, leading. Susan gives such a powerful performance, particularly in one scene where she just let all her demons come out of her and it was like filming a real life exorcism. Starring with her are Bryant Pearson, powerful as her husband, Genoveva Rossi as her best friend, also great, Bradley Creanzo who plays pure sleaze well, Shane B. Kulman, Edward X. Young, Missy Heather, Bob Socci, Patrick Brancato, and Jacki Garthwaite. All deliver fine performances and I am having fun sifting through the footage. However, with respect to all the actors, the most fun to work with were Mud the Dog and Puppy The Parrot, both pets of Susie and delivered top notch performances, especially one in naturally spooking BryantÖ all on camera.

Both Bradley Creanzo and Genoveva are appearing in Agraphobia (with Brad pulling double duty as director), and they know each other so well that it will come natural to them. Genoveva is not only a terrific actress but a genuinely sweet person who brings 110% to everything she does, and in Agraphobia sheíll get to play the prototypical heroine who kicks ass. It will be fun.

Thomas Normanís Toxiphobia: Fear Of Being Poisoned has Kelly Rae LeGault [Kelly Rae LeGault interview - click here] returning as a wife who believes her husband is poisoning her by means of a deceptive witch, and Kelly and Pete Mizzo as the husband both deliver great performances. Playing the witch is horror icon Manoush of Barricade, The Super, and other extreme horror films, and both Thomas and I are looking forward to working with her. Sheís not bringing the stereotypical witch to her character and added a part not written in the script that will be both haunting and beautiful at the same time. Fans of Manoush will be surprised.

In Mnemophobia: Fear Of Memories, starring are Macabre Faire founders and overall great people Adam Ginsberg and LC Macabre [Elsie and Adam Ginsberg interview - click here], who are both very excited to be starring in this episode. They played season 1 of In Fear Of at the Macabre Faire twice and we received a standing ovation, but upon seeing their work as actors, both are very good and felt they had to be a part of the series. Steve Glassner [Steven-Mark Glassner interview - click here] put the episode together and all involved will make it a virtual dream project.

Dysmorphophobia: Fear Of Deformity stars Heather Drew, a great actress I met recently who will be starring in it alongside actress/contortionist Miss Ekaterina, whose work is mind blowing. She sent me a picture when I was looking to cast originally that just amazed me. For Heather, it will be a challenge as itís a film that has no dialogue so she has to rely on her emotions, but I'm looking forward to direct her in that. Sheís someone I dub Lady Awesomeness and she has earned that moniker for sure.

We are still casting one part for Dementophobia: Fear Of Insanity, but it will be starring Rachael Robbins. Rachael is a natural comedienne and I based the episode out of a personal experience from my interviewing days, so am really looking forward to working with her on this episode. From the conversations weíve had, it will be a fun shoot and sheís a gifted actress. We are shooting that one soon.

Hydrophobia, Taphaphobia, and Agoraphobia have yet to be fully cast but are in the process of putting it all together and hope to make some MAJOR announcements about them soon.

In Fear of's first season was very eclectic in tone, ranging from comedy to atmospheric horror to sheer terror and whatnot. Is there any, I don't know, overall-tone for season two, and any way to describe the look and feel of the diverse episodes?

Season 2 will be even more diverse than the first season mainly because of the styles of the many talents involved. One of the main goals of In Fear Of is to show that and that no two episodes be completely alike. Weíre showcasing individual talents in a group effort to showcase their skills, and the directors have a lot of control over their episodes. All they have is the basic formula to stick to, choose a phobia as the filmís title, and let the imagination flow (as long as you stick to the confines of the budget).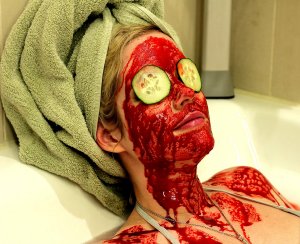 Gerontophobia: Fear Of Aging
As far as I know, you have already done a bit of filming for In Fear of's season 2 - so what can you tell us about the shoots so far?
Three episodes have been shot in various stages thus far. We wrapped Jeremiah Kippís Scotomaphobia in December after 6 fun days of shooting at different locations around New York and New Jersey and none of the days were very long [Jeremiah Kipp interview - click here]. It was a very fun experience with DP Steven-Mark Glassner [Steven-Mark Glassner interview - click here] and Kipp directing such a large cast. One location was Pilgrim State and we shot in two consecutive days. The first day was freezing, overcast, and 20 degrees. The second day was sunny and 65. In December! On Long Island! Pilgrim State is an abandoned mental hospital that is open and looks post-apocalyptic. It was an awesome shoot.
We did a teaser shoot for Gerontophobia: Fear Of Aging with Suzi Lorraine [Suzi Lorraine interview - click here] for the campaign that was quick, fun, and was good to get the overall tone of the series. Steven-Mark Glassner again did a great job with the photos and Suzi LOVES getting bloody. Now how can you not like an actress who loves being doused with blood?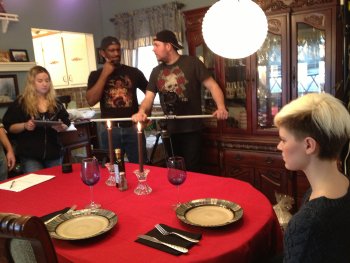 Toxiphobia: Fear Of Being Poisoned
Thomas Normanís Toxiphobia wrapped the first part of shooting with Kelly and Pete recently, and it went as good as you can possibly think of. Kelly was great to work with on Fear Of Being Touched, and in Toxiphobia, she goes all out as a woman who believes sheís being poisoned and got into the zone for some truly riveting moments. Since we shot in my house, she was concerned about breaking anything but I told her that people in my neighborhood expect this from me. I live in Amityville for Godís sake. Weíre shooting the scenes with Manoush next month.
Autophobia: Fear Of Abandonment will star Larry Carrell, star of the soon to be released Jacob on DVD and Blu-Ray April 16, and will be filmed in Texas. The idea came from Carrell who mentioned an abandoned part of Beaumont, Texas which would be perfect for filming. Larry is a terrific filmmaker, great actor, and all around awesome person and I'm looking forward to making this episode with him and producer Nick Nicholson. We are still writing the episode but will have more cast from Texas very soon. For me personally, itís going to be such a new and wonderful experience.
Coming up next is Fear Of Deformity followed by Gerontophobia and Agraphobia. We expect to finish all shooting by August.
As far as I know, In Fear of - season 2 is still in its fundraising stages. So what can you tell us about your fundraising efforts?
Yes. We are currently raising funds via the wonderful site IndieGoGo to complete the entire season. We have a few already in post-production and are shooting two before the campaign ends but we need help to finish the season so that all these great episodes can be released.
Weíre asking for $5000 and so far weíve raised $1760 in just over two weeks. So far the word out has been great and so many people have been spreading the word but we hope we reach our goal in time. Iíve also received generous donations personally from friends so weíre closer to $2000.
You can contribute and check out the series at http://www.indiegogo.com/projects/in-fear-of. Youíre not just helping me out, youíre helping over 50 talented actors, writers, producers, and directors make quality films for a web series that wonít disappoint.
Any idea yet when and where the series will be released onto the general public?

Feeling lucky ?
Want to
search
any of my partnershops yourself
for more, better results ?

The links below
will take you
just there!!!

Find Scott W. Perry
at the amazons ...

amazon.com

amazon.co.uk

amazon.de
Looking for imports ?
Find Scott W. Perry here ...
Something naughty ?
(Must be over 18 to go there !)

Too early to say that but I can say that it wonít be on YouTube like season 1, and we'll shop it around for a website or network to pick it up. I canít comment on it but we have had interest so far.
Provided season 2 goes down well with fans (and it will), will there ever be In Fear of - season 3? And any other future projects?
I think there will be a third season but it depends on how this season goes and we reach our goal in the fundraising effort. The good thing is that so many filmmakers have responded and want to do an episode that I hope this goes on for many years to come.
Personally though I think in future seasons I'll spend more time as a producer and will be developing other projects as a director. Nothing set in stone yet but in the summer I'll start pre-production on a feature film that Iíve been developing for about a year now with a few names already attached. Right now am focused on making this season of In Fear of a memorable season that horror fans will enjoy and cherish for quite some time.
Your/your series website, Facebook, IndieGoGo, whatever else?
http://www.facebook.com/InFearOf?fref=ts
http://www.indiegogo.com/projects/in-fear-of
Thanks for the interview!