Your new movie Blackburn - in a few words, what is it about?
Blackburn is a frightening tale that is based on true events and then expanded on.
In a nutshell a group of collage students get trapped between an avalanche and a forest fire on a semi abandoned strip of remote wilderness highway in Alaska. When they run out of gas and take refuge in an abandoned mine, they soon find that the surviving residence from a nearby insane asylum that burnt to the ground have inhabited the mine and they don't plan to let their new guests leave anytime soon. At least not in their own skin!
How did the project come into being in the first place?
The project was written by a close friend and writing partner of mine Nastasha Baron and her partner Corr Pearce. We had collaborated for numerous years on other projects. When Nastasha and Corr decided to produce Blackburn they approached me to direct and co-produce based on my background and some of my other work they had witnessed. I had never tried my directing skills in the horror genre before but was very interested. So we pulled together a great cast and crew and made it on a very modest low budget in just 14 days!
What can you tell us about your screenwriter Nastasha Baron, and what was your collaboration like?
Nastasha is a very enthusiastic and positive person, so when she gets excited about something it becomes infection and you find yourself quickly swept up in her wave of motivation and creativity! Since we had written together before and we're use to working with each other in that manner, it was very easy for us to collaborate and polish the script into a project we knew we could have fun with and accomplish on the budget and schedule we had.
Not to mention that we were able to cast some really good friends with the same positive energy and vibe to pull this off.
Do talk about your movie's approach to horror for a bit, and is that a genre at all dear to you?
I must admit Nastasha is the main horror fan in our group. I was definitely not a stranger to it and really enjoy classic remakes like Texas Chainsaw Massacre and Evil Dead. I really liked the look and style of those two films and although I knew we wouldn't have their budget, I wanted to emulate them as best I could with what we had. I love jump scares!
My oldest daughter is a huge horror fan as well and always wanted me to do one. I've also written other horror films that I hope to do in the future. It's fun to delve into the human psyche and try to play in their deepest fears, of which there are so many! Suspense is what builds the fear and that is the fun part. It's a really fun challenge!
What can you tell us about Blackburn's key cast, and why exactly these people?
Fortunately the majority of the key cast were long time friends and previous work colleagues for many years. Casting Ken Kirzinger and Brad Loree was a no brainer! Not only had we been friends for 20 years but of course they played Jason and Michael Myers respectively in Friday the 13th and Halloween. So they fit the roles of Digits and 3 Eyes to a tee! Maja Aro is also a long time friend whom I've had a working relationship with since she started in the business. She is a very good actor and stunt performer, so I knew she could handle the role of Mary without any limitations.
Emilie Ullerup was my first choice for Chelsea, I just knew she was perfect, especially since I wanted her to play the "Blonde" scream queen role with a different twist. She wasn't really into it until I explained that I wanted her to be smart, witty, funny with just a hint of bitchiness and a sprinkle of sarcasm that the audience couldn't help but like and hate at the same time. Then she was in!
Sarah Lind and I had worked together a lot when I directed her in a TV series called True Justice. I knew Sarah was perfect to pull off the vulnerable heroine with nerves of steel and the physicality to pull off the action believably. And she nailed it!
Lochlyn Monroe, Mike Dopud & Brandi Alexander were also long time friends who just came on board as a favor to me and to join in the fun.
Jen & Sylvia Soska [Soska twins interview - click here] were students of mine in film school, so I've known them since their very humble beginnings and helped them out with some of their first projects just to get them going. So they came on board as a favor as well just to help give our project a little boost seeing as their name is now huge in the horror genre.
I didn't know Calum Worthy, Alexander Calvert or Zack Peladeau, but they all stood out immensely in their auditions and I jut knew they were perfect for their roles, which they were. And what a great cast to work with!!
Everyone gelled immediately and it was a great experience for everyone.
The final gem was finding the Robbins twins! Joyce & Jacqueline were amazing in their roles as well as keeping us in stitches. Such an entertaining couple of ladies and a joy to work with.
I was truly blessed with not only a great cast, but down to earth and fun.
They knew what I wanted and brought it in every take of which was often only one!
A movie like Blackburn relies heavily on its locations - so what can you tell us about yours, and what were the advantages and also challenges like filming there?
We didn't have many locations but the abandoned mine was of course our main one. It was the perfect casting as far as location goes. It was super creepy and fit the story, better than we could have imagined. The story was originally set in an abandoned insane asylum, but when we found the mine and all agreed it was perfect, Nastasha quickly rewrote the script to suit the new location.
That doesn't mean it was easy. The mine was split into two locations, the mine shafts and the mine building. Logistically the mine shafts were a nightmare to work in. Getting a hundred people in and out of a narrow mine shaft with filming equipment was not an easy task for the crew. Not to mention the time constraints we were under. The mine building had its own demons as well. The main one being the ridiculously steep stairwell that everyone had to climb. It was barley wide enough for one person and it was so steep it was more like a cross between a ladder and a rickety old wooden staircase.
It was truly dangerous. Not to mention it was the only way up or down and the crew had to carry everything up and down, over and over.
Yep, very tough locations. They called it the "Buns of Steel" location!
Do talk about the shoot as such, and the on-set atmosphere?
The shoot was definitely fast and furious in that we only had 14 days to shoot it, plus the challenge was that we shot mostly all nights and it was a summer shoot when your days are long and nights are short. But we were well prepared which helped us problem-solve on the fly. Our DP, Brendan Uegama had his work cut out for him but pulled off and amazing look to the film for us. We had a very positive happy cast and crew so the vibe was up-beat and positive the whole time. That is literally what got us through the tougher days. The team work and positive atmosphere was amazing and it's still talked about today on other sets.
The $64-question of course, when and where will the movie be released onto the general public?
At this point Archstone has taken on distribution and currently plans to release Blackburn in April of 2016. It may or may not have a small limited theatrical run, but definitely will be available on VOD, PPV, iTunes and all major platforms for which you are able to rent or buy movies.
As for now, we won Best Director at the Chicago Horror Film Festival and a Silver award at the Atlanta Film Festival!
Any future projects you'd like to share?
I have several projects in the works, but the next one I plan to direct with 3Branes Ent. is an action film currently titled Knight Brothers. It's a high octane martial arts action film in the vein of The Rundown, Lethal Weapon and/or Bad Boys 2. The Knight Brothers are saving the world with a little bit of wit and comedy along the way. I've always wanted to do an action film that doesn't take itself to seriously so people can just escape and have fun with a few laughs along the way while still be amazed by the action.
You initially got into the film business as a stunt performer, right? So what can you tell us about that aspect of your career, and how did you train to go into stunting?
I decided when I was 8 years old that I wanted to be a stuntman. From that age on it was my focus and most everything I trained in or participated in was towards my end goal of becoming a stuntman. All my martial arts training, gymnastics, horsemanship, motorcycles, cars, climbing, etc. Everything I did I thought, how could I use this in a movie! Of course I did some crazy stupid things that I shouldn't have survived, but when I got into the business, I learned how to do them safely and professionally so you can do take 2, 3, 4, etc. I've been fortunate through my 27 year career as a stuntman so far (because I still do stunts when I have time) in that I have had the opportunity to do such a large variety of stunts. I've done pretty much every type of fight scene from a nude fight to being a Ninja Turtle and everything in between. I've done high falls, water work, explosions, fire burns, motorcycle jumps and crashes, car rolls, car chases, car crashes, every type of flip fall and smashed into the ground and too many other things to count. From being a performer I started working as a stunt coordinator in which it is my responsibility to set up all the stunts safely a creatively to suit the script. As I gained proficiency as a coordinator I moved into 2nd unit directing where I was responsible for planning all the shots for the main action sequences in certain films. Eventually I got a break and became the over-all director for certain projects such as Blackburn. My years of experience on set, coming up through the stunt business have been the best film school I could ever have ever attended.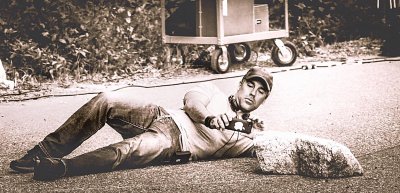 Lauro on set
What made you try your hands at directing eventually?
It was my desire and creativity for action originally when I started 2nd unit directing. I was often given cast to direct on my unit which intrigued me into learning and wanting to tell the whole story. When my mentor saw that I was ready for the director's chair, he put me in the hot seat and turned me loose. I haven't been able to stop since!
What can you tell us about your filmwork prior to Blackburn?
Well I think by now you have a pretty good idea, but since starting in 1989 I've worked non stop in the best business in the world, as a stuntman, actor, stunt coordinator, 2nd unit director, director and producer. I don't ever plan to retire because to me, it's what I love and it will never be a job, but always a passion.
How would you describe yourself as a director?
I don't think that's for me to say really. I know I'm good at problem-solving on the fly, which is a huge factor in directing a film because things are always changing. I know I work well with people and I know what I want and am always prepared. I will always be learning and striving to get better and look for new and creative ways to tell my stories to entertain audiences.
In the end, it's all about story and entertainment.
Filmmakers who inspire you?
Hal Needham, as he was also a stuntman and became a director. He made some of the best action films of his day with his good friend Burt Reynolds. I've always liked Tony Scott, Ridley Scott, Quentin Tarantino. More recently I'm keeping an eye on and aspire to works by Alejandro González Iñárritu and Denis Villeneuve. Of course there are many more.
Your favourite movies?
De Palma's Scarface is a classic that I love. Man on Fire by Tony Scott is a big favorite. Ridley's Gladiator is a great one I can watch over and over. Reservoir Dogs and Pulp Fiction are a couple of my Tarantino favorites and I recently add Django Unchained in there too! Braveheart by Gibson, Blackhawk Down by Ridley, The Kingdom by Peter Berg, Smokin Aces by Joe Carnahan, Sicario by Denis Villeneuve and of course Saving Private Ryan, Schindler's List, Minority Report, any of the Indiana Jones-films and Jaws, all by Spielberg. And I'd be remiss if I didn't mention the Smokey and The Bandit-series of films by Needham, and any true stuntman loves Hooper by Hal Needham as well.
... and of course, films you really deplore?

Feeling lucky ?
Want to
search
any of my partnershops yourself
for more, better results ?

The links below
will take you
just there!!!

Find Lauro Chartrand
at the amazons ...

amazon.com

amazon.co.uk

amazon.de
Looking for imports ?
Find Lauro Chartrand here ...
Something naughty ?
(Must be over 18 to go there !)

I don't really see the need to go there and promote that kind of negativity towards others' hard work. As a director I know what goes into making a movie and what's in your control and what's out of your control. And if the out-of-control outweighs what you have in your control, then it's really hard to do your best work. As an audience we never know what the director went through or what tools, time or money he did not have to make his vision come to fruition properly. So not much point in pointing out films that didn't work.
Your/your movie's website, Facebook, whatever else?
Website: www.laurochartrand.com
Facebook: Lauro David Chartrand
IMDb: Lauro Chartrand
Anything else you're dying to mention and I have merely forgotten to ask?
I think that's plenty!!! :P
Thanks for the interview!