Even if we have talked about this in quite some detail before [click here]: Your new film American Mary - in a few words, what is it about?
Sylvia: American Mary follows the story of fallen on hard financial times medical student, played by the phenomenal Katharine Isabelle [Katharine Isabelle interview - click here], who is growing disillusioned and disappointed with medical school and the surgeons she once admired. A chance encounter sends her into the messy world of underground surgery and body modification as she comes to many self realizations in a world where the appearance one puts out to the world takes centre stage.

Jen: It's an unconventional take on an all too common story. It's an analogy for our own struggles in the film industry. It's largely a male dominated industry and though many men don't fixate on gender and age, sexism and ageism run rampant, and you would be amazed how women are treated by some men in this industry who accumulate the smallest amount of power. Most of these people have failed in the industry themselves and cannot stand to see a young woman succeed where they could not. We've always found acceptance in what one would call counter culture. The independent and horror communities have embraced us and believed in us when many have not and the ones that come off clean cut and "normal", whatever that means, are more often than not the real monsters. The people in the body mod community are open and honest. They have nothing to hide.
This might come across like the most moronic question, but considering you, much like Mary, are attractive young women trying to make it in what's perceived a male-dominated profession (though it beats me why you have to be a man to be a surgeon or a movie director), are there any autobiographical elements in American Mary?
Sylvia: There are a lot. When we wrote the script we were still in the process of trying to get Dead Hooker in a Trunk out there. Despite having the film released, we were inexperienced and there wasn't money made on the production. We were also taking our first steps into the film world and at a low level, that's where a lot of the wolves are that prey on new people. Most effectively, we were spending a lot of time in the hospital with someone we loved very dearly, years of being by her side until her death. It was a series of helpless situations where we wanted to take our power back, to be in control. The film itself is angry and sad, but finds hope in unlikely places much like our own lives. We have worked for years to be part of the directors' club and found acceptance and kindness within the horror community. The process of making the film was one of the most painful and difficult times I have ever had trying to get a film out and I believe it's because it was so personal. I don't think I will do that so transparently again for a long time.

Jen: Absolutely. We've found ourselves in many of the situations that Mary has found herself, although we've always had the benefit of having one another so we've been able to escape some pretty unsavory situations. There are so many monsters in this industry that don't just prey on women, but the young, ambitious, and inexperienced as well. So many people who claim to be producers or photographers or a variety of that. They're out there to take advantage. Unfortunately, as much as this business attracts creative artist types, it also attracts real assholes. I've never experienced as much sexism and ageism as we did in our ventures with American Mary. I thought it was bad, but not as terrible as we experienced. There are men out there who just categorize women as "fuckable" or "not fuckable". If a woman dresses nice and takes care of herself, she's labelled a slut or a whore. If she dresses down and modestly, she's ugly or a cow. A man can look any way he wants and it doesn't change how he's treated. It's a disgusting double standard.
The absolutely insane roles you have given yourselves in American Mary - now how did you dream up those, and how much fun was it to play them?
Sylvia: I loved playing those roles. We started as actresses and found our true calling behind the scenes, so this was to be our final cameo - it turned out not to be as we have a couple cameo roles coming up including Ricky Bates' upcoming Suburban Gothic - but that was the intention. As it went, a lot of people would meet us and have this expectation of what we would be like because of the films that we made, so we decided to play with that. Also, that the Demon Twins of Berlin would be very self-aware characters, given what they desire to do and the reasons for it. An April Fools prank on the BME site regarding twin brothers that swapped limbs was what got me into the subject of body modification, so it was a bit of a shout out to that as well.
Jen: I loved it! I adore the Demon Twins of Berlin. They are so liberated. They don't give a shit about anyone or anything, except one another. They are so true to themselves and open and fully comfortable with who they are and their place in the world. It was a lot of fun to act with that mind set. In a lot of ways, they are exaggerated versions of ourselves. A lot of people have these preconceived notions of who we are or what we're like. When we meet people, they often say, "wow, you're so sweet and down to Earth, I thought you'd be really scary and weird because of your films." I know I am weird, but I do have manners.
As far as I know, you have done quite a bit of research on bodymodification prior to filming American Mary - so what are your personal thoughts on the subject, and were there any modifications in real life too wild to come off as believable in your movie?
Sylvia: I love body modification. There is no group in the world as wrongly villainized as the members of the mod community. It's a modern day witch hunt and the fact that our governments will not make it safer to have people to these procedures is troublesome. I have met countless members of the community and they are the most self aware, good natured, and sound minded people. Because of the stigma, they have to be living, breathing educators to the masses as things that are not mainstream accepted have become under constant scrutiny in the media. In the film, there are two bullshit mods - the girl with the heart nipples, it's most commonly done as a tattoo, I just loved the look of it, and the limb swap - although it is in its infancy stages in Europe, it takes about a team of forty to get the procedure right and many of the transplants are rejected.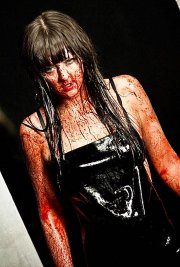 Jen: I love body modification. I think it's beautiful and freeing and a wonderful form of self expression. I don't really understand why cosmetic surgery is fully embraced and accepted in our society and largely in American culture, but body modification is frowned on and seen as the behavior of someone mentally unstable. The only difference I see is that those in the body mod community are getting their alterations done purely for themselves, whereas cosmetic surgery is in the pursuit of trying to fit into the ideal of what society deems is beautiful. I feel people need to decide what is beautiful for themselves and not try to fit into some cookie cutter ideal. Beauty comes in all forms and all body types. To limit yourself to one look is boring and I hate to think anyone would want to change themselves to fit in. We should strive to stand out.
I couldn't help but notice that concerning the subject of American Mary, your approach to the gorier aspects of the story was relatively restrained - and knowing you're not exactly girls who faint at the sight of blood, why was that, and did you sometimes feel the urge to just go all slaughterhouse?
Sylvia: When pitching the film, the resistance we got time and time again was that the subject matter was 'too ugly' for cinema. We realized that not only does the story have to show a different side to this world, but appearance in every aspect had to be at the forefront of the story telling. We decided to make this the most beautiful film imaginable and thanks to our director of photography, Brian Pearson, our art director, Tony Devenyi, our costume designer, Enigma Arcana, and the prosthetic and makeup of MastersFX we were able to achieve that. I think gore is like a spice - the only crime is to use it as a band-aid for not having what you need to tell the story. Where you see blood and gore, we wanted it there. It was as meticulous and controlled as the lead character herself.
Jen: We wanted to treat the subject matter as respectfully as possible and leave the true horror and disgust for the reality. The party scene for me is the most difficult to watch. You follow Mary throughout the film. You see the world through her eyes. If we've achieved our goal, you hurt when she hurts. You live alongside her for her triumphs and her pain. When she gets her revenge, it's not scary and couldn't be because we are on her side. She, herself, is so reserved. She so cleverly masks her true feelings with her pristine appearance. Her make up is her war paint, her clothes are her armor. She never lets anyone see any breaks in her exterior, until we see that private moment where she loses it on the security guard.
Part of your film is set in a strip club - what do you think made exactly that setting perfect for your story?
Sylvia: When I hit nineteen, I spent way too much time in strip clubs. It's a different world. There's the surface level that everyone sees and then there's something else that goes on below that you can catch glimpses of if you spend enough time there or meet certain people. It played into the world of surface appearances, so it was fun for us to make that one of the locations. We always try to bring interesting locations to our films, you don't want any part forgettable or boring.
Jen: The tag line to the film is "appearances are everything". What something appears to be is rarely what something actually as. It's that whole "you can't judge a book by its cover" thing. Aside from the obvious aesthetic beauty of the location and lighting possibilities, it worked as a place where a shady character like Billy could do his business dealings away from the public eye. There are also a series of preconceived notions about the kind of person who would perform or work at such an establishment and we wanted to further shatter those with the character of Beatress. She is a very sweet and genuine person. She loves her girlfriend Ruby and would do anything to make her feel happy and complete. She also decides she likes Mary early on and like a cat does with someone who's allergic, just keeps at her until she starts to let her in a little. We really wanted to tear down the assumptions that people make about others and the world around them. If you just look past the surface, you have no idea what you'll uncover.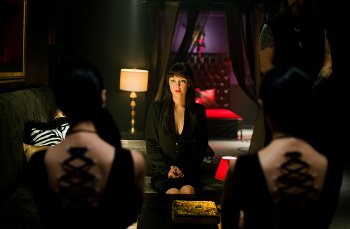 What can you tell us about critical and audience response to American Mary so far?
Sylvia: It has been overwhelming. The success of the film is due to the horror community's incredible support. The film has won countless awards, has brought us across the world with it, and has brought us into the directors' club that we so desperately wanted to be a part of. A lot of people say they can offer 'the American Mary experience' to people, but the truth is that the focused filmmaker can do this. Jen and I spent years online asking people to watch our work, sharing every article written, and thanking people for taking the time to share their thoughts. I know it sounds simple, but no one is going to give you a twenty million dollar marketing budget for your film, but you can hit social media, be interactive with the people who are making it possible for you to make more films, and above all - this career is a privilege - treat it that way and be respectful to others and you will go so far. Look at Jessica Cameron's directorial debut with Truth or Dare - she's a brilliant filmmaker and people know about her film because she gets it out there and she's a class act in every sense of the word [Jessica Cameron interview - click here].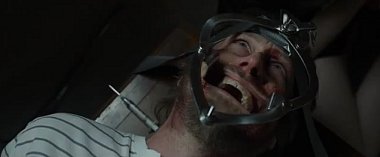 Jen: The fans have been amazing. We admittedly did not make this film for everyone. People will not get the film and people who are anything like the misogynists we've had to work with will actually hate it. And that's fine by us. We made it for the body mod community. For any woman who has ever struggled to get ahead in a place where she just wasn't wanted or could ever be seen as an equal due to her age and gender. It's for anyone who has ever felt like an outcast or like they were alone or didn't fit in. We made it for people who need to see the film. Critics have been incredibly supportive in the film. I think Europe, Australia, and Canada really got it. The US is pretty much split down the middle as far as responses go, which was to be expected. If you're an artist and not pissing someone off, you're doing something wrong.
As far as I know, American Mary was picked up by industry giant Universal for European distribution - now how did that happen?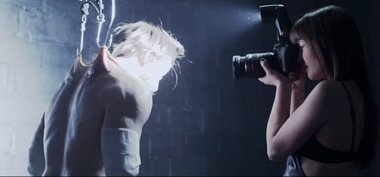 Sylvia: A Cannes Film Festival miracle, ha. Jen and I were so bummed that we had to spend a small fortune to bring ourselves over. I got a call that Universal would like to meet with us and got to sit down with Mike Hewitt and Amit Dey - two men that forever changed my life. We spoke about the film, they really enjoyed it and, more importantly, they understood it and knew how to get it out there. I remember leaving the meeting in the pouring rain and I couldn't stop smiling. I knew our lives would never be the same, I didn't know til later that the deal was happening. Mike is also the man who first brought A Serbian Film to people. He's an incredible man, he went above and beyond for our world premiere at Fright Fest and invited many members of the mod community to be in attendance in the 1400 seat theatre - when we saw the Universal logo before the film, we all teared up - and then Fright Fest was kind enough to bring the film on a theatrical run across the UK with Mike. A lot of people have a bad perception of big studios and they are wrong. There are people with a lot of heart and passion like Mike and the UK Universal team working there because they love film and it's because of those people I have a lot of faith in the future of film.
Jen: Mike Hewitt and Amit Dey. Two brilliant men with their fingers on the pulse of what's actually going on in the industry and that aren't afraid to take a risk.
You have recently shot See No Evil 2 - now how did that one come about, and what drew you to the project?
Sylvia: After American Mary, everyone we talked to wanted the same thing again - like literally Katie starring as a sexy surgeon or something close to a surgeon in the same or a very similar storyline. We don't want to repeat ourselves - actually, our goal is to make a film in every sub-genre of horror - and so we passed on a lot of work. We had just come back from a trip and one of our wonderful agents, Chris Ridenhour from APA, had a script he wanted us to read immediately. The script was See No Evil 2. It was totally different, but we had the opportunity to bring our own style to it. Not to mention, we are huge WWE fans. There was a part in the script that Jen and I both stepped back from our laptops and said we have to do this, but we didn't think it would happen. It was too cool a script, too cool an opportunity, and something we wanted so badly, so we didn't think it would happen. We talked to WWE studios and LGF on the phone for about twenty minutes where we discussed our ideas for the film and fangirled about how much we love what they are doing. I think the last thing I said was that they have a great project here and even if we don't get the job, we cannot wait to see it. In two days, we found out that we were hired. One of the best moments of my life.
Jen: Sylv and I are actually WWE fans from way back. We started watching as the Kane storyline was building up and were actually watching Bad Blood's Hell In A Cell match when Kane made his debut. We have long admired the WWE and have, like everyone, wanted to get in the ring as far back as we can remember. There is nothing in this world like the WWE. They know entertainment better than any other organization in the world. They have withstood the testament of time and just keep getting bigger, badder, and better. We wanted to be a part of that. That year that Kane first entered the WWE was 1997, the very same year that Lionsgate started up in Vancouver. I remember every time we went by the studio that a silently swore that one day I'd work for them. With See No Evil 2 we had the chance to work with not one, but two phenomenal powerhouses that we've long respected, loved, and admired. And the chance to work with one of our favorite WWE Superstars of all time? Just, wow.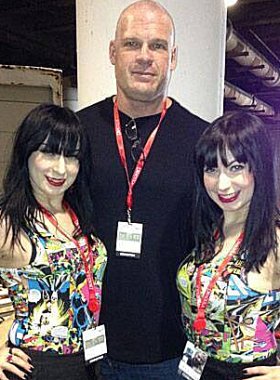 the Soska twins with Kane
See No Evil 2 stars wrestler Kane - so what was it like working with him, and are you into wrestling in your private lives?
Sylvia: Here's the funny thing. Jen and I started watching WWF when Kane's character was just being set up for an introduction. It was a heated rivalry between Jen and me because she is a diehard Undertaker fan and I was pretty in love with the Heartbreak Kid and they were feuding. I will never forget Shawn Michaels getting his ass handed to him and then in comes Paul Bearer with Kane - that must be KANE!!! - at Hell in a Cell. We were so nervous to meet Glenn. We are fan directors and it's how we approach our work - what do we, the audience, want to see happen. I will say I was a hug fan of Kane when we got this project, now I am an even bigger fan of Glenn Jacobs. I learned so much from working with him, the film was important and he brought the calibre to an entirely different level, and he was cool enough to even show me some wrestling moves. So, be afraid, I have minor wrestling skills from Kane. I'm a force to be reckoned with now!
Jen: We LOVE it! Admittedly we don't get much down time doing what we do and we rarely watch TV. I can now tell you that we've gotten back into watching Monday Night RAW, 3 hours of WWE bliss, and let me tell you, it's only gotten better. It was like coming home after being away for so long. At some point in everyone's life, they have been a WWE fan and let me tell you, that never goes away. We are all WWE fans and if you haven't treated yourself to a watch for a while, it's time to come back. It was absolutely incredible working with Glenn. Let me tell you, going in, I was a Kane fan. Coming out, I was and am a Glenn Jacobs fan.
Any other future projects you'd like to share?
Sylvia: February is fast approaching, so we will be releasing our annual Massive Blood Drive in conjunction with Women In Horror Recognition Month. We've been blessed with meeting some incredible talented women across the globe, so we invited some of our favourites - Hannah Neurotica (the woman who started WiH), Isabel Peppard (Butterflies), Maude Michaud (Red), Patricia Chica (Ceramic Tango), and Jessica Cameron (Truth or Dare) [Jessica Cameron interview - click here] - to create short films that will create this year's PSA. They are so talented and we are big fans of their work - our goal is to encourage people to take time to donate blood but we also wanted to make people aware of these filmmakers' style and work.
Jen: It's hard to say what we have coming out next. We have so many opportunities right now that we are so blessed to have. We have a pile of scripts and write so fast it's unfair, ha ha. We have See No Evil 2 coming out later this year along with ABCs of Death 2 and will be traveling as much as we possibly can to promote both. We just love getting to travel and meet the people who support us and then hug the holy hell out of them. We have so many things in numerous stages of development. We're honored to be a part of XX, an all female horror anthology alongside women we respect immensely. Mary Harron, Jennifer Chambers Lynch, Karyn Kusama, and Jovanka Vuckovic. It's a dream come true and I really feel we are making history with this collaborative piece.
Your/your movie's website, Facebook, whatever else?
Sylvia: Our website is twistedtwinsproductions.net and it's under construction, really out of date sadly, but we are very active on Facebook - there's a page for us and ones for all of our films, as well as @twisted_twins on Twitter and Jen is a diehard tumblr. You can also find us on @twistdtwinsarmy on Twitter and twistdtwinsarmy on Instagram.

Feeling lucky ?
Want to
search
any of my partnershops yourself
for more, better results ?

The links below
will take you
just there!!!

Find Soska Twins
at the amazons ...

amazon.com

amazon.co.uk

amazon.de
Looking for imports ?
Find Soska Twins here ...
Something naughty ?
(Must be over 18 to go there !)

Jen: What she said, ha ha. Tumblr is by far the best way to ask us stuff and I like to respond with GIFs and thoughtfulness, ha ha. If you can't find us online, you're not looking, my dears.
Anything else you are dying to mention and I have merely forgotten to ask?
Sylvia: We are going to be touring a lot this year to meet people and deliver our brand of horror and hugs - you can catch us in Vancouver, Knoxville, Dallas, Indianapolis, San Diego, Calgary, and Toronto - hit us up online to get the details and hope to meet you there! We never get out, so this is pretty cool for us.
Jen: No, this has been wonderful! Thank you so much for taking the time to speak with us. It's been a pleasure! And a massive thank you to all the people who have been supporting us and our work. I hope we get to meet this year! Please come out and see us and get you hugs!
Thanks for the interview!