Your new movie Heartbeat - in a few words, what is it about, and what can you tell us about your character in it?
Heartbeat is a really special nod/merci to film noir with a modern twist - murder mystery keeping you guessing.
What did you draw upon to bring your character to life, and how much Lisa London can we find in Gretchen?
I try to always bring a big element of my essence to every character I play. I loved this role because it shows so much human behaviour so clearly. I never played someone with this type of agenda/secret. I drew on the Deep Throat character in All The Presidents Men.
How did you get involved with the project in the first place?
I was in the middle of shooting and producing Choke with Gregory Hatanaka and the Cinema Epoch/CineRidge Entertainment film family. Greg thought it would be cool experiment to shoot 2 films with the same cast/crew simultaneously - so we did!
What can you tell us about Heartbeat's director Gregory Hatanaka, and what was your collaboration like?
It's effortless working with him! Pure joy and mutual respect. We see and aim for creative angles that excite and disturb and amuse and delight with the same lens. Sometimes magical simpatico vibes simply happen between actor/director. Gregory Hatanaka gets me - my talent/my brain/my heart as an artist.
Heartbeat wasn't the first time you worked with Gregory Hatanaka - so what can you tell us about your previous collaborations, and how did the first of you first meet even?
I first met Greg when he came to check out actors in Sal Landi's cold reading class. He loved my work and soon hired me for Darling Nikki (soon to be released) I've been his muse ever since really - love every minute of being his target of his frame! That movie was put on hold... then I did Samurai Cop 2 which became instant cult classic. Body Electric, Holy Terror, Body of Night, Choke, Heartbeat, Acrylic and Quarantine Girl followed. All on Amazon Prime and TubiTV - Quarantine Girl out soon. Very proud of them all - so diverse, every genre and role... and Choke and Body of Night made top Amazon Prime lists - grateful and thrilled for that!
Back to Heartbeat - what can you tell us about the shoot as such, and the on-set atmosphere?
We know each other so well that there is always a great flow of communication on set. Heartbeat wasa challenge that we all rose to - as Greg and Nicole D'Angelo would write our scenes and lines the night before each shooting day - and we were also shooting Choke same time - so a bit schizophrenic for actors to remember who they were, lol...
Any future projects you'd like to share?
Pre-COVID Greg, Nicole, Shane Ryan (star of many of Greg's films and producer) [Shane Ryan interview - click here] and Rich Mallory (director of Holy Terror/Greg's partner too) were on such a roll and I with them - hoping to get back into that rythym - had two films about to start when virus chaos affected everything globally let alone in Hollywood. My sci-fi series I star in with Lorenzo Lamas, Corbin Timbrook and Shelby Janes airs Aug 17 on kvqt21.com, you can view. I'm supposed to shoot more episodes in Texas in August. I'm shooting Bigfoot or Bust with Jim Wynorski [Jim Wynorski interview - click here] at the helm and Becky LeBeau co-starring in October. I'm in the final episode of award winning Apple TV+'s The Morning Show and in Lifetime Channel's The Wrong Teacher directed by David De Coteau. David is another wonderful director I work with lots. And you can see me all over as featured babe in Ed Sheeran/Justin Bieber's music video for their hit song I Don't Care.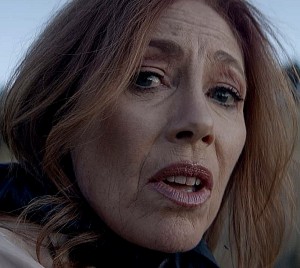 What got you into acting in the first palce, and did you receive any formal training on the subject?
I wanted to act since birth lol. I was dating someone super famous, and his agent sent me on a coveted audition for a female version of Animal House - I booked it - H.O.T.S., a cult classic to this day. The rest is history... I've studied hard and for many years. Tony Barr's Film Actors Workshop - invaluable on camera training. And I first met Lorenzo Lamas in that class btw... then Playhouse West, Sanford Meisner gave me technique. David Proval after that. He gave me tools to rely on and the confidence to be fearless with intention. And got to star in amazing original play with him! And my longest mentor is Sal Landi. I've been in his cold reading class for decades. I had a 5 year run of acting and producing hit theater for The Actorhood theater company he ran with Jaimyse Haft. Sal taught me to be still and know I am capable of filling a screen or a stage.
What can you tell us about your filmwork prior to Heartbeat?
I love my celluloid journey; I have grown, learned and lived so much everytime I step in front of a camera. And the travel I've done across this great big beautiful world and the people I've met - lucky girl I am!
Your career spans quite a few years now - so how has the filmworld changed over the years?
It changed the most when video replaced film itself. Key is to keep adapting and embracing the change. I know my career thrives now because I have never fought change - I relish it - I get bored so easily and have little patience so I actually enjoy jumping into new ways/things/places etc. And now we are really in for some new rules/protocols and methods to shoot for safety & health COVID reasons. Hopefully those won't be permanent but we artists will rally and it will definitely breed creativity! Greg already employed ingenuity to shoot Quarantine Girl safely, and it addresses important mental health issues...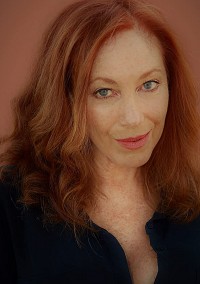 Feeling lucky ?
Want to
search
any of my partnershops yourself
for more, better results ?

The links below
will take you
just there!!!


How would you describe yourself as an actress, and some of your techniques to bring your characters to life?
I'm fearless in the sense that I will try anything to make it real/believable/honest. I'm all about what reads from the eyes. I work off the other actor but always have my secrets about my characters that make them intriguing. I also give much detail to utilizing hair, make up, wardrobe, environment - I pull from every element... I listen before I react...
Actresses (and indeed actors) who inspire you?
Ryan Gosling, Marlon Brando, Charlie Hunnan, Denzel Washington, Idris Elba, Vivien Leigh, Jessica Lange, Cate Blanchett, Marion Cotillard, Monica Belluci, Kerry Washington - SOOOOOOOOOOOOO much talent past & present!
Your favourite movies?
Dr Zhivago, Rust and Bone, Cinema Paradiso, Braveheart, It's a Wonderful Life - and all of mine lol!
... and of course, films you really deplore?
Tree of Life - only film I can remember walking out on, lol.
Your website, social media, whatever else?
On FB lisalondonfan and thepinupslive
On Instagram @lisalondonla
On Cameo Lisa London
IMDb has all my stuff always up to date.
Anything else you're dying to mention and I have merely forgotten to ask?
Passport ready to shoot anywhere!
Thanks for the interview!