Your new movie Alley Trash - in a few words, what is it about?
Alley Trash's premise is undeniably simple: Jay Winger plays a pothead, attempting to find an isolated spot where he can smoke a joint after a concert. Wandering through various downtown back alleys, he experiences a series of bizarre circumstances while encountering members of the criminal underworld. One of my media studies professors remarked that I have a tendency to explore clichés and mess around with them, so this was something I attempted with the different scenarios and decisions presented to the viewer.
Why did you choose the "choose your own adventure"-approach for Alley Trash, and what are the challenges making a movie that way?
Alley Trash was my undergraduate thesis project in media studies at McMaster University. I was in a combined degree program, also studying theatre & film, so I wanted to try something different from the more conventional approaches I'd covered during most of my preceding academic career. Not to mention that a handful of people in the course had already announced their intentions to produce feature-length films, so I wanted my project to stand out. I fed my advising profs some bullshit about how the way we watch movies and TV is changing, and that my interest in exploring new ways was the primary motivator. I suppose it was a motivating factor, to some degree, but interactive "choose your own adventure" videos was simply the first unique idea which came to mind during the initial pitch meeting. I didn't happen to come up with anything better, so that was that.
It's definitely challenging to write a multiform narrative such as this. Depending on the direction you take, you could be writing the same story two, three, four, or however many different ways. It takes a lot of discipline and dedication, because you have to be invested in your story and characters enough to want to do that without losing interest. As soon as you lose interest, things get sloppy. For a narrative like this, things absolutely need to be tight as fuck because there's also a risk of the audience losing interest. To avoid these problems, it is recommended that this type of narrative be kept short and simple. That's where I made a mistake with an earlier storyline, which I ended up scrapping entirely during the pre-production stage. I tried to write a convoluted espionage narrative that was too elaborate for this type of format, and more suitable for a conventional feature-length runtime. My ideas for that storyline were just too big, in general, and I wouldn't have been able to realistically pull off most of them.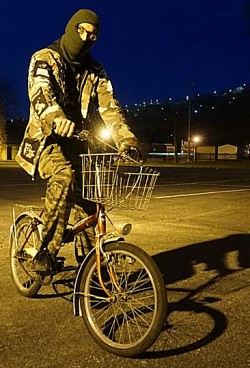 Other sources of inspiration when writing Alley Trash?
During the research stage, I tapped into some heavy philosophical discussions about free will and the difference between choice and decision. The BioShock game series frequently came up in regard to that. I joined a Dungeons & Dragons campaign with some co-workers. Films like Conspiracy Theory, The Manchurian Candidate, and American Ultra were influential in developing the unused espionage storyline, which was about sleeper cell spies and mind control. Old horror movie titles containing the word, "don't" were the basis for the narrative decisions in an earlier draft with the working title, Thriller Night. That was an obvious homage to Michael Jackson's Thriller, since the storyline was more of a slasher horror narrative. Thriller Night's premise surrounded a love triangle involving the main character and his best friend's girl, so I was encouraged to look into Eve Sedgwick's work regarding notions of homosocial desire in literature. In Alley Trash, there's a nod to the old cop show, The Shield, which starred Michael Chiklis. From the start, I wanted to go down some weird dark corridors that would typically be explored in something like a David Lynch film, and I feel like I sorta got to do that with this production.
At least to me, Alley Trash does have a comedic side to it - would you at all agree, and do talk about your movie's brand of humour for a bit?
I always laugh whenever Winger's character says the line, "bitch, I ain't yo' man!" I hope everyone else does as well. Some of his facial expressions crack me up at different points. I've never really intended to produce a full-fledged comedy genre film, but there's usually at least a dark or self-aware sense of humour to my work. The odds were stacked against us on this production, which made me suspect it was likely doomed to be a piece of shit, so we just had fun with it. Since none of the cast were professional actors, we had to work within their limits, and I just got them to ham it up. The whole thing ended up being a joke, but most people would probably say that about a humanities degree in general.
What can you tell us about your overall directorial approach to your story at hand?
Ever hear of Ed Wood [Ed Wood bio - click here]? I had to play it real fast and loose for this one. I had to go guerrilla, since I didn't really have time to block scenes or even dick around with setting up a tri-pod in most cases. We're talking a shoulder rig for my DSLR, natural lighting occasionally assisted by smart phone flashlights, with the intention of re-recording audio in post. I managed to design lighting for some indoor scenes of the mostly-produced first draft, Thriller Night, but the original leading actor had to drop out mid-way through production due to health problems. That basically forced me to scrap the footage and storyline and come up with something new on the fly. Since the supporting cast were still available, I threw them into the mix, and revisited an idea that I'd shot with Winger as a proof of concept: The back alley stoner who has the worst luck when it comes to smoking a joint. Looking back, I'm not sure why I didn't just follow through with this premise from the beginning. I shot and edited all the scenes over three nights, then did ADR and post-production audio the night before the deadline. Six months of research and development, and, here I was, still scrambling through piss-soaked alleys like an amateur at the last minute, haphazardly trying to get my under-developed, guerrilla student film in on time. I cut a lot of corners and did a rush job, and I still ended up handing it in a few days late.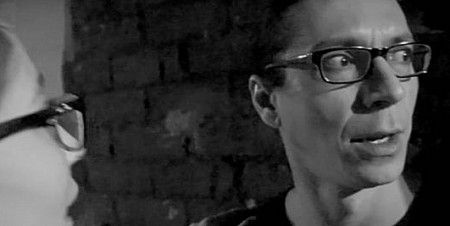 Do talk about your cast, and why exactly these people?
I was short on ideas, resources, and time, but I needed monsters, or killers, or some kind of gimmick for Thriller Night. Since I was aware certain actors (read: friends) happened to be available, I decided to revisit some characters from my previous shorts, Blackbags and Banana Seat Bloodbath. Of course, the unfortunate incident with Thriller Night's lead actor occurred, but pretty much everyone else was still available to shoot. I simply transferred the roles of the Meathead (played by David Kolenkski), Ski Mask Guy and Ghostface (as themselves), and the Banana Bike Killer (played by Jay Winger) to the world of Alley Trash, then asked Winger to pull double duty by filling in for the lead as well. Courtney Make, who plays the Meathead's quarry in one of the scenes, was available to reprise her role from a Meathead-centric short I'm currently finishing. All these people are a lot of fun to work with, have a great attitude and sense of humour, and are willing to put up with my delusions of being an artist. They've also been reliable as fuck the many times that I've found myself in a pinch and needed someone I could count on.
A few words about the shoot as such, and the on-set atmosphere?
Intense. Draining. I was already rushing to complete Thriller Night, since I'd wasted so much time developing the espionage storyline. I had a few weeks to get it done, and was making good progress until the lead actor dropped out. I mean, he dropped out while we were on location, setting up to shoot one of the last remaining scenes. We're still not entirely sure what happened that night, but he suffered an intense nosebleed out of nowhere, as well as some other issues, and it was kinda scary. Whatever it was had eventually passed, and I sent him home to recover. I was worried that maybe the production was too much for him and that I'd worked him too hard. Regardless of that, he was all fucked up, and we were now into the final week before the project deadline, so I scrapped everything. I spoke to Winger about stepping up as the new lead, and production commenced the next day. At that point, I only had until the end of the week to shoot and finish post-production, so we just improvised everything based off a few vague scene ideas. For the dialogue, I think I only took 10 minutes per recording session, 'cause I had to spend the final night bouncing around town to each actor's home. We'd record one take and I'd be like, "boom! Got it. Good enough. On to the next one." They'd always ask, "are you sure? I can do it again." Sometimes, I'd say, "fuck it," and we'd do one more take. Most of the time, however, I'd insist it didn't really matter, and we'd move on. I tried to keep things light and casual so it would still be fun for the cast, but I had to also keep things tight and on point in order to complete everything within that ridiculously short timeframe.
The $64-question of course, where can Alley Trash be seen?
For the time being, due to technological limitations, it is only accessible via YouTube (https://youtu.be/8QSLK_L9vy0). I've also released what I'm referring to as a director's cut (https://vimeo.com/220792734), which is a linear edit of how I intended the plot to unfold. It's kinda like a walkthru, I guess. The proof of concept experiment, A Hamilton Back Alley, is also available on YouTube (https://youtu.be/5MU5qY1H0U8).
Anything you can tell us about audience and critical reception of Alley Trash yet?
People generally seem to think the interactive multiform video narrative model is a cool or interesting idea. I haven't really received any extensive feedback, especially in regard to how or if the element of interactivity effects the viewing experience, which is something I was hoping to explore in the long-term. Other than that, I'm just fascinated by everyone's individual preference when it comes to deciding how to navigate through the story. I don't know why, for sure. I guess it's a statement about someone's personality. Maybe? Or not, I dunno. As an assignment, I think the final grade received was a B, or something. I've never really cared about grades and shit like that though. Just the experience itself.
Any future projects you'd like to share?
Now that I'm graduating, I have more availability to work on the personal projects I've been neglecting since I went back to school. I'm just wrapping up post-production on a few shorts, including a follow-up to The Ojibway Switchback and one about the Meathead. I got the idea to develop a web series based on Banana Seat Bloodbath, but haven't really made much progress with that. I have a few ideas for some projects, which might include branching out more into documentaries. Otherwise, I've been assisting a friend as his director of photography on a few projects, for which we've been toying with the idea of compiling and releasing as an anthology. We shot a little 5-10 minute zombie film on Super 8 as a kind of experiment with the medium. That was fun. I'm also handling post-production audio for that, but I'm not sure what the plan is regarding a release. We might expand it and turn it into something a lot bigger. Or not. I guess you'll have to wait and see.

Feeling lucky ?
Want to
search
any of my partnershops yourself
for more, better results ?

The links below
will take you
just there!!!


Your/your movie's website, Facebook, YouTube, whatever else?
Alley Trash: https://youtu.be/8QSLK_L9vy0
Alley Trash director's cut: https://vimeo.com/220792734
Vidoe McNasties Facebook: https://www.facebook.com/VideoMcNasties
Anything else you're dying to mention and I have merely forgotten to ask?
I think I've said enough at this point.
Thanks for the interview!