Your short Black Spot - in a few words, what is it about?
A man alone who is held prisoner in a car and terrorised, though everything isn't as black and white as it seems.
What were your inspirations when writing Black Spot?
I was thinking of 70s horror films, kinda grindhouse, bleak, trashy stuff, but not the grindhouse cliches of scratches and dropped frames, more the mood, extreme behaviours... I'm not a big fan of Texas Chainsaw Massacre but there was something in its mood I wanted to try and capture (especially the insanity and delerium of the finale), Maybe something like British 70s horror films - Death Line, Norman J Warren's films, something that feels a bit... grubby...
Black Spot was shot in 3D - so what fascinated you about that technology, and what were the challenges of shooting in 3D? And based on your experiences on Black Spot, could you ever be persuaded to shoot in 3D again?
Ever since I was aware of 3D I've been completely fascinated by it. When I was a kid I had an issue of Crash (a magazine devoted to the 8bit ZX Spectrum) which was a 3D special and has these amazing illustrations with so many layers of depth. I also had an issue of the Adolescent Radioactive Black Belt Hamsters comic which was also in 3D and was wonderful to look at. I'd always wanted to see a 3D film but frustratingly all the films that were originally in 3D were 2D on video, so it wasn't until I went to Universal Studios in Florida that I got to see part of Dial M For Murder in 3D (before the audience get attacked by the birds!) and I thought it was incredible.
I know people moan about the gimmick of 3D, or things being pointed at the audience, but I find that all just good fun - I know it's ridiculous and arguably a breaking of the fourth wall - but it's all part of the experience for me.
As the film was really a narrative test using the camera, I knew I had to keep as much of the action as far away as possible for the 3D effect to work, so at times this did feel like it limited the use of close-ups and how close to the action you could get. Although you could watch the footage in 3D when played back on the camera the effect was always a bit hit and miss, so playback was never a guarantee that I'd shot something too close to spoil the 3D effect. It wasn't really until I got to the very end of the edit stage when the footage was converted to red/ cyan that I could see which shots worked and which hadn't.
I'd definitely shoot in 3D again - just recently I was in some woods with my family amongst some amazing tall and very skinny trees and I was thinking how effective this landscape could look shot with a 3D camera, all the layers of depth from the tree trunks. Sadly the camera I used for Black Spot only has automatic exposure and if there was any way of at least setting that to one exposure level then I'd consider shooting something of a similarly trashy nature again - I think it would lend itself well to some woodland based slasher!
What can you tell us about your key cast and crew, and why exactly these people?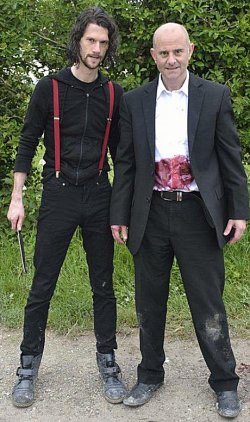 Jason Rhodes, Andrew Calverley
Casting was slightly peculiar for this - I was always thinking it's a test film, rather than a "proper" film and I had no idea how well it would turn out, so didn't want to really commit as much time and money (all my films are self-funded) to this. Rather than auditioning people I posted on various local film and acting groups in Facebook, looking for potential actors and then pretty much made a decision based on showreel (where possible), their look and experience, certainly not the way I normally work. I was really very lucky to get a bunch of people who worked well together, looked good on screen and delivered with their performances from such a casual casting process.
The only exceptions to this were Andrew Calverley (who played Daddy McKenzie) as I'd been an extra in a film featuring him (House Trafalgar) and had met him then and Helen Ball (Linda), who is a family friend who does stand up performance and was already cast in another short I was trying to make, but was also up for this small role.
I was very upfront about what the film was, what it was being shot on and that the whole film was a risk as it simply may not work, but thankfully all the cast were on board with this and seemed to find it quite a fun thrill to be involved in something slightly off the wall.
The crew for the shoot was myself and my fellow local film making friend Mark Tew (who was the director of House Trafalgar) - he came along to shoot stills and generally help out with the production and being a film maker he was a good sounding board during the shoot to offer advice and also muck in. He was also the 2nd body in the boot at the end of the film which you can't really see, frustrating after I squeezed them both in together! I knew I wouldn't be able to have any lighting and as the camera functions were all so automatic there didn't seem much point in bringing in my regular cameraman and collaborator Darren Berry, though he thankfully did get involved in the post production with the 3D process and grading, though the 3D process pretty much mangled out any grading work that he did.
My usual collaborator Nick Gripton provided the graphics for the end titles - we've worked on several films together - though the blame on the shonky cardboard signs belongs to me.
Mikolaj Holowko came to me via my film making friend Terence Drew, who was aware of his work, and he was invaluable with his dedication on the sound design and adr-ing of the film. Despite my thoughts behind the throwaway nature of the film, with the whole "narrative test" aspect Mikolaj was extremely focused, so much so that he scored the film twice - firstly before he did the sound design, then afterwards as he no longer felt his original composition worked once the sound effects were in place.
Your film was shot mostly outdoors - so what can you tell us about your location, and what were the advantages and challenges of shooting there?
I had the location in my head at the writing stage as I'd shot a storyline for my short film Stranded on the same road in a layby a little farther along. But when I came to shoot Black Spot I realised that layby wasn't really suitable, as it had a house nearby that would have been difficult to shoot around, so I found a layby a little further back. This also had a house nearby, but one which was masked by trees so I knew I could shoot around that. The whole film was shot all along the same stretch of road - in fact the opening shots of Paul walking away from his car were shot in the same layby, with his car parked in front of the main car where the film takes place.
In terms of advantages, I guess that there was a good variety of backdrops within that same stretch of road ensured we didn't have to pack up and move from our camp for any of the footage - the journey that Paul takes on foot in the beginning is pretty much the same journey back up the road we took, filming at specific points until we got to the layby, so the location was very versatile in that regard.
The road wasn't that busy thankfully - there was often traffic coming along, cyclists etc but nothing too continuous. I'd been concerned upfront about people driving by and catching a glimpse of some of the violence in the film and so made sure that myself and Mark wore hi-viz vests during the shoot and we also stood a tripod up prominently around where we were shooting so hopefully we wouldn't have any concerned people phoning the police. Thankfully we had no trouble at all, which seemed to suggest to me the best way to get away with murder would be to wear a high visibility vest and no one would bat an eyelid!
Another challenge was that we were a 10 minute walk from the nearest amenity which was a pub farther back along the road, so toilet and coffee breaks (as it was a very wet and cold day) would require a delay in shooting, though sadly these became more and more readily available...
Do talk about the shoot as such for a bit, and the on-set atmosphere?
Well, the biggest challenge on the shoot, and the reason we had so many breaks in filming, is that the battery life of the camera turned out to be a very big headache for the shoot, but also an issue as I hadn't tested certain aspects for the shoot. My plan was always to shoot as much of the car exterior scenes as possible, and then during all of the car interior shots I'd be able to connect the camera to the car's USB plug and charge the camera while we continued shooting. However, this wasn't to be the case as I discovered that when connected to a USB port the camera automatically assumes it is connected to a PC and shuts off for charging and data transfer, so I couldn't continue shooting while we were charging the camera. Which was to be a lot.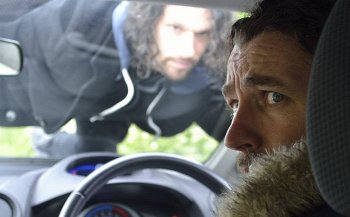 After shooting for around the first 20 minutes of the day the camera battery rapidly dwindled forcing us to go back to the car and charge the camera before shooting could commence. And this continued throughout the shoot with the camera never really giving a very true reading of the remaining power - after charging for 30 minutes and being told that there was 50% charge this would plummet rapidly as soon as the camera was put into 3D mode and then would fall quickly again. This certainly added some tension and urgency to proceedings and quite possibly to the performances as everyone was painfully aware that every second counted when we were shooting. We'd talk through the shot, I'd check it out with the camera in 2D mode, then as soon as we were ready to shoot I'd switch on the 3D and hope the battery would last long enough to get a take. This massively delayed the whole day.
We also had to struggle on through intermittent rain showers - I'd always wanted to shoot the film on an oppressive grey day and I was lucky enough to get that aspect, but sometimes we'd have to abandon in mid shot as the heaven's opened and we'd seek refuge in the cars until it was clear enough to shoot again.
With these adversities though I think we all bonded somewhat - we had a lot of time to shoot the breeze and chat, get to know each other a little - time we wouldn't have normally had if we'd been able to shoot continuously - and with that it also focused everyone when we had chance to snap another shot here or there.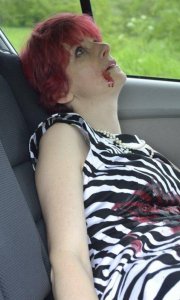 Alexxa Charles
One of the most amusing things has to have been Alexxa Charles' screaming performance - she was the most quiet throughout the shoot and certainly at the beginning of the day (afterwards she gave me a very good reason as to why this was, something I hadn't even considered) but when the time came for her to scream she HOLLERED and HOWLED this absolute intense horrific sound that threw all of us as no one had expected such an emotive ear shredding sound. Sadly as I was recording just using the camera mic we weren't able to use any of that sound, which was a shame as the adr didn't quite have the same intensity, though it could well have been the distortion on the original soundtrack that added to the brain scraping aspect of her delivery.
What can you tell us about audience and critical reception of the movie so far?
It's been really really positive - the 3D is hit and miss, which is to be accepted, but then I think that is 3D in general, especially with the red/cyan glasses. I've seen it with two audiences - first response was a touch muted, but not sure if the 3D worked that well that night, second screening seemed to go better and I received some positive feedback of where the film and 3D worked. People have picked up on the Texas Chainsaw Massacre/grindhouse feel without me prompting them and I'm glad to see Mikolaj's soundtrack work get so much recognition as the score plays such an important part.
Horror bloggers have been giving it a mostly positive response - a handful of bloggers in particular have been extremely enthusiastic about it and have really embraced the idea behind it and what it does with so little. I've been pleased to see that people haven't judged it on the picture quality (which I admit is shocking though I've heard the stereoscopic version is quite sharp, sadly I've not had any opportunity to see it like that yet.) In these times where there are so many many slick looking films shot in HD on DSLR cameras, it's gratifying to think that it still all comes down to how you tell the story, how you frame the action, how you edit it, the performances, the sound design, the script (though Black Spot's is wafer thin), NOT what you shoot it on.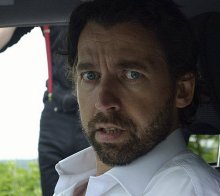 Raine McCormack
Ironically for my whole experiment in 3D it's the 2D version of the film that has the most viewing figures - I genuinely presumed most horror fans would have a pair of red/cyan glasses loitering around somewhere, maybe in a DVD or something, but I've had quite a few people come back and say they couldn't watch the 3D version, which sorta defeats the point of it, but is perhaps rather telling...
Any future projects you'd like to share?
I've started shooting a short film called Knock Knock, which was always supposed to have been the second horror short I made but has been a struggle to organise the logistics of the shoot. It's likely I'll change the title now as there are several other films kicking around with the same name. I've got a little 5 minute drama/comedy called Pick-Ups in post production and I'm still in post production hell with my ambitious fantasy thriller short Goodnight, Halloween, which I've always billed as Clive Barker's Nightbreed meets The Diary Of Anne Frank in a fascist alternative 1980s Detroit, but I'm a bit stuck financially to do the physical FX required on a reshoot to finish the film.
Beyond that I'd love to do some feature length projects - I have a fun idea to expand the world of the McKenzies and do a feature length film about them and I think I've got an interesting angle with it, it's just finding the time to get the damn thing down on paper (or screen as it is these days)!
I've also got a monster movie script that I've been working on, that's a bit like Final Destination meets some school set J-horror film, but again it's finding the time... and then the money!
What got you into filmmaking in the first place, and did you receive any formal education on the subject?
It came from a bit of a stupid minded route - I loved writing but lacked confidence as a teenager in my writing, so I decided I'd tell stories with comic books, but my drawing ability is a bit lacking to say the least, so I stupidly thought I'd tell stories by making films... this lead to a Media course at college where I was able to get my hands on some very rudimentary kit and make some films, but after failing to get into university I've carried on in my spare time, self funding my film work while working full time.
Horror was actually one of the main catalysts for all of this though - I think I discovered Stephen King's Carrie at the same time I bought a book on horror movies (which was very random as I was never the biggest horror movie fan, I grew up more on 80's trash action films on video) and despite some basic amateur efforts at horror at college I never thought of making a horror film until recent years.
What can you tell us about your filmwork prior to Black Spot?
My films after I left college were mostly relationship/slice of life shorts - (Mono)(Tone)(Drone) (https://www.youtube.com/watch?v=HmLIUsn41uo) is very representative of that time but then I grew tired of shorts even though I hadn't made that many and embarked on a ridiculously ambitious week in the life of/slice of life feature length film entitled Gettin' Some - this had a massive amount of ups and downs over a very long 2 year shoot, then also had a very long and depressing post production, with the film only being completed in March 2013. As a result of Gettin' Some's difficult creation (and having no money, no equipment and moving to another city) I didn't get back into film making for 5 years, after which I made The Crunch, a psychologicalcomicbooknoirdrama that stylistically was supposed to be a million miles away from the Gettin' Some footage I'd been staring at for too long. This was followed by Stranded, a melancholic coastal drama written at the same time as The Crunch, but again stylistically apart from The Crunch, being a straight drama but with a vivid subtextual colour palette. Goodnight, Halloween went into production during the long shoot of Stranded and has continued to have a difficult post production, as it required a very intensive desktop animation to be created and by the nature of the film was a very difficult film to logistically edit.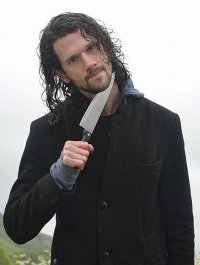 The delays of Goodnight, Halloween and the disappointing (i.e. non-existent) response from film festivals to The Crunch and Stranded made me reconsider my approach, and I decided to concentrate on shorter, cheaper genre specific films - my "Disposable Screams" as I called them - resulted in Creak, which received some strong notices from the horror blog community and convinced me this was the best path to go for now.
How would you describe yourself as a director?
I'm open to ideas when shooting or at all stages of a film's production. I love the comraderie of a team working on a set. I have a silly attention to small details potentially to the detriment of the bigger picture. I've always felt I'm a meat and potatoes editor - okay at getting the job done, but no culinary flair. In all honesty, I really don't know - I'm still learning and I'm still trying to figure out if I'm any good at it - but when every film seems to take years to finish and they've always been compromised in many ways, it's hard to analyse exactly where the success and failure lies and what to build on.
Filmmakers who inspire you?
My favourite horror film makers are people like George Romero, John Carpenter, and I have a big love for Italian exploitation - Dario Argento, Lucio Fulci [Lucio Fulci bio - click here], Mario Bava [Mario Bava bio - click here] but also the wonderful versatile directors of all genres - Enzo Castellari [Enzo G. Castellari bio - click here], Antonio Margheriti [Antonio Margheriti bio - click here] etc. Beyond horror I love Lindsay Anderson's films with Malcolm McDowell. Roger Corman [Roger Corman bio - click here] is one of my all time heroes - I'd probably say his book (How I Made A Million Movies In Hollywood And Never Lost A Dime), the Zombies That Ate Pittsburgh book on Romero and Alex Cox's [Alex Cox bio - click here] amazing run on Moviedrome on the BBC are 3 of the things that have really inspired me at the starting stage, in terms of attitude and openness.
Your favourite movies?

Feeling lucky ?
Want to
search
any of my partnershops yourself
for more, better results ?

The links below
will take you
just there!!!

Find Luther Bhogal-Jones
at the amazons ...

amazon.com

amazon.co.uk

amazon.de
Looking for imports ?
Find Luther Bhogal-Jones here ...
Something naughty ?
(Must be over 18 to go there !)

Outside of my favourite horror films (The Thing, Dawn of the Dead, Deep Red) most of my favourite films always seem to have a very strong music/ usical back bone - Streets Of Fire, Blues Brothers, Rocky Horror Picture Show, O' Lucky Man, Singing In The Rain, Little Shop Of Horrors... On Her Majesty's Secret Service... I'd love to do a musical. With muppets!
... and of course, films you really deplore?
Hmm, not sure really. I was one of the people who picked over Prometheus like an infected scab for days after seeing it.... a massive disappointment. The only film I've ever wanted to walk out of the cinema during was Tank Girl. I guess I thankfully forget the really bad ones!
Your/your movie's website, Facebook, whatever else?
www.facebook.com/fasterproductions and www.facebook.com/sincerelypsychopath - both share similar content. I'm also @spsychopath and @fastermovies. Lastly my poor neglected blog is at www.fasterproductions.blogspot.com and has some indepth making of entries about The Crunch, Stranded and Creak... I'm hoping to get a similar thing up for Black Spot soon.
Anything else you are dying to mention and I have merely forgotten to ask?
Nope, all good.
Thanks for the interview!