With the 3rd Macabre Faire Film Festival just around the corner, why don't you tell us a little bit about it?
Sure, The Macabre Faire Film Festival is our featured event where we bring independent movies from the US as well as abroad to be shown, judged and awarded right here in Long Island, NY. We decided after our 2nd festival in January to go heavier on short films for this event and an overall larger number of films for our attendees to enjoy. All told we are screening 69 films in 3 days this time.
The film festival is being held May 31 - June 2, 2013!!!
So what's a Macabre Faire Film Festival usually like, what are your visitors to expect?
Visitors to a TwitchTwitch Productions event can always expect an experience. We pride ourselves on creating an environment that our patrons can lose themselves in. We have created a culture, a vibe, a true family feeling within our events, and our film festivals are a great example of that. There is plenty of opportunity for networking and friendships as the festival is designed to enable everyone to mingle throughout the three days. You can meet and spend time with the actors, filmmakers, performers, hosts, even the vendors if you like. There is no line to stand on to speak to or take a photo with someone… Everyone is there with the same purpose, to enjoy and celebrate some fantastic horror, sci-fi, twisted, macabre, dark comedy, even Steampunk films. There is something for everyone under the Macabre umbrella that we have created. On top of the films there are live music performances, vendors with eclectic and unique items, Q&A sessions, panels and a grand awards ceremony on the last evening of the event.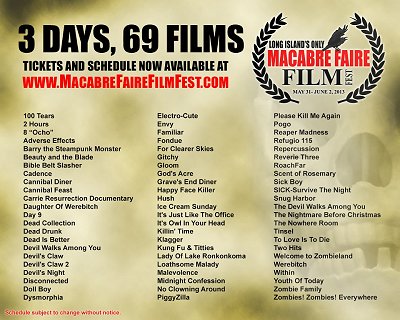 Can you tell us anything about the films you're going to screen yet?
Well we can tell you that if you love to go for a ride, these films are going to deliver. We have it all, from dark comedy to twisted tales, from suspense, to gore, from classic horror to Steampunk, the selection is vast and attendees will have the opportunity to cast their votes for best feature and short films too. Everyone's vote counts, so make sure if you come, you watch as many films as possible if you intend to place your votes in the ballot box.
No festival without a few celebrity guests - so who have you lined up and why?
For this event we have Eileen Dietz known for her work in The Exorcist, as well as Canadian actor Robert Nolan [Robert Nolan interview - click here], who happens to be in a few of the films being shown at the festival. Both are extremely talented at their craft and we are very excited to have them. We also have child actress Grace Powell, actor Charles Lo Manto, and radio hosts Jimmy Star and Ron Russell. And of course we have a number of actors coming from the various films in the festival as well as many of the directors who made those very films. On top of that we have some incredible musical guests for this event including musical artist and actor Wyzae, Demon Boy, Will Bozarth, Psych Corporation, Neon Knights Dio Tribute, The Wandering Cellist, Vlad the Inhaler and even Sammy Davis Jr. from the Undead Rat Pack. Last but not least our official TwitchTwitch Productions characters from a Nightmare on Your Street, Freddy vs. Jayson, and Joker & Riddler. You don't want to miss it.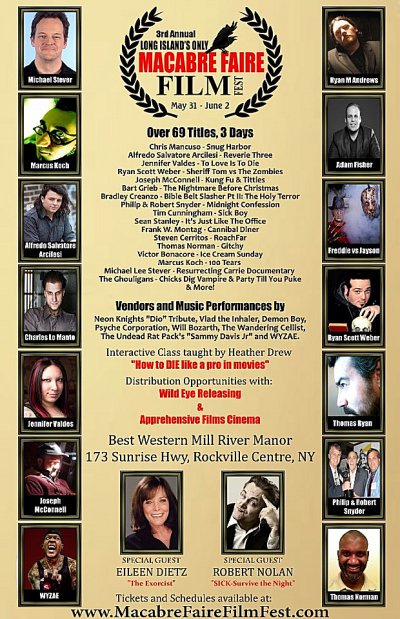 Do talk about your venue for a bit, and what made it perfect for your needs?
Size matters and so does location, as well as working with a venue partner that can be flexible with accommodating our needs. In this case the venue is perfect size. The Best Western Mill River Manor Inn in Rockville Centre, NY is not a mega hotel. It is intimate in size, large enough to spread out our attendees so they are not climbing over one another, but small enough that you can't get lost and always feel that you are right in the thick of things. We have three screening rooms, a stage for performers and Q&A's as well as room for vendors. We have leather couches to sit on in the front row of one screening room, a comfortable main lobby area for relaxing by a fire or having tea and cookies with friends. There is an Italian Bistro with a bar and the hotel's rooms are quite comfortable and well appointed. The hotel also has an outdoor pool. As far as location it is perfect for us. It is located right downstairs from the Long Island Rail Road's Rockville Centre stop, making it about twenty minutes or so by train from Manhattan.
Key question: Where to buy tickets for your event?
www.MacabreFaireTickets.com until Midnight May 26. Then at the door of the venue during the event itself until capacity is reached.
What gave you the idea to run the Macabre Faire Film Festival in the first place, and what's the philosophy behind it?
We had been growing our Macabre Faire party type events…Three days, 20 or so bands and various types of performers and we were building a solid relationship with the Best Western. It was on a trip to another convention (Monster Mania), that we found ourselves in discussion with a filmmaker. During the conversation he mentioned film festivals as being a great opportunity to network and show off his work. It just clicked for us right there. We already had a love of movies, we had been brought up on horror, sci-fi and comedy respectively, we were already acting, directing and producing, and we had a venue. At that moment the Macabre Faire Film Festival began to come to life. 2 months or so later we were standing in the midst of our first and have not looked back since.
Our philosophy is simple. We want to make the filmmakers and the films the stars and celebrities. We want to create a unique, comfortable and friendly atmosphere that encourages getting to know other attendees and the people who create as well as star in the films. We want to provide a TwitchTwitch Productions experience, something not forgotten, something cherished, something that you will want to be a part of and will do what you can to arrange plans to come back to. So far we are getting feedback that our philosophy is working.
Highlights from past festivals?
Yes of course! Probably the biggest highlight was that our first Macabre Faire Film Festival was unique and different enough, and that our personalities and honesty struck a chord with an incredible actor by the name of Doug Jones. So much so that he made it a point to attend and became our first celebrity guest. Doug of course has acted in quite a few major Hollywood movies. Known by most for his role as Abe Sapien in Hellboy 1 and 2. Long Island's largest newspaper gave us great coverage due to that and it set us on our way.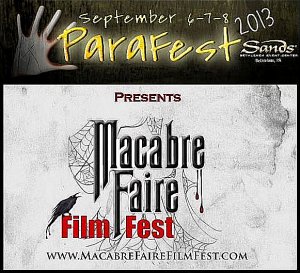 Another big highlight for us is our family of "Macabreites". These are our family of friends that continues to grow with each event. There is true love and respect there. Real friendships birthed at our events with people that we are proud to call brothers and sisters. Their loyalty and love for what we do drives us to continue to make our events as special as possible for everyone who attends. Sitting in the back of the room at the end of the night watching everyone loving the experience, singing songs, playing guitar, celebrating the joy of being together, that is a huge highlight for us and one that has been a regular occurrence since we started our very first Macabre Faire.
Any plans for future festivals yet?
Yes our next two Macabre Faire Film Festivals are already being put together. In September The Macabre Faire will be the Official Film Festival of ParaFest. A very large convention taking place in Bethlehem PA, the first weekend of September at the Sands Hotel, Casino, Event Center and then we will be back in our Rockville Center location in January 2014.
Speaking of films - as far as I know you have also made a few shorts yourself - care to talk about those for a bit?
Our shorts were done as promotional tools for our company. The first was a behind the scenes look at a day in the life of TwitchTwitch Productions. It was shot at The Mills Pond House in St. James, NY which we were using quite often for our theatre shows at the time. The second was done as a bridge to bring our character Salvatore Rizzo "The DeadFather" from the stage to film and then ultimately into your real life as it ended in a movie theater with him going into the theater… At that moment when the film ends, Salvatore himself would come through the door and surprise the audience as part of our Horror Nights programming at a local movie theater that we work with regularly.
You'll also be in an upcoming episode of the In Fear of-webseries directed by Alfredo Salvatore Arcilesi [Alfredo Salvatore Arcilesi interview - click here] - now what can you tell us about that one, and how did it come into being?
This is a fantastic opportunity for both of us that came along due to networking at our Macabre Faire Film Festival, creating friendships, and then ultimately, the producers of the series, Scott W. Perry [Scott W. Perry interview - click here] and Steven-Mark Glassner [Steven-Mark Glassner interview - click here], as well as "Maverick Canadian Filmmaker" Alfredo Salvatore Arcilesi, came together with a story concept for Mnemophobia – Fear of Memories. After getting to know us and seeing what we are capable of as actors ourselves, they asked us to come on board feeling that the chemistry of everyone involved just felt right. We're honored to be a part of this visionary concept that is becoming a hot series of short films.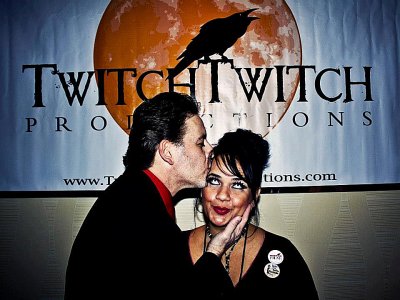 Adam Ginsberg, LC Macabre
A few words about your company TwitchTwitch Productions?
TwitchTwitch Productions is the parent company behind The Macabre Faire Film Festival. We began a number of years ago with a haunted house in our backyard, then an original theater show called The Living Dead Mafia and a few larger haunts for venue partners too. We continued with theatre for a few years developing plays for Long Island playwrites as well as continuing to create more of our own shows like our homage to the old Johnny Carson show called Even Later with Salvatore Rizzo. We dabbled in music via our LDM Band project as well as our acoustic comedy act. We created and host a syndicated radio program called The POD of The Dead, and moved into doing 3 day party/music events called Macabre Faires 2 years ago. After working on our own short films we realized just how much we loved the medium. Being Actors, Directors, and Producers ourselves, we decided to transform the Macabre Faire party events into Film Festivals… And now we are on our third. We are a true Mom and Pop type of business with both of us heavily involved in the day to day aspects of our projects and company. It's always special when a husband and wife can be compatible working together and we are very fortunate that we have that.
Your/your festival's website, Facebook, whatever else?
www.TwitchTwitchProductions.com
https://www.facebook.com/TwitchTwitchProductions
https://www.facebook.com/MacabreFaireFilmFestival
https://www.facebook.com/MacabreFaireEvents
Anything else you are dying to mention and I have merely forgotten to ask?
Just that we could not do what we do without the loyalty and support of our friends, families, and all of those filmmakers that believe in our Macabre Faire Film Festival. This is a labor of love and we are humbled by the appreciation and support. We can't thank everyone enough.
Thanks for the interview!
You are very welcome. Thank you for your patience and the opportunity.