You are currently putting the finishing touches on Isle of the Damned. Can you tell us what the film is about?
Isle of the Damned is sort of a pastiche of the plot from most every other Italian cannibal film... so it should be familiar territory to fans of the genre. Basically a group of adventurers ends up stranded on an island inhabited by cannibals, and hilarity ensues.
The film is obviously a hommage to/parody of the Italian cannibal films of the 1970's and early 80's. Is that a genre especially dear to your heart, what fascinates you most about the genre as a whole, and what are your genre favourites?
Honestly, it's not my favorite genre of film... the cannibal films aren't exactly fun movies that you can just pop in the DVD player anytime. They're generally pretty damned disturbing, and you have to be in the right mood to watch one. But, from a film history perspective, it's highly fascinating for many reasons. Mainly, you have the shock factor, coupled with the fact that these films sprung up more or less out of nowhere before they all but disappeared. All the films came from Italy, and most within a short time span. Directors were borrowing footage from one another to crank these things out quickly. On an added note, there's also the stigma of the banned film - the scar that a lot of these films bared proudly. You're not supposed to see it, so that only makes you more curious.
The film's website/mySpace/whatever?
The main website is www.direwitfilms.com, and our myspace page is www.myspace.com/antonellogiallo.
Where was the movie shot, meaning, where did you find a stretch of wood resembling the Italian version of a cannibal-infested jungle?
Well, we live in Maryland, and we made this movie for pennies... but I'll be honest... there's a certain neck of woods in Maryland that looks more like the Amazon jungle on film then the actual Amazon jungle itself. Unfortunatly, that wasn't the woods we were shooting in, but we did our best with what we had.
How easy or difficult is it to get actors to star in a film with a controversial theme like cannibalism?
Surprisingly, it was pretty easy. Most people that were in this were either in our previous film Pleasures of the Damned, or had seen it, and knew what they were signing on for.
One of the key elements of the cannibal genre is gore. How did you approach that topic, especially since Isle of the Damned is supposed to be a genre parody?
We went full tilt on the gore. We're actually in the process of going back and adding more to the film. The cannibal films are among the sleaziest and most shocking ever made... between castrations, anal impalement, animal torture, rape, etc, we figured that ramping up the gore element makes for some pretty good subtle comedy.
Did you use stock footage/footage from other genre films like so many Italian cannibal movies did as well, sometimes to a great extent - most notably Umberto Lenzi's Mangiati Vivi/Eaten Alive (1980) [Umberton Lenzi bio - click here]?
I would have liked to, but the reality is that stock footage is very expensive... I'm pretty sure that in Italy in the 70s, copyright laws probably weren't as strict. Hopefully I'm not spoiling too much here, but we shot some new animal footage, and inserted it into the film in a similar fashion as those movies... it deliberately looks like stock footage. I guess this would also be a good time to mention that no animals were harmed in the making of Isle of the Damned.
Basically, the cannibal genre was temporally extremely limited and had all but died out in the early 1980's. Only recently, there were a few attempts to revive the genre - like Welcome to the Jungle or a pair of Bruno Mattei-films, Nella Terra dei Cannibali/Land of Death and Mondo Cannibale/Cannibal Holocaust: The Beginning. Do you see the genre ever coming back big time?
I actually haven't seen those films yet, but I think a lot of the renewed intreest is due to the increased availability of the original films. I'm looking forward to seeing what Deodato is going to do with his new one [Ruggero Deodato bio - click here], but I don't think the resurgence will ever really reach that original level of output. Basically, it's the shock factor that made those movies so notorious in the first place, and a lot of what was done then could never be replicated these days for legal reasons mostly. Also, the unpolished look of those old films makes them feel sleazier. If you take that subject matter and give it a slick expensive veneer I don't think it would be as effective of an experience.
How did you come up with the backstory about Italian director Antonello Giallo, who supposedly directed Isle of the Damned in 1980?
The backstory of Cannibal Holocaust always fascinated me. When we did the first film Pleasures of the Damned, we decided that it would be funny (and good marketing gimmick) to give the film a similar fake backstory. It worked for us in several ways. For one, it was also a sleazy film, so nobody had to have their name associated with it. It was also a film with intentionally bad production values, so it was good to have Antonello Giallo there as a scapegoat for the bad filmmaking. It was as if we're saying "He's the asshole responsible for this piece of garbage!" We also went about promoting it as such, and that bought us a little more notice too, in a sort of Andy Kaufman way. We've actually had someone come up to us at a convention, look at a copy of Pleasures, and say "I remember that when it came out."
The lead characer of Isle of the Damned, Jack Steele actually originated in another film, Pleasures of the Damned. What can you tell us about that film and about the Jack Steele-character?
Jack Steele is pretty much the quintessential badass. He's a private investigator/vietnam vet/judo instructor that saves the world from bikers and zombies in Pleasures of the Damned, and from the cannibals in Isle. The idea is that with each film, we spoof a different sub-genre in the Italian horror world... Pleasures of the Damned was more influenced by films like Burial Ground, but with a little House on the Edge of the Park thrown in the mix. It was sort of a bizarre experiment, trying to make a deliberately crappy movie with bad production values... I think we were all surprised by certain elements of it that actually ended up being funny. So with Isle, we went about taking what was fun about Pleasures of the Damned, and ramping up the elements that we thought were lacking, specifically the gore and the pacing.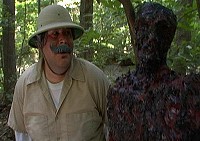 Isle of the Damned and Pleasures of the Damned are both genre parodies. What do you think does set your genre parodies apart from others, both amateur movies and big budget Hollywood productions?
That's a tough question... we probably have just about as many gags about things going into or coming out of people's butts as Epic Movie, but we do it in the guise of a director that makes gut-wrenchingly awful films, so I'm not sure what that says about the director of Epic Movie.
How did you start making films in the first place? And what were some of your early films?
I started by making class projects in high school. Myself and a group of friends would always convince the English teacher to let us do a film instead of a paper. So we'd make little parodys of Streetcar Named Desire, and Othello. Eventually I got back into it in college, and made a bunch of student shorts. Pretty much everything I've done is up on www.direwitfilms.com in the short films section.
Any future projects you'd like to talk about?
After this is done, I'm looking forward to a bit of a break! We're self-distributing Isle, and actually doing an extremely limited theatrical tour to any theatres that will have us, so I imagine that's going to keep me pretty busy for the next year at least.

Feeling lucky ?
Want to
search
any of my partnershops yourself
for more, better results ?

The links below
will take you
just there!!!

Find Mark Colegrove
at the amazons ...

amazon.com

amazon.co.uk

amazon.de
Looking for imports ?
Find Mark Colegrove here ...
Something naughty ?
(Must be over 18 to go there !)

Directors who have influenced you as a filmmaker?
There's probably too many to name, but the big ones would be Peter Jackson, George Lucas, Lloyd Kaufman, Stanley Kubrick, Alfred Hitchcock, pretty much any film I watch will influence me, whether it's good or bad.
Favourite movies, both recent and all-time favourites?
I loved Grindhouse naturally, and I really liked Children of Men. My all time favs are a three-way tie between Dead Alive, Empire Strikes Back, and Brazil.
Any movies you really deplore?
I hated the last third of No Country For Old Men. I'm apparently one of maybe five, and it's not that I didn't get it... I got it... yeah, evil's unstoppable, great. That doesn't mean the last third of the movie had to be boring as fuck. Without having seen it, I think that the Miley Cyrus concert film did a much better job demonstrating that evil's unstoppable.
Anything else I've forgotten to ask but you are just dying to tell us?
Not really... thanks for letting me do my No Country For Old Men rant!
Thanks for the interview.
Thank you!