First of all, why don't you introduce yourself to those who don't already know you?
Mark Pirro, wrote 11 feature films, directed 10, produced 8. Most of my films were early cult films like Polish Vampire in Burbank or Curse of the Queerwolf. Iíve also produced a few web series like Mohammad Speaks and The World Accordion to Judy with comedian Judy Tenuta.
What got you into making movies in the first place, and did you receive any formal training on the subject?
No formal training. I was given a super 8 movie camera when I was 13 and just started making short films with friends, neighbors, classmates, etc. After making 6 short films in upstate New York, I moved to California when I was 18, got a job as a tour guide at Universal Studios and ultimately started making short films again, now using friends that I met at the studio. They were all shot on Super 8 movie film and cost very little to produce.
Let's talk about your most recent film, Celluloid Soul - in a few words, what is it about?
It's about a down and out writer who sees a movie from 1939 and falls in love with one of the unknown actresses in the film. He becomes obsessed with her and tries to find out anything he can about her. He eventually discovers that she's still alive and talking to her on the phone inspires him to write a screenplay about her life. He convinces her to meet him and when she shows up on his doorstep, she looks basically like she did in the decades old movie - complete with a black and white hue. Of course, at this point his friends think heís losing his mindÖ and so does he.
Celluloid Soul sounds pretty much like a love letter to vintage cinema - so what can you tell us about your love for these movies of old, and to what extent are they an inspiration, both in regards to this film and to you as a director in general?
I'm not a huge fan of old films, but I do admire the gritty noir look of some of them. And I did enjoy creating 'clips' in Celluloid Soul to represent segments from movies made in the 30's. It was enjoyable to turn the streets into a vintage appearance, with old cars; and also creating a scene in a kitchen that looked very 1930s was a lot of fun. In this case, one of my actresses, Jean Black, actually had a vintage looking kitchen in her house, which she let us use. We didnít have to do anything to it at all.
Other sources of inspiration when writing Celluloid Soul?
I have a friend, Ron Harper, who was a fairly successful TV actor in the 60s and 70s. He'd appeared in numerous TV shows, the most famous being the Planet of the Apes TV series in 1974. However, today, he's rarely recognized. It kind of made me think about how many actors work at one time or another, but then as time goes by, are forgotten. Celluloid Soul sort of takes on that concept; the lead character in the movie was an up and coming actress in the 1930's, but is completely forgotten today. The hero of our film digs into her past to find out who she was and whatever became of her. I also knew Conrad Brooks, the last surviving cast member of Plan 9 From Outer Space. I put him in three of my earlier films because to me he was a cool link to the past. When I put him in Polish Vampire in Burbank, he hadn't acted since the days of Ed Wood [Ed wood bio - click here]. Of course, after that, he worked on other of my films as well as many other independent films and became a cult figure, appearing at many autograph shows and conventions around the country.
What can you tell us about your directorial approach to your story at hand?
My directorial approach with any film I do is: Make sure that everybody feels that they have a valid voice, or opinion as to how things should proceed (that doesnít necessarily mean I will use their suggestion, but I will certainly listen to their thoughts). Have it well planned so that nobody feels that theyíre wasting their time. If the scene involves a lot of set ups, I would schedule the actors so that they are to arrive not too long after we need them. If an actor is not getting paid, they certainly want to feel that their time is not taken for granted. Usually my shooting days are no longer than five or six hours. If I happen to be at a location that I canít get again, and we have to film everything at that location in one day, I will scatter the actors so that they are scheduled to arrive when needed, and not having to hang around waiting. When the movie is done, I make sure that the actors can get footage of themselves for their reels. I know that one of the frustrating things for actors is that they have to wait forever to get footage of their scenes. I make their scenes available as soon as they are edited, sometimes even before that. This, I believe, is why I get the same actors willing to work with me movie after movie; because although many times thereís no pay, they donít feel exploited, and I never take their loyalty for granted.
Do talk about your movie's cast, and why exactly these people?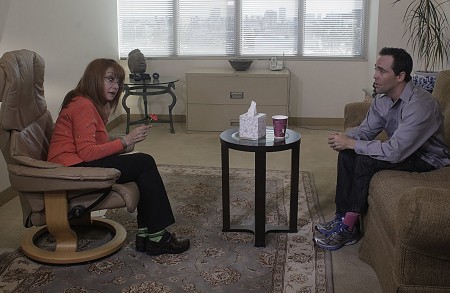 Well, when working with no budgets, you want people you can depend on. Most of the people in Celluloid Soul are actors Iíve worked with before, and had great success with: Lauren Baldwin was in two of my pictures before this one: God Complex and Rage of Innocence. In God Complex, she was the Virgin Mary and in Rage of Innocence, she was the ill-fated babysitter Josette; Dennis Kinard was Jesus in my film The God Complex in 2009. Bill Devlin, who plays Dennisí good friend Pat, has been in every film of mine since 2003ís Rectuma. John McCafferty, who has a cameo as a 1939 actor, has been in practically in every one of my films since my early shorts from 1978. Anne DeVenzio, who plays Bill Devlinís wife, has been a friend of mine for over 20 years and had appeared in some of my non-feature projects. Chelsea Cook and Tammy Klein Ė both featured in Rage of Innocence Ė have cameos in this one. The newbies in this film are comedian Judy Tenuta, who plays a psychiatrist; and Azize Erim, who is the heroís girlfriend. Although you always run a risk by bringing in new people, Iím happy to say that Judy and Azize were both great and welcome additions to the Pirromount fold. Iíve been pretty fortunate with my last four or five films. Not a lot of flakes, as opposed to my earlier films.
What can you tell us about the shoot as such, and the on-set atmosphere?
The shoots were well planned. The on-set atmosphere is always fun and sort of family feeling. Locations are usually at friendís houses or things built. We did have to use a soundstage for two days to represent a hospital, but I found a great place that only charged $75 an hour. Everything is always very loose. Never any pressure. Since nobody is risking any big money, thereís nobody sweating about anything. I had a great team, and we have worked together for years, so we are a finely oiled machine. My associate producer, John Ahern, has worked on five of my films; and he was my right hand man. In fact, weíve used his Agoura Hills condo as a shooting location in three of my movies.
The $64-question of course, where can your movie be seen?
Most of my movies can be ordered on DVD on my website (www.pirromount.com), purchased on Ebay or Amazon, some can be found streaming on Amazon Prime and Amazon Instant. Celluloid Soul is currently on the festival circuit, but hopefully it will be available in streaming venues soon. Decent distribution has always been the toughest part of the filmmaking process, still is. Although there are more outlets for individual distribution like YouTube and Vimeo, profitable distribution is another story.
Another recent film of yours is Rage of Innocence - so what's that one about, and what were your inspirations there?
Iíve often thought about how vulnerable a man can be when it comes to sexual accusations by a woman (more timely today with the #metoo and #timesup movements), and how in many cases, all it takes is a womanís accusation to get a guy in trouble. Thatís the theme of Rage of Innocence. It is about a 15 year old sociopath named Raven who will stop at nothing to keep her single mom from dating men. Enter Vincent Marsden, who takes a liking to her mother and starts dating her. Raven doesnít approve of this and threatens him to stay away from her mother. He ignores her threat, which sets her on a path of destruction. The threats become accusations of sexual misconduct that eventually gets him put in jail for crimes against her that he did not commit. He has a 13 year old daughter who becomes a pawn in Ravenís scheme to literally destroy his life.
From what I've read, Rage of Innocence is your first non-comedy feature - to ask bluntly, how come?
Well, as one gets older, one tends to get less funny. I donít know why. Maybe as we age, we discover how shit life really is, and lose our youthful abandonment. So after producing a long series of comedy films, I just hit a wall. After The God Complex, I would sit to write a comedy but nothing funny would come out. So, I thought rather than fight it, I would just go with wherever my writing would take me. The result was Rage of Innocence. Actually, I had written an early draft of it many years ago under the title of ďComing of RageĒ, but shelved it. After God Complex, when no funny ideas were coming from me, I went back and revisited the original "Coming of Rage" script and concentrated on rewriting it a bit. I started liking it again. So that ended up being my next project.
Do talk about Rage of Innocence's look and feel for a bit?
Since this movie wasnít going to be as cartoonish as my other films, I needed to give it a more professional polish. I think you can get away with mediocre photography if youíre doing a comedy, but if youíre doing a thriller, the camerawork should be slicker. I went to longtime friend and cameraman Bruce Heinsius, who had worked on some of my earlier films and offered him the opportunity to be the director of photography on Rage of Innocence. He was happy to do it and gave it a nice look. Also, I needed a jail cell for the movie, which had to be built in my backyard. It cost about $200 to buy the plastic PVC pipe I needed to construct the bars. I already had some plasterboard walls set up that were left over from sets I built for my previous film, The God Complex, so after I constructed the jail set, my friend Craig Bassuk digitally created a cell block to supplement my backyard cell and the result is pretty impressive.
A few words about Rage of Innocence's cast and the shoot as such?
I went to my old standby actor John McCafferty to play the lead, Vincent. Of course as I mentioned, John has been with my production company since 1978 and appeared in most of my films, with the exception of maybe one or two. Although this was the first film of mine he had starred in since 1987ís Deathrow Gameshow, where he played the lead in that one as well. All his other appearances had been limited to featured roles or cameos. Many others were also actors Iíd worked with before: Bill Devlin, Lauren Baldwin, Doug MacPherson, etc. However, there were some specific types I needed for this film that I didnít have in my ensemble, so we brought in some newbies: Tammy Klein, Chelsea Cook and Stef Dawson. Stef played the troubled character Raven Ė a 15 year old girl with serious psychological problems. While we were shooting the movie, Stef had landed the part of Annie Cresta in the Hunger Games films, and I thought she might leave us to go on to the bigger and better project. Well, she did leave us to do the film, but when she came back, she finished our little movie. That was a true testament to her character. Iíve had actors leave projects of mine before, and it would always require some clever writing on my part to work out their exiting. While Stef was away, we just shot around her, frequently using doubles. Production never stopped. When she returned, we just inserted here where needed. It was a very smooth production and we were all quite pleased with the result. Since Rage of Innocence, Stef has gone on to do at least a half dozen other movies.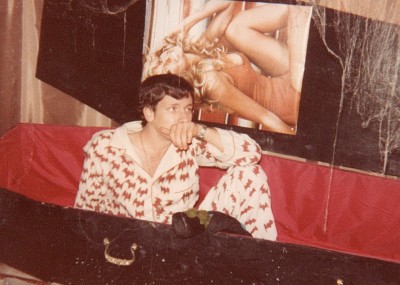 Mark in A Polish Vampire in Burbank
One of your most popular films is probably A Polish Vampire in Burbank from 1983 - so what's that one about, and how did it come into being? And since it was shot on a very low budget, did you at all expect it to be the hit it has become?
A Polish Vampire in Burbank is simply about a vampire who is so shy that he has never bitten anyone before. It was originally made as a showcase film, which we never intended to try and sell. It was really to be nothing more than a Ďcalling cardí to possibly entice investors to get behind us for other projects. It was my first feature and was plagued with problems from the start. Eddie Deezen, who was to be the lead, quit the production after just a few weeks of shooting. When he quit, I worked at re-writing the script so that I could still use some of his footage and then take over the lead role myself to continue the film. Also, I had gotten into a car accident during the production, which left me without a car for the rest of the shoot. I didnít have money to buy another car AND finish the movie, so I chose to put what little money I had into the movie and rely on friends to drive me to the sets. We were told that we could use a monster set at Universal Studios, where I had some connections; so a lot of the script was set inside this castle. But when we came down to shoot, they backed down and told us we couldnít shoot there, forcing us to build a castle set in a friendís garage. Once the movie was finished, I found a producerís rep who thought the movie was good enough to try and sell, and told me not to tell anyone the budget anymore; and he would push this as a regular movie. To everyoneís surprise he took it to Cannes film festival, showcased it around there, sold it on the newly emerging home video market, and ultimately sold it to USA Network for a two year run. We were all quite surprised. Iím surprised today that some people are still aware of it.
Another fan favourite of yours is Deathrow Gameshow - so obviously you have to talk about that one!
Well, after A Polish Vampire in Burbank, we started production on Curse of the Queerwolf. While making that, I was approached by Crown International Pictures, who asked if I had any comedy scripts that they could finance. I had written an early version of Deathrow Gameshow and showed them that one. They liked it, but didnít have confidence in me as a 35mm filmmaker, since I had only worked in super 8, so they eventually passed. I continued to work on Curse of the Queerwolf. About a year later, Crown contacted me again and asked what I had been up to. I told them I was finishing up Curse of the Queerwolf, and they asked to see some of the footage - which I had arranged a screening of. They loved it and regretted that they hadnít gotten involved in that movie because they thought it would have been a great theatrical release. Although they wanted to distribute it theatrically, since it was shot on Super 8, it wouldnít blow up to 35mm very successfully. So they asked if I still had that Deathrow Gameshow script around. I did. They asked if I could make it for $200,000. I told them I could. Literally the next day we were in pre-production. So we put the post production work of Curse of the Queerwolf on hold and went into production of Deathrow Gameshow. Again, I brought my usual cast of characters from the Super 8 films to work on it: John McCafferty, Kent Butler, Darwyn Carson, Paul Farbman. We also found some new people and brought them into the film: Robyn Blythe, Beano, Debra Lamb [Debra Lamb interview - click here]. The production had its share of ups and downs, and since none of us had worked in 35mm before, it was a bit overwhelming, but we got through it on time and under budget. That movie keeps giving too. After 30 years, it just came out for the first time on Blu-ray by Vinegar Syndrome, so I guess itís finding a new crop of fans. And for the first time in 30 years it's actually getting good reviews. You would have been hard pressed to find a decent review in 1987.
Many of your films have very catchy titles, like The Spy Who Did It Better, Curse of the Queerwolf, Nudist Colony of the Dead or Buford's Beach Bunnies - so what comes first, usually, the title or the story, and how do you come up with these titles in the first place?
Usually the story comes before the title. Originally Polish Vampire in Burbank was titled ďVirgin VampireĒ. I changed the title in mid-production once I started rewriting it because of Eddie Deezenís departure. One exception, Nudist Colony of the Dead, actually started with a title. A friend of mine, Steve Neimand, came up with that title for a movie that he never made. I asked him that since he wasnít doing anything with the title, would he mind if I stole it? He was fine with it, then I wrote a movie musical around it. In 1995 we turned it into a stage play for about four months. To this day, I would love to revisit that project and possibly do a remake or a sequel. I was never thrilled with how the original movie turned out. The equipment we were using was so inferior that the film just has a really terrible look: grainy, underexposed, etc. I did a remastering of it a few years ago, basically trying to fix shots that I was never happy with. Although there is only so much you can polish a turd. I would love to do it again and get it right this time.

Any other past movies of yours you'd like to talk about - and any future projects?
I think we pretty much covered them all. People often ask me whatís my favorite film, and I have to reply with the old clichť, itís like deciding which is a parentís favorite child. Each film has a specific place in my heart. Polish Vampire in Burbank was my first feature, so I have a soft spot for that one. For the longest time, I thought Curse of the Queerwolf was my funniest film (eventually replaced by Rectuma). I feel that The God Complex is probably my Ďsmartestí comedy. Iím very happy with Rage of Innocence and Celluloid Soul mainly because of the advancement in technology, which gives me much more control over the overall look of the films. Iíd have to say that those two are probably my best looking films. But it is ironic in a way that my last two films had lower budgets combined than Polish Vampire in Burbank, shot over 35 years ago. Just goes to show you how far weíve come along technologically. As for future projects, who knows? Maybe a Nudist Colony of the Dead remake? Maybe Iíll take on someone elseís script? Do I have any burning desire to tell any specific story in the future? Not at the moment, but I could wake up tomorrow with a great idea that I will want to nurtureÖ or not.
You've been in low budget filmmaking for decades now - so what keeps you going, and how has the industry changed over the years?
Itís changed with cracking of the digital code. Now that anyone can shoot beautiful 4K movies with an Iphone, thereís no excuse for a poorly shot film anymore. You can do amazing things today that we could only dream of when I started. Back in my early days of filmmaking, it was a struggle just to get a decent exposure and acceptable sound. I remember that the cameras we used were so noisy that youíd hear the whirr of the motor on the soundtrack (which is why we did a lot of sound replacement). I would never have imagined then that today there would be aerial drones, home computers, green screen software, visual effects programs, etc. that make quality filmmaking accessible to anyone. One can literally post a slick feature film without leaving their desktop. With your computer and a little software, you can write your script; shoot your movie; edit it; add visual effects; sound effects; and even create the DVD and box for it without spending much money at all and barely leaving your computer. When I talk at colleges to film students, which I do on occasion, one of my favorite phrases is: ďNo budget is no longer an excuse.Ē As to what keeps me going? I suppose itís that I still have the same passion for storytelling that I had when I started. I presume I will continue doing it until the passion goes away; which again I say, could happen ten years from nowÖ or tomorrow.
How would you describe yourself as a director?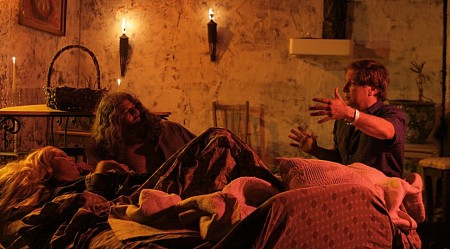 I wouldnít even know how. I guess youíd have to talk to people Iíve worked with and get their take on it. Itís difficult to get an objective perspective of myself as a director. I know that when we have our premieres, the audiences appear to enjoy themselves, so thatís satisfying. If theyíre laughing where I expect them to, that is quite enjoyable to observe. Iíve always felt humbled by what I do. I know that Iím not anywhere near the scale of mainstream filmmakers and donít even try to be. My films donít register on the Richter Scale of filmmaking and really never attempted to. These are movies that at best find themselves on home video and I suppose nowadays the goal is to get on Netflix or something equivalent. Some independent filmmakers think they can compete with big Hollywood productions, and maybe some are successful at doing it; but Iíve never felt that way. An indie film with no names in it has about a 3% chance of making its money back, so thatís why I always keep my budgets low. You have to approach it with the attitude that you will never see that money again, so donít spend a lot of it making that film. Anyway, If I can leave behind a few fun films that will still make people laugh long after Iím gone, thereís some satisfaction in that.
Filmmakers who inspire you?
Early on it was Woody Allen, John Landis, Mel Brooks. Lately itís Quentin Tarantino and Seth MacFarlane. I love elegance in storytelling and I think those two have nailed that quality. Thereís a certain style to Tarantino films which I admire, and MacFarlane is just so out there with his projects. Nowadays, I rarely follow any specific directors.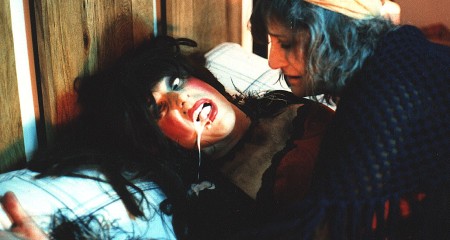 Curse of the Queerwolf
Your favourite movies?
Midnight Run, the Back to the Future series, some of the early James Bond films, early John Landis films (Blues Brothers, An American Werewolf in London, Animal House), I really enjoyed both Kick-Ass films. As a whole, many of todayís movies just leave me flat. It would really be nice to get through one summer without a slew of superhero movies or more sequels.
... and of course, films you really deplore?
All of the Daniel Craig Bond films. I used to be a huge Bond fan, but gave it up when they turned Bond into a guy who looks like a plumber. I know Iím in the minority there. They donít make Bond movies for my generation and I get it. Anyway, Iím also not so fond of any cookie-cutter superhero movie, most movies with a number after the title, movies that desperately try to be funny like anything that Leslie Nielson did after Airplane and the Naked Gun movies. I donít mind silly movies, but not when thereís nothing clever or satirical in there. Thereís a big difference between a movie like Airplane and Airplane II. Airplane was made by naturally funny writers, Airplane II was notÖand it shows
Your website, Facebook, whatever else?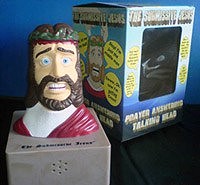 Feeling lucky ?
Want to
search
any of my partnershops yourself
for more, better results ?

The links below
will take you
just there!!!


www.pirromount.com is my website. Facebook is Pirromount. I have a personal Facebook page, but I donít think I do enough social networking for Pirromount. I really have to look into that. You can find a lot of my stuff on Youtube: Trailers, documentaries, promos, Mohammad Speaks videos, parodies, etc.
Anything else you're dying to mention and I have merely forgotten to ask?
Not that I can think of. Oh wait. You can talk about my Submissive Jesus Prayer Answering Talking Head toy that I created as merchandising for The God Complex. We still sell those toys. Theyíre pretty cool. Itís an 8Ē plastic statue of Jesusí head. You pray to it, then twist the crown of thorns on its head. He screams and then answers your prayer with one of 100 random smart-ass phrases. We made a bunch for the film and I still sell those little bastards. You can buy them at www.thesubmissivejesus.com. I think that about does it for the shameless plug.
Thanks for the interview!
Youíre quite welcome.