Your new movie I Am Alone - in a few words, what is it about?
Loss, humanity and finding one's self when everything around you has changed
With I Am Alone being a zombie movie, is that a genre at all dear to you, and some of your genre favourites? And what do you think makes your movie stick out of the crowd?
Yes, I love horror. It was actually the first genre I saw when I was kid. And since then for the last 10 years a bunch of us friends get together for a horrorthon around halloween, 5 of our favorite horror movies (a voting process happens) from 3pm to 3am. It's a night of scary fun. And lots of chili.
My top three favorites are The Exorcist, Hellraiser & Nightmare on Elm Street.
I think I Am Alone sets itself apart because we focus on humanity and we don't rely on the infection to drive the story. This is one man, Jacob Fitts in the woods trying to survive a horrible couple days and he doesn't know or understand what is going on around him. Jacob doesn't know what a zombie is, someone attacked him that he had to kill. How would we, ourselves react to that type of situation. That's what Jacob is trying to negotiate and I think that makes our film stand out.
Other sources of inspiration when writing I Am Alone?
Mostly movies and music and for both two words come to mind, John Carpenter. The Fog, The Thing, Escape from New York. The score to The Fog is just brilliant. Also movies like The Shinning, Omega Man, Outbreak, Dawn of the Dead, Night of the Living Dead, Cast Away & The Road. We listened to a lot of Mogwai, Sigur Ros and This Will Destroy You while writing the film.
You chose the found footage approach for I Am Alone - was this a decision from the get-go, actually, and your thoughts about the found footage "subgenre" as such?
Yes it was a decision we made from the get-go. We decided early on to capture this film in a way the was both documentary style and found footage. The use of the Gopro cameras allowed us to get specific camera angles without compromising the story. Jacob is a survivalist so we felt this would enhance audience's experience. I enjoy the found footage subgenre when done correctly, movies like REC, Paranormal Activity, Chronicle, Troll Hunter, The Fourth Kind & Cloverfield all do it justice. I think you have to make sure you're always working to serve the story no matter the genre.
What can you tell us about your co-writer, director and long-time collaborator Robert A. Palmer [Robert A. Palmer interview - click here], and what was your collaboration like - and how did the two of you first meet even?
Rob has a great sense of where we'll be down the line, he's very thought out in terms of story. Where a lot of the time I do not think about where we are going and focus solely on where we are at. So it helps me a lot of the times knowing that without even talking he's got a fierce sense of what's next. When you've known someone for as long as I have, 26 years, it makes things a lot easier. Trust isn't something gained overnight so it's nice to have that trust in someone, it takes out a lot of the worry of "will this work" and replaces it with confidence and ingenuity. Rob and I have have endless conversations during our writing sessions about story and character and being able to bounce ideas off one another is a fantastic way to write. A lot of times we write scenes that just don't make it into the film but we allow each other to try new ideas out and that's one thing I love the most. Even when when shooting a scene we talk a lot the night before we're on set so that we are prepared for the day. The more trust you have the collaboration gets easier and that's one of the best traits Rob has in his arsenal of traits.
Rob and I have known each other since we've been 12 years old, we met in high school in a math class I think, I forget the teacher's name but he used to throw dry erasers at us if he didn't like you and make you sit in the trash can if he really disliked you. And he didn't like most of us. So we bonded over prank calls, trading cards, fantasy football and movies. We made short films for our friends in high school for their English reports. Rob would direct and I'd help edit and do music and sound fx. That was the start of it all.
How much of a say did you have when it came to casting I Am Alone, and why exactly these people?
Being one unit I can say Rob and I both had 100% say of casting. There was never a time when we liked someone over another and had to fight for our vision of a character. From the start we knew we wanted Gareth David-Lloyd & Gunner Wright. We had our number twos and threes but we went heavily after our first choices. Gareth we LOVED from his Torchwood run, especially the Children of Earth series which inspired Rob to make a short film called People of Earth, which I edited, it was placed into the Fright Night Film Festival in Louisville where we met Gareth. Gunner we saw in a film called Love by Will Eubanks, his portrayal of the last man on earth in space was just fantastic and heart-breaking, it was one of those movies we watched about 9 times in a week. For the Dr. Marlow role we were looking for a presence on screen, someone with a look, who had the bravado of Dr. Marlow but also who could deliver the unknown and Marshal Hilton walked into our casting session and knocked it out the park.
What were the main challenges producing I Am Alone - and in connection with that, also do talk about your locations for a bit!
Let me start out by saying we shot in Montrose, Colorado and there couldn't have been a better, nicer more welcoming town for us to work with in shooting I Am Alone. One of the main challenges for I Am Alone was shooting on a 5000 acre mountain at 10,000 ft above sea level. We had no 4 wheel drive trucks with us. We had a cabin that had a gas powered generator which could only be run for four hours a day and it broke on day 1. We had to bring generators up the mountain to power our cameras and lights and we did not have the budget for as many as we actually needed. And I'm not talking about movie generators, I'm talking about personal generators the ones you'd find at Walmart. So I had to go into town, door to door asking the people of Montrose if they had ATV's, 4x4 trucks and most of all generators that we could borrow for a couple of weeks. The people of Montrose couldn't have been more welcoming. We had people bring us about eight generators, a local in town guy lent us his two ATV's and the ATV trailer which we turned into the make-up trailer. People came out in droves with tents and food. FOOD! Three times a day our local house mom Lynette Bean and her 89 year old mother made our meals! The townspeople came out to help our film in any way they could. When it was time to shoot our pivotal town attack scene, Montrose closed down streets for us and allowed us to shoot at their City Hall. This film was as much of a collaboration with the city of Montrose as it was with Rob and I.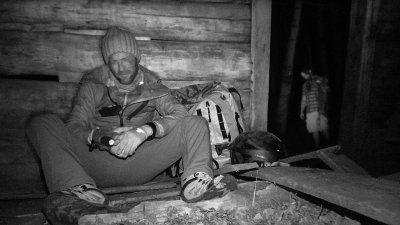 What can you tell us about the shoot as such, and the on-set atmosphere?
The on-set atmosphere was a little rocky when we first arrived. We took a crew of about 15 people, most of whom we hadn't worked with before, up on a mountain to live for three weeks with little to no power. Now you can explain to people all about the mountain and it's terrain and weather and what they need to be prepared for but it wasn't until once everybody got to the mountain and saw with their own eyes did they all realize where we were actually shooting. People were nervous at first but soon settled in once they realised A) there was nowhere to go and B) we're about to make a kick ass movie. We had also hired a security team run by our technical advisor Rick Bresett who helped make every day a fantastic day of shooting. If we had a lot of extras Rick and his crew from Accurate Intensions would help warm up the extras. Rick answered all our questions and concerns without hesitation. We felt a lot more safe with Rick and his crew. There were times we ran up on bears or a cub and Rick, Randy and Bobby would handle the situation. We wouldn't tell anyone what just happened we'd clear the area and begin shooting knowing Rick was there watching our backs. One of the best days on set was during our firing range scene where we had 60 extras, fire pits, ATVs circling and it was COLD. I had a PA run out an get everyone food while Rick whipped up a military song for everyone to join in and sing. I think everyone had a great time making I Am Alone.
Anything you can tell us about audience and critical reception of your movie yet?
Well it's been about four months since we've released I Am Alone out into the world and so far it's mostly been very positive. People have been gushing over Gareth & Gunner's performances which make the film stand out. We've started to win awards at festivals such as Scare-A-Con and Fright Night Film Fest as well as RIP Fest and I think when that starts to happen you just can't ignore a film like I Am Alone. Festivals and comic cons have both helped further the success of I Am Alone and we have many more to play at. We have a long road ahead of us and a specific plan for I Am Alone and would like our film to reach an even wider audience.
Any future projects you'd like to share?
Well first and foremost we'd love to continue the I Am Alone world. The first film is a cliffhanger and we'd love to show our fans where the story continues. Rob and I have already plotted out the second film. We also have another horror story we'd like to tell called The Patch which takes place on a pumpkin patch. And switching genres we have a fantastic crime story called A Four Gun Conclusion we'd love to tell.
What got you into filmmaking in the first place, and did you receive any formal training on the subject?
You know I think my love of films got me into filmmaking. I have no formal training except to say I went to films not filmmaking school. I moved out to LA in 1999 and started working almost immediately in commercials and music videos, learning everything I could on every set I was on. But I'd say 1989-1995 was a very impressionable time for me. Rob showed me the movie Do the Right Thing which showed me a world I was not used to seeing. Jaws and Indy to me were the perfect films till I saw Carlito's Way, experienced Apocalypse Now, Reservoir Dogs & Pulp Fiction, The Professional, True Romance and Natural Born Killers. Citizen Kane and everything Hitchcock blew my mind. You can make movies like these, hell I wanted to make movies like these. Even today I own over 3000 movies. I'll never stop being a fan of film and I think it's what makes me a better filmmaker.
What can you tell us about your filmwork prior to I Am Alone?
I've been heavily working in commercials, music videos and realty TV trying to learn every facet before moving into making my own short film. I had made a short film called Waking that placed top 25 on the reality show On the Lot by Steven Spielberg. I had worked with Rob on his People of Earth short film. Worked on a pilot for a TV show called Unconventional. But I really found my love of editing and started to work for a post house working on commercials and films for Apple all the way to Michael Bay and his Transformers movies.
Besides movies, you've also made your fair share of reality TV shows - so do talk about those for a bit, and how do making them compare to making narrative cinema? And to what extent have they influenced your approach on I Am Alone?
Working in reality TV for five years heavily prepared me in creating the world for I Am Alone. I've working in both post and camera departments for shows like Forever Eden, Paradise Hotel, The Ultimate Fighter & Pimp My Ride. The pace we needed to shoot at, how to shoot and how to mold it all into one story this is where the reality TV in both Rob and I shines through. Reality TV does a great job in that they shoot for thousands of hours and can create hundreds of storylines if they want to. So Rob and I both knew that with our background in reality TV that we could easily serve the story of I Am Alone both with a bit of improv and sticking to the script. We shot with 5-7 cameras rolling ALWAYS. In reality TV it's much the same as you usually have a teams of four or five shooting at once as well as stationary cameras shooting the surrounding areas. This is what I Am Alone is about. I Am Alone is reality.
Writers, filmmakers, whoever else who inspire you?
I'm a huge fan of innovation so when I see filmmakers like the Wachowski's or James Cameron, filmmakers who can literally change a whole decade of how films are made, they inspire me. ILM inspires me. Brian De Palma is a huge influence in both writing and filmmaking, Scorsese, Kubrick, Tarantino, Coppola, Michael Mann, Michael Bay and Oliver Stone. I really love the films of James Mangold, PT Anderson and Darren Aronofsky their catalog of filmmaking is a class unto itself. Right now I think the filmmakers to watch are Jeff Nichols, Rian Johnson and David Michod. I find a lot of inspiration in the poems of Flannery O'Conner or the works of Hunter S. Thompson. But sometimes my inspiration comes from people I see on the street, people I'll never meet. I just watch them in their element, I love observing.
Your favourite movies?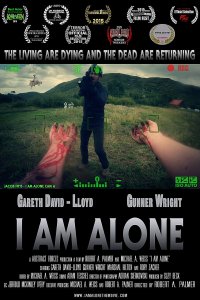 Feeling lucky ?
Want to
search
any of my partnershops yourself
for more, better results ?

The links below
will take you
just there!!!

Find Michael A. Weiss
at the amazons ...

amazon.com

amazon.co.uk

amazon.de
Looking for imports ?
Find Michael A. Weiss here ...
Something naughty ?
(Must be over 18 to go there !)

The list has flip flopped around but these movies are my favorites - True Romance, Apocalypse Now, Carlito's Way, The Matrix, Citizen Kane, North by Northwest, Raiders of the Lost Ark, Animal Kingdom, Goodfellas, Top Gun, Bad Boys, There Will Be Blood, Heat, The Wrestler, Jaws, Alien, Nightmare on Elm Street and Lock Stock and Two Smoking Barrels. It's tough I feel like I can make a list of 1000 movies I like.
... and of course, films you really deplore?
I hate sequels to great films. All the Jaws sequels. Exorcist sequels. Some are decent if the entire cast and crew and director are back but even then with The Matrix sequels, were they needed? No. I wish sometimes we'd just let a film stand the test of time, no sequels, no remakes. But my most deplorable film was the sequel to Carlito's Way, WTF happened there. Why was that movie made. Someone thought a sequel to Carlito's Way was needed with P-Diddy! We're talking about one of the best crime films, filmmaking films to date. That's like saying hmmmmmm we're going to make Heat 2 starring Drake and 50 Cent. People should just stop when they have that thought, I mean look what happened to a fantastic filmmaker Jim Sheridan after Get Rich or Die Trying, 8 Mile was a film, Get Rich or Die Trying was a film trying to get rich. Movies should not just be made to make money.
Your/your movie's website, Facebook, whatever else?
Our Festival Trailer: https://vimeo.com/125647292
Website - http://iamalonethemovie.com
Facebook - https://www.facebook.com/abstractforces/
Instagram - @manonfire07, @iamalonethemovie, @cinerob58
#iamalonethemovie
Vimeo - Abstractforces
Twitter: @IAMALONEmovie and @cinerob58
Tumblr: Iamalonethemoviue
Anything else you're dying to mention and I have merely forgotten to ask?
I'd just like to thank everyone who helped out on I Am Alone, this was truly a team effort from everyone who pledged to our Kickstarter to the Town of Montrose to our entire crew and to Rob. This was an experience I'll never forget and I'm super proud of. Thank you.
Thanks for the interview!