Your new movie I Am Alone - in a few words, what is it about?
Isolation at its core. Life is meant to be shard with others and here we have a wilderness survival expert who chooses to take on adventures by himself without any thoughts towards who it may affect, including himself. I Am Alone is about man who is challenged by both nature and biology in the midst of a "zombie-like" virus. Jacob's story that is captured by his cameras may just save humanity if he doesn't lose it first.
With I Am Alone being a zombie movie, is that a genre at all dear to you, and some of your genre favourites?
Horror is definitely one of my favourite genres. I think what I like most is that we can see all types of people dealing with a situation they couldn't possibly prepare for and at the end of the day you put yourselves in their shoes and tend to think about yourself. I wouldn't say I'm a huge fan of gore and I'm definitely not squeamish, I'll watch Dead Alive with the best of them.
As for my favourite genre films - zombie movies would be Fulci's Zombi 2 and City of the Living Dead [Lucio Fulci bio - click here], PontyPool, 28 Day Later series. Night of the Living Dead, Return of the Living Dead. And overall horror Halloween I & II (originals). Recently The Conjuring, The Babadook and It Follows I really enjoyed.
And what do you think makes your movie stick out of the crowd?
Honestly Michael and I set out to tell a more intimate story, we know "found footage" and zombies has been done to death (wink wink) but we felt our story of one man's transformation would be unique. We set out tell a tale of isolation, and our main character Jacob would really be isolated on a mountain by himself with nothing but his wits to survive. Then our co-lead Gunner Wright as Mason would be basically alone in a room trying to understand what has happened to his friend. We wanted to balance claustrophobia and the vastness of the wilderness in one ambitious story. There have been very few films of transforming but never over days and never with the actual focus on one character.
What can you tell us about your co-writer, producer and long-time collaborator Michael A. Weiss [Michael A. Weiss interview - click here], and what was your collaboration like - and how did the two of you first meet even?
Michael and I have been friends longer then the internet as we know it existed. We've been collaborators long before we knew we could do this professionally. I remember Michael and I would watch movies and analyse them. How did they do that? We would then use a VHS camera I took from my dad and attempt to accomplish such cinematic feats as slow-mos and blue screens with terrifyingly poor results. However, that didn't deter us from continuing to make short films. As seniors in high school, Michael and I helped friends make their senior projects (we were not graded - for the record). All stories were based on classic British literature which I had not read. So we made our version of Frankenstein, Dr. Jekyll and Mr. Hyde and Murder at the Cathedral amongst many others from Cliff Notes. They were hilarious by the way and I hope they exist somewhere online. That was where I think we realised people liked what we did. They were huge success and supposedly they were played for the next few years. Although, what we lacked in story we made up for in production value, all the movies totalling 6 had music and sound effects and crudely edited into a seamless if not insane version of those British classics.
You chose the found footage approach for I Am Alone - was this a decision from the get-go, actually, and your thoughts about the found footage "subgenre" as such?
"Found footage" as we know it today has been around since at least the early 80s. Cannibal Holocaust may be the earliest most famous product, followed closely by The Blair Witch Project. Found footage by design can be done cheap and fast but that's not why we chose it. Found footage gives you a more immediate if not gritty look into that world that you may not see otherwise. It's a more direct way for those characters show us the world unfolding. As Michael stated, as long as it's done correct they can be brilliant. The problem for the viewer, the style is sometimes a bit jarring, and a bit unsettling for the wrong reasons. So when Michael and I decided to go this route we said "this is going to be a story of man and his cameras." We will mount cameras where needed and let the diary tell the story. The location will be key, these points we will not gloss over. So as Jacob and Mason's separate journeys converge the amount of gear has also changed. You couldn't power batteries on the run or think about shooting as much content as they could for the show. At some point their true survival skills would kick in but as professionals in television they would also use their skills and background to continue to capture the world crumbling around them. Sometimes to heartbreaking results for everyone.
Somehow connected to the last question, how were some of your "found footage" scenes realized (as in, did you actually leave your actors on their own), and how much preparation went into these scenes?
Shooting in a matter that we did brought on some serious technical issues and obstacles literally and metaphorically. We knew at points our actors would be out on their own far away from us. This style meant the actors had to be on point, although we were never that far away but having to hide from them in order to give them the feeling of isolation. We joked it took 25 people to make it look like 1 person was all alone. There are definitely scenes where I'm hiding behind a rock or tree screaming direction. In fact I'm also in some of the crowd scenes directing all the moving people. Our DP Adrian Sierkowski did one hell of a job. We had as many as 4 cameras going at one time and then as Jacobs mental state declined we had to adjust how the camera saw him. In the CDC bunker we used upwards of 6 cameras rolling simultaneously, kinda crazy way to do it. The other problem was that we didn't always have playback right away so it was very much like making a movie shot on film. We had to look at dailies later in the day when power was available and then correct any mistakes if any were present down the line. The shoot itself had its own challenges thats for sure.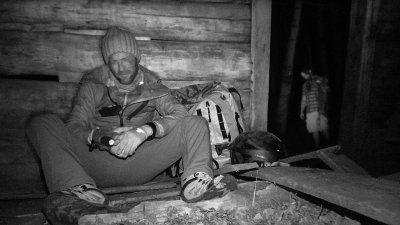 What can you tell us about your key cast, and why exactly these people?
When I Am Alone was being developed and written we knew our cast was key since we knew this wasn't going to be a typical zombie film. We knew it's going to lean more on performance then gimmicks and blood. So finding the right actors meant success or failure for us. Then luck struck us, in 2012, we were attending the Fright Night Film Fest where Gareth David-Lloyd was attending. Gareth has such a charismatic presence, we thought if we can get Gareth as Jacob we're in business and we knew our Mason character as a former military combat photographer needed to have a different on-screen presence. As Michael stated, we loved Gunner Wright in the sci-fi film Love and Gareth from Torchwood. If we were lucky enough to sign these two amazing actors we had our leads. We then cast Rory Zacher who is a close friend of ours and actor that we've known since we've moved in LA in the early 2000s. As a reality TV producer myself I was able to harness my personal experience into the role for Rory and knowing me for so long as he has he was able to fit that producer role perfectly. Although I would've survived longer (haha). Finally as our story unfolds at a seldom used CDC bunker, our Doctor Marlow (Joseph Conrad Heart of Darkness reference) had to be someone who was both compassionate and business-like to help Mason and the world see something in the footage. Thats where Marshal Hilton entered. We loved what he brought to the Doctor was a sense of dread but a sense of direction. Find a cure at all costs to save humanity and Marshal delivered.
In all, I Am Alone is a very outdoorsy movie - so do talk about your locations for a bit, and what were the advantages and challenges of shooting there?
Toilets and showers! We barely had either. When we set out to shoot I Am Alone at 10,000 ft we knew it wasn't going to be easy. Michael and I aren't what you call "outdoorsy people" but we wrote an outdoorsy movie. You can only prepare so much and then you just have to adjust and solve problems on the fly. We arrived in Colorado it rained for days… no 4X4's just 4X2 trucks, in LA 4x4's are rare and it's not needed but in Colorado it's just about mandatory. So we had to beg and borrow gear trucks, ATVs, anything to help us. Thankfully the town leant us everything. We are so thankful to the town Montrose and all their support, we also had port-a-johns leant to us for the duration of filming, food was prepared for free. Homes were open to us. It was a community effort. If we didn't get things from them who knows if we'd even be able to finish the film. Power was another major issue, we had none. We ran off of generators and they make noise, lots of noise. So our team had figure out how to creatively hide them so we can shoot our scenes. I still don't know how we pulled it off, I really give it up to the crew for being so adventurous and accepting of all the conditions. Oh and if someone finds a Gopro on the UnCompagrhre river, its probably ours we lost one on day 2 of shooting.
Although the one true advantage was we got see nature at its purest. You can fake a mountain view but knowing that we didn't have to and those moments we captured the world really looked that way to us. It was something special that we may never get to experience again.
What can you tell us about the shoot as such, and the on-set atmosphere?
Our rag tag crew of filmmakers made the shoot such memorable experience. We were 900 miles from our homes in LA for 3 weeks and 10,000 ft up having to drive 20 minutes up a road to our cabin. No only that sometimes knee deep in mud or the river and the only thing people wanted to do was shoot this amazing zombie film. As hard and challenging as it was for us at times it was also some of the most rewarding. The things we did for each other and for the film could not be replicated. None of us had every been so close to the stars… It was a special 3 weeks. We owe the cast, the crew and Montrose and our Kickstarter supports around the world. Thank you!
Anything you can tell us about audience and critical reception of your movie yet?
In August of 2015 Michael and I were lucky enough to return to Montrose, Colorado where we shot the film. We set up a special 3 night special engagement at the Star Drive-in, the oldest single family owned drive-in in America - circa 1949. We wanted to give the town the first public viewing of the film. We were so nervous at first but after it played we heard the car horns, the clapping and the flashing lights and we we knew we made film to be proud of. That was our first insight as to what was to come. We then were able to roll it out into many film festivals over next couple months around the world. Gareth has already won Best Actor at two festivals (Fright Night Film Fest and Scare-A-Con). We also won Best Zombie Film at the Fright Night Film Fest and lastly we won the Audience Choice Award and Best Director for me at the RIP Hollywood International Film Festival. We've also received countless other nominations. I Am Alone has been fortunate to have played in 11 film festivals worldwide with many more coming next year. Finally as of 12/15 we played the Phoenix Comicon Fan Fest with Gareth David-Lloyd in attendance. He was finally able to see the film in full and the audience loved it. We're so amazed at the love the fans have shown us every step of the way.
Any future projects you'd like to share?
We're excited about our other horror films The Patch, our sort of take on a Texas Chainsaw Massacre type family with our own special twist. As well as a gritty crime film A Four Gun Conclusion that will be a bloody violent and heartbreaking story.
What got you into filmmaking in the first place, and did you receive any formal training on the subject?
As a kid I always loved watching films, I have an older brother who'd influence my film tastes. He is 5 years older then me so he was obviously more mature and I'd watch Fellini films and other more serious films that probably weren't meant for middle schoolers but I loved every minute of it. Eventually, as I mentioned i made movies as a senior in high school and realised this was what I wanted to do. In 1998 I went to The Art Institute of Philadelphia for Film and TV. I learned so much about filmmaking and non-linear editing was still in its infancy, digital cameras were just coming out so I felt like we were learning along with the teachers to some degree. It was a fantastic time, I met some really talented filmmakers there that I still talk to today.
What can you tell us about your filmwork prior to I Am Alone?
Straight out of art Institute in 2000 I made my "first" film with another friend Eric Horowitz . We shot a feature on credit cards, knew nothing of the movie-making process. The film was seen by exactly no one but we learned what it was like to make a film. Eventually I moved out to LA and joined back up with Michael and we've been making movies ever since. In 2008 I directed a short film called Elysian. It was a revenge father-and-son story told over one night in LA. It got into a few festivals and we continued to make more and more films as my bank account allowed. in 2010 I shot a sci-fi film called People of Earth that won awards at a few festivals and was an official selection in many more. I also worked on a few documentaries and spec shows during that time. However, in 2011 I Am Alone came to life and we've been working on that ever since.
Besides movies, you've also made your fair share of reality TV shows - so do talk about those for a bit, and how do making them compare to making narrative cinema? And to what extent have they influenced your approach on I Am Alone?
For many years now I've been a reality TV producer, I've worked on a lot of amazing shows like Extreme Makeover: Home Edition, Gene Simmons Family Jewels and Hell's Kitchen to name a few. My experience allowed me to see all sorts of story-telling, all sorts of techniques to achieve amazing content at a different pace than films. Movies or scripted shows are shot over months, if not years. A reality TV show's season is typically shot over a few weeks. We have to think quicker and long term versus something scripted for the duration. Both have their unique challenges and we learned that first hand making I Am Alone. We might be the first film to use reality TV and the fixed camera manifesto in the same movie. Reality TV definitely helped us prepare to shoot this film under the amount of time had, if we hadn't had the reality TV background I don't think this film we'd be nearly as successful as it has been.
How would you describe yourself as a director?
As a director I try to be fair, I think we all have something to bring to the table. As much as I want to be Hitchcock I'll likely never achieve that but that isn't a bad thing. I like to work with all departments, tell them my vision, give examples to illustrate my goal. I try not to overwork the cast too, doing 47 takes of someone opening a door isn't the best use of our time or budget. I'll also get as dirty as needed, on a film like I Am Alone when we were out in the wilderness all eyes are always on us (Michael and I), we have to lead by example. Directing isn't something to take lightly. Everyone will have their vision and you as the main creator have to stick to your guns at all costs and get what you need first, and if there's time we can explore other choices. That said, I do love to keep actors on their feet and sometimes add things to a scene that aren't scripted to get a more genuine response and see how they would genuinely react., I think learned that from reading about William Friedkin on The Exorcist.
Filmmakers who inspire you?
I have so many filmmakers who inspire me. Sam Raimi and his Evil Dead movies. The Coen brothers. Danny Boyle is someone I'd love to model my career after If I can make 28 Days Later, Sunshine, and Slumdog Millionaire, that shows some serious range. Brian De Palma is another director who has such an amazing style. Carlito's Way was the first film that made me really consider making films. Stanley Kubrick of course and Terrence Malick and and lastly Michael Mann - all these filmmakers understand the visual medium as well as the story needed to support the visuals..
Your favourite movies?
Such a tough question. depends on the genre I suppose. I love Carlito's Way, Raging Bull, Rocky, Blade Runner, Old Boy (2003), Haute Tension, The Dark Knight, The Thing, Starman, Shawshank Redemption, The Wild Bunch, A Shot in the Dark (I love Peter Sellers). Almost any Marx Brothers movie. The Manchurian Candidate 1962) I can watch over and over. The Shining too. My list can go on and on. Into the Wild was a big inspiration for me on I Am Alone.
... and of course, films you really deplore?
You know I hate to badmouth films because I now know what it takes to make one ... but I think I deplore films that aren't true to themselves. Films are trying to make themselves to be other films. I think there are films I just don't enjoy as much, like Starship Troopers. I can watch it but it doesn't do anything for me. I remember I went and saw the Lauren Holly "opus" Turbulence in the mid 90's and was like what the hell is this movie.
Your/your movie's website, Facebook, whatever else?

Feeling lucky ?
Want to
search
any of my partnershops yourself
for more, better results ?

The links below
will take you
just there!!!

Find Robert A. Palmer
at the amazons ...

amazon.com

amazon.co.uk

amazon.de
Looking for imports ?
Find Robert A. Palmer here ...
Something naughty ?
(Must be over 18 to go there !)

Our Festival Trailer: https://vimeo.com/125647292
Website - http://iamalonethemovie.com
Facebook - https://www.facebook.com/abstractforces/
Instagram - @manonfire07, @iamalonethemovie, @cinerob58
#iamalonethemovie
Vimeo - Abstractforces
Twitter: @IAMALONEmovie and @cinerob58
Tumblr: Iamalonethemoviue
Anything else you're dying to mention and I have merely forgotten to ask?
Michael and I wrote I Am Alone 4 years ago without a clue if it would ever see the light of day and if it wasn't for our dedicated cast and crew who literally jumped through fire for us. Thank you to everyone who helped make this happen. With Your support we are not Alone.
Thanks for the interview!