Your new movie Lamb Feed - in a few words, what is it about, and what can you tell us about your character in it?
Lamb Feed is about a tightly knit community of people who like to sink their teeth into the filth of society. Itís about executing a plan with a precise detail that involves a beginning and an end. The beginning being the laying down of the piece of wood covered in nails, the ending being the devouring of the blood of the chosen sinner, and everything in between. I play the character by the name of Wicker. Wicker is the leader of the community. Wicker is the first and last voice that the sinner will hear. Wicker comes off as some crazy backwoods lunatic but underneath that image is an intelligent and powerful force that has the power to get people to do what they are supposed to do in order for a plan to be executed with perfection. Wicker likes to toy with his victims much like a cat toys with a mouse before the cat kills it.
What did you draw upon to bring your character to life, and honestly, how much of Michael Wainwright can we find in Rev. Wicker?
I spent a lot of time in preparation. I had about 2 & Ĺ months to figure out how I was going to bring this character to life in a way that made sense and was also believable. I would just go into character wherever I was at and do whatever it was I was doing as Wicker might do it. I remember being at Best Buy with my brother and we were getting my dad an IPod for his birthday and we needed help from one of the clerks and so when the clerk came to help us she had to deal with the personality of Wicker. The look on her face was priceless, she was so uncomfortable and thatís exactly what I wanted. The look on my brotherís face was priceless too because he had no idea I was going to transform into some backwoods psychopath looking for an IPod at Best Buy. So I guess you can say that you can find quite a lot of Michael Wainwright inside of Rev. Wicker because the personality was created by me without any suggestions or input from anyone. Michael S. Rodriguez [Michael S. Rodriguez interview - click here] gave me that freedom to develop Wicker on my own and I am extremely grateful for that trust he had in me.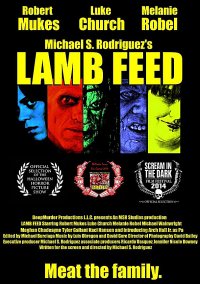 How did you get hooked up with Lamb Feed in the first place, and honestly what were your first thoughts when you read the script?
I got hooked up with Lamb Feed and Michael S. Rodriguez through something that is called the internet, on a website people refer to as Facebook (lol). I was a friend of Robert Mukes, Huey the Butcher, and he was going to be in this movie and he suggested to me that I self-record a few lines from the character of Wicker and post it on the wall of Michael S. Rodriguez. Well I remember that day like it was yesterday, and when Michael hit the ďlikeĒ button about ten minutes later I was like, ďYES, YES, YESĒ. Then it took about 1-2 months for Michael to make a final decision and when he told me he was going to go with me for the role of Wicker, you would have thought I signed a multi-million dollar contract. The first time I read through the script I thought that this would be an awesome project to be a part of. A family of creepy killers, and my role was the leader of this creepy pack, I mean it was a no brainer, I loved it the first time I read it.
What can you tell us about your director Michael S. Rodriguez [Michael S. Rodriguez interview - click here], and what was your collaboration like?
Michael S. Rodriguez is like a father, brother, and best friend. We clicked right off the bat and we are still clicking today. He believes in me and he has complete trust in the choices I make. He is very easy to work with. You can tell him anything, and believe me I have, and he doesnít bat an eye, he just lets you know that he loves you and that he will always be there for you. That goes a long way with me. The really cool thing about Michael is the freedom he gives you once those cameras start rolling. Yes there is a script that has dialogue on it, but donít be afraid to go where the character takes you, as a matter of fact thatís what Michael wants, he wants you to go into the story and become a creator. I love that freedom because it allows things to happen that probably wouldnít happen. It creates stories within the story. Michael is an awesome human being and I am fortunate to have met him and I know we will be friends for the rest of our lives.
A few words about the shoot as such, and the on-set atmosphere?
It took two days of 16 hours to get the footage that we got for the scenes I was in. Those two days came and went, and the next thing you know Iím waking up Monday morning and heading on back to Los Angeles. The cool thing about playing on the crazy and wild side of the street is that most scenes are fun to be a part of, whether there is a killing in the scene or an opportunity to dive into that twisted and dark state of mental euphoria, time flies and with each take the potential for a new level of darkness to be achieved becomes addicting, at least for me.
Any future projects you'd like to share?
I have at the moment been offered the opportunity to be a part of two different feature films. They both would potentially shoot next fall. The first project is a movie titled Krampus 2, and the second movie, which definitely has begun beating a pretty big beat lately is titled Rhonda Goes to Hell. The awesome thing about both of these movies is that my connection to the evil and dark side has been given a bigger stage to play on, an opportunity to advance to the next level, an experience that allows me to see as necessary that Iím participating in the work that is required for a personís dreams to become realities.
What got you into acting in the first place, and did you get any education on the subject?
Iíve had this inner desire to be an actor all throughout my life. I remember being in little productions that were pretty impressive when you consider the amount of effort and commitment it took from everyone involved to have a variety of 7-12 year olds performing plays such as The Sound of Music, Annie, Oklahoma, and a lot of Charlie Brown plays. I was removed from that school in the 4th grade and went to a school that had no acting opportunities at any time throughout my stay in the Catholic school system, so instead, I had to become the class clown, and I was a good one that provided a level of entertainment that made my efforts go all the way to the peak of Mount Disruption as I was the 1989 Class Clown at my alma mater. I lost the awareness of the importance of acting in my life until in the spring of 2010 I took an elective scene study class. I became hooked instantly and realized this is the one thing that burns a fire in my heart and an excitement in my soul that Iíve never felt with anything else. I ended up participating in all the plays at Harbor College that I could and I became extremely close to my dear friends Larry Heimgartner and Juan Baez who were both faculty members that basically were the face of the Harbor College Theater Department. The belief in me sparked that flame and now Iím all in.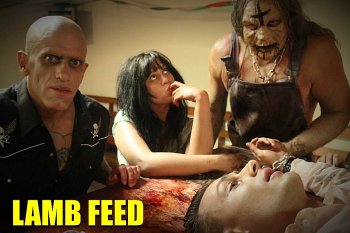 What can you tell us about your filmwork prior to Lamb Feed?
I had no filmwork experience prior to Lamb Feed. Michael took a huge risk on an unproven and unknown actor to bring to life a very important piece to this movie. All my work up to that point had been in live theater, but there was a lot of live theater under my belt. Live theater can pretty much prepare you for anything if the effort is put in to the extra unseen hours that are required to develop believable characters or personalities.
Besides making movies, you also did quite a bit of theatre - so how does performing on stage compare to acting in front of a camera, and which do you prefer, actually?
I love to do both. They are both challenging in their own ways but they are so much fun to do. On stage you get to play with a live audience and guide them on a journey in person which can feel extremely powerful. In film the audience is nowhere around, at least physically, which allows the actors to participate in various cuts in order to bring to life the energy that is needed for the audience that will connect to this at a later date. I love and respect both film and stage.
How would you describe yourself as an actor, and some of your techniques to bring your characters to life?
If I were to describe myself as an actor, it would be the kind of actor that believes being prepared when that curtain rises or when that word ďACTIONĒ is shouted, is the most important quality of a successful actor. I am totally prepared and committed to my character whether it has a fiction or non-fiction feel to it. I do not use any specific techniques that are described in books or anything, I just have my own method of madness that I implore and I give myself to it completely. I love helping people get over their personal fears of performing for the first time.
Actors (and indeed actresses) who inspire you?
Actors who inspire me are Woody Harrelson, Christian Bale, Michael Douglas and Denzel Washington.
Your favourite movies?

Feeling lucky ?
Want to
search
any of my partnershops yourself
for more, better results ?

The links below
will take you
just there!!!

Find Michael Wainwright
at the amazons ...

amazon.com

amazon.co.uk

amazon.de
Looking for imports ?
Find Michael Wainwright here ...
Something naughty ?
(Must be over 18 to go there !)

Goodfellas, Colors, One Flew Over the Cuckooís Nest, Casino, Out of the Furnace, Cheech and Chong Up in Smoke, The Departed, The Devilís Rejects, Lamb Feed, House of a 1000 Corpses .
... and of course, films you really deplore?
I really donít deplore any films, I give them all a chance but when it dies on me, I remove it from the player and smash it to pieces with a sledgehammer!!!!!!
Thanks for the interview!