Your upcoming movie American Luchador - in a few words, what is it about?
American Luchador is about stepping outside our comfort zone and into that scary place we call our childhood. It's about revisiting our past and learning from it, dealing with the pain of childhood and evolving, the best we can, as adults. American Luchador is about accepting friendship, even when that friendship comes from a mysterious masked man named Educo. American Luchador is the story of a 5'10" Luchador named Lobo Fuego - The Fire Wolf - who wrestles literal Giants as a metaphor for taking on the giant struggles of life. Struggles with being raised by a single mom after his parents split up. Struggles with guilt; with violence; with self expression. Through Lobo, we find the Fire is ourselves. It's a unique story and a universal story. It's the story of all of us because we all live with pain and we all deal with it, some of us better than others. It is our attempt to connect deeply and to get inside our audience's spirits, to have them do some reflecting. We're talking It's a Wonderful Life type stuff here!
Basic question, why make a movie about Mexican lucha libre-wrestling, what do you find fascinating about the subject? And other sources of inspiration for American Luchador?
I am a pro wrestling aficionado. It really means a lot to me. I feel comfortable at a wrestling arena. There's just something about it that is home to me now, and has been since I first went to a live show. So why Mexican La Lucha Libre specifically? My close friend writer/artist Anne Murray spent a few years teaching in Madrid and she sent me a book titled Mondo-Lucha A Go-Go by Dan Madigan. It's a very colorful book, about the tradition and history of La Lucha Libre. The book planted a seed.
&nbsp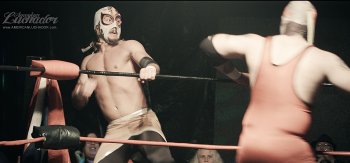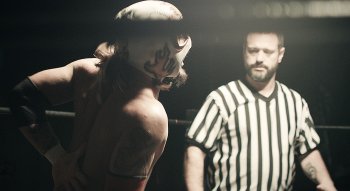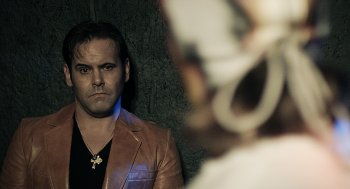 The wrestlers Rey Misterio Jr. and Amazing Red also were influential for Lobo Fuego. Initially, Lobo was written as full Mexican heritage and 4'10" tall. When we cast "The Juice" JT Dunn as Lobo Fuego, we adjusted the character description to fit the Actor. So the emphasis on Lobo's height lessened, and the storyline of being multiracial in a home split by divorce developed.
How did the project get off the ground in the first place?
I was enrolled in a screenwriting class taught by Christopher Mensel at the University of Rhode Island a few years ago. I started writing what was then called El Sueno Del Lobo Fuego (roughly translated: The Dream of the Fire Wolf) for my class assignment. I only got a few pages into the script when I changed gears to another script because I felt a Mexican wrestling story wouldn't impress my female classmates. So I started writing another story titled Bad Girls with Good Tattoos for the class. Of course, that script didn't impress them either. I should have learned how to play guitar.
Yet something about Lobo Fuego wouldn't leave me alone. His story needed to be told. I struggled with him over the years, how do we tell this story, Lobo's story, and what exactly is his story? I never did an outline for this story, like I have done for other scripts. It came straight from the hip and straight from the heart.
Over the years, I introduced the early Lobo drafts to my acting class - C.O.R.E. A.C.T.I.N.G. - that I teach out of New England. I used Lobo Fuego scenes for class workshop assignments. There was really something special evident, something universal in the student-mentor relationship between Lobo Fuego and Educo. The emphasis was not on the wrestling but on that relationship, like Luke and Yoda in The Empire Strikes Back. It didn't occur to me fully how poignant and powerful the story was until a student named Lily Spencer commented that Lobo Fuego was one of her favorite class exercises. That meant a lot.
&nbsp
Artists, especially "undiscovered talents", receive so much criticism or, worse yet, apathy from the general public that we really do appreciate kind words and encouragement. It's easy enough for the masses to gush over Breaking Bad or lament the latest adventures of Miley Cyrus... but to take the time and make the effort to motivate and encourage your local neighborhood artist, that's a real act of humanity and good will.
American Luchador's director Nic Carcieri discusses more about how we first collaborated in his recent interview with (re)Search my Trash [click here].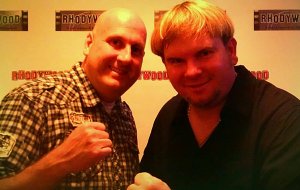 Nic Carcieri, Mike Messier
What can you tell us about your director Nic Carcieri [Nic Carcieri interview - click here], and how did you two first hook up?
Nic is a real humanitarian, as evidenced by his work as a firefighter and paramedic, and as a father. I took notice of Nic, not through his film work initially, but through a highly unusual circumstance where Nic established himself as a community leader. Nic's generosity of spirit made a lasting impression on me as a good guy that can be trusted to go the extra mile to help people.
So back in August 2013, when I put the call out for a producing partner for my Mexican wrestling story and Nic was the first moviemaker to respond, I thought it was great. We set up a meeting right away. Strangely, while we live only about ten minutes from each other, that was our first creative meeting of any sort.
For film, Nic's short film Love and Laundry Soap has now won at least two film awards, for acting and music. Both of those creative film elements are highly important to me. The fact that Jose Gonsalves, the award winning actor from Love and Laundry Soap, was Nic's first suggestion for Educo, is further evidence of Nic's acumen.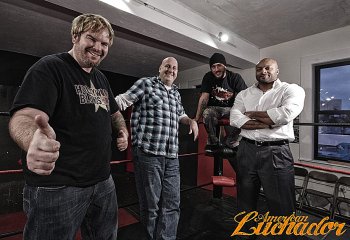 Mike Messier, Nic Carcieri, JT Dunn, Jose Gonsalves
Being a director yourself, how hands-on or hands-off will you remain during the filming of American Luchador?
It's Nic's set. It's important that there is one guiding force on set for the cast and crew to follow on set, and having seen Nic at work with early Luchador filming, I'm very impressed at how he handles the mesh of the wild worlds of wrestling and independent film. Nic, cinematographer Chris Hunter, and our camera assistants James Russell DeMello and Henry Kyhos got some really great shots of Lobo Fuego and his dad Maskador (Cesar Rego) at our last shoot. As for me, I'm co-producing American Luchador with Nic and Chris with support from an executive producer named T Phoenix. T is providing the RWA - Renegade Wrestling Alliance - for our movie. Behind the scenes, Nic and I collaborate on the story and creative direction on the piece. We also discuss ways we can promote the project, including this interview! Overall, it's a collaborative effort, or familia, in the case of American Luchador.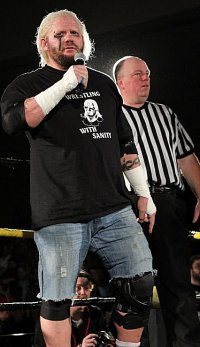 Raven wearing Wrestling with Sanity T-shirt
As far as I know, your film is still in its fundraising stages as we speak - so what can you tell us about your fundraising efforts?
Nic and T are organizing a pro wrestling show on March 2, 2014 at the Varnum Memorial Armory in East Greenwich, Rhode Island. This show will raise funds for American Luchador, and, it's been discussed, perhaps also for an important local charity.
Also, check out our IndieGoGo campaign: http://www.indiegogo.com/projects/american-luchador
Once your funds are raised, how do you plan to proceed - and any idea when and where the film will be released onto the general public yet (and I do know it's probably waaay too early to ask)?
There's a film called Field of Dreams which introduced the expression "If you build it, they will come." We're building it.
Any future projects beyond American Luchador you'd like to share?
My own one-two punch remains Wrestling With Sanity and Chris and the Coffee Girl. These are two feature film scripts I wrote with attachments from wrestling stars Raven, Maria Kanellis, Ox Baker, Spike Dudley, Big Daddy V and others. We talked about these projects in our last interview [click here].
Blood! Sugar! Sid! Ace!, my feature film from last year, is something I'm very proud of and would like to discuss with distributors. It's a highly unique film, which is a good thing, especially in this era of sequels, spin-offs, remakes and re-boots. Blood! Sugar! Sid! Ace! is a true original.
&nbsp
In the meantime, I worked on two short film projects in November 2013 that are already getting some notice. The Nature of the Flame stars Jocelyn Padilla and Lindsey Elisabeth Cork [Lindsey Elisabeth Cork interview - click here]. We're almost done editing this wonderful piece about the nature of dreams. Essentially, the question is ... if you're happy dreaming, why wake up? Why question the miracle? I wrote and directed and the aforementioned Chris Hunter shot and edited. Jocelyn and Lindsey are really great talents and they are making their own movie right now. There is no shortage of talent in New England.
&nbsp
The Actor is the life story of my good friends David Graziano [David Graziano interview - click here] and Christine Perla. It's a highly romantic love story, about love lost, love regained and the ultimate redemption of a man as an artist. After hearing their story of college romance, separation, and eventual reunion, I was motivated to ask these questions: What if you can find back "the one that got away?" Would you be happy... or would you beat yourself up over the lost time?
I wrote the script and co-directed the piece with Skip Shea [Skip Shea interview - click here]. Cinematographer William Smyth did a great job capturing the nuances of the story, and Skip led us into a real arthouse direction, which I love. Skip edited the piece within two weeks of shooting.
&nbsp
David and Christine play themselves and we cast the dynamic Diana Porter to play Coach - a character based on myself - as David's friend and acting coach. With Diana, we wanted her to capture the spirit of the great lady acting instructors Stella Adler, Uta Hagen and Ivana Chubbuck. We felt this was a role for a strong female character and we were right. Diana is magnificent as the Coach. And David and Christine put their souls and hearts on the line in telling their story. Artists, especially actors, are vulnerable to criticism, both interior and exterior, so I admire David and Christine for sharing their story. Perhaps others will learn from it. I know I do.
The Actor is a fifteen minute film, a lifetime in the making!
&nbsp
I've also been brought on by Roman Vangeli and Mickey Montes to work on 15MOF? Redemption, an intense story of two brothers, the nature of fame, and the desensitization of our culture to violence. Imagine if Natural Born Killers took over the set of American Idol, that's what we're looking at here.

Feeling lucky ?
Want to
search
any of my partnershops yourself
for more, better results ?

The links below
will take you
just there!!!

Find Mike Messier
at the amazons ...

amazon.com

amazon.co.uk

amazon.de
Looking for imports ?
Find Mike Messier here ...
Something naughty ?
(Must be over 18 to go there !)

Your/your movie's website, Facebook, IndieGoGo, whatever else?
http://www.indiegogo.com/projects/american-luchador
http://www.facebook.com/americanluchador
15MOF? Redemption inside look
http://www.youtube.com/watch?v=Ck8guYq3o1E
Anything else you are dying to mention and I have merely forgotten to ask?
Suspend your expectations of time. Have clarification of responsibility. Remember to laugh, or at least chuckle, once in a while. Move forward. Enjoy the process. Progress.
That is my message to my fellow artists.
Thanks for the interview!
Thank you Michael. You have many friends who thank you for your support of New England artists!