You have recently directed the episode Selenophobia of the webseries In Fear of - in a few words, what is it about?
Selenophobia is a dramatic tale about a cursed womanís decision to be executed, before transforming into a werewolf on the night of her first full moon.
What were your inspirations when writing Selenophobia, and how can you relate to this phobia on a personal level? And what are you, personally, afraid of?
Iíve wanted to tell this story for a while. Iíve mostly done comedies, but never had an opportunity to demonstrate something dark and serious until now. The inspiration comes from 30-plus years of being a horror enthusiast, as well as having an appreciation for the classic monster movies of the 1930s and 40s. I was going for that old school style. I also wanted to do a project that would welcome the audienceís imagination.
I personally donít have a fear of the moon, but I do fear mother nature - catastrophic storms, tornados, tsunamis, earthquakes. Unstable people with weapons scare me, as well.
I'm probably not the first one who sees traces of the werewolf genre in Selenophobia - a genre at all dear to you, and why (not)?
I love the werewolf genre as much as I love the zombie and vampire genre. Ten years ago I decided to make a werewolf film, because vampires were overused and ďthe children of the nightĒ were being neglected. That film never got made, but when I wrote Selenophobia, it was my chance to fulfill that desire. Although Iím not quite finished with werewolves yet; thereís another story Iíd like to tell.
How would you describe your directorial effort to your story at hand?
Directing is something Iíve practiced and studied since I was 12-years-old, using my uncle Mattís camcorder. I had some professional experience in the late 1990s, but nowadays, when all we need is a DSLR and a computer, the filmmaking world became a friendlier place for me. Especially after viewing some of Scott Perryís films, I realized, ďooh, I can do this properly now!Ē [Scott W. Perry interview - click here] But, aside from the technical aspect, my direction on Selenophobia began with locations and storyboards. I illustrated all of my visions on paper, scanned them and edited them as a simulated movie in advance. With the simulation, I composed the soundtrack and knew exactly what the final film would be.
What can you tell us about your cast, and what made them perfect for their roles?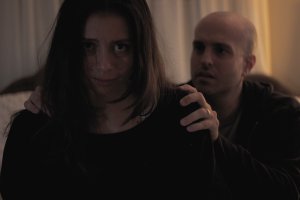 Louisa Ward, Mike Lane
Mike Lane auditioned for me in 2002. He got the part, and then I didnít see him again until 7 years later, when I watched Scott Perryís vampire film, Insatiable. So, thanks to Scott, I reunited with Mike, who later starred in my zombie comedy, Dead Drunk - a webseries he and I continue to make. So, Mike to me is what Depp is to Burton; Iíll always include him in my projects. Heís a very talented actor and a good friend.
Louisa Ward was one of two recommendations that I initially received from Jeremiah Kipp [Jeremiah Kipp interview - click here] and Dominick Sivilli. I viewed their demos, both were excellent, but Louisa blew me away. I was confident that she could give me the performance I needed. She did.
You just have to talk about the actual shoot and the on-set atmosphere for a bit!
I enjoy having a loose atmosphere on-set. Everybody was professional, cooperative, collaborative and we had fun. It was a fantastic 15-hour shoot. Having pre-designed the production, the schedule, etc. I was able to guide everybody through the day without any issues. I woke up at 4am, picked up the cinematographer (Steven-Mark Glassner [Steven-Mark Glassner interview - click here]), and then dropped him off in the woods to shoot 2nd unit footage. While he was doing that, I collected the cast and crew from the house location and brought them back to the woods. We used the 6am lighting to achieve the nighttime scenes in the forest. From there, we returned to the house and completed all of Louisaís scenes by 3pm. The remainder of the day was with Mike, which included a 3-hour lull, where we had to wait for sunset to complete another sequence. During that lull, we had a little film festival in the living room; Scott screened the other five In Fear of-episodes for us.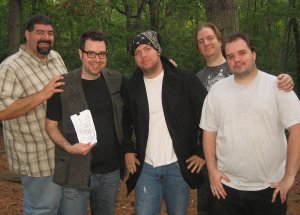 left to right: Morgan O'Connell, assistant director; Mike Polizzi, director; Steven-Mark Glassner, cinematographer; Jay Priole, production assistant; Scott W. Perry, series creator
How did you get involved with the project in the first place, and what can you tell us about the series' mastermind/co-producer Scott W. Perry [Scott W. Perry interview - click here]? And what was your collaboration like?
Scott and I met in a video production class in 1993, during high school. We collaborated on several projects, and then went on separate paths after we graduated. But, thanks to the benefits of social networking, he found me in 2009 and impressed me with everything he was doing (Insatiable, Something Just). He also introduced me to great people like Jeremiah Kipp [Jeremiah Kipp interview - click here], Dominick Sivilli, Michael Gingold, Alan Rowe Kelly [Alan Rowe Kelly inerview - click here], Bart Mastronardi, David Marancik - all talented people, whoíve inspired me to get behind the camera again.
Scott knew that I had the filmmaking bug, and when he mentioned his idea for a web series based on phobias, I told him about my story for Selenophobia.
Working on In Fear of, how much freedom were you actually given concerning story, look and feel of your movie?
Story, look and feel was all me as far as design goes. I collaborated with Steven-Mark Glassner [Steven-Mark Glassner interview - click here] (cinematographer) on achieving the appearance and mood. He did an amazing job and was great to work with. Scott recommended him, after his work on Jeremiahís Apehephobia episode.
Scott was on-set the entire time, but he let me do my thing. Itís his series, he edited Selenophobia, and I financed the episode as executive producer. Having Scott around in that environment was nostalgic.
You have also composed the score for your own and a few of the other episodes of In Fear of - so what can you tell us about your scores, about scoring other people's films as opposed to your own, and about Mike Polizzi the musician to begin with?
I fell in love with film scores when I was a kid. Growing up in the early 1980s gave me the privilege to enjoy some of John Williamsí outstanding music first hand. Later on, I was influenced by the music of Danny Elfman, and then eventually Bernard Herrmann, after seeing Psycho for the first time.
Scott always knew my passion for soundtracks, and then after he listened to some of my original compositions, he noticed the Elfman influence and asked me to score Monophobia. It was the first score I composed for someone elseís film and it was a very rewarding experience for me. I probably composed too much music for it, but it gave Scott options. He also asked me to do the seriesí theme, which I came up with while scoring Monophobia. With Achluophobia, Scott wanted something atmospheric. He was initially just going to use the rainfall and thunder sounds, but I proposed an ominous track that met his approval.
I really enjoy scoring films. When I made Dead Drunk in May, it was my opportunity to demonstrate my music, in addition to my filmmaking skills.
What can you tell us about audience and critical reception of the series and your episode in particular so far?
The series received a tremendous amount of interest, support and praise. In mid-October, we had an event arranged by Jeremiah and Scott, which screened all 6 episodes to a live audience and the reactions were very flattering. We anticipated a huge Halloween release on YouTube, but instead suffered the catastrophe of Sandy - a perfect example of why I fear mother nature, by the way.
I received great compliments on Selenophobia. Scott and Jeremiah were very impressed; our friends and colleagues really enjoyed it. Some articles had great things to say about it. One or two blogs mentioned that it might have been too slow; nevertheless, in only 6-minutes, slow, dark and eery was the intention. Itís about the mood, the atmosphere, the music and the charactersí disturbing predicament.
Let's go back to the beginnings of your career - what got you into filmmaking in the first place, and did you receive any formal education on the subject?
When I was kid I wanted to be an archeologist, because of Indiana Jones, and then I wanted to be an astronomer because of Star Wars and Star Trek. Eventually, I came to the conclusion that I just wanted be an actor, so I can be everything. From there, I realized I wanted to create my own movies, so I started with a camcorder in the 80s. When I reached my adolescent years, I took it seriously and began writing screenplays. In high school, I took that video production class, where I met Scott, and began making films on a proficient level by 1997. I had taken a few classes here and there, I self-studied and watched a lot of movies. Quentin Tarantino, Robert Rodriguez and Kevin Smith were emerging and I learned a lot from their success stories. Rebel Without A Crew by Rodriguez was very helpful and inspiring.
What can you tell us about your filmwork prior to In Fear of?
A lot of my work from the late 90s and early 2000s was trial and error; it was my hands-on experience and education. Those years are very precious to me, I met a lot of great friends; however, never had a project worth sharing - especially nowadays, when everything looks so much better in comparison. When I reunited with Scott in 2009, I had a few projects that I wanted to do - Selenophobia being one of them - but it just wasnít the right time. I didnít have the money to make these projects. Earlier this year, the universe called me back to filmmaking and I made Dead Drunk with three actors, a make-up kit and an iPhone. It received amazing feedback and got things rolling again. That led me to my involvement with In Fear of.
Any future projects you'd like to talk about?
I recently completed a second part to my Dead Drunk film, which is titled Dead Drunk Returns. We will be making more of these films as we enter 2013. In addition I am developing an episode for the second season of In Fear of, which will be published on the internet next Halloween.
How would you describe yourself as a director?
I apply my managerial experience to the process. Time management is crucial. In pre-production: I am very thorough, I organize everything very carefully so that the shoot goes smoothly as possible. My earlier filmmaking experience prepared me for everything that can and does go wrong. So, I know what to expect and how to avoid certain things. I know what I want in the end and Iím relentless until the project is completed.
Filmmakers, musicians, whatever else who inspire you?
Steven Spielberg inspired me tremendously, but when it comes to a specific style, Iím inspired by some of Tim Burtonís work and Sam Raimi. If I had to pick just one, it would be Raimi; he knows how to make films fun, he knows slapstick and he knows horror.

Feeling lucky ?
Want to
search
any of my partnershops yourself
for more, better results ?

The links below
will take you
just there!!!

Find Mike Polizzi
at the amazons ...

amazon.com

amazon.co.uk

amazon.de
Looking for imports ?
Find Mike Polizzi here ...
Something naughty ?
(Must be over 18 to go there !)

Musically, I am very inspired by Bernard Herrmannís work. Danny Elfman was influenced by Herrmann, which is probably why I am so fond of both. Jerry Goldsmith was another one of my favorites and John Williams is legendary.
Your favourite movies?
Raiders of the Lost Ark, The Empire Strikes Back, Jaws, Ed Wood, The Big Lebowski, Ghostbusters, Gremlins, The Dark Crystal, The Goonies, Evil Dead, V for Vendetta and The Dark Knight to name only some. Itís a very long list.
... and of course, films you really deplore?
Difficult to say, considering I avoid films that donít interest me.
Your/your series' website, Facebook, YouTube, whatever else?
Dead Drunk is my new and growing web series, which can be viewed at YouTube.com/flickgorilla and more details and videos can seen at flickgorilla.com, which contains a link to our new Facebook page.
Anything else you are dying to mention and I have merely forgotten to ask?
I think we covered everything. Thank you very much, these were excellent questions.
Thanks for the interview!