Your webseries In Fear of - what is it about, what is the idea behind it, and why an anthology series to begin with?
Anthologies are popular amongst independent filmmakers at the moment, particularly in the horror genre. The reason is that itís more affordable and you can work with more people, particularly actors. A few friends have made anthologies; Alan Rowe Kelly [Alan Rowe Kelly interview - click here] is involved with two in Tales Of Poe and Gallery of Fear, and I had really never considered making one until In Fear of popped up in my head.
I was looking to do something affordable but with a theme, and when you take horror at its most basic definition, itís the element of fear. I had stumbled upon this site called the Phobia List and saw hundreds of clinical phobias. Upon looking at the diversity of these real fears, I realized it would make an interesting web series that can provide a unique spin. The first person I spoke to about it was Jeremiah Kipp [Jeremiah Kipp interview - click here], who is one of my closest collaborators, and he really took to the idea. Within a month, five episodes were planned. That was March 2012 and here in November, theyíre all completed.
What got the project off the ground in the first place?
A short film shot in early March called Ghosts, which was made specifically for me to get my feet back into filmmaking. I had spent five years working on an interview site like yours where I interviewed many horror and Hollywood celebs on the art of making films. Itís how I was able to meet most of my friends and colleagues today. After doing that for a few years, and being that filmmaking was my first love, I wanted to go back to making film. This track based of a Nine Inch Nails song was so beautiful that I had a story behind it, and for two days I filmed it with Jeremiah as a co-producer and stars David Marancik and Xiomara Cintron. We all had such a fantastic time on that shoot and made something so unique and so powerful with such limited resources that it convinced both Jeremiah and myself that a web series could be done. You can view Ghosts here: http://www.youtube.com/watch?v=u9F2edK6oJc
While half of In Fear of's episodes were directed by yourself, you handed direction of the other half over to Jeremiah Kipp [Jeremiah Kipp interview - click here] and Mike Polizzi [Mike Polizzi interview - click here]. Why and how did you get them on board, what was your collaboration like, and how much creative freedom were they granted over their episodes?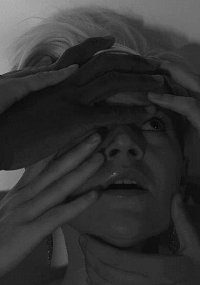 Jeremiah Kipp's Apehephobia
Well, as I stated above, thereís few collaborators I enjoy working with more than Jeremiah, and weíve worked on so many projects to the point I think Iíve lost count. I believe 2012 alone we worked on 13 projects together (including the In Fear of episodes). Weíre at a point where we know what the other is thinking and just have a good vibe and atmosphere amongst each other. As a filmmaker, Jeremiah is a wonder. His ability to work with actors is impeccable and he knows how to get everyone involved working at a hundred percent capacity. His style and his themes applied greatly to the series and I know he could bring exactly the high quality, intense impact that the series needed.
Mike Polizzi and I are old friends from way back in high school. Coming up on 20 years since we first met in a vocational school and shared the same interests. This was around the time Pulp Fiction came out and our personal favorite and most quotable film to each other, Ed Wood, and we had a common love of all things horror. We used to go to the conventions together as teens as well. Then, college and adulthood came and we just drifted apart. A few years ago, we were back in touch due to the magic of Facebook and I saw he still had the film bug. I always felt even back in high school that Mike is a major talent and has a unique flair for horror and comedy, and when it came time to the web series, Mike wanted to be involved. He had been looking for a project to do and had Selenophobia in his brain for a while. After doing a great job on the soundtracks for Monophobia and Achluophobia, he showed me the concept for Selenophobia and In Fear of was a perfect vehicle for him to relaunch his film career. His Dead Drunk series is also quite popular on YouTube as well. The film shoot for Selenophobia was like a high school reunion. It was fun.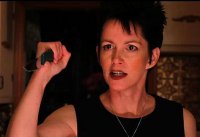 Monophobia
Since the series is all about certain (lesser-known) phobias - can you personally relate to any of them, actually, and what are you yourself afraid of?
The one of the episodes Iíve done that I can relate to the most is Monophobia for sure. I work an eclectic schedule and have literally lived as a vampire for close to 20 years, so the social life has not been a big one for me, and I tend to get a little desperate when I meet up with friends in securing a friendship because I donít want to be alone at times. Iíve gotten better at it but thereís always that underlying fear that people will forget you and leave you be.
I also have a huge fear of going to the dentist which stems from when I was given a procedure without Novocain as a child.
As per on-screen credit, Monophobia was co-written by its stars Debbie Rochon [Debbie Rochon interview - click here] and David Marancik. What can you tell us about their creative input, and about the shoot as such?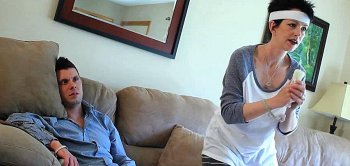 David Marancik, Debbie Rochon in Monophobia
Monophobia was when the series really started to get off the ground. Having worked with David on Ghosts, and eager to work with him again, I had mentioned during filming that I was thinking of this web series. Debbie Rochon is his best friend and they have incredible chemistry together on screen and at conventions. A week later, I wrote to David that I wanted to do an episode where Debbie wonít let David leave her house. That was it. An hour later, I get a response from them both that they wanted to do it. We had a two day window only a month later. Upon looking up Monophobia, I labeled it as such, wrote a template script, and we all agreed to just on set improvise. This was my first attempt at comedy so I put the hands in Debbie and David, who are naturally funny people. The shoot lasted two days. The first day was the whole first part of the film, and was written as a script. We kept it as close to the original as possible. The second day was all the post-credits scenes, where we just came up with ideas on the fly. Some were mine, some were Debbieís, and some were Davidís. It was such an easy shoot that we just had fun with it. I will say to have a scream queen chasing someone else around your house with a kitchen knife is a feeling unlike any other.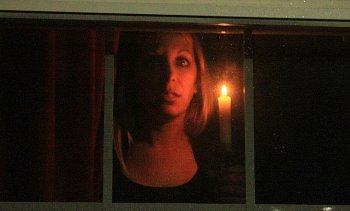 Raine Brown in Achluophobia
Let's talk about your episodes Thanatophobia and Achluophobia for a bit - what are the about, and what made you pick those particular fears?
Achluophobia: Fear Of The Dark is one of the first fears anyone has as a kid, as they are afraid of being left in the dark. How many of us slept with a night light? In order for the series to start off, a common fear had to be included and I had an idea to do Fear Of The Dark as an experimental concept. It works almost as an opening to an early 70s slasher film in that Raine Brown is in a room only lit by candles and they start to go out one by one. I just thought it would be a cool concept to make on a short film and thatís why that was chosen.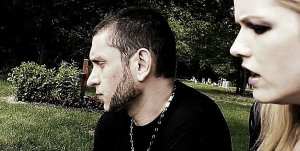 Damien Colletti, Suzi Lorraine in Thanatophobia
Thanatophobia was a more interesting process, as originally it was Coimetrophobia: Fear Of Cemeteries, when the script was written. Suzi Lorraine [Suzi Lorraine interview - click here] and Damien Colletti reacted strongly to the material but in the editing room, I realized that while it was good, the theme of the film was really a Fear Of Death and felt that it was a more appropriate title and a more common fear. I think weíre all afraid of death and the great unknown, itís one I question all the time myself.
What can you tell us about the cast of Thanatophobia and Achluophobia, why them, and what were those shoots like?
I had worked with Raine Brown on my short film Insatiable, which is also available to view online. I had such a good time working with her. Sheís such a professional and brings her all to a film that when I wanted to do this series, I had to get her involved. We had discussed working together again and had a few projects go by the wayside, but she was the only choice I had for Achluophobia. Itís a fairly silent role and I knew Raine could react perfectly to the situation around her. She knows how to make the most in the moment as she was trained under the Meisner method of acting, so I knew that she could completely nail the scene and reflect from it.
Suzi Lorraine
For Thanatophobia, Suzi [Suzi Lorraine interview - click here] became involved through Debbie, who referred me after we worked on Monophobia and I had shown interest in working with her. Sheís a popular scream queen as well and quite known on the New York indie scene plus sheís been involved with enough projects and has seen enough in the industry to understand the hard partying life that can happen in the scene. In a way, sheís playing a very exaggerated version of herself in the film (minus the drugs of course), so I knew that she could understand what I wanted out of the performance. Visually, itís one of the best films Iíve shot, and I donít consider myself a pro as a cinematographer. Damien wrote me a couple of months prior having seen a few projects of mine and gave me his info and demo reel. I was impressed by his resolve that when the episode became available, I asked if he wanted to be involved and he agreed. I think he and Suzi work well together on screen and the episode, while not necessarily horror, does bring that fear to fruition.
What can you tell us about critical and audience reception of your series?
So far, Iíve been happy with the results. I wish the hit count was higher but Iím hoping for a good word of mouth which I hope sites like yours will provide. Itís been cool that people really like the idea and I hope it inspires other filmmakers to create good films on modest budgets.
The biggest surprise to me was when, as a bit of a test run, Monophobia played as part of the Buffalo Screams Horror Film Festival last month with Debbie and David in attendance, and we played opening night to a packed house on a huge screen. It was thrilling to see it on a huge screen to begin with, but the audience howled with laughter and we received a huge ovation. It was humbling and overwhelming. I was stunned when both David and Debbie informed me days later that it won the award for Best Horror Comedy Short Film at the festival, an award that proudly hangs on my office wall. It was a tremendous honor and a sign that the series was off to a great start.
Since the number of phobias seems to be pretty much limitless, will there ever be more episodes of In Fear of?
Yes, weíre actually working on the first episode for Season 2 this month. Jeremiah is directing and will be working with Susan Adriensen on the episode, which Iím excited about because Susan is one of the sweetest people in the entire industry. Iím going to be directing two episodes next season. Mike Polizzi will be back and there will be more filmmakers involved as well. Iíd say itíd be 6-8 episodes and they will premiere next Halloween.
Let's go back to the beginnings of your career: What got you into filmmaking in the first place, and did you receive any formal training on the subject?
Iíve always had a love for cinema. It began when I was a child of 7 and beginning my love of all things horror. I benefited from having great parents who let me do my thing and allowed me to watch horror films on one condition; they wanted me to watch a special effects tape to show me it was fake. Once I saw the video (Tom Saviniís Scream Greats) I watched horror films to see how the magic trick was pulled so to speak. It wasnít until my high school years when I realized I wanted to become a filmmaker. Ironically, I studied acting in college and acting is the one thing I donít do now.
What can you tell us about your filmwork prior to In Fear of?
I had always done little projects here and there, from recording my poet friend Billy Lamont perform at the legendary CBGBís club (which I miss fondly) and a couple of other things until 2005, when I was laid off from my third job in a year. I decided to use the severance pay to make a movie, which as a result introduced me to many of the people I worked with today. I donít think the film is great. At the time I did, but it was the film that got me noticed by some great people and started this crazy path. From there, I made a couple of short films; Insatiable, a silent vampire star starring Raine Brown, Zoe Daelman Chlanda, and Mike Lane (whoís in Selenophobia), and Something Just starring Alan in a creepy role, Jerry Murdock, Joe Zaso, Evan Robert Smith, and Joslyn Jensen a year later. Both were given a lot of acclaim from friends and peers, but around 2007, as an attempt to learn film more, I opened the Colonelís Crypt which was renamed the Slick Devil Movie House to pick the brains of the most talented people in the industry. The list of people I was able to interview was astounding and where I got my biggest education, from Francis Ford Coppola to Jonathan Demme to Roger Corman [Roger Corman bio - click here] to Robert Duvall to many indie filmmakers that I really got a great understanding of how the industry moves and works.
So far you have limited yourself to shorts - is there a feature project anywhere on the horizon?
A feature is in the works after Season 2 of In Fear of. Many scripts have been written but I know the one I want to do first.
(Other) future projects you'd like to talk about?
Aside from Season 2 of In Fear of, there are many projects coming out in 2013 that I had a hand in. Crave, directed by Jeremiah Kipp [Jeremiah Kipp interview - click here], was a unique film I shot and am (currently) editing for him that is a semi-sequel to a film he released earlier this year called Drool. Thereís also a short film Iíve wanted to make for quite some time that will get the light of day next year. All Iíll say about it is that anyone who felt down as an artist will understand the film. Itís definitely a different level of anything Iíve done before and am so excited to film it. I will direct two episodes of Season 2 but the only one confirmed thus far will be in the same comedic vein as Monophobia.
Going through your filmography, one can't help but notice that you never stray too far from the horror genre - a genre at all dear to you, and why (not)?
Itís a fun genre and itís the only genre that is a star all its own. A lot of filmmakers start in horror because they know it will most likely make a profit because itís cheap to make and an audience is built in. I remember Dov S. Simens, a noted film teacher, said ďThe easiest way to make a film is to send a bunch of teenagers into the woods and chop them up.Ē For me, itís the pure thrill of it. Horror incites you in ways no other genre can and stretches across so many boundaries.
How would you describe yourself as a director?
Awesome! Seriously, I hope to think of myself as someone open to collaboration and making sure that every project, no matter how many hats I might wear on it, is a complete team effort because I wouldnít achieve anything without the level of talent I work with.
Filmmakers who inspire you?
It begins and ends with Martin Scorsese. No other filmmaker I will ever admire more and one whose work is still profound today. Hugo inspired me in a way no film had recently and I rank it amongst his best. Steven Spielberg is another I like a lot as he has become his own genre. I do believe that above all in my generation no other filmmaker inspires more than Robert Rodriguez because he was the very first to prove that you donít need a lot to make a truly special film, as he did with El Mariachi and in his completely digital projects. I saw Sin City again recently and was reminded how much of a masterpiece it was. John Carpenter was a man ahead of his time. And of course, Alfred Hitchcock, who I share a birthday with, and whose techniques of suspense are still done all these years later. 52 years later, Psycho still works. There are so many that inspire me. Recent emerging filmmakers like Bart Mastronardi, Alan Rowe Kelly[Alan Rowe Kelly interview - click here], James Felix McKenney, and Larry Fessenden inspire me as they prove to me that horror is alive as a genre and can be done with respect.
Your favourite movies?
It always changes depending on my moods and what I feel like watching. As far as the movies I can watch over and over again and never get tired of it, Iíd say Goodfellas, Taxi Driver, 2001: A Space Odyssey, Saving Private Ryan, No Country For Old Men, Friday The 13th, David Lynchís Lost Highway, and my favorite horror movie of all time, Hellraiser.
... and of course, films you really deplore?

Feeling lucky ?
Want to
search
any of my partnershops yourself
for more, better results ?

The links below
will take you
just there!!!

Find Scott W. Perry
at the amazons ...

amazon.com

amazon.co.uk

amazon.de
Looking for imports ?
Find Scott W. Perry here ...
Something naughty ?
(Must be over 18 to go there !)

I wasnít too impressed with the Hatchet films, even though the filmmaker had some nice things to say about my work. I thought they were fine but not groundbreaking as the hype indicated. I was disappointed by the Friday and Nightmare remakes (though the first 20 minutes of the Friday remake was great I will admit. Everything after that was just blah). If you play The Bodyguard in my presence along with that ďsongĒ, I will turn into a spineless jellyfish and convulse about the floor.
Your/your series' website, Facebook, YouTube, whatever else?
You can view the series at www.youtube.com/InFearOfWebSeries and there is a Facebook page devoted to it as well at www.facebook.com/InFearOf. I am in the process of revamping my website at www.slickdevilentertainment.com and if you want to read the over 300 plus interviews Iíve done over the past few years, check out www.slickdevilmoviehouse.com.
Anything else you are dying to mention and I have merely forgotten to ask?
Nope. Thank you so much for the time and opportunity and thank you for showing an interest in our little series. I hope you will enjoy whatís in store for Season 2!
Thanks for the interview!