First of all, why don't you introduce yourself to those of us who don't already know you?
My name is Morgan Muscat and I am an independent filmmaker based in Mississauga, Ontario, Canada. Filmmaking has been a crucial part of my life as far back as I can remember. My love for filmmaking started out as I wrote short stories that I wanted so desperately to make into movies. I learned how to write a script and soon enough I was shooting them at school and at home. In 2000, I had my first taste of industry working as a production assistant on a cooking show called The Gathering Place with Graham Kerr. I went to York University where I studied English but also dabbled within the film department and then did a three year program at Sheridan College, where I graduated with honours in 2008. Amidst all that I stayed firmly situated within the industry, working on independent feature films, television shows and music videos, as well as creating my own short films in the process. In 2005 I launched my own indie production company, Moonlit Road Entertainment, which has produced several diverse short films since then.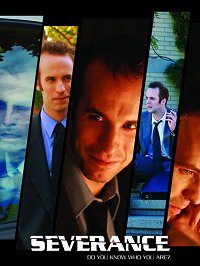 Your recent film Severance, which you wrote and produced - in a few words, what is it about?
Severance is a sci-fi dramatic short about a heavily flawed man who discovers that he is being replaced. His wife, his job, his whole life is being snatched from him and as he delves deep into the thick of things he begins to realize that the person responsible for it has a greater plan. It plays out very much like an episode of TVís The Outer Limits and is geared more towards those who prefer thought-provoking films as opposed to just visual experiences. Itís a compelling piece that makes you wonder what you shouldnít take for granted in life.
What were your inspirations for Severance?
For me it was the desire to craft a mystery of sorts, a mind-warping tale of a man who has to come to terms with the fact that his life is being taken away from him. The obvious inspirations come from The Outer Limits and The Twilight Zone and their stories that within half an hour have to tell a bizarre tale and keep you engaged. I remember watching these shows and saying ďwow, Iíd love to write an episodeĒ. So I wrote and produced Severance, completely financed on my own. It went through a lot of changes from its conception and at one point gearing towards a full-blown horror project, complete with grisly gore effects and death scenes. Then I decided to make it more of a thinking film, something that could lure audiences in without the visual gimmicks, so it became a sci-fi drama.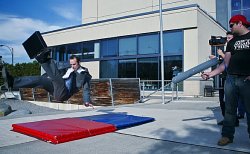 Severance - on-set photo
A few words about Severance's director, Dany Gehshan?
Dany is a solid filmmaker and a great friend. I had approached him very early on in his career, sometime in 2007, when he had finished co-directing a comedy spoof. We started talking about Severance to a point where I had sent him an early version of the script and he came back and said he thought it was a great little piece. So after several meetings with him I decided to bring him aboard. What I like about Dany is that he possesses a great personality and it made working with him an absolute joy on set. He is also an actor, so it was fantastic having him direct the film because he worked really closely with the actors, more so than most directors do. It was a very tightly knit set where we treated one another more as family members than as friends during production and that was Danyís intentions, as well as mine, right from the beginning.
You have also recently wrapped production on The Devil Walks Among You. A few words about that one?
The Devil Walks Among You was a short written and directed by Ryan M. Andrews [Ryan M.Andrews interview - click here], in which I served as one of the producers. It is basically a hybrid of sorts in that it blends the horror genre with film noir, about a sultry woman who tells the tale of the first time the devil came to earth. What I loved about the film was the atmosphere that Ryan wanted to create by blending both genres. I myself have never seen a film noir horror film so the fact that we got to go that route with it was a neat experience for me. I also loved the cast. We brought in a regular of mine, Robert Nolan [Robert Nolan interview - click here], to play the role of The Devil. Robert and I have known each other for a number of years and have worked on many projects together so working with him again was just a pure delight. Sandra DaCosta [Sandra DaCosta interview - click here] was cast as Lilith, the lead, and she owned the role right from the audition to the screen. I also loved working with the crew, who were absolutely professional and friendly. Weíre still in post production on that one, but when itís done it should be really fun.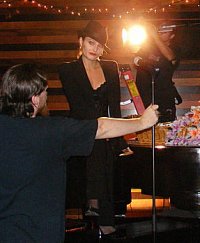 on-set photo
You want to expand The Devil Walks Among You into a series, right? How's that going to work, and who came up with the series-idea in the first place?
Ryan and I have spoken briefly about expanding The Devil Walks Among You into a series and while I think itís an excellent idea I am undecided if I want to tag along for that one just yet. Ryan came up with the idea and heís obviously really jazzed about doing it but I think if the time is right Iíll come aboard to help develop it. At this moment though I want to focus more on developing feature films and a couple of short films I am hoping to make within the next two years. But if the The Devil Walks Among You show does indeed come to fruition and I am available to do it, Iíll definitely be on board for it.
What can you tell us about The Devil Walks Among You's writer/director Ryan M.Andrews [Ryan M.Andrews interview - click here], and how did you two first hook up?
Ryan and I first worked together on the set of his slasher horror feature Black Eve. He wrote and directed the film and I came out on it as a production assistant for a few days during the shoot in March 2010. We shot in an abandoned retail store in Brampton, Ontario, and I remember the days being extremely long, but I had the opportunity to chat with Ryan and found him to be just a terrific individual as well as filmmaker. Whatís more was that he possessed the same appreciation for horror as I did, so we immediately hit it off. Since then we remained friends and we made The Devil Walks Among You together as a follow-up effort. We have a few collaborative horror films lined up including a feature film which I will serve as a producer. I really love working with Ryan because we are both so alike in our love for visualizing a horror story from script to screen.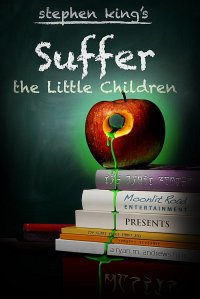 Together with Ryan M.Andrews, you are currently working on the Stephen King-adaptation Suffer the Little Children. What can you tell us yet about that project, and how did it come into being in the first place?
Suffer the Little Children was a short story from Stephen Kingís Nightmares and Dreamscapes collection. I read the story a while back and noticed on Kingís site that the ďdollar babyĒ rights were available, so I quickly optioned the rights and wrote the script. When I was done my first draft, I started thinking of local directors who I wanted to approach to direct. I at one point was considering directing duties but felt I should leave that task to someone else as I already had my hands full with writing and producing duties, among other things. Having come off Black Eve, I thought of Ryan and decided to approach him. I was quite happy when I learned he would do it and then we collaborated on The Devil Walks Among You together, almost like sealing the deal if you will. The story itself is quite compelling and eerie and I knew it was the King project I wanted the challenge of writing. I love the characters and as I read the story I could picture everything in my mind, from opening shot to closing shot. The cast will be great also, I promise you that. When crafting the script, I decided to remain true to Kingís idea and retain the same atmosphere and creepiness that was quite evident in the story. Obviously things have changed since itís an adaptation but for the most part I wanted to respect Kingís work and not create a total remake of the story. Right now we have a terrific script and some solid actors on board so Iím really pumped up to make and Iím certain that weíll have an amazing product in 2012.
Let's leave the future behind for the time being and dig back into your past, shall we:
How did you get into filmmaking in the first place, and do you have any formal education regarding the subject?
Like I said Iíve appreciated the art of filmmaking since I was younger so it was only natural that I pursue my dreams of becoming a filmmaker. I studied Media Arts at Sheridan College between 2005 and 2008 where I had the opportunity to learn about all areas related to the filmmaking process, from pre-production to post-production. Before then I had some experience on set, but nothing in terms of theory. I also had the opportunity to be taught by some very inspiring people at Sheridan who themselves are veterans of Canadian TV and film. I think the largest growth for me as an independent filmmaker is the projects that came after graduation, such as Severance and Suffer.
You also have a bit of a background in acting and still act in the occasional film, right? What can you tell us about that aspect of your career?
Acting is something I like doing but not nearly as much as filmmaking. I was part of the drama club in high school and back then I acted in a lot of theatrical plays. Since getting into the film industry though, I donít do stage work anymore. Nowadays, I act because I have blast in front of the camera and itís a nice feeling not always being behind the scenes. Most often I cast myself in cameos in the films I write and produce as kind of an in joke to the people who know me. Other times Iíll act in some films made by friends as a favor. I do it only when the opportunity arises, but I donít go out looking for work as an actor, it just finds me. Will I do more? Perhaps! HA!
On top of that, you have co-directed two movies, the documentary Hurricane Hazel: A Tribute to Hazel McCallion and the boxing drama Title Match. What can you tell us about these two films, and why didn't you stick to directing?
Despite the title, Hurricane Hazel has nothing to do with treacherous weather conditions but rather about the astonishing political career of Mississauga mayor Hazel McCallion, who has been in office for more than 30 years. The title is actually the nickname of McCallion herself, a nickname most Mississauga residents like to refer to her as. That was a mini doc I pitched while at Sheridan that I was granted the opportunity to make, so I brought the cameras into her busy office and we started shooting some scenes for the interview.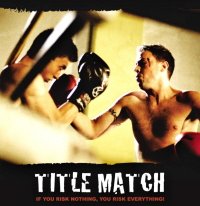 Title Match is a boxing drama that I wrote, produced and co-directed that I wanted to make because I loved the concept of it. Since Iím not a huge sports fan and because I love a good challenge, I thought making Title Match would be an opportunity for go down unfamiliar territory and formulate a story around a sport I didnít care much about. Shawn Robertshaw (co-director) came up with the initial concept of a downtrodden boxer but it was I who drastically altered the story to make it more believable, and so we introduced humanistic elements rather than the supernatural that it was originally going to revolve around. I wrote the script, it was well received, and we went to camera few weeks later.
Another films you produced was Duel. What can you tell us about that one?
Duel is an action film that blends live action with hand drawn animation, in the vein of Sin City. It has been by far my most ambitious project and as a result it has taken me to a lot of festivals in Canada and in the U.S. and has brought me a lot of exposure since itís completion. The film is about a suicidal man/comic book artist who finds himself caught between fantasy and reality when the world he has created in his graphic novels becomes a little personal for him to handle. The film played at the Mississauga Independent Film Festival and at the Queens International Film Festival in New York, among other notable festivals in Canada. So with that film Iíve really had a lot of doors open for me and Iím grateful for having worked on it.
Any other films of yours you'd like to talk about, any future projects?
Well, right now Iíve been focused on getting Suffer to the next stage of development. Itís a pretty ambitious project for an indie film so I want to take my time with it to ensure the final product is something I can be proud of instead of something thatís rushed. At the same time Iím looking over some scripts and am also circling another horror feature that Ryan Andrews has in development, which I would produce. Iím keeping details pretty tight-lipped on both projects at this time.
Apart from writing, producing, acting, directing, you have pretty much filled every other position in a moviecrew at one time or another. Tell us a bit about the various functions you have worked in and the films/TV-shows you have worked on?
When Iím not writing or producing my own projects, I like working within the industry on as many features or TV shows as I can just to see how other productions are being run and of course to network. In the past Iíve worked as a production assistant and as a locations manager as well as have had the opportunity to be a Producerís Assistant on the popular travel show Departures for two exciting seasons. Recently I worked as a PA on the third season of So You Think You Can Dance Canada and, in addition to Black Eve, I also PAíd on the independent feature films Burning Daylight, Reviving Ophelia and There is no Undo. I was also a location manager on the comedy Finding ODO, starring Mike Bullard and Ali Rizvi. So yes, lots of diverse roles on many diverse projects.
Since you have produced a whole bunch of movies written and directed by other people - what does a movie-idea have to have so you want to produce it?
For me, I love associating myself with different genres. Iíve done action, sci-fi, horror and drama, so when I am looking to produce something there needs to be a story I can relate to, or that I find intriguing enough in terms of originality or creativity. The script itself needs to be strong too, otherwise why bother committing to it? When I write something with the intentions of producing it, I want to ensure that the story is perfect before I step forward and move into production. I treat things the same way when Iím just producing, such as on Duel or The Devil Walks Among You; both had intriguing stories, so I wanted to make them.
Filmmakers, writers, producers who inspire you?
I donít think I have a specific person who inspires me, but I do appreciate the work that Christopher Nolan and David Fincher deliver on each of their films. I also admire John Carpenter for the contributions he has made to contemporary horror, both as a writer and director. These filmmakers rarely disappoint me and thoroughly entertain me, so they often inspire me to want to do my best as a filmmaker.
Your favourite movies?

Feeling lucky ?
Want to
search
any of my partnershops yourself
for more, better results ?

The links below
will take you
just there!!!

Find Morgan Muscat
at the amazons ...

amazon.com

amazon.co.uk

amazon.de
Looking for imports ?
Find Morgan Muscat here ...
Something naughty ?
(Must be over 18 to go there !)

Once again, I donít have a specific film or films because I donít feel I can appreciate just a handful of titles. For me, I love the horror genre, and as such I would opt to go more for psychological horror rather than the slasher killer type. Think Jaws, Halloween (1978) and The Fog (1980) instead of the killer in a mask stabbing teenagers-formula that is so popular these days. Those are the films I tend to admire for being effective and original rather than sticking with the standard.
... and of course films you really deplore?
I deplore the idea of remakes and belated sequels. For me, I love tackling projects that are innovative and present something fresh to the public instead of routine. With so many remakes and sequels on the release front in Hollywood this year, itís sad to see the route that has been taken where people opt to see something familiar rather than original and as a filmmaker itís quite disheartening to see. The freshness and fun of the original is quickly tarnished by ravenous companies wanting to turn in a quick (and hefty) profit based on a familiar idea. The word remake sells, even though the final product typically winds up an atrocious mess.
Your website, Facebook, whatever else?
You can visit my website (www.morganmuscat.com) to learn more about me or the work I have done with my company, Moonlit Road Entertainment, or check out my IMDb profile (http://www.imdb.com/name/nm2911850/). You can also find me on Facebook, Twitter and even MySpace. Iím pretty accessible.
Anything else you are dying to mention and I have merely forgotten to ask?
Well, you wouldnít have known to ask, but Iím getting married this July to the sweetest, most beautiful woman in the world! Just thought Iíd throw that in there since I donít mention her often during these interviews or just how loving and supportive she has been to me and my career.
Thanks for the interview!
Youíre very welcome, and thank you for the opportunity.