First of all, why don't you introduce yourself to those of our readers who don't already know you?
Hello, my name is Natalia Celino, I'm an Italian/Scottish actress from Scotland.
What got you into acting in the first place, and did you receive any formal training on the subject?
I have always wanted to be an actress for as long as I can remember, however I moved to Spain for 6 years when I was 16 and also following the birth of my daughter I just didn't have the time nor the fees and didn't think it was possible no more until I got offered to become an extra on a low budget film and after being seen by the director and liking my look I got offered a main role.
As of formal training, I studied higher drama in my 5th year in high school.
What can you tell us about your early acting experiences, and what was it like to stand in front of a movie camera for the first time?
My early acting experiences were very daunting as I was more worried about what others around me though, as I was working with people who had more experience than myself.
Standing in front of the cameras for the first time was quite nerve-racking although was on a high at the same time as I had waited a long time to do it and I finally was doin it.
Let's talk about some films of yours:
What can you tell us about Furor: Rage of the Innocent, and your role in it?
Furor was the first film I have ever been in, had an amazing cast and I was so happy to get on with everyone, and it was shot over only 13 days. My character was Simone Carter who is a hard-faced, take-no-crap type of woman. Although not having a lot of experience at that point of filming it was very refreshing to play that type of character.
How did you get involved in this project in the first place?
One of my friends was the producer of the film and he informed me they were looking for extras. However upon the director looking at my details he thought I would be perfect for the role of Simone Carter and the rest is history.
A few words about Umbrage: The First Vampire?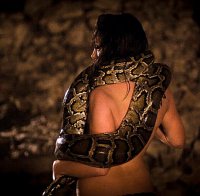 Umbrage: The First Vampire
Umbrage is a myth based on Adam and Eve, there is a myth that Lilith was Adam's woman before Eve existed, however she was such a strong female she did not wish to bow to Adam's demands and was told if she did not , all her children would be killed and she would be condemned to the devil. Therefore, God created Eve to be the mother of mankind and there was to be no trace of Lilith... or so they thought
You play what's described as the mother of all vampires in Umbrage: The First Vampire - honestly, how much fun is it to be playing a vampire, and how do you prepare for a role like that?
Playing a vampire was fun as you can let your imagination run wild - and let's be honest, who does not like playing a baddie, it's much more fun that being sweet and innocent, no?? You have much more emotion to play with.
Preparing for a role such as this one was easy, I went out hunting the innocent at night and drank their blood, haha. No, on a serious note, the only prep I did was reading up on the history of my character and imagined myself as her and just let it come naturally when I heard action. There could be many ways of playing it, however being super human as I was the director did not want her to be a typical vampire of sucking eveyones blood and leaving lots of dead bodies about at night. I was very much dedicated to hunting one person in particular and chasing him through the decades from the start of time to present.
How did you relate to the film's Western settings?
Truth be told I have never had a strong liking to Western films - although being on set I was amazed as to where it was filmed as i was told it was where Johnny Depp's Finding Neverland was filmed, and it's a place where people come for weekends to dress in Western clothing and act out like they are in that era at all times, it was so interesting to hear the stories and see all the pictures. So as far as relating, I didn't but I had an amazing time there filming.
A few words about Umbrage: The First Vampire's director Drew Cullingham, and what was your collaboration like?
Drew Cullingham was a breath of fresh air to work with, spending some one on one time with him before filming he explained a lot to me how he saw the characters through his eyes, and always listened to us if we had any thoughts. He was very open minded and was very much an actors' director and I would love to work with him again. Giving the nature to some of my scenes, I was always made to feel comfortable and relaxed and very well taken care of.
Umbrage: The First Vampire also features genre veteran Doug Bradley. What was it like working with him?
Working with the icon that is Doug Bradley was amazing, having never met him before and only know of him through Hellraiser, you expect to meet a very mean moody individual but it was the complete opposite, we got on very well and one certain scene he always tried to make me laugh and mess up my lines (thanks Doug). Such a pleasure to work with such a nice man.
Your film The Harrowing seems to have been a pretty weird experience to shoot. What can you tell us about that one and its making-of?
This was very much a first for me in every sense of the word, it is shot Paranormal Activity-style, with 35 CCTV cameras installed in and around an abandoned mental instiotution. No heat, no lights, just candles and light from our hand held cameras we were given. My nickname for it was big brother asylum as I was locked in there for 3 nights with 7 other people who were complete strangers from all over the world, and we only met as we all entered one by one.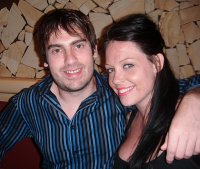 with Deranged-director Neil Jones
Having many different personalities under one roof, it was only time before people started to disagree and not get on, being it under pressure or scared, as we were told the place was haunted so any slight noise or movement would play tricks on you mind, and that's where it all kicked off.
Lots of scary events happened from things going missing to one person in particular acting weird with everyone, and one of the girls who reacted bad when we took part in the Ouija board - and the end result was an ambulance being called.
You have also recently shot Deranged with director Neil Jones [Neil Jones interview - click here] in Spain. What can you tell us about that movie and your character in it yet?
Deranged is a thriller about 4 ladies on a hen do in Spain, but unknown to 3 of them, one of them is out for revenge due to things that happened in the past. My character is Mary, a very quiet, innocent virgin but due to events that happen she is forced to do things against her nature.
Most of the films you are in are horror movies of one kind or another. Just a coincidence, or is horror a genre especially dear to you, and why?
Kinda a bit of both, I love horror movies, the feeling you have when they keep you on the edge of your seat wondering who the killer is or whether the person getting chased is going to be killed or escapes.
In general, how do you approach your characters in your movies?
My approach and how I play a character very much depends on the person im playing opposite, having a good co-star and how you react to their lines is key and also general research on the person.
Besides acting, you have also a bit of a music career. Want to talk about that for a bit?
I have always enjoyed singing ever since I can remember and no matter where I am I am always doing it and it makes me happy, I can never be without my ipod. I have recorded a few tracks with a producer from Italy who also vocal trained me and who wants to continue working with me, but my acting is first and foremost.
Any other talents of yours you want to share with us?
I am currently being trained and am part of a fight stunt team in a one of a kind martial arts system called Total Combat Fight System - it is a style that was uniquely formed by guru George Johnston. The system was created to work to the natural flow of your body and to be able to deal with any situation that may occur by being attacked on the street (street defense). Guru George was obsessed with Bruce Lee as a child and after he passed found all other martial arts had their limits and believes there should be none to such an art, so like his idol created his own unique art. Hot and fresh off the set of the stunt team of Batman Begins, George was sought out by major Hollywood stars such as Sylvester Stallone, Vin Diesel, Nicholas Cage, whom he still trains today and wish to use his sought after system in many future Hollywood action films.
Actresses (or indeed actors) who inspire you?

Feeling lucky ?
Want to
search
any of my partnershops yourself
for more, better results ?

The links below
will take you
just there!!!

Find Natalia Celino
at the amazons ...

amazon.com

amazon.co.uk

amazon.de
Looking for imports ?
Find Natalia Celino here ...
Something naughty ?
(Must be over 18 to go there !)

Oh I have lots, first of all the actresses are Susan Sarandon, dame Helen Mirron and Judy Dench, but the actors who inspire me are Morgan Freeman, David Jason and last but not least Johnny Depp, he is a chameleon, so diverse it's insane, I love every aspect of what he does and his choice of films he choses to be in, he isn't scared of who he is or choses to be.
Your favourite movies?
GI Jane - I love kick-ass movies where the woman shows she can do it just as good as or better than the men.
Under the Tuscan Sun - a good feel movies that shows you no matter what, things can always come out good in the end.
Best of the Best - I had such a passion for martial art films when I was younger, so there are too many to say.
All of my choices are quiet old skool, but I have too many to mention but the golden oldies always win first.
... and of course, films you really deplore?
I am not a fan of Western films although im not saying they are all bad, just not to my liking.
Your website, Facebook, whatever else?
I'm in the middle of getting everything up from scratch, so don't want to list things that are undone but I'm happy for you to put on my Facebook.
Thanks for the interview!