Your new movie Colourblind - in a few words, what is it about?
Itís about a colourblind P.I. named Jaffy, who is hired to track the tail of a suicidal girl. He is taken totally by surprise when he starts to follow the girl, actually begins to see this person in complete colour, for the first time in his life. Believing her to be his soul mate, he risks everything and puts his career on the line by revealing to her his true identity.
At least to me, Colourblind seemed rather reminiscent of classic film noir, at least in story - something you can at all agree to, and if so, what has drawn you to that genre, and some of your genre favourites?
Yes the movie is much my own Vertigo. Itís very Hitchcock inspired. It also draws from the Agatha Christie movies and the old sleuth and murder mystery genre. The first movie I ever saw at the cinema was Evil Under the Sun so I guess itís kinda made its way into my limbic system.
(Other) sources of inspiration when writing Colourblind?
The movie was shot out of order and over a stretched out period of time and was a work in progress. Itís the first time Iíve ever shot a movie like this, rather than in one big block. Definitely had itís challenges along the way, but overall the product looks good so Iím happy. Itís a solid film. So Iíve been told.
What can you tell us about your directorial approach to your story at hand?
My approach was much like I always do, let the actors Ďactí, guide them, encourage them, believe in them and keep them on course. We didnít stop shooting until we all felt like it was a wrap.
You also play the lead in Colourblind - so do talk about your character, and what did you draw upon to bring him to life?
Because Jaffy is a detective and uses a photographic camera for a lot of his work, it felt much like being a filmmaker in real life. It felt natural and voyeuristic at the same time. I was watching, recording, note taking and investigating all at once. The character flowed effortlessly because of this type of role being semi-autobiographical at the time I guess.
Have you written Jaffy with yourself in mind from the get-go actually, and to what extent can you identify with him and his story on a personal level?
I never set out to write a movie with myself as the lead intentionally. Sometime it happens because I can save on a budget if I do it, as I am very much an Ďactorí as much as I am a Ďdirectorí. But sometimes it consumes me to a point where there is no-one else better to do the job, probably because I know the material so well, especially if Iím one of the key writers. But I try to be realistic, if I really donít think I can sell a particular character, then I wonít act in the movie. The industry is competitive enough so I donít want to make my job harder.
Do talk about the rest of your cast for a bit, and why exactly these people?
Anne Gauthier who plays Sia had the part written for her. There was no-one else I wanted for that role. As soon as we met I felt inclined, and somewhat destined to shoot with her. The story engulfed and consumed both of us and very quickly we were off and running. Following this it gave me a chance to cast my friend Jane Badler, whom Iíd been wanting to work with on a feature film for quite some time, and had been waiting for the right role and opportunity to arise. Others such as Ian Rooney I had kept in mind for many years until the time was right. Jake Ryan who plays the hitman was a stroke of just good timing. Each actor was slotted in to the roles strategically and systematically. Iíve been told the casting is brilliant so Iím very happy with the results.
A few words about the shoot as such, and the on-set atmosphere?
On set atmosphere was much like all of my movies, contagious, energetic, exciting, hyper-realistic and all round good vibes. Everyone wanted to give the best takes possible. It was tight, on schedule and executed professionally at all corners. There was zero time wasting.
You also have to talk about the film's rather jazzy musical score by Gerard Mack for a bit, and how much of a say did you yourself claim when it came to scoring Colourblind?
Thatís a funny one. When I first talked to Gerard about the score I wanted a very jazzy, almost Angel Heart type soundtrack. He told me jazz was the one sound he didnít do. Ironically there ended up being a lot of jazz in the movie and it sounds amazing. Thatís typical Gerard, heís so humble, heís a musical genius and always delivers even when he doubts himself. Thatís why I went back to him a second time, as we had already won multiple awards for our previous film Revenge of the Gweilo together, particularly for music score.
The $64-question of course, where can Colourblind be seen?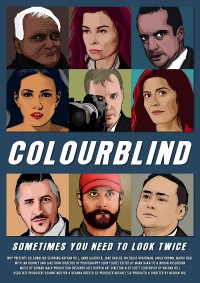 Feeling lucky ?
Want to
search
any of my partnershops yourself
for more, better results ?

The links below
will take you
just there!!!


Hehehe. well let's just say itís coming soon. Wink, wink. I have many distribution offers now from all over the world, so Iím just trying to sort out the best long term solution at the moment. Itís not far off though.
Anything you can tell us about audience and critical reception of Colourblind yet?
I have had a cast and crew screening so far and they were all very much happy with the results. Itís pretty safe to say itís my best film to date. Most professional and with the best actors. When youíre dealing with the likes of Badler, itís Hollywood royalty. You canít stuff it up, as thereís a pressure there. You have a lot to lose if you make a mistake. But if you do well, then the rewards are higher. Thatís just a life rule to live by isnít it, I mean if you want something that badly then you have to go for it.
Any future projects you'd like to share?
Yes! My latest project is already in post! Iím editing it, so hopefully there will be another one-two punch coming from Hill soon. Itís called I, Portrait and is a modern day thriller about a love triangle.
Anything else you're dying to mention and I have merely forgotten to ask?
Iíve also just shot two short films for a Grindhouse compilation for Troma. I had heaps of fun doing them and have even been asked if I want to make feature length versions. One is called Vampire Hooker Hotel and the other Hannya Girl. The future looks like fun to me. Happy days.
Your/your movie's website, Facebook, whatever else?
https://www.facebook.com/colourblindthemovie/
https://www.youtube.com/watch?v=4dsIAGvXvrM
https://www.imdb.com/name/nm1554712/
Thanks for the interview!