Your new movie Kokeshi - in a few words, what is it about?
Kokeshi is about the reaction to an unexpected situation that suddenly swoops in your life. Even if your life is weird, something weirder can happen any time.
Kokeshi does feature its fair share of references to Japanese culture - would you like to elaborate on that?
I'm familiar with Japan because my wife is Japanese and we have been living there for some years. Of course, I love Japanese culture and Japanese movies. When I start to write a screenplay, I often think about a legend to start with and I go on writing an original story. The only scheme that I follow is my sensitiveness . For this movie, I based the plot on a child's song called Kagomè, and I invented a kind of curse related to it. It is a meaningful, creepy song . But it is only in the end that you realize you are really dead.
(Other) sources of inspiration when writing Kokeshi?
My first love: Italian horror movies from the 70s/80s, like Lucio Fulci's [Lucio Fulci interview - click here]. Bloody scenes, gothic atmosphere, close ups… all of that is my inspiration. I wanted my sountrack, composed by Antony Coia, to be similar to that period. I think that music plays a very important part in horror movies, and he did very good job.
As a result: A Japanese ghost was the main character of a gothic italian horror... it was just the unexpected situation that I meant before.
Kokeshi certainly doesn't hold back when it comes to violence - so what can you tell us about that aspect of your movie, and was there ever a line you refused to cross for other than budgetary reasons?
Sex is an important part in my movie, so I wanted to show a sexual torture. I don't like the method "imagine and don't show".
How would you describe your directorial approach to your story at hand?
I prefer to shoot the scenes in chronological order, instead of shooting all scenes in one location and then change. I know that it is not always possible, and sometimes I shoot the finale first. I don't like this, because nobody is warmed up. In the case of Kokeshi, I choose to take a whole day just to shoot "the ring about roses" part.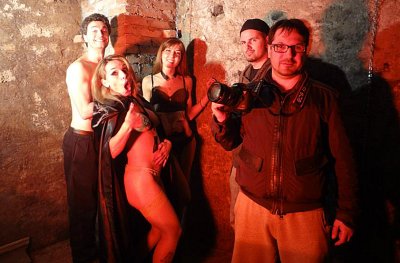 Paolo Salvadeo, Silvia Sorrentino a.k.a. Miss Satine, Michela Zattini, Davide Pesca, Paolo

What can you tell us about your cast, and why exactly these people? And how easy or hard was it to find people willing to be in a movie like yours?

It wasn't easy to find the right cast for Kokeshi. I needed a perfect dark lady , a crazy main actor, main characters and proud girls for other roles. I was very lucky to find Silvia Sorrentino, known as Miss Satine, world burlesque champion, sexy and daunting at the same time. She was perfect, so I contacted her and I'm lucky she loved the screenplay so much. So we started to work with her character. It was the same with Paolo Salvadeo, I watched a brief scene in which he acted as Joker and he was perfect. I'm proud of my other two girls: Michela Zattini and Giulia Colli, they played difficult parts, they were naked in a freezing dungeon... at the very beginning they were nervous, but they soon got relaxed. So everything went well.

I think that as long as an actor believes in you, he is able to play any kind of role.

Do talk about the shoot as such for a bit, and the on-set atmosphere!

The atmosphere was amazing, beginning with the location. We shoot in the basement of a building situated in the centre of a small Italian town: a real and scary very old dungeon. We were immediately kidnapped by the atmosphere of the movie and everyone worked so hard. That was the best set I ever had: All actors were always ready, the special effects artist Davide Pesca and DOP Federica Andreone worked in a very professional way. Nobody complained, even if they were tired.

The dream scene was shot in Japan, in a temple near Himeji, and in a family cemetery in Okayama. My wife, the Japanese girl in the movie, always wants to cooperate always with me. For Kokeshi she had a small role, but she is very good actress too.

Anything you can tell us about audience and critical reception of your movie yet?

Even if the movie is little bit difficult to understand (especially the similarities of the Japanese song with what's happening in the scene) and the gore scenes are not always easy on the audience, the response to the film was good. Maybe they understood that there was a meaning under the violent scenes, the violence was not pointless.

Any future projects you'd like to share?

There is my episode of the movie Adrenaline, already in the festivals in Italy. This is a war story, very different at first sight from my usual themes, but not too much. In fact people recognized my style and my way of telling a story. The main actress is again my muse Reiko Nagoshi, and Paolo Salvadeo plays another crazy role.

I'm in preproduction too with a new horror for the anthology movie Sangue Misto (Mixed Blood), a movie about racial integration in Italy, horror style.

Obiviously, in my episode, I will focuse on Japanese people telling a story about a mysterious lyric singer. Probably it will be less violent than Kokeshi, but with the same amount of madness...

Then I plan to start another movie (screenplay is ready) at the beginning of 2016.

What got you into filmmaking in the first place, and did you receive any formal education on the subject?

I guess I've got some kind of "cinema gene" in my veins because I always remember it as my first passion, especially fantasy and horror movies. For years, I went to see movies every Sunday and every Monday afternoon until high school. My parents claimed that, even in the playground, I have been drawing storyboards... Even if my university study pointed in another direction (I'm doctor in pharmacy), I studied cinematography as an autodidact. Finally, in 2002 I made my first short. It was nothing special, only a short between friends, but I was very proud of it. Then I worked for television, two years ago I had a program in television about indie cinema.

What can you tell us about your filmwork prior to Kokeshi?

At first, I worked with my friends, then Himechan Movie Production was born. Kokeshi is my favorite work.

But I remember the past years with joy too, we were all students, but we worked so hard and we were even selected by some Italian film festivals for amateurs.

How would you describe yourself as a director?

I think I'm a bad boy (laughs), cause I make people work very hard, usually until there is no energy left... the reason is because I want the scene too be exactly like I've pictured it. But I'm happy because, at the end, everyone always asks me when we will work together again and they respect me.

Filmmakers who inspire you?

I took inspiration from both Italian and Japanese directors and I loved Raimi's early movies (the short Within the Woods and Evil Dead) very much. To give you some names: Koji Wakamatsu (in my opinion one of the best director in the world, he is over a specific genre), Sion Sono, Lucio Fulci [Lucio Fulci interview - click here], Takeshi Miike, early Dario Argento, Takeshi Kitano, Shinya Tsukamoto.

Your favourite movies?

My list can be very long... Evil Dead, Suicide Circle, Suspiria, The Beyond, Go Go Second Time Virgin, Dawn of the Dead (original and the remake), Ju On, Tetsuo etc are my muses... as a fan, I watch martial arts movies, the Rocky saga, Indiana Jones, The Karate Kid, Porky's, American Pie, vintage Italian comedy...

... and of course, films you really deplore?

Feeling lucky ?
Want to
search
any of my partnershops yourself
for more, better results ?

The links below
will take you
just there!!!

Find Paolo del Fiol
at the amazons ...

amazon.com

amazon.co.uk

amazon.de
Looking for imports ?
Find Paolo del Fiol here ...
Something naughty ?
(Must be over 18 to go there !)

I hate romantic comedies and I can't watch movies with dogs dying. They make me cry. The name "Himechan Movie Production" is derived from the name of my dead Japanese dog. But usually, if I don't like a movie, I don't lose time with it.
Your/your movie's website, Facebook, whatever else?
https://www.facebook.com/kokeshihorror
Thanks for the interview!