Your upcoming movie Skatecop - in a few words, what is it about?
The film takes place in a run-down Kiel City in 2007. It's about a cop who get's his feet chopped off and replaced by roller skates. And he has to avenge the loss of his feet and save the girl he loves.
Skatecop pays hommage to trash action cinema from the 1980s - so what do you find fascinating about that genre and era, and some of your favourite movies from back then?
When I grew up as a 2000s kid it was really a new world for me to discover. Everything seemed to have this larger-than-life approach – the characters, the stories, the haircuts! And I also love that most of the movies don't have the selfawareness and irony that seems to be required when you make genre films today. It almost always ruins my movie experience when the movie has to tell me all the time that it knows how ridicolous it is. And in the end I'm also just a sucker for the analogue quality of those films. I mean I'm a digital filmmaker, I never got in touch with film and I probably never will, because it's fucking expensive. But I just love the experience of watching an actual 35mm print or something that's shot on it. It gives those films some magic aura and authenticity you won't get from a digital image. Add some practical effects, no matter how good or bad they are and I'm all in! I think my favourites from that time are Road House with Patrick Swayze that just has this larger-than-life approach I mentioned before and of course Cobra, which has everything awesome and scary about the 80s just dripping out of every frame. And on a more low budget level it's the German language dub of Kill Squad, because the film itself is already hilarious but the dub just brings it to the next level! And I love Lady Terminator, that movie just rocks everytime I see it!
Other sources of inspiration when dreaming up Skatecop?
I think my biggest source of inspiration was Hobo with a Shotgun. Not so much in style and content, but in the way it pays hommage to the genre. What I found so inspiring about this movie was that despite all the weird stuff and the exaggerated ultraviolence it was taking its story seriously and tried to be a good, entertaining movie. And that's what grindhouse cinema for me is about. Most of those movies weren't meant to be funny when they came out, it's today's perspective that brings out the cheese in those films. And that's what I've tried to achieve with Skatecop as well. Trying to tell a good story in a cheesy way..
What can you tell us about your co-writer Lena Günther, and what was your collaboration like?
Like me, Lena is a great lover of the 80s. So naturally we had pretty much the same ideas about how our movie should feel and look. I did the writing of the script but we worked closely together when we were creating the story. Most of the time we just sat together and started spinning around ideas. "Hey, we should do a dance scene" - "Yeah in a disco. With awesome lights and lots of steam" - "But it ends tragically!" - "Of course, our protagonist could have flashback of his dead wife while he's dancing with another woman" and so on. It was a really nice process which shaped the film in so many ways!
Do talk about the action scenes in your movie for a bit, and how were they achieved?
Well, first things first Skatecop won't be an non-stop action fest. Since action scenes are very difficult to shoot and we are not very experienced in doing them. So they were very improvised. Most of the time, I came up with something the night before and then we went to the set and figured out how to do it. Fortunately our actors were absolutely fearless when it came to action! So most of the time I was the one who chickened out, when he came up with some crazy ideas (like rolling down 15 meters a stair backwards). But we really tried to keep everything safe and nobody got seriously hurt. Since we hadn't had the budget and time to blow shit up or develop sophisticated choreographies we had to look for other ways to make our scenes stick out. And that was in inventing creative kills and enemys. So we decided made him kill crazy looking mutant punks with cucumbers or microphones instead of having him shoot waves of faceless goons.
What can you tell us about Skatecop's look and feel?
One of our first decisions style-wise was to not give it an altered look, pretending to be an old 35mm print or a scrappy VHS tape. It had been done too often in the last years and it's something I personally didn't felt was appropiate to the project. We wanted to kind of extend the new retro wave aspect to our filmmaking. So we tried to approach the 80s vibes from an 2016 perspective. It's not a film about the 80s but about us imagining how it would look if a no budget filmmaker from the 80s would shoot a film in the 2010s. There was some really deep thinking going on, as you can see! In the end Hobo with a Shotgun was a big source of inspiration again. I really want this film to be bright and colourful. We tried to achieve a lot of it on set, by lighting with gels and having fancy wardrobe. With this I want to make a warm, nostalgic feeling even if the story is getting darker or more grisly.
Do talk about your key cast, and why exactly these people?
Most of the cast was recruited from my circle of friends. With a lot of them I already worked on the 2014 fake trailer of Skatecop, so it was obvious to involve them again. For example Patricia Moresmau played Destiny Hope in the original trailer and there was no one else I could have imagined in that part. The same goes for Nils Meyn who is the antagonist Dr. Klaus Bennet in both the trailer and the feature film. With Nils I got especially lucky, because we had a lot of discussion about him since he was never in front of the camera before and not all of us were sure if he would be able to play such a big role. But on the first day of shooting with him all our doubts were blown away. It was such a pleasure to see him grow on the role and in the end of the shoot he had so many great moments in the film, that I'm sure the audience will love his villain! The biggest challenge was finding an actor to portray our hero Al Poporski, the Skatecop. In the trailer he was played by Pascal Radtke, with whom I was making films since my childhood. But since we now live in different cities and have different lives, it was impossible to get him for such a long shoot. So I wrote him a smaller part and gave the main part to Hannes Jetzek, a local actor. My DOPs Dung and Lukas had worked with him before and highly recommended him. I liked him, because his approach on the character of the Skatecop was so different than Pascal's. Pascal played him very over the top like a comic figure, which was perfect for the trailer but probably would have not carried a 80 minute feature film. With Hannes we had an actor who was able to perform all the cheesy eighties element, but also give Poporski a certain level of melancholy and truthfulness, that makes him more than just a collection of macho film chlichés. I also wrote some new main character that weren't in the trailer but helped me to expand the world I was trying to build. One of my regular actors is Maiko Hanisch. He is such a sweet person and an amazing actor who is just a live wire in real life and in front of the camera. But in our short movies I always had the feeling I wasn't doing his talents justice. So I decided to write the role of El Santo especially for him, the sidekick of Skatecop and a Mexican wrestler. I wanted him to be the opposite of Poporski, an open, funny guy who loves people. They developed a wonderful buddy cop dynamic between them, which really helped to enhance the character of both of them. And also Maiko just looks wonderful in his wrestling mask and with his green shoulder-padded leather jacket. Another important cast member was Johann Schulz. He is originally a highly talented local director and helped me a lot in developing the script and the characters. And at one point in the story I figured out that if Skatecop has a sidekick, Dr. Bennet also needs one. So I decided to write him the character of Eric Chen, a mysterious assassin. He really had one of the toughest roles in the movie, since I decided to make him a mute. So he had to look serious and threatening while everyone around him was delivering cheesy quotes. And I also made him wear an ape paw, which was made out of a gardening glove with glued my beard hair on it.
What can you tell us about the shoot as such, and the on-set atmosphere?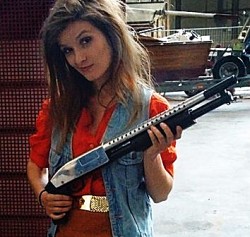 We had two shooting sessions. One in the end of July, where we shot most of the stuff without Hannes, since he was working. And then after the week-long pause we continued to film for almost another month. For me the shoot was an amazing experience. I was just overwhelmed with the support and interest the people took in our little project. I mean, we were shooting almost 30 days straight with an average of 10 hours per day. So I was expecting a lot of tensions to rise. But fortunately none of it happened. Of course everyone was tired in the end and we had minor quarrels but we grew as a team and everyone was doing their best on the set. The most surprising thing for me was how well organized we were. I really suck at organizing stuff, but Dung, my DOP and producer did such an amazing job in planning everything beforehands and writing us the schedules and everything. Our production wouldn't have gone half as smooth as it was if it wasn't for her! But really, everyone was commiting to the project and I was surprised how serious they took it. I mean we were shooting a movie where naked old men melt on plasma fences, but it didn't seemeto matter if we were shooting an arthouse drama or this cheesy little trash flick. They just wanted to make a movie and did everything to make it awesome. I'm very grateful for them!
The $64-question of course, when and where will the movie be released onto the general public?
We don't have an exact date yet, but the plan is to be finished in summer 2017. Of course we plan to make a big premiere for cast and crew in Kiel and bring it to as many festivals as possible. We also talked to a few cinemas in Kiel, which were interested in showing our movie. We also have to burn a lot of discs to give to our awesome supporters on Startnext! And after that we have to see if we get a label interested in releasing our film or releasing it on our own.
Any future projects you'd like to share?
Right now I'm working on a music video for the horrorpunk band Mutant Reavers, who also wrote the theme song for Skatecop and have a new EP coming out in May. I'm also planning to help our co-producers Patrick and Rene with their feature film Reyes, which will be done in the end of the year. And apart from the movies I'm working on the radio play Ariowist & Birkenfeuer, based on a fantasy book a friend of mine wrote.
What got you into filmmaking in the first place, and did you receive any formal training on the subject?
I think it started naturally. When I was a kid I just got hooked on movies. My first movie love was Jurassic Park and me and my friends would start to act out scenes from that. Later I discovered the wonderful world of trash and B-movies and then one day a friend of mine got a DV camcorder so we started to film our little stories. During my teenage years my parents sent me to some sort of film camps during the holidays. There I learned the basics on telling a story, making a nice picture and all that. And now I'm studying Multimedia Production in Kiel. It's not directly a film school, but here I have the chance to meet other film buffs and broaden my knowledge about filmmaking. But of course the most I learned by just making movies, no matter if they were my own or somebody else's!
What can you tell us about your filmwork prior to Skatecop?
I started making films when I was a teenager. Back then I made my movies with a few friends in my parents backyard. From the beginning on we were inspired by trashfilms like Troma (did I mention a dream came true when we got Lloyd Kaufman for a cameo appereance?). We were making some short films that got shown on local competitions, but other than that it's hard to show your work when you are living in a small village in the northern german province. Also there are few people that share your love for odd, bloody movies. This changed, when I started studying in Kiel. Here I had the chance to meet more people who were into movies as much as me. Kiel actually has an amazing network of filmmakers and the scene is very well connected. So I had the chance to improve on a form and content level. I also did some films, that I regard as more serious without getting rid of my B-movie influences. A major milestone for me was doing Weil unsere Liebe ewig ist (Because Our Love is Eternal) in 2014. You can check out a subtitled version at https://vimeo.com/115924105. But while I was maybe growing more on an artistic level (if I may say so) I started to miss the times a bit when it was just about filming stupid ideas and lots of fake blood squirting around. So I tried to get back to that with Skatecop, I guess.
How would you describe yourself as a director?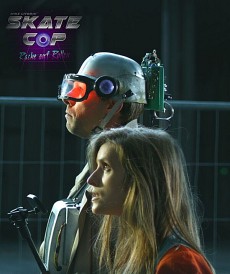 Back when I started doing films with my friends in the backyard I was basically an auteur. I was director, cameraman and editor. So it's really hard for me now to give away responsibility. I tend to be a control freak who has to overlook everything. But that's what excites me the most about Skatecop. Since it's my biggest project yet, I can't do it like this anymore, I have to give away some responisibility. And I'm glad that I found people whom I can trust enough, that they won't fuck it up! I would say most of my films are made on set and in the editing. I would love to put more effort in pre-production but unfortunately I never really managed to. When I started making movies around eight years ago we didn't even have a script. I was making the scene up right before we shot it. Of course now it's not possible anymore, but I still like working with that element of improvisation. Adding things we find on the set or developing it with my actors during the rehearsals. The script is only a guideline, it's never final. Same is for the editing. Of course I'm having ideas on how to shoot my scenes but I like grabbing as much footage as possible to have a much freedom in editing as I can get. I like involving my crew and cast in the creative process. Since I'm making no budget, they all work for free, so it's important for me to give them the feeling that it's also their movie. And most of the time it works really well and I'm getting a lot of great ideas that in the end improve the film.
Filmmakers who inspire you?
I like filmmakers who walk on the thin red line between art films and exploitation/genre films. Because that's something I want to achieve someday as well. So my biggest influences are directors like Shinya Tsukamoto, Jörg Buttgereit, Alejandro Jodorowsky, John Waters, David Cronenberg, Frank Hennenlotter. They all work with elements of genre films but make them their own and expand them to an unique vision.
Your favourite movies ... and of course, films you really deplore?
Is always depends on my daily mood but I think the films I will love forever are John Woo's Hard Boiled, Spike Jonze's Where the Wild Things are and The Devils by Ken Russel.
Films I deplore... well I don't know either, I usually manage to find something likeable in every movie no matter how shitty they are. Maybe some soulless big budget turds like the Transformers franchise oder Man of Steel.
Your/your movie's website, Facebook, whatever else?

Feeling lucky ?
Want to
search
any of my partnershops yourself
for more, better results ?

The links below
will take you
just there!!!

Find Peter Ahlers
at the amazons ...

amazon.com

amazon.co.uk

amazon.de
Looking for imports ?
Find Peter Ahlers here ...
Something naughty ?
(Must be over 18 to go there !)

We have a nice little Facebook page (facebook.com/skatecop), but unfortunately it's only in German. But there are a lot of nice pictures in it!
Anything else you're dying to mention and I have merely forgotten to ask?
Well not really. But I think I could use this space to thank again everyone who supported our film, especially my amazing crew and our awesome Startnext crowdfunders! You are awesome! Oh and you guys should check out our fake trailer for Skatecop which the whole thing is based on! https://www.youtube.com/watch?v=1T3ejFgtZ9E
Thanks for the interview!