Your upcoming movie Simple - in a few words, what is it about, and what can you tell us about the musical score you wrote for it?
To me, it's about the meeting of two worlds. One, the world of young rebellious men and women trying to make their way in the world, pursuing their passion in various ways. Two, the world of gangsters and drug dealers, both big time and small time. Monique is a punk rock train-hopping aspiring writer fleeing the Philadelphia winter. Weeds is a ne'er-do-well small time crook trying to raise money to produce a record for his girlfriend. Both get caught up in the rivalries of some big time drug dealers and things go from bad to worse.
For the score I was trying to on the one hand, keep it edgy and tense, to drive home the point that in spite of the absurdity of Simple there's real danger, violence and even death involved. On the other hand since the film was shot entirely in New Orleans I wanted to give it a local flavor as well.
Stylistically the goal I set for myself was to find a mix between 80's experimental noise rock, specifically New York artists like Glenn Branca and Fred Frith, and 70's New Orleans funk like the Meters. Another reference was 70's action flick movies like Shaft. Weeds in particular likes to think of himself as a big shot gangster even though he's basically a bumbling idiot, so the exaggerated macho swagger of a score like the one for Shaft seemed to work really well for his character. There's also a little bit of hip hop influence in the score.
What inspired you to write/select exactly these tunes for Simple, and did you actually write/record them specifically for the movie, and before or after the movie was shot?
To keep a consistent tone throughout the movie, I created a specific palette of very characteristic sounds. Mostly detuned guitars, found percussion, small amplifiers, a little bit of keyboards, and ample amounts of wah wah. I also created some drones and ambient sounds using the same palette. The goal was to create a kind of 'sonic signature' for the film, the way Ennio Morricone did for each Sergio Leone film he scored.
I wrote a few themes at first, to refer to throughout the movie, and then recorded different versions of them. Again to keep a consistent tone I tried to limit the harmonic and melodic material I used, and come up with creative ways to rework and rephrase it. A few of the pieces were not written specifically for the film but turned out to fit in really well. I actually did write the main theme before I saw a rough cut, and then reworked it later.
How did you get involved with the project in the first place, and what got you an associate producer credit on the film?
I had scored Miceal's short The Capsule, and then he asked me to do a cameo in Simple, which I did. For me to score the soundtrack seemed like a logical step. After we finished the version we submitted to some festivals, I started to do some online promotion for Simple, which led to the associate producer credit.
As a composer, how closely did you work together with your director Miceal Og O'Donnell, and what was your collaboration like?
We work together as closely as possible, it's the only way to do it. It was a little more difficult because Miceal moved to Baltimore after finishing the film, but we stayed in close contact. There were tons of emails, phone conversations, FB messages, etc. A couple of times we had text conversations during my lunch break at work! Also, from wrapping to the first rough cut took almost a year, so there was plenty of time for me to plan the score and then run my ideas by him. Miceal is great to work with, he has a clear vision of what he wants out of the music and where he wants it, the dynamics of the film, how he sees the different characters, etc. At the same time he basically gives me free reign creatively and I think he pretty much trusts my musical instincts. So we basically feed off each other creatively, which I think is the ideal working method.
You also have a cameo in Simple, right? So what can you tell us about that experience?
It was awesome! It was my first time ever acting in a film, and it was so much fun! I didn't do much, just lie on a couch and play a song during the squat house scene. I loved how the atmosphere on set was very relaxed and at the same time Miceal was very much in control and making sure he got what he needed. It's one of my favorite scenes in the film, and not just because I'm in it!
What got you into making music in the first place - and into making music for movies eventually?
Ha! That's a good question. I've always loved music and always been very creative. I started playing as a teenager, to be honest it was intimidating at first! I felt like I was getting introduced into some kind of secret society, which is still kind of the way I feel about it. But I stuck with it, started writing songs as soon as I could put three chords together, started playing in bands…It just kept growing and growing. I don't intend to ever stop playing, writing, or learning!
As far as writing for film, I'm a visual artist as well and I dabble in writing, and I've always gotten the response on my music that it was very soundtrack like. So film is kind of where all my different interests converge. I started scoring a sci fi Western movie when I lived in New York, but sadly that project never got finished. Then I answered an ad while I was living in Austin to score a short student film but that fell through as well. Finally I got hooked up with Miceal and it's been a real pleasure and an honor to work with a film maker as talented and driven as him. I'm hoping to work on many more projects with Miceal in the future, and I'm always looking for other interesting movie projects as well.
Please talk about your musical style for a bit?
It's really all over the map at this point. I started out playing punk rock, then after I moved to New York I ended playing guitar in tons of bands in tons of different styles. I never made much money but it was an incredible learning experience. Eventually I started focusing on writing and performing as Phil the Tremolo King.
I mostly perform solo with an acoustic guitar, so maybe at this point I should call myself an indie folk musician. But I love psychedelic music, classical, blues, flamenco, experimental, ethnic, jazz…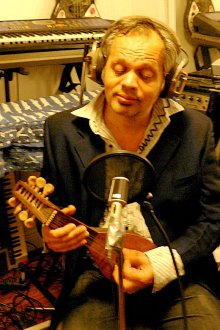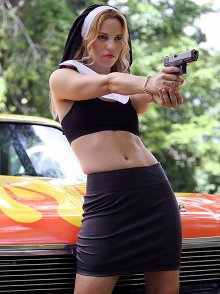 Second to Nun
What's a studio session and a live performance by Phil the Tremolo King Vanderyken usually like?
I record in my home studio and play everything myself, so it's pretty much hit 'record' and go! As far as soundtracks, there's a lot of noodling around involved at first - which I may or may not record - trying to find phrases, sounds and the right mood. From those tentative beginnings I then write a full piece and start tracking, tweaking and experimenting till I've got something I like. It's very hands on and involves a lot of experimentation and off-the-cuff playing. In fact some of the pieces for this soundtrack were originally recorded as demos… but they came out so well I ended up using them as the final version.
For the live shows, my songs are stripped down to vocals and guitar for now, although I'm working on a more 'experimental' set up with looping pedals and the like. I also perform with a drummer, and occasionally a full band for the right gig.
Any future projects (in whatever medium) you'd like to talk about?
I just scored the trailer for Sean Carlo's grindhouse film Second to Nun, which was a lot of fun [Sean Carlo interview - click here]. He's looking for funding to turn it into a feature so I'm hoping he'll hit me up for the score. It's a very entertaining concept and Laura Flannely who plays the killer nun looks great..!
I also put a band together for another Miceal O'Donnel feature Victory Lounge, with Rick Szyboski on piano, Mark Lamaire on upright bass, and Chris Owen on drums. We shot at the Hi Ho Lounge, which is a funky little club on St Claude in New Orleans. Basically we acted as the house band for the Victory Lounge, backing up three different actresses singing jazz standards. Rick flew in from Baltimore, we had worked out the arrangements over the phone and then fine-tuned them on the day of shooting. I think it came out really well. I know Miceal is editing that one right now, so I'm excited to see the finished product.
I'm planning a new EP of original material which I may even end up recording in the UK, and combine it with a short European tour! Never a dull moment, no time to get bored - which is a good thing.
Musicians who inspire you?
Velvet Underground, the Beatles, Miles Davis, Django Rheinhardt, Serge Gainsbourg, Robert Quine, Lee Hazelwood, Duke Ellington, Sidney Bechet, Nino Rota, Ennio Morricone, David Bowie, Jim Thurwell, Al Caiola, Taraf de Haidouks, Dave Porter, Danny Elfman, Yann Tiersen…
... and since this a movie site: Your favourite movies, and films you really deplore?

Feeling lucky ?
Want to
search
any of my partnershops yourself
for more, better results ?

The links below
will take you
just there!!!


Favorites: The Third Man, The Grifters, Paris Texas, any Sergio Leone movie, Raging Bull, Amelie, Looper (in which I was an extra!)…
Bad ones; omg. Too many! How many bad movies does Hollywood make per year?
Your website, Facebook, whatever else?
facebook.com/pages/Phil-the-Tremolo-King/333948883363007?ref=hl
facebook.com/philthetremoloking
soundcloud.com/philthetremoloking
youtube.com/philthetremoloking
Anything you are dying to mention and I've merely forgotten to ask?
Only to thank you for giving me the opportunity to chat about this, and interviewing Vicky Illk [Vicky Illk interview - click here], who plays Monique! We all appreciate it very much.
If anyone would like to follow the progress on Simple, go to our Facebook page and click like, for updates, clips and more fun stuff:
https://www.facebook.com/SimpleTheMovie
Thanks for the interview!