Your movie The Creepy Doll - in a few words, what is it about?
Itís the story of the pregnant wife, Kate, and her childhood dolls that arrive at her new home. One doll in particular has a very unusual history, and seems to give Kate solace ... and also some insight into her husbandís philandering.
I talk a bit about the movie here: http://thisoldbitchmakeshorrorflicks.wordpress.com/2013/05/02/risky-bitchiness/
What were your inspirations for writing The Creepy Doll, and was any of this based on personal experiences, fears and the like? And what's your personal relationship with dolls?
No, it was not based on personal experiences except for the aspect of having been a pregnant woman. I like to center on female archetypes in my movies, and throw them into unexpected situations. Iíve never been afraid of dolls - at all. But I have experienced the strange situation a woman finds herself in to go from being a sexually desirable woman to being a madonna figure who serves as a vessel for another human. Itís a strange transition.
&nbsp
I actually wrote The Creepy Doll because I had met Susan Andrews, who makes these amazing dolls with dark and unusual qualities - she calls them Paranormal Babies. I wanted to make a movie using her skills. The plot came later.
How would you describe your directorial approach to your story at hand?
I tried to maintain point of view in the shots that carries through an emotional arc. I love visual storytelling that centers on one personís perceptions, primarily, and I tried to play on that element. I use the camera to show how Kate views the world suspiciously, which I relate to her circumstances. Thematically, when a woman is pregnant, the world around her changes - and in this case the changes are exacerbated by the surroundings, the doll, the advice of the grandmother, etc. Iíve also included the POV of the doll on occasion to give the viewer a sense of unease, especially since the look of the doll changes throughout the movie. All of these elements informed my decisions as a director.
You just have to talk about the titular creepy doll itself for a bit, and where did you find it even?
Oh, we had them designed especially for the movie by Susan Andrews of Paranormal Babies (www.paranormalbabies.com). Itís not just one doll that the viewer sees - there are three versions. Two of them are similar, and the shift between them is quite intentional. If you pay attention, you will see one that looks uninterested, with uneven eyes and a forelorn look, and one looks like it has its eyes on you and is gritting its teeth. You can watch a special feature on the DVD about the making of the dolls!
What can you tell us about your key cast, and why exactly these people?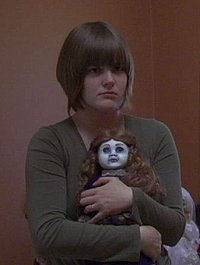 Kristine Renee Farley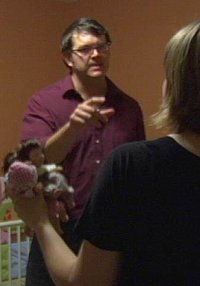 Justin Veazey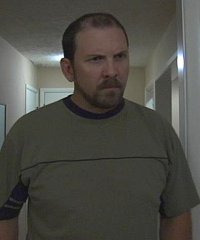 Steve Hudgins
I had worked with Kristine Renee Farley before, and I knew her to be well-prepared and dedicated. She has a nice look that could read young and childlike while also being piercing and kind of scary. The fellow who played her husband, Justin Veazey, was our relative newcomer, but he was surrounded by such veterans that he felt supported as an actor and a character, and he gave a nice balance to her. The folks who played his parents, Cindy Maples and Randy Hardesty, had done several projects with us and I knew I could count on them to give the sort of pulled-back performances I would need. Jessica Dockrey, the ex-fiance, needed to be sexy but also conscientious, and weíve worked with her several times so I knew what she was capable of. Steve Hudgins [Steve Hudgins interview - click here], the ďcousinĒ of the husband, is, in fact, my Big Biting Pig partner, and he will do whatever I tell him <grin>. His performance here is nuanced, especially as seen through Kateís and the dollsí points of view.
A few words about the shoot as such, and the on-set atmosphere?
We borrowed the house of a friend of mine who travels and was always able to be out of the way. Since a lot of the film takes place in the house, this was convenient because we could spend entire weekends there. A lot of the film takes place at night, indoors, and so we used plastic over the windows to create dark outside, which made it easier on the actors and on us for planning purposes.
We had a great crew, as always, and no divas, even with difficult scenes. What I remember most is the two-day dinner scene. Everyone was so sick of that food by the end of filming it!
What can you tell us about critical and audience reception of your movie so far?
As with any film, it has lovers and haters - but the review sites, for the most part, ďgotĒ it. Anyone who expects something like Chucky is going to be disappointed. This is more of a psychological thriller, focusing on the characters. Itís low-budget but takes itself seriously and aims to draw the viewer into the experience. I expect to put some folks off-kilter with a female lead who is NOT a victim. In fact, sheís quite the opposite.
Any future projects you'd like to share?
Iím currently in pre-production for the next project, a female mad scientist movie with a working title of Dr. Frances Stein. It will be my fourth, and Big Biting Pigís ninth, feature film. (More on that in a later answer.)
What got you into filmmaking to begin with, and did you receive any formal training on the subject?
Steve Hudgins [Steve Hudgins interview - click here] dragged me into this crazy business! I have a background in fiction writing and an MFA (Master of Fine Arts) in fiction writing, with a number of mostly minor publications under my belt. As an East Coast native, I didnít think really consider screenwriting at the time I was going to school. But my experience and education provided the background I needed: theatre, writing, acting, directing (stage) and even video editing in a former job. I have no formal training, but I feel strongest in the writing and directing aspects. The technical has taken a bit longer for me to learn.
What can you tell us about your filmwork besides The Creepy Doll?
As a matter of fact, weíve done three movies since The Creepy Doll came out! I wrote and directed Lucid (2013), which featured Bill Johnson (Leatherface in Texas Chainsaw Massacre Part 2). Weíve also produced Spirit Stalkers (2012) and The Caretakers (2014), both written and directed by Steve Hudgins [Steve Hudgins interview - click here]. My first feature is called Widow (2009), and it is the 3rd in the Big Biting Pig list. It has a lot of ďproductionĒ weaknesses, but is still probably my favorite script.
When it comes to movies, you seem to have done it all, from writing, directing and producing to acting, cinematography and editing - so what do you enjoy the most, what could you do without?
I would say writing is my first love and I am by nature an interior person who doesnít mind the solitude of writing (I kind of like being in my head more than anywhere else). However, I love the various aspects of storytelling that all of these tasks afford me. My least favorite is cinematography and I only do that job if I have to, mostly because I feel less confident at it. My favorite in the short term is acting, but I think I would get tired of it as a full-time endeavor. The isolation of writing and editing is balanced, for me, by the collaborative nature of production.
Basically I spend a portion of the year writing, a portion directing, and a portion editing - so I get quite the variety. When I get to act as well, thatís just gravy!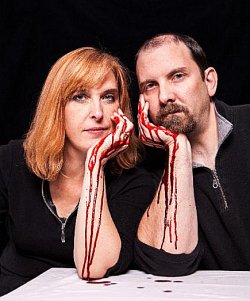 P.J. with Steve Hudgins
A few words about your production company Big Biting Pig Productions, and your partner-in-crime Steve Hudgins [Steve Hudgins interview - click here] - and how did you two first hook up even?
I met him doing theatre. He invited me to have a part in his first film project (with another production company) and then duped me (just kidding) into helping edit since I had some experience at that. Shortly after, he asked me to partner full-time producing horror films. I had no idea I would grow to enjoy it so much and begin writing and producing my own. Since my education and background is in writing and I had some experience in theatre, it felt perfectly natural to segue to filmmaking. Plus, I was looking for a new outlet for my creativity.
You have also written several stageplays, right? So what can you tell us about that aspect of your career?
Just dabbling. Itís a whole different ballgame.
How would you describe yourself as a director?
I think Iím an actorís director but also very much a stickler for details. I like to arrive with a good plan in place and I rely on others to take care of much of the technical work, but I also try to feel the moment and give it whatever direction it needs. With details already arranged, my focus can be on the performances and how everything looks on the monitor. I know what itís like to be an actor - what it feels like to have to trust someone else to tell you whether youíre looking authentic - and so I try to give my actors a lot of feedback without putting them in a defensive position. Everyone (including crew) needs to feel supported in what they are doing, and itís up to the director to set the tone for that. I will not tolerate negativity on set.
As far as the vision of a film, I think I do more of that when Iím editing, although we do have to have the shots ďin the cameraĒ, so to speak. Again, itís part planning, part intuition, and part good karma!
Filmmakers who inspire you?
Living: Lars von Trier, Jane Campion, Sofia Coppola, Darren Aronofsky, Jonathan Glazer, Steven Soderbergh. There are so many.
Dead: Alfred Hitchcock, Stanley Kubrick.
Your favourite movies?
Melancholia is one of my favorite movies of all time. Takes my breath away.
Others: Black Swan, Lost in Translation, Under the Skin, The Piano. As you can see, I am drawn to stories with women in the main roles.
For horror, I like Sixth Sense, The Others, The Shining, Carrie, Psycho, and the original Night of the Living Dead. There are so many. I always list different ones, depending on my memory!
... and of course, films you really deplore?
Well ... I rarely HATE a film, though I often feel like films miss the mark in some area or other. I have the utmost respect for any film that is complete and makes sense. I get tired of the usually Hollywood formulaic stuff, but even then I can usually find something to respect. I do get tired of seeing women portrayed as sex objects or props for the male characters. I don't LOVE some of the classics I'm supposed to love (as a director) because of the poorly written female characters. It's one of the things I watch for.
Films I deplore are usually low in character development, storyline, and respect for the audience. Iíve been to a fair number of horror conventions and Iíve seen some REALLY bad films. I mean really bad. And I know how hard it is to make a movie. So I think Iím probably pretty lenient.
Your/your movie's website, Facebook, whatever else?

Feeling lucky ?
Want to
search
any of my partnershops yourself
for more, better results ?

The links below
will take you
just there!!!

Find P.J. Woodside
at the amazons ...

amazon.com

amazon.co.uk

amazon.de
Looking for imports ?
Find P.J. Woodside here ...
Something naughty ?
(Must be over 18 to go there !)

Big Biting Pig has a website, FB page, and Twitter account:
http://bigbitingpigproductions.com/
https://www.facebook.com/bigbitingpigproductions
https://twitter.com/BigBitingPig
&nbsp
PJíís Productions has a website, FB page, and Twitter account:
http://www.pjsproductions.com/
https://www.facebook.com/pages/PJs-Productions/103499594872
https://twitter.com/PJs_Productions
&nbsp
this old bitch makes horror flicks is my blog, and I also have a Tumblr as this old bitch:
http://thisoldbitchmakeshorrorflicks.wordpress.com/
https://www.tumblr.com/blog/thisoldbitch
&nbsp
So you can find us all over the place!
Anything else you are dying to mention and I have merely forgotten to ask?
You forgot to mention that I also do most of the makeup effects for the movies. And there are some pretty decent ones in The Creepy Doll! Enjoy!
Thanks for the interview!