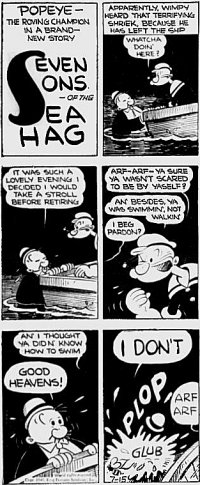 1940-07-15
You are currently in the process of collecting and restoring the Thimble Theatre/Popeye newspaper strips by Bela Zaboly (1939 - 1959) - now first of all, what inspired you to do this?
My inspiration for the Zaboly Project came out of curiosity. When I saw the last ever E.C. Segar comic strip (October 1938) I wanted to know what happened next to Popeye and his friends. I would constantly search through blogs and images to see if anyone uploaded any of the continuation stories from after Segar's run, but I could only find a handful of strips that all ranged by year. I always wanted to read at least one story from after Segar's run. King Features rarely reprinted Zaboly's strips in book form, so finding complete stories were nearly impossible to get my hands on. I wanted a better and easier way for fans, like myself, to view these hidden gems otherwise known as the "Lost Years" of the Thimble Theatre series.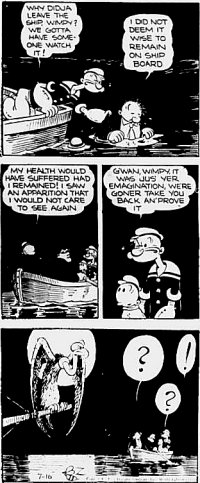 1940-07-16
Why did you choose Bela Zaboly for your restauration project? What do you find so interesting about his body of work?
Bela Zaboly's work can only be described as incredible and remarkable and are a great continuation to the legacy that is the Thimble Theatre strips. A lot of Popeye fans miss out on the opportunity to read these strips, as they are so hard to come by. And by doing so, a lot of fans fail to capture the essence of the strip. A lot of the backstories on the characters are lost and are vital to understanding the continuation stories after Zaboly's run.
What made me interested in Bela Zaboly's work is just how many dangerous chances he took with writer Ralph Stein. Popeye went all over the world, which saw the return of longtime rival Bluto. Zaboly and Stein were so daring that they even took Popeye and his friends to space! Something that was unheard at the time.
What can you tell us about the collecting process as such, and what are the main challenges? And how easy or hard is it to get your hands on the strips even?
The process of collecting these digital newspaper comic strips is rather difficult. I start by finding a digital source that features the Thimble Theatre comic strips in their comics' section. Then I screen capture the section that features the comic strip and save it onto my desktop. I then rename the file by the date of the comic strip. After I collect about a month's worth of comic strips, I upload it to a cloud based storage drive that allows me to access the strips anywhere via smartphone or tablet. After I finish collecting the strips, I replace any strips that are smudged or hard to read.
Finding the strips themselves isn't hard, but when you're missing one important strip it becomes a nightmare to find a new digital newspaper source that has that one particular strip you need.

1939-12-04

What can you tell us about Popeye and his evolution in the Zaboly-era? And how does his version compare to E.C. Segar's original version of the character?
When Zaboly first started drawing the Thimble Theatre strip for King Features (1939), he replicated Segar's style. It's very hard to distinguish which artist drew which strips. Zaboly was very good at replicating Segar. Around 1943, Zaboly started to form a more Fleischer "cartoony" style. Near the end of Zaboly's run when Tom Sims was replaced with Ralph Stein as the writer for the daily section, Zaboly once again changed his style, but this time, it was his own.
Can you give us a quick biographical run-down on Bela Zaboly, the man and artist?
Bela P. Zaboly was born on May 1910 in Cleveland. Zaboly drew for his school paper in high school. After graduation, he was employed in the art department of the Cleveland-based syndicate, Newspaper Enterprise Association, where he started as an office boy and eventually was a staff cartoonist. As an illustrator, printmaker and painter, he exhibited in Cleveland and Chicago during the early 1930s, also creating the Sunday strip Otto Honk about moon-faced, dim-bulb Otto, who was variously employed as a private eye, movie stunt man and football player. Zaboly discontinued this strip in 1936. He was an assistant to Roy Crane on Wash Tubbs, and from 1936 to 1938 he drew Our Boarding House after Gene Ahern left NEA to do Room and Board for King Features Syndicate. After Popeye creator E. C. Segar died in 1938, Tom Sims scripted Thimble Theatre. Doc Winner, who worked in the King Features bullpen, illustrated the strip until Zaboly took over in 1939. Zaboly and Sims produced the daily strip until 1954, and they worked on the Sunday strip until 1959. Ralph Stein began writing the daily in December 1954 with Zaboly as artist. Bud Sagendorf took control of both the daily and Sunday in 1958, although his work was not published until August (daily) and September (Sunday) of 1959. Zaboly also continued Segar's Sappo topper strip. Zaboly's art was featured in several Popeye coloring books from the late 1950s through 1964 and in other licensed items during this period. The last Thimble Theatre daily by Zaboly was published August 8, 1959, with his Sunday strips continuing for a few months after that. With his Thimble Theater run ending, Zaboly returned to Cleveland, where he went back to working for NEA and also was an art salesman for the Alan Junkins Studio in Cleveland's Caxton building.

1959-02-13

Some of your favourite storylines during the Zaboly-era?
Ralph Stein wrote one of my favorite storylines of Zaboly's. At this time, Bela Zaboly didn't really use story cards to divide the stories up, but rather just a long continuous story. Popeye goes into Jetty's Cafe and sees his long time nemesis Bluto [more on Bluto - click here]!
After Bela Zaboly left Thimble Theatre in 1959, were there any major changes in the strip?
Yes, there were a couple of changes. When Ralph Stein took over the writing for the daily strips, Swee'Pea grew out of his gown and was finally walking by himself. This didn't last very long as Swee'Pea would once again go back to his original form, when Zaboly was replaced by Bud Sagendorf, as so many Popeye fans are familiar with.
How did you discover Popeye, and what fascinates you about him?
My father introduced me to the Popeye franchise with the Fleischer cartoons. I specifically remember the very first time I saw this sailor on the small screen. The cartoon was Seasin's Greetinks! and my eyes immediately increased in size because of the smooth and fluent movement that the Fleischers' accomplished. I later became more and more interested in Popeye and wanted to know everything about him. During that research I realized that Popeye was also in comic strip form and I quickly fell in love with E.C. Segar's Thimble Theatre. After that I wanted to know what else E.C. Segar had created, and during that time I sadly found out that E.C. Segar died in 1938. But then, I also found out that the Thimble Theatre strips were still being produced to this very day and I wanted to know what happened to Popeye after E.C. Segar's death. After years and years of waiting for something of Popeye to be reprinted in hardcover form, my faith began to demolish with only the Segar years being reprinted by Fantagraphics. I thought what better way to preserve these rarely seen comic strips than to collect them digitally where they wouldn't tarnish or yellow because of age. I created this project for the true Popeye fans to read and enjoy. Moreover, I created this project to answer my previous question, what happened after Segar's untimely death in 1938? What other adventures did Popeye and his friends get themselves into?

1943-12-13

Popeye-artists besides Zaboly you really enjoy? And what (non-Popeye) comics in general do you read?
That's a really hard question to answer. Every Popeye comic strip artist brought something new and interesting to the strip and put their own little twist on it. E.C. Segar, of course being the first and original artist, would have to be on the top of the list. But Bobby London's Popeye concept put Popeye and his friends in what I like to call the "21st century" (of course that isn't possible as his run was from 1986-1992). Popeye was introduced to Rock'n'Roll and Olive Oyl became "hip" again. It's a really entertaining run and I would recommend any Popeye fans to read London's run. They're hilarious!
I'm starting to read the original Amazing Spider-Man comic book run. I always grew up with Spider-Man and have loved reading the comic book ever since. Now that I am seventeen years old, I can better relate to Peter Parker's struggles, as he was also a teenager when the comic book first started out. You can never go wrong with Steve Ditko and Stan Lee!

1954-12-06

The $64-question - where can one get one access to your restauration efforts so far?
In order to get access to the Zaboly digital collection, you have to be a member of the Official Popeye Fan Club Magazine by following this link: http://www.popeyepicnic.com/club/opf7.htm. The subscription is $10 for four issues of the magazine over one year. These magazines are jam-packed with everything a Popeye fan can ever dream of and features the Zaboly strips. Readers of the magazines will also receive access to the files as long as the reader has an active subscription. Once the reader has subscribed to the fan club, they can notify me at thepopeyeproject@gmail.com that they want access to the collection and they will receive a unique invite code that only they can use.
I guess your project will come to a finish eventually - any similar projects after that?
Yes, in fact the main plan is to release every Thimble Theatre comic strip from 1919 to 2015 (excluding E.C.Segar's and Bobby London's work, as they are already released in hardcover form). Once everything is collected, the project will be renamed to The Thimble Theatre Project and released to active subscribers of the Official Popeye Fan Club.

1957-03-27

Anything else you are dying to mention and I have merely forgotten to ask?
Yes, there is something I would like to mention. I like to give credit where credit is due and with that I would like to thank Fred Grandinetti [Fred Grandinetti interview - click here] for researching the digital sources that I can use to collect the strips, Bruce Shults for filling in some of the gaps I had in the project and letting me have access to the pre-Popeye comic strips he had, Donnie Pitchford for filling in some of the gaps for the pre-Popeye comic strips and letting me have access to the Bud Sagendorf comic strips he had, and Ryan M. Maxwell for referring me to the Official Popeye Fan Club!
Thanks for the interview!
Thank you so much,
Jonathan

1959-01-01