Your show Drawing with Fred turns 20 this year - first of all, what's the show about, and what's the philosophy behind it?
I like to call Drawing With Fred as being reminiscent of the adult hosted children's programs which were a staple on television from the 1950's to 1980's. The host would talk to the audience on the set or directly to the viewers at home. Many of these shows were used to showcase the popular cartoons of the period:
Looney Tunes, Popeye, Felix the Cat, Bullwinkle, The Mighty Hercules, Dick Tracy or Mr. Magoo.
On Drawing With Fred I demonstrate how to draw a cartoon character or object. An animated film follows featuring what was in the drawing lesson. Usually an original water safety, health or nutritional segment is featured. I finish out an episode with additional cartoons. On occasion I would interview a special guest. These have included a professional photographer, a dentist and an opera singer.
Some lessons you'd like for your young audience to walk away with from your show?
I hope the children walk away with remembering the original water safety, health and nutritional tips presented. Many adults have told me they love being reintroduced to the classic cartoon characters whom they grew up with. It is a great way for children to be introduced to them for the first time.
20 years is a mighty long time for any kind of show - so how has Drawing with Fred evolved from its (presumably humble) beginnings, and some of the show's highlights over the years?
Drawing With Fred actually began as an idea I had for a television pilot. My hope was to reintroduce a similar type of format which worked for several years on independent television stations across the country. I was told, by people in the know, the format I wanted to bring back was "dead". I did not want to give up the idea so began producing, writing and hosting the series for my local cable access channel. Originally it was strictly a drawing lesson and a few cartoons but, as previously mentioned, I squeeze more into roughly a 25:00 to 29:00 minute episode.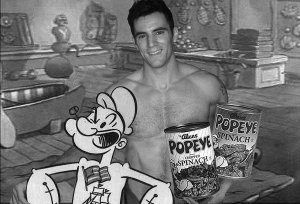 Popeye and Cuyle Carvin stay in shape
A few highlights from the series include The Opera Show which featured singer Logan McCarty. This was a fun way to introduce children to a subject which would normally make invoke snoozing. An original cartoon, Logan Likes His Lyrics, was produced based upon this episode. I also enjoyed The Italian Dentist Show where I talk about Dr. Domenic D'Amico who is a popular dentist in my hometown of Watertown. Popeye cartoons, dubbed into Italian, were aired on the episode. Of course Drawing With Fred winning three cable television awards for excellence was a highlight! Clutching my first award I felt like Lucille Ball at the Emmys.
A very basic question, what keeps you going after all these years?
I always say the animated cartoons are the star of the show and I am always finding different ones to create episodes for. Additionally I have donated programs to various children's organizations for several years. I recall getting a letter from a woman, working in a hospital, and being told my program kept a hospitalized boy active.
What were your inspirations to do the show to begin with?
I believe one of the reasons children's basic value systems have become so warped is the lack of children's show hosts which my generation grew up with and admired. In Boston Massachusetts these included Rex Trailer of Boomtown, Uncle Gus from The Uncle Gus Show, Major Mudd and Bozo the Clown. The hosts would remind the audience the importance of obeying their parents, respecting teachers and quietly pass along health and safety tips. I try to do the same thing on Drawing With Fred.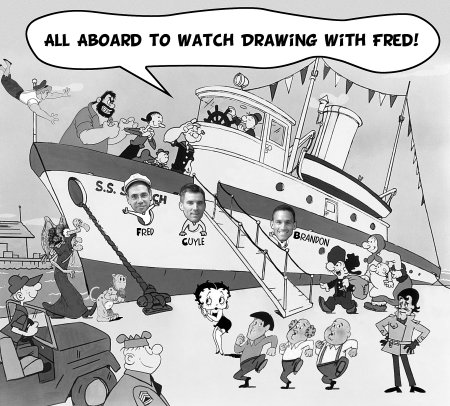 publicity photo from Drawing With Fred featuring
the cartoon characters appearing on the program
What can you tell us about your showbiz endeavours before Drawing with Fred?
In high school I participated in all of the plays winning acting awards. I often played the 'Paul Lynde' or 'Gale Gordon' roles. I was also an extra in a few television shows and films produced in Boston. Since 1983 I have written about many characters from "showbiz" including Popeye, I Dream of Jeannie, The Batman Family and Bozo the Clown.
Let's go even further back: What got you into drawing as such in the first place, and how would you describe your drawing style?
My mother recalls, at a very early age, all she had to do was give me paper and a pencil to keep me happy. I grew up reading Popeye, Bringing Up Father, The Katzenjammer Kids, Ponytail and Henry in the comic sections.
My cartooning style is very much rooted in the 1930's era. At this stage of my life I do not care to change it.
Your show also features safety and fitness segments, featuring the likes of Cuyle Carvin [Cuyle Carvin interview - click here], Kazy Tauginas [Kazy Tauginas interview - click here] and Brandon Stumpf [Brandon Stumpf interview - click here], all better known for their involvement in horror movies. So what can you tell us about these segments, and why and how did you get these guys to do them?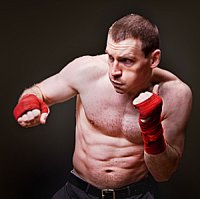 Kazy Tauginas
It all started with Cuyle Carvin's blue eyes (laugh!). I had written a water safety segment in 2009 called He Knows Safety which began with a close up of a man's eyes. I came across a photo of Cuyle and was drawn to his blue eyes! I knew he was the actor I needed and contacted him. Within an hour Cuyle replied saying how he would love to be a part of my show. Since then he has promoted exercising in a segment introducing Popeye's adventures. Cuyle also teamed up with Eugene the Jeep, the one-eyed sailor's dog, to promote water safety and illustrated the benefits of drinking milk in Create Your Own Storm - Drink Milk! Cuyle is becoming much in demand as both a film and television actor. I do not know how much time he can devote working with my show but I am very grateful for what he has contributed.
I was introduced to Brandon Stumpf via a modeling web site and contacted him about a water safety segment which combined elements of Bewitched, I Dream of Jeannie, Sabrina the Teenage Witch and Popeye. The segment became Wearing What's Right and was a lot of fun to create. In addition to acting and modeling Brandon is a full time art teacher so he was a perfect fit for the program. Later Brandon and his family became animated cartoon characters for The Stumpf Family Goes to the Beach. This short, featuring music culled from Popeye theatricals from the 1950's features Brandon eating a can of spinach to rescue his wandering daughter at the beach.
I met Kazy Taugnias through his appearance with Cuyle in the science fiction film Terminal Legacy. Kazy has a boxing background and I created a segment where he discusses the importance of eating the right foods to stay in shape. All three have been great to work with, and in return for donating their time and talent, I try to promote their careers and projects. Each actor's segments can be found on YouTube under the FGrandinetti channel.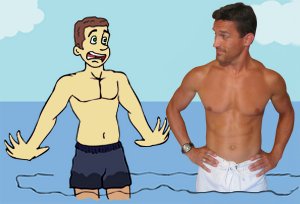 Brandon Stumpf and his cartoon self
What can you tell us about other show regulars, and your show's crew of course?
I have had a sea of changing faces for crew at the cable station. They have all done a great job and I am very appreciative. My camera crew, for many shows, Linda and Edward Collins, have become dear friends. I had a lot of fun working with program director Michael Atkinson for four years. I have to give special mention to Vatche Arabian of Watertown Massachusetts. I have known Vatche since he was ten or eleven and he has become a talented filmmaker and editor. Whenever I give Vatche my original segments to edit he projects what is in my brain and adds his creative touches. People can check out his work at www.vatchearabian.com. As for the shows cast it has been Fred with hair and skinny becoming Fred with less hair and gaining weight!
How would you describe the whole process of putting a show together, and what are typically the biggest challenges and most satisfying moments?
The first thing is to select an opening cartoon which features a character or object easy to translate into a three to five minute drawing segment. I then gather together segments to place between the cartoons whether they feature Cuyle, Brandon, Kazy, Popeye or Porky Pig. I write out each episode step by step and give all of the needed material to the editor.
The biggest challenge of doing the show, to which I am always apologizing to my various editors and programmers, is quality control. I want to be happy with each episode but occasionally due to technical issues, on my part or the cable station, I get frustrated. I do not hear any complaints from the audience but I am very anal at times.
Any future projects besides more Drawing with Fred you'd like to share?
I have been writing about characters from popular culture since 1983 and do not plan on giving this up. I also became active with Operation Comix Relief in 2012, which is an organization which sends comic books to our troops. I have been drawing Popeye and his pals to help raise awareness of the need to send a little bit of 'home' to our service people. You can learn more at www.operationcomixrelief.org.
Artists, TV-hosts, filmmakers, whatever else who inspire you?
I have great respect for Barbara Eden and had the pleasure of interviewing her a few years ago for an article about I Dream of Jeannie in Filmfax. What I admire most is she does not shy away from her association with the series. I am sure she has lost roles because narrow-minded casting agents have her pegged as a genie yet she does not trash the role or program. Other performers, in similar situations, unfortunately have put down the proprieties which made them household names.
I also admire performers who have had the thankless task to step into projects made popular by others. These include my favorite Avenger's girl Linda Thorson and (dare I say it) Joe Besser of The Three Stooges. While I adore Julie Newmar's Catwoman, both Lee Meriwether and Eartha Kitt were fantastic in the part. My last role on the stage was playing a cat turned into a human and I challenged all three actresses which was a ball to do.
And since this is a film site, your favourite and least favourite movies?

Feeling lucky ?
Want to
search
any of my partnershops yourself
for more, better results ?

The links below
will take you
just there!!!

Find Fred Grandinetti
at the amazons ...

amazon.com

amazon.co.uk

amazon.de
Looking for imports ?
Find Fred Grandinetti here ...
Something naughty ?
(Must be over 18 to go there !)

I am pretty much a fan of horror and science fiction films from the 1930's through the 1960's. Many of the Universal horror films and Godzilla pictures come to mind.
I do not appreciate the films where you think the monster or murderer dies at the end, only to see an eye 'blink' just before the movie fades out. There is too much of this especially with the original productions from the Sci-Fi Channel. I also enjoy the Charlie Chan films produced by Monogram especially for the comic relief provided by Mantan Moreland [Mantan Moreland bio - click here]. I am very old fashioned.
Your/your show's website, Facebook, whatever else?
Drawing With Fred episodes can be viewed on The Watertown Community Access Channel's website at http://www.wcatv.org/watch/vod/viewvideo/714/drawing-with-fred/drawing-with-fred.
In addition to seeing segments from my show on You Tube I have created a Drawing With Fred face book page located at https://www.facebook.com/DrawingWithFred/
Anything else you are dying to mention and I have merely forgotten to ask?
Thank you for this opportunity!
Thanks for the interview!
Photos courtesy of David Hudon