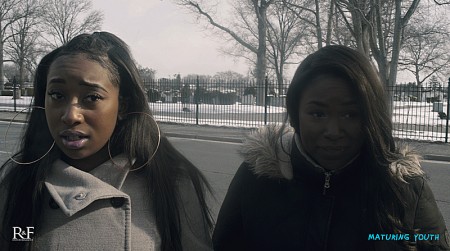 Rael (left) with Darleen Rae Fontaine
photo courtesy of R&F Entertainment
Your new movie Maturing Youth - in a few words, what is it about, and what can you tell us about your character in it?
Maturing Youth from R&F Entertainment is about a man who despite his age is essentially a teenage boy. He lacks ambition, dreams and responsibilities. His days are filled with smoking weed, hitting on girls and collecting unemployment checks. It isnít until his past shows up at his door that he is forced through a journey to maturity in order to make room for his future, his son. My character, Maggie, is a no nonsense chick with an unfiltered mouth. She is such a firecracker that you have to see the film for yourself to uncover who she really is. But I can tell you that Maggie and her best friend, Mae, are two of the people that shine the light on Roger's flaws and help him realize his skewed perception on the meaning of life.
What did you draw upon to bring your character to life? And how much Rael Ba can we find in Maggie?
To give Maggie life, I really had to give her a vibrant backstory as to why socially she is how she is. This involved a lot of research and even a little bit of method acting. I pulled some of her personality from work I've seen a few of my idols do such as Taraji P Henson and Halle Berry.
How did you get involved with the project in the first place?
I had seen a casting call from R&F Entertainment for the film on Backstage. After submitting for Maggie I was called in and thatís where I met my amazing co-star Darleen Rae Fontaine [Darleen Rae Fontaine interview - click here] who plays Mae. We had an instant chemistry in the audition room. So much so that it was as if we had been friends for years and the rest was history.
What can you tell us about your director Divoni Simon [Divoni Simon interview - click here], and what was your collaboration like?
Working with Divoni Simon was such an amazing experience. Maturing Youth is a story that he developed and it was very clear how much this project meant to him. While his perspective was fueled from a writer and director standpoint, he provided such a safe place for the actors to explore. It was through Simonís open mind that a collaborative environment was able to thrive.
What can you tell us about the shoot as such, and the on-set atmosphere?
I have found that filming day is always the most nerve racking but itís also the most fun. Maturing Youth was my first professional short film, so being on set really taught me a lot about how all the pieces come together but more importantly, the depth of what it takes to make a film. While it only took two days to film my scenes, it was definitely the longest forty-eight hours in my life. The weather was insane before filming. The temperature dropped drastically and a snowstorm swept through the area. As a result, I got extremely sick the day right before filming. But seeing how hard everyone was working, how passionate the R&F Entertainment team was, and how much care there was for everyoneís well-being, including mine, that immediately uplifted my spirits and made me feel a lot better. Iím so grateful that the set environment was such a safe place and that we were all able to come together to create a beautiful story.
Any future projects you'd like to share?
Since Maturing Youth, Iíve had the pleasure of working on several short indie films. One of which is titled Cruelty Free produced by Reel Works and partnered with Time Warner. The screening for that will be in late September. September 10th, there will be a screening for a short I did titled Addict directed by Daniel Pagel. And my most recent project, Good Luck Kid, in which the supervising director was Trevor White of Star Thrower Entertainment and was executive produced by Filmsters Academy, will be streamable in the next few weeks. Iíll also be doing my first stage play in NYC this November called Peter and The StarCatcher at the Schaeberle Theater. If you would like more details on any of these project follow me on Instagram to stay up to date.
photography by Iris Hayes
courtesy of R&F Entertainment
What got you into acting in the first place, and did you receive any formal training on the subject?
My mom is a huge reason I became an actress. She saw the spark in me way before I saw anything, much less performing, in myself. With the help and love of my mom I went to a performing arts middle school which allowed me to discover the impact of art and my responsibility to it. From there I went on to a performing arts high school and now I am going into my junior year as a BFA acting student at Pace University.
What can you tell us about your filmwork prior to Maturing Youth?
My film experience was very miniscule before working on Maturing Youth. I had done a few student films but considering I was only a freshman in college I haven't gotten my feet wet yet in the New York City film world. I did have an extensive background in theater though prior to Maturing Youth considering that was the foundation of my training.
Actresses (and indeed actors) who inspire you?
Let me start off by saying that this is such a hard question because I am inspired by so many different working artists right now. But I will say some of the legends that grew up idolizing and studying were people like Phylicia Rashad, Denzel Washington, Robin Williams and, of course, Meryl Streep.
Your favourite movies?

Feeling lucky ?
Want to
search
any of my partnershops yourself
for more, better results ?

The links below
will take you
just there!!!


A few of the movies I fell in love with this year were The Florida Project, Blind Spotting and The Shape of Water.
Your website, Facebook, whatever else?
Facebook: Raeíl Ba
Instagram: raellie_
Films official website: www.MATURINGYOUTH.com
Facebook: "Maturing Youth" @maturingyouthfilm
Instagram: "Maturing Youth" @maturingyouthfilm
#maturingyouth #rfentertainment
Thanks for the interview!