Your new movie Not in Love - in a few words, what is it about?
A woman convinces herself she isn't in love with the new man in her life because she's still in love with her husband who died in the Navy.
What were your sources of inspiration when writing Not in Love, and is any of this based on personal experience?
Definitely the song I'm Not in Love by 10cc. Everything from the story, the shots and angles, the editing and the movement of my camera is directly based off of the images I see in my head when I listen to the song. This story would not be alive without the song; it's directly based off the song. I had this story running through my head for so long and am happy to have finally unleashed it from my mind. I've never had a loved one die, knock on wood, but the Navy man in the movie, his death is symbolic for many things in my personal life. I've been on both sides of the issue of not being able to move on from someone. I've been the one who couldn't move on and had to hurt the new guy because my heart was with someone else, and I've been the one who was led on, strung along, used and shelved by a particular ex I tried to love, who didnt take me seriously and shelved me like he did many of his ex girlfriends. I was just another girl to him, another girl he dated who it didn't work out with. I was nobody special. He looked me in the eyes and lied to me about his dealing with an ex, and he hurt me (while I was doing everything for him) and he was indifferent about it, and moved on without a care. He reserved his sympathy for his ex who he dissed me for numerous times. He didn't think of me as a person with feelings, just another girl he dated who he didn't fit with. But she was special though. I was just another girl though. Not her though. So the death in the film in my mind is symbolic for a death of a love I once had for him, a death of trust I once had for him because he lied to me and then bragged publicly about the lie; and a death of this image I had of him for many years, thinking he and I were special when we were not; not to him. It was the death of the image I had in my head about this man for so long. He was in a bad spot and used my passion for him as an advantage to get what he needed from me at the time: help, as opposed to embracing it and taking it seriously. Then he caused the breakup, became the victim in the end, moved on and continued chasing his ex, if not some other exotic model/actress. Didn't care about hurting me. Told me to leave him alone. He didn't care. And he never apologized or felt bad. He's always the tragic victim and is never responsible for anything. He was never mine at all. He wants me to think good of him yet does things like that. You have to earn my respect. Treat me like a human being and I won't think unfavorably of you. So, I dedicate the death in the film to him and his cold, black heart.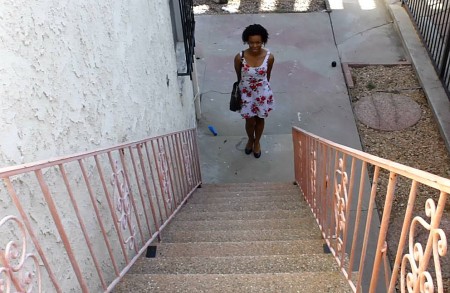 With Not in Love being completely dialogue-free, to what extent is that a challenge regarding story-telling, and in what way may it also be liberating?
It's not challenging for me. I feel a story with dialog is more difficult because then you have to work with the actors to say their lines in an authentic tone. When I work with actors on a film that has dialogue, like Wrath City and my webisode for One Law, I have and had to work with them on the tone of their voices, the pitchiness in their voices when they speak. In real life, there is a way people speak, and so in a film you can tell when an actor is not believing their lines and is in their head too much based on the way they're speaking. For example, in real life, when people talk, they're more flat. They end a sentence on a flat note as opposed to a high note. In a lot of films I see, the actors will end their sentences on a high note, and that's not how people talk in real life. So I basically have to do a voice training with them if there's lines in the script. That's a lot of work. With a film like Not in Love though, I don't have to do all of that. All I need to do is work with them on their facial expressions and body language at that point, so it's much easier. The tough part about working on facial expressions and body language is, getting them to relax their faces because in real life, people's faces are relaxed and natural, even while upset. The pain will be reflected in their eyes more so, not in the face. So the face needs to be relaxed, and their body language needs to also be subdued, and if they're speaking, their vocal tones need to be relaxed and flat. Those are the keys for me when working with actors, with or without dialog, it's a process and very important to getting a convincing performance on screen. And I feel I do often get that.
Not in Love is centered around a song, namely 10cc's I'm Not in Love - so to what extent did that song influence your directing, and was that song always going to be part of the movie, or did it only slip in at a later date?
The song was always going to be a part of the film. The story and visuals are directly based on the song. No other song will ever do for this story. Everything from the story, the shots and angles, the editing and the movement of my camera is directly based off of the images I see in my head when I listen to the song. This story would not be without the song; it's directly based off the song so no other song will ever do for this film. I remember when I was on a ferry with a friend telling her how the whole film would go down, and a year later, I'm shooting it in LA with actors I just met. It was an amazing experience. This film is the most creatively fulfilling experience I ever had. It's my most favorite film I've done so far, personally.
What can you tell us about your directorial approach to your story at hand?
My directional effort was purely musical. I wanted the story to feel and move like music, like the way I experience music. The beginning when the song is just beginning and we're pulling in slowly on Danna, and as the vocal wall increases its intensity in the song, her memories begin to consume her, and there is a double exposure her face straight on, and an image of her husband who died. All was purposely done to the beat and tune and pace of the song. My favorite part of the film is the middle, when Danna is walking away from Tomas on the Santa Monica beach. That part of the song is a shift in emotions for the singer. During the whole song he's saying he isn't in love. He's showing musically why he is denying his love for the person he's singing about, finally in this moment of the song. In the instruments you can hear sadness, doubt, insecurity, fear. The bass-line, the crystal sfx, the whispers "Big boys don't cry", the piano; he's in his head, he's feeling anxiety and anguish; it's a very powerful moment in the song and it sounds distinctly different from the rest of the song. So I wanted that moment in the film to be powerful, emotional and distinct. I wanted her, while walking away, to be subdued in her emotions and body language while walking away. I wanted to focus on her just walking, never looking away from her. Just holding on this shot for a few seconds. The subdued reaction in her? That's realistic. That's how humans behave in moments like those. That's just an example of the way I think about music and how it affected my direction and everything else.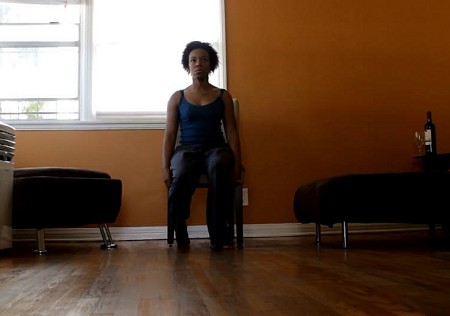 Do talk about your cast, and why exactle these people?
Danna Deyon Leary I found on backstage.com, as well as Tomas Otero. I had never been to LA before and I cast them off that site, flew to LA and met them the first day I touched down. They looked close in age, they made a cute couple. Danna, she had a natural look to her. I wanted a black female lead who looks like me, who I can identify with. I thought her performance was awesome and so did a lot of people that watched the film. I got the same feedback about Tomas. He was a first-time film actor. But when he applied for the job, what got me was his face. He has a very soulful, expressive face. He has a lot of feeling and emotion in his face and eyes. And I was able to capture that at the end of the film when he's standing outside the girl's apartment, staring off into nothing as he's realizing he's just been ghost-dumped. Being ghost-dumped is NOT fun, y'all. He looks heartbroken in that scene, and part of what really sold that scene is HIS FACE! His face naturally looks that way! And Sean Brown, we work together on my films a lot. He starred in my last film Wrath City, and he was amazing so working with him again was incredibly easy. I wanted her to have a black husband, to show people that there are black men and women that do marry one another and have respectable careers and relationships. Judging by commercials and TV shows, movies, you'd think they don't marry or fall in love with one another - *eye roll* - not true.
A few words about the shoot as such, and the on-set atmosphere?
It was really easy and a fast shoot. Everyone worked really well together. And it was incredibly fun to walk the Santa Monica Pier, even though we didn't get shots of it for the movie, which I still regret.
The $64-question of course, where can Not in Love be seen?
On my Vimeo at https://vimeo.com/317174942
What can you tell us about audience and critical reception of Not in Love?
People loved it. I've gotten awesome, incredible, inspiring, provocative and engaging; and that I'm a really good cinematographer. Many said the acting was powerful, which is the #1 important thing to me in my films, and the proof that I did what I was supposed to do. I got comments on how much they loved the editing of the movie, from a filmmaker, too. While I was trying to get permission to use the song, I submitted the film to many publishing companies, and one I submitted to LA, Harvey Lisberg, 10cc's former manager, saw the email, watched the film and called me to say he really liked the film and that he'd be okay with me posting it. He had even expressed interest in working with me. People really liked it.
Any future projects you'd like to share?
I wrote and directed a webisode of the new webseries One Law that's coming out. My webisode is a black female's perspective on feminism and the 2016 election. I was influenced by 12 Angry Men (1957) when I wrote it. The producers of the webseries say the entire series will be released this year. I'm getting an update on the exact release date from them right now.
I am also shooting Woke, a film for fake woke people who get freedom and self love confused for allowing themselves to be enslaved by their own race. That film will be dedicated to guys like Tariq Nasheed, a man who stays hating on me, and Umar Johnson.
Also later this year The Richest Woman in Foolope County, a short film that seeks to enlighten people on generational wealth–building and real estate investing, but also the ignorance of perceived wealth. The film is told as a fable, and I was influenced by The Twilight Zone when I wrote it. In November I will be packaging Wrath City and The Richest Woman and taking them as samples to the American Film Market in Santa Monica to pitch a television series idea.

Feeling lucky ?
Want to
search
any of my partnershops yourself
for more, better results ?

The links below
will take you
just there!!!


Your/your movie's website, Facebook, whatever else?
Follow me on Instagram: @highwaywomann
Anything else you're dying to mention and I have merely forgotten to ask?
If anything, this film teaches to let go. I really want to be happy and find something that makes me feel loved. I want to be happy. I hope you will use this film and interview as inspiration to finally let go and be happy too. You deserve to be happy. Don't end up like the girl in the film. Or worse, your ex.
Thanks for the interview!