Your movie A Sister's Bond - in a few words, what is it about?
It's a silent drama that focuses on a young African-American woman, Chrisette, who gets a tragic phone call from back home. We see that she is obviously very troubled about something but we don't know what it is until the end when her brother is revealed to be ill. It's very quick and simple, but effective. The film is basically about facing your fears and never taking those you love for granted because some sisters don't have brothers and vice versa. Even if you have that sibling, mother or father in the flesh, you may lose them emotionally down the line for whatever reason. The film metaphorically deals with these issues: of losing a sibling whether physically or emotionally, and mourning that loss.
A Sister's Bond seems to be a very intimate, personal film - so to what extent was the film based on personal experiences of yours, and other sources of inspiration when writing it?
A Sister's Bond is actually a single scene I wrote within another screenplay, a feature-length titled Love, Hate & Rock 'n Roll. When I wrote the scene I thought of the movie Purple Rain, which starred Prince as "Kid", who went through the childhood abuse and fighting off the demons, trying not to be like his father; who witnessed his father beating his mother, who struggled to love fully in his relationships. I love Purple Rain and used that as inspiration for this film. The part where Chrisette walks into the house quietly and later destroys everything is inspired by the scene in Purple Rain where "Kid" has a mental breakdown and destroys his bedroom, and this all following fights with his girlfriend and family issues at home. It was a powerful, powerful scene and I felt it in my bones. I watched that scene and saw myself in Kid. I just had to write about it. A Sister's Bond is basically a dedication to my family for all we went through together.
A Sister's Bond is a film that's very lyrical in approach. So could you elaborate on the film's style and aesthetic choices for a bit?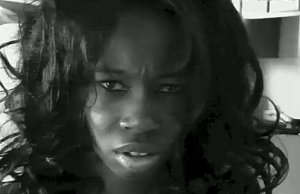 I directed the film with the music as the lead. The music moves the narrative along. Sean McCall composed a beautiful tune for the film. Colors were subtle but were used carefully to depict emotion, and camera movement was used to show state of mind... feels like you're in a dream, which is kind of true because more than half of the film is of Chrisette thinking too much and imagining things that aren't there, like the picture in the freezer and in the cabinet. I wanted to use color in those scenes to make her delusions and flashbacks stand out from reality. The red shirt she's wearing symbolizes the anger she feels for the situation with her ill brother. In the end of the film you can see her other sister, Rain is wearing white, which symbolizes purity and peace. I think black and white combined with color worked really well here. At the end of the film I wanted there to be more of a happy ending and so at the end we get away from the black and white, and you see as Rain looks up briefly to the window and there's sunshine, which is symbolism for hope. Chrisette's brother opens his eyes before that and smiles, even... so we know he's going to be alright. The whole family's gonna be alright.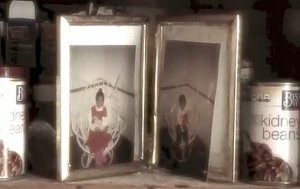 The cast of A Sister's Bond is completely made up of members of your family (judging from their last names at least) - merely out of practicability, or is there a deeper meaning to this?
A little bit of both. This was my first ever film I directed and I did it for campus movie fest, a student-run festival that gives you a week to make your film. I figured with a hectic school and work schedule, it would be doable to get my siblings. I'm just getting my feet wet anyway, I thought. Also, I wanted my siblings in the script to be played by my siblings in real life; it's raw... more authentic... everyone looks the same and I got to use the actual photo of my sister and brother as little kids, a photo that is a necessary component to the film. My two sisters wanna be actresses anyway so I thought hey, it works for all of us. Using family is looked down upon in film, I think, but I've never been one to let some rules dictate what I wanna do. My sisters are serious and talented and I will be using them on future projects.
What's the Problem with Bill Winer? - again, what is that one about?
Bill Winer is an older, bitter divorcee who wonders why he can't for the life of him find love. He finally finds it in a much younger African-American woman. When he realizes the true love he's found, from then he does everything in his power to ruin it, and that he does by avoiding a real commitment, cheating and "falling in love" with other women behind her back. In the end, however... when it's all said and done... Mr. Winer finds himself back at where he started: sitting alone in his room, wondering what the problem is... with Bill Winer.
What urged you to write What's the Problem with Bill Winer? - and to what extent can you actually identify with Bill Winer, the hopeless and almost self-destructive pessimist?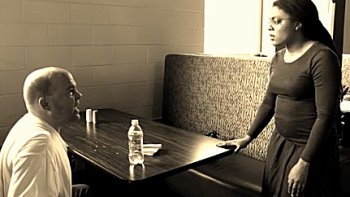 The short is based on a feature-length screenplay of the same name. The feature is much better than the short! I'm looking to get it filmed someday! I go much deeper into the character of Bill Winer and he and Celeste's relationship. It's almost like a psychological drama mixed with romantic satire; I love it. Writing is therapeutic for me and at the time that I wrote this it helped me to sort out some feelings of anger and betrayal. But most films tell stories of unrequited love through the eyes of the rejected, and I wanted to flip the script and tell it from the eyes of the rejector; the older, pessimistic middle-aged white male, to be exact. But am I a Bill Winer? Oh God no. Bill Winer is a character I created who is very selfish. He's the type of guy that'll break up with his girlfriend on Christmas Eve because she refuses to give him her virginity. But basically, as a writer, it's necessary and fun even to put ourselves in the shoes of a person we are nothing alike. It's difficult not to feel sorry for Winer though! When you look at his internal struggles play out on screen, you wanna take him into your arms, rub your hands through his hairs and hold him, tell him that everything's gonna be okay. And I don't know if it's so much people relating to his flaws as much as it really is just them simply being moved by Mark Keller's acting; many people have pitied Bill Winer and I can only thank the acting for that. Mark is not only a great writer, but a perfect Winer as well.
Do talk about your directorial approach to your story at hand for a bit if you can?
A good friend of mine, Mike Messier [Mike Messier interview - click here], gives me a lot of helpful advice when it comes to directing actors, and one thing that stuck with me is to let the actors do what they will, to respect them that much and let them take their character and mold it into what they will; to give them freedom to do that. The library scene was basically impromptu. Mark didn't say much in that scene and you know what? It was perfect. Perfect... 'cause Bill ain't much for words himself, ha! And DeLea was excellent in the breakup scene, with the flavor and fire she added to the lines. Before we did that scene I basically was like, imagine if this happened to you! A man drags you along for 5 months and calls you his girlfriend and then all of a sudden he can't commit. I could see it in her face that she knew exactly how it felt, or would feel, because she is a woman! She understands the absurdities in that, being a woman. And that, coupled with her obvious talent, resulted in the breakup scene. I loved what she did with it! I felt it! I just try to relate to my actors and give them space to experiment. I also ask questions... Mark suggested to let him say his "She'll just get tired of me"-lines in a different way than how I was originally gonna have him say them. And he suggested because I asked, and it worked out better.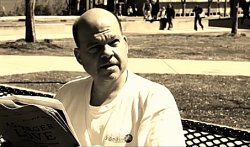 One of the things I loved about What's the Problem with Bill Winer? was its punchline - so would you at all describe yourself as a humourous person?
Definitely am humorous. I wanted to take a painful situation and turn it into satirical comedy, but without making it obviously a comedy, you know? This film is not laugh-aloud funny, but on-the-down-low funny, and the actors' facial expressions and delivery of the lines made it as such. My favorite part was when DeLea very passionately stood up in front of a seated Mark and recited the lines, "Look, I told you, no, showed you what I want, Bill, and that's you," and Mark's response was, after a long pause, being... "What do you want me to say?" DeLea storms away uttering, "Damaged goods" and Mark's sitting there looking like "Why is she mad? I'm the one that got divorced!"
Cracked me the heck up.
What can you tell us about your cast, and why exactly these people?
DeLea Mowatt is a fine actress Mike Messier [Mike Messier interview - click here] works with for his feature film Chris and Coffee Girl. She has a part in his film and I was given a very brief part as DeLea's sister. I heard she was very good and so I asked her to be Celeste for my short. Mark Keller is actually a writer though, and he's in a writing group with me and a few others...but I asked him to do the part and he said yes and they both knocked it out of the park. Not to mention, they looked cute together on screen.
A few words about the shoot as such, and the on-set atmosphere?
We had a pretty good crew in former Bridgewater State University classmates Steve Petersen and Nick Lyons for What's the Problem with Bill Winer?. The film would not have been made without the motivation of them backing me to begin with. It was a student project, it was hectic and it was our first time shooting a real short film, and I think for our first try together as a team, it was beautiful! Not to mention the talent who brought it all together on screen.
For A Sister's Bond I was a one-woman crew and it was difficult filming in some capacity, having to face some otherwise hidden emotions... but the end result, well I was very happy with it, especially considering it was my first short ever directed. The ending could have been better, but for a first try, I'm very happy with it. I'm only going to improve with every film I direct. The films were well-received and my friends supported me. I'm thankful for the opportunities and look forward to directing more in the future.
The $64-question of course, where can these films be seen?
Raeshelle Cooke on Youtube: http://www.youtube.com/channel/UCWzTCDM5E25MW0WdCFVUclQ
and Stage32: http://www.stage32.com/profile/74836/raeshelle-cooke

Any future projects you'd like to share?
- Monae's Room: A single room stirs up frantic emotions within an other-wise leveled young woman. Currently in pre-production.

- I've also written my own cartoon series, ZODIAKOS! and am looking for illustrators and animators to collaborate with to help get the series picked up!

- I'm the Associate Executive Producer of Hero In U, a public access tv show that focuses on self-development and empowerment, and uses comic book super heroes to drive its many points across. I work with host Jensen Denoyes and co-host Lizandra Gomes. Look out for new episodes on Innovation and Overcoming Fear, airing in July and August!

- This time next year I will give campus movie fest another shot with Monsters on 49th Street, a short drama inspired by the Paula Deen controversy; my Rod Serling-inspired response to it all. It will be another one of those on-the-down-low-funny type of films that I love so much.

- Looking to get a Dramedy titled Frustrated Standards off the ground - a TV series that focuses on a young Indian woman's move to an urban city. She learns how to ride through many misadventures of love and outlandish friendships. It's just her painfully-obsessed and aloof, virgin male friend who swears she's in love with him, that she has yet to dodge.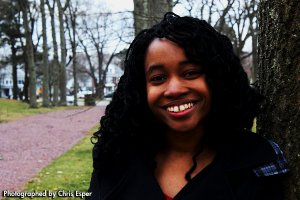 Raeshelle Cooke
What got you into filmmaking in the first place, and did you receive any formal education on the subject?
My love for the NBA quickly turned into a love for sports journalism which then turned into a love for writing fictional stories. On the other hand, a love for anime and drawing helped in my passion for story-telling. I've been writing satire since I was a teenager and found I was good at it (I'm kind of a smartass). But the way '90s and early 2000s anime/cartoon series captures your soul is like none other and I aspired to write even deeper stories, to do the same in my own short films and cartoon series that the likes of Digimon, Yugioh, Batman: TAS and Avatar: The Last Airbender did in theirs. X-Men: First Class (2011) got me into screenwriting. The fact that the movie was so loyal to the X-Men cartoon and comics, something most Hollywood movies fail to honor today, inspired me. When Professor X lied in Magneto's arms shouting "I can't feel my legs", well... from that point on, I was a screenwriter.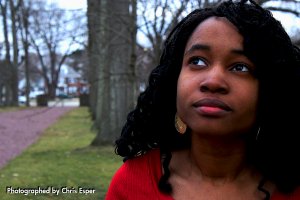 What can you tell us about your filmwork besides A Sister's Bond and What's the Problem with Bill Winer??
I'm just getting started! I've written many shorts and a few features... am now working on directing and learning more from the people around me. I'm also helping on sets. I'm the Associate Producer of Court Fisk's The Signal, which went into production this month, and also for Mike Messier's Chris and the Coffee Girl" [Mike Messier interview - click here]. But it won't stop there. We need more black women at the fore front in film and television. Black women are more than maids, servants or side chicks to married presidents on film. Black women are intelligent, articulate and beautiful. We have something worthwhile to share and I aspire to showcase that in my films. Never will I underestimate the power of the female black lead. Never.
How would you describe yourself as a director?
When it comes to film-making, I do not care whatsoever about celebrities, fame, spread sheets, a little grammar error here and there; spread sheets, whether this heading should be in all upper case or lower case; oh, this comma is out of place, or... spreadsheets. That isn't what film-making is about, at least not for me. I care about story and how we can connect with the viewer. Story should always come before anything else. If I have nothing to say, I will not write, and from that, I won't even attempt to make a movie. If I do have something to say, I will write and from that will come movies, and hopefully pretty good ones.
Filmmakers who inspire you?
I love John Hughes; The Breakfast Club is one of my favorite films. Alfred Hitchcock and his suspenseful drama and attention to detail. Tyler Perry. He gets a lot of flack for telling the truth in his films, but I'm not only proud of the opportunities he's given blacks in film, but proud that he doesn't hide his faith from the public. He's a man of God and it's nothing to be ashamed of. Just to think of where he was versus where he is now, it's just... I can only use him as inspiration for my own journey.
Your favourite movies?

Feeling lucky ?
Want to
search
any of my partnershops yourself
for more, better results ?

The links below
will take you
just there!!!

Find Raeshelle Cooke
at the amazons ...

amazon.com

amazon.co.uk

amazon.de
Looking for imports ?
Find Raeshelle Cooke here ...
Something naughty ?
(Must be over 18 to go there !)

The Breakfast Club, Grease, Rocky, Witness for the Prosecution, Alfred Hitchcock-films, 12 Angry Men, Die Hard and many more.
... and of course, films you really deplore?
Films like Superbad, Ted, Borat, Jackass, The Hangover, and most recently This is the End. Just no.
Your/your movies' website, Facebook, whatever else?

Search Raeshelle Cooke on YouTube and Stage32!
Anything else you are dying to mention and I have merely forgotten to ask?
What's the Problem with Bill Winer? has a non-traditional story arc, meaning the protagonist, Bill, starts out one way and ends that exact same way. Someone read the script and told me, "Well that's ridiculous; you can't do that! You can't write stories with non-traditional arcs! You can't have a film with a protagonist with no character arc! You can't do that!" I told him, well sure I can. And here's my short film to prove it. If you are a beginner like me, follow your instincts and do what is real for you. It's okay to bend the rules as rules are mere ceilings. The sky's the limit. It's your truth. It's your film. Write it how you want, direct it how you want, and make it great.
Thanks for the interview!