Your new movie Wrath City - in a few words, what is it about?
Wrath City is about a fictional, angry town and a Haitian woman who's being deported out of it for committing an awful crime. The film makes a lot of commentary on police brutality and Black Lives Matter.
What were your sources of inspiration when writing Wrath City, and is any of this based on personal experiences or concrete true stories?
Marie is based on a woman named Korryn Gaines who was shot and killed by a cop while she sat on her floor in her home with her child in her arms and a firearm in her hand. She was at a standoff with police over a traffic violation. When it comes to the violence against blacks, I started feeling the fear and the anger in the summer of 2016, ironically right after Independence Day, when unarmed blacks kept getting shot and killed by policemen and people (that would swear they're good people because they denounced bathroom laws for instance) were silent about it. Then there were people that kept justifying it. But those quiet ones refuse to speak out against racism against blacks, and that's not okay. If you speak out against inequality only when it comes to some groups but are quiet when it comes to black oppression, in my mind you're not really for human rights like you say you are. Period. Those people are hypocrites, and it frustrates me to no end. So I made a film to address it.
To what extent can you identify with your main character Marie, actually? And with Malik for that matter?
I identify with Marie for the fact that she is passionate, stubborn, and she is a fighter, maybe all to a fault. In Malik's case, you will always have that one black person that will justify their own oppression, make excuses for it, act like it doesn't happen, or just don't want to talk about it at all. You have those types that are uncomfortable with the subject and don't want to ruffle any feathers; those that were brainwashed by their peers, etc. And they don't snap out of it and "get it" until late. I wanted to show that with Malik. Even in our own community, the black community, there are two sides that don't see eye to eye and those sides butt heads. I wanted to show this with Malik and Marie's relationship.
Correct me if I'm wrong, but if memory doesn't deceive me, Wrath City is your first openly political movie - so what urged you to bring exactly this message across?
Besides the violence against blacks, the silence and the hypocrisy, a couple incidents. I was a part of this writing workshop, and I'm the only black woman there, and this lady wrote a really cool story on these clowns that were being oppressed and they were trying to figure out how they could get respect and how they can rise up. This was around the time all that brutality was going on. We all went around and discussed our thoughts about the story she wrote. I was the last to speak and I told the writer that I took a special liking to it because actually, it reminded me of the black experience. I felt comfort in reading it. Then I talked about everything that was going on with the police brutality. After I spoke the writer immediately said, well no actually, it wasn't about that, it was based on another group's oppression. Then everybody moved on and no one addressed what I said at all. It was like I never said anything. I felt dismissed. I felt that my voice was marginalized, ignored, insignificant; that our oppression is less important and that no one gives a crap. But it's always been this way and it's not okay. I felt like people didn't care about what I was talking about. I felt silly at the end of that conversation and I shouldn't have. I don't expect much from ignorant racist people. But I expect better from progressive people and leftists. Where is your outrage when we die? I'm calling out to them in this film. The instructor then told us, for our homework, write a story on what a city would look like as one of the seven deadly sins. The next week, I came back to the workshop with the short story Wrath City. And guess what? We had that conversation. And 10 months later I have the film. And we're going to continue to have this conversation until people grow up and speak up about it and do something about it.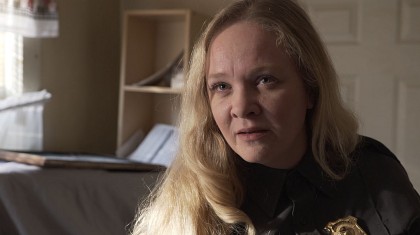 But that doesn't mean people still won't try to brush it off. The conversation Malik had with Josie and Myra is an exact conversation I had with a filmmaker at an event. He was literally hitting on me as he was explaining to me why my life doesn't matter. The whole conversation between Malik and Myra and Josie was real life: the cancer conversation, and the objectification. All of it. You find me attractive but you don't think my life matters? If you want to sleep with a black woman but don't think her life matters, not even enough to make a statement when blacks are murdered, you don't deserve that woman. Stay away from her.
Wrath City was mostly filmed in just one rundown room - so do talk about your location for a bit, and did you film the room as it was or did it require much set design? And what were the challenges of filming mainly one room while keeping things interesting to begin with?
I wanted to have one location, and one of my inspirations for that decision was based on the episode of The Twilight Zone titled In the Eye of the Beholder. That episode was set mostly in one room, and it worked very well. I knew that this story would work well with one location, and it would even feel claustrophobic, which is exactly how Marie's feeling, so it's purposeful. I'm a fan of contained scripts anyway, because it's budget-friendly, and it forces you to write more creative concepts. And I welcome the challenge. The challenge was writing a film about a city based on a sin, coupled with a black human rights theme, and having it all come together and make sense. This was the most challenging script I've ever written, and the most rewarding, I'm happy.
Do talk about your overall directorial approach to your story at hand!
Mike Sun was our DP on the film, and I worked with him a lot during pre-pro. He is definitely one of the most talented DPs I've ever worked with. Besides just being a really nice guy, Mike has a real eye for shot composition; he really knows his stuff. I knew I wanted a look that had natural lighting, nothing fancy and unrealistic; nothing flashy. Just natural lighting that you would see in someone's apartment, cause these matters are real. And I wanted it to look real and have a docu-drama style. I wanted lit up windows in the living room where Marie was seated to show that she is the enlightened one in the house. I loved the movie Captain Phillips, and I based much of the look and style of Wrath City on that film. The natural lighting, the bright windows, the greenish tint, all inspired by that movie. The greenish tint is also something I've always wanted to try ever since I watched Alfred Hitchcock's Vertigo where he used the color green to show anxiety in one particularly unforgettable scene. For the scenes with Myra and Josie, I wanted the kitchen where they mostly occupied their time in, to look darker, less enlightened. And I gathered pictures from Law & Order as examples actually hahah. But as it later turned out when I was working with our colorist Eileen Slavin, she thought it'd be cooler if the lighting was brighter in the room; it represented more of a fantasy world since those two cops are living in their own little world and seeing things that are totally not even true at all. And I worked with sound mixer Ric Murray to get the sound and design just right for the film. Wrath City was definitely a very creative but also collaborative process and I enjoyed it a lot.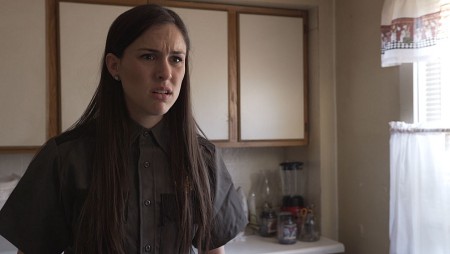 What can you tell us about your cast, and why exactly these people?
Sean Brown was actually brought in 2 days before we shot lol! Can you believe it?? Auditions were the biggest obstacles behind this film to be honest. I ran into some people that weren't serious about the film. I had no-shows at auditions and people not emailing me back after they inquired about roles; people coming to auditions unprepared; skipping rehearsals. It was very frustrating, and it was the first time I had to make the tough decision to fire a person. But this is how you grow into the producer you need to be to get things done. I looked at this for preparation for the feature. But yeah I actually ended up bringing Sean on board late, but he got the script down and he did an amazing job. He only had 2 days to prepare. I really tip my hat off to him. I think he's a great actor too, and he's very professional and reliable. I worked with my friend and writer/actress Dominique LaFleur to cast Claire Elizabeth Davies and Katie Scardino in the roles of Myra and Josie. We both believed Claire's performance the very first time she did it for us. She was perfect for the role in my eyes. And she is NOTHING like Myra in real life. But that goes to show you, if you make people hate your character and believe you when you're nothing like that character, you're DAMN good at what you do. We wanted to have her on board. Katie was funny and charming in the audition so I saw her in the part of Josie. I liked the way she played the character. It was exactly how I saw her. And Leica Lucien, even though this is her first film, and she has more theater training and background, it was really fun and educational for me to learn how to work with a theater actor, and train them for the camera. It was a huge learning experience. When we first did auditions she was very theatrical of course lol, and looking at the film, you will see how much we toned it all down. Marie is a very numb, composed, tired young woman. We worked really hard during rehearsals and we got it!
Do talk about the shoot as such, and the on-set atmosphere!
We prepared a ton, from test shoots, rehearsals, re-shoots, budgeting. With every film I do, I'm learning more and more how to produce a film the professional, proper way. And how to make the tough decisions and deal with tough situations. This shoot seemed to be more so a prep for a feature film. It's always a great learning experience producing a film. It was a very encouraging atmosphere though because the actors complimented us on how smoothly the shoot ran. It was a very encouraging shoot and I think it was a prep for a feature even if we didn't know it. Like, we're on our way.
The $64-question of course, where can your movie be seen?
We haven't released it publicly yet. It's going through the festival circuit, and I am figuring out other ideas to get it seen besides that option too cause a lot of festivals are politics and you need a plan B, your own plan to get it seen. It will be available publicly in the future, but in the meantime you can check out the trailer we just released for it on my vimeo: https://vimeo.com/230370284
Anything you can tell us about audience and critical reception of Wrath City?
I showed it to a few people close to me for feedback while I was editing. One person asked me if I'm making a "political" film because I feel obligated to because I'm a black woman. I was like huh? How can I not feel obligated to address the police brutality and people's hypocritical responses to it being that I am a black woman? How can we not talk about it? I was legitimately scared to go out during that period. Damn right I feel obligated. You will never see me make anything that I don't believe or feel.
I got good feedback though for the most part. I also got good technical, helpful feedback from crew. But then I also asked filmmaker friends who were not a part of the making of it to give feedback while I was editing. I would discourage people from asking filmmakers their opinion on your work. I made this mistake. Filmmakers usually give feedback that describes how they would've directed the film. But their vision is not MY vision though. And I wrote and directed the film. So this is how I directed it. It's my vision. So I'm going to steer clear from that in the future.
Any future projects you'd like to share?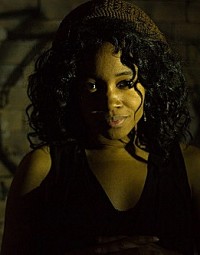 Feeling lucky ?
Want to
search
any of my partnershops yourself
for more, better results ?

The links below
will take you
just there!!!


Yeah, I'm currently editing a film on women's rights that I wrote and directed in July, and that will come out next year. I can't talk too much about it right now but like a lot of things I like to write, nothing is ever as it seems! So pay close attention! :D Can't wait to share the film with everyone when that's done.
I might be directing something in D.C. in October, but I don't want to give details about that until it's finalized. You know, people say a lot of things...
Oh, and there's also the film Not in Love that I want to do too.
I loved evolving as a filmmaker and challenging myself by writing and directing more difficult concepts and more impactful films this year. You will never grow as an artist until you stop caring about how others perceive you and make a statement already. I've grown a lot from those experiences this year, and I'm going to continue to grow. I very much enjoyed the experiences this year in my filmmaking. But I also want to go back to my roots, the bittersweet love stories. To hell with marketability. I need to express myself. This is who I am at my core and I have to express myself in that way. So, more of those films coming too...
Your/your movie's website, Facebook, whatever else?
My films: www.vimeo.com/raeshelle
IMDb: www.imdb.com/name/nm5597640/
Thanks for the interview!
Thank you!