Your new film The Disco Exorcist - in a few words, what is it about?
The Disco Exorcist is an homage to the classic sexploitation and horror films of the 70s. I wanted it to be a gory, sexy fusion of drive-in classics like Abby, Sugar Hill, and Beyond the Door as well as the more smutty 42nd Street fare. I think we did a pretty good job of matching the look and feel of those films, as well as injecting some humor and solid characters as well.
The Disco Exorcist was very obviously influenced by 1970's low budget genre cinema, and judging from your movie, this is something very dear to you. Why, and some of your genre favourites?
I grew up in the 70s and was really fascinated by more verboten film newspaper ads I would see as a kid. Really lurid titles, artwork and taglines would fuel my imagination. I would stare at the ads and just have these great flights of fancy dreaming up what these movies could possibly be about.
As I grew older, I was able to see a lot of these types of movies at the drive-ins and the last few remaining mom & pop movie theaters that were left. I was lucky enough to see movies like Lucio Fulci's Gates of Hell (aka: City of the Living Dead) and 7 Doors of Death (aka: The Beyond) on a big screen [Lucio Fulci bio - click here]. Sure they were the hacked-up Americanized versions, but who cares when you're 15?
In terms of my favorites, I would have to say a lot of the titles listed above... and movies like Night of the Living Dead, Texas Chainsaw Massacre, Basket Case, Halloween, Galaxy of Terror, Martin, all of the Hammer/Christopher Lee Dracula films, The Exorcist, Re-Animator, Pieces, The Witchfinder General, The Devils, the list goes on an on!
Other sources of inspiration for The Disco Exorcist?
I just love all things 70s. From the music to the fashions. It was just an amazing time in this country. Great music, great cinema. I think it was also a great time because it was the first time as a nation we admitted that... yes, we like to fuck! Up until then, sex was such a taboo subject. It was liberating.
How did the project come into being in the first place? And what can you tell us about your screenwriter Tony Nunes and your collaboration with him?
I've had the pleasure of knowing Tony for years. He's worked as a script supervisor and assistant director on a few of my features, and over the years he's branched out as quite a wonderful writer/director himself. We share a very similar sense of humor, so when I came up with the title and basic plot of the movie, I asked Tony to write the script.
After I told Tony what the general idea for the movie was, he asked me what direction it should go in. I said, "Make it NC-17 rated. Go all the way with it, and don't shy away from sex." Well, he certainly didn't shy away from the sex!
What amazed me about The Disco Exorcist were the many authentic (or at least authentic-looking) props. Now how did you get them, and how hard is it to recreate the proper 1970's atmosphere?
The lion's share of the success of the look of the movie comes from the film's producer Ted Marr. About 60 percent of that movie was shot on a tiny sound stage, and Ted constructed and painted those sets with a helping hand from the entire SFR team.
Another person who helped tremendously was my friend Andre Boudreau who supplied us with a great deal of the 70s costumes. Andre collects vintage clothes, and without his help the actors would have been even more naked then they already are in the film!
Since it's in the title, does (vintage) disco music hold any appeal to you, and some of your favourite disco tunes?
Boy, that's a tough one. I love a lot of the classic disco music of the era like Donna Summer, Gloria Gaynor, and the Bee Gees. But my favorite disco song has to be Disco '79 by Giorgio Moroder.
A few words about your leads Michael Reed, Sarah Nicklin and Ruth Sullivan? And what made them perfect for their roles?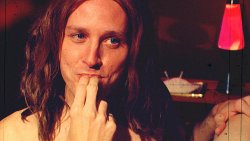 Michael Reed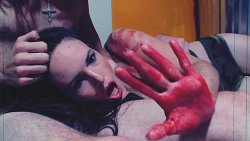 Sarah Nicklin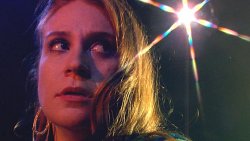 Ruth Sullivan
Well, starting with Michael Reed -- his character Rex Romanski, who is a disco playboy to the extreme, was written as quite a sleazy, unlikable character. Michale brought a warm and a boyish charm to the character that softened the rough edges of the character and made a rather unlikable character likable. It was a really challenging role for Michael, but he pulled it off effortless. He was also very comfortable with all the nudity and sex he had to be involved in. This was, I believe, my fifth film with Michael and he's always a joy.
Sarah Nicklin, who I've done seven films with, brought a real "Girl-Next-Door" charm to Amoreena. One of the things I noticed about porn actresses from that time was they had this kind of everyday girl appearance. Sarah really projects a great deal of innocence, but at the same time she has sex appeal to spare. She also made Amoreena a bit more malicious than she was in the script. I mean, at the end of the day, she doesn't deserve what she gets from Rita Marie, but she DID steal this man away from her!
Ruth Sullivan gives what I consider to be the best performance in the film. It's terrifying, yet you find yourself rooting for her. She's been scorned, you know? This guy did treat her like garbage, and he does deserve to get punished for it, but maybe not to this extreme! Ruth brought a real fearlessness to the roll, and I think it's one of the best performances in any of my films. Really terrific and oddly moving.
You just have to talk about one of the film's supporting actors, the unmistakable genre-eccentric Babette Bombshell, for a bit!
Well, I had become friends with Babette on Facebook and I thought, "Man, I have to get her into a movie!" And, I'm telling you... she was on the set for two days, and it was a complete and utter joy. I was floored by how professional, funny, and downright perfect she was for the character. All the actors and crew immediately fell in love with her, as did I!
A few words about the rest of your cast and crew, and what can you tell us about the actual on-set atmosphere?
Well, once again I was working with a lot of folks from my past films. I just enjoy that family atmosphere on the set. Brandon Luis Aponte, Rich Tretheway, Gio Castellano, Alexander Lewis, Lee Rush, Erin Olson, Michael Thurber... all of these people are so fantastic, so dedicated to their craft. You have to realize, even though we put out a very professional product (and on-time and on-budget), the set is always very light. It's work without feeling like work. I rarely laugh as much as I do when I'm on set. It was just a joy. And, we also had the added benefit that almost every day on the set was like a day skinny dipping at a pond. I mean, I've been shooting movies since I was 15, and I've never seen this much skin on a set before. But it was never lurid or sexual, it was just fun.
As far as I know, you are as we speak already in the midst of pre-producing a sequel to The Disco Exorcist, The Brother of the Disco Exorcist. Anything you can tell us about that one yet?
Well, all I can say that this point is that it's being written by the original screenwriter of The Disco Exorcist Tony Nunes, and it involves Rex's younger brother Roman Romanski, who was off in Los Angeles while the events of the original film were taking place. I'm not going to give anything away about the plot yet, but I will say it's goes in a more weird science-fiction direction that the first film, but it will still deliver plenty of sex and violence groceries!
Let's go back all the way to the beginnings of your career: What got you into filmmaking in the first place, and did you receive any formal training on the subject?
I starting doing this when I was 12 when my father bought me a Super 8 camera. I just made little horror films with my friends and family. Pretty typical of a kid growing up when I did in the 70s and 80s. I never thought I was going to do this stuff professionally until 1990 when I was hired to work at a Mom & Pop television station. I spend 14 years there working on commercials, television shows, live programs, the whole nine yards. That's really where I learned my craft, and learned how to produce things on a schedule and on a budget.
In 2004 I left the television station and formed Scorpio Film Releasing with my partner Ted Marr. 12 films later, we're still here, and we're planning on producing three features before the end of 2013!
I might be totally wrong on this, but as far as I know your debut feature was the Shakespeare-adaptation Titus Andronicus. What can you tell us about that movie - and why Shakespeare?
What's not to love about Shakespeare? I grew up in a family where reading was king. My mother would read Shakespeare to me as a kid, and I just fell in love with the language, the drama, everything.
And, don't listen to what the IMDb tells you. Titus Andronicus wasn't my first film. That would be We Deliver, which was made back in 1987. It's a screwy horror/comedy about a pizza delivery boy who ends up making a delivery to a female vampire.
I'd like you to say a few words about a handful films of yours I have rather randomly picked from your filmography, mostly based on the strength of their titles I have to admit:
Really my first shot at horror. I like some of it. I think the photography is pretty darn good, and the gore effects are amazing. It's a bit on the slow side though. I was still learning the ropes when it came to the genre!
Splatter Disco?
I like this film a lot, but not a lot of people do. It's actually a romantic comedy hiding out as a horror film. It's got Ken Foree from Dawn of the Dead, Lynn Lowry from The Crazies, as well as genre legends Debbie Rochon [Debbie Rochon interview - click here] and Trent Haaga. It was a blast. I mean, it's got musical numbers with dancing furries, what's not to love?
Dysfunctional Book Club?
A hired gun project. It's a screwball comedy. I loved the screenplay, and it was a wonderful shoot. Sadly, I didn't have say over the casting of the two leads and that kind of hurt the movie a bit.
Nun of That?
A personal favorite of mine, and probably my most critically successful film. I love the cast, and I think was really my "break-through" movie.
Another film I really love. Co-written by Guy Benoit, who I think is the best writer in the indie scene right now. It's also, oddly enough, my most personal film. It's full of action, comedy, gruesome monsters, and lovely characters. It's also my first "family" film. I really dig the fact that eight year old kids can see and enjoy the film. It comes out world-wide on October 2nd!
Frankenstein in a Women's Prison?
A short film I made for the 24 Hour Film Challenge. I hope to make it as a feature one of these days like we did with Nun of That, once I can find the funding.
A very haunting, beautifully photographed film written by Guy Benoit and starring Debbie Rochon [Debbie Rochon interview - click here], Sarah Nickin, Michael Reed, Rich Tretheway, Evalena Marie and Jonathan Thomson. I love this film. It's beautifully filmed in black and white, and it's very much in the Hitchcock tradition.
Any other films of yours you'd like to talk about?
I think I covered it!
Any future projects you'd like to share?
Well, we have Murder University coming out in August, and then we go into production on a very dark drama called Normal in December, and then I'm directing a currently untitled ghost story in 2013, and hopefully Brother of the Disco Exorcist as well!
In general, how would you describe yourself and your style as a director?
I would describe myself as a very happily married man who's been lucky enough to do what I love for a living for the better part of a decade.
As for my style as a director, well I try to have a very relaxed, stress-free atmosphere on the set. I like to be as prepared as possible, but still allow things to be loose enough to allow for creativity and suggestions from others on the set. I like to make jokes on the set, tease the actors a bit, and that's all a part of creating a feeling that, even while we're working very hard, it's not "work".
Directors who inspire you?
I'm inspired by a great number of directors, and the list will change daily but here are ten off the top of my head -- Alfred Hitchcock, Billy Wilder, Orson Welles, Chuck Jones, Roger Corman [Roger Corman bio - click here], Bernardo Bertolucci, Roman Polanski, Francis Ford Coppola, David Cronenberg, and William Castle.
Your favourite movies?

Feeling lucky ?
Want to
search
any of my partnershops yourself
for more, better results ?

The links below
will take you
just there!!!

Find Richard Griffin
at the amazons ...

amazon.com

amazon.co.uk

amazon.de
Looking for imports ?
Find Richard Griffin here ...
Something naughty ?
(Must be over 18 to go there !)

A Patch of Blue, Taxi Driver, Night of the Living Dead, Stalker, Day for Night, Wizards, The Garden of the Finzi-Continis, Martin, The Music Man, Salo, Kiss Me Deadly, Suspiria, The Conformist, ... the list goes on and on.
... and of course, films you really deplore?
Well, I'm not going to name names, but I hate any film that makes me feel like the audience was ignored in the process of making the film. That it's a completely ego-driven piece. I don't feel like you need to make movies for the lowest common denominator, but there's nothing worse than watching a film and you can actually sense utter contempt for the audience.
Your/your movie's website, Facebook, whatever else?
www.scorpiofilmreleasing.net and my facebook page is: https://www.facebook.com/SCORPIOFILMRELEASING
Anything else you are dying to mention and I have merely forgotten to ask?
Nope, I think you covered it! I just hope everyone who reads this interview really enjoys The Disco Exorcist!
Thanks for the interview!
Thank you!