Laurence: Richard knew I had just completed a film, and approached me to give his scripts a read over. They were great, well structured short pieces and I told him I'd love to be involved if he wanted to proceed.
What were your key inspirations when writing/compiling the movie, and why did you choose the anthology format?
Richard: The inspiration was to make a creepy, atmospheric and stylish film like the ones we grew up on and liked so much. The two short stories All Hallows' Eve and Re-Possessed I had were around 25 minutes long so it just lent itself to being an anthology. I've always been a fan of the format and loved the British Amicus-films like Tales from the Crypt and From Beyond the Grave [Amicus story - click here].
Laurence: My key inspirations were the Amicus-series of anthologies made in the 1960's thru the 70's. Anthologies are also more cost-efficient when working on an extremely low budget.
One of the segments of Voices from the Grave is based on a story by Gary Brandner, who of course also wrote the novel the werewolf classic The Howling was based on. What made you pick his story, and how much influence did he have on the finished product?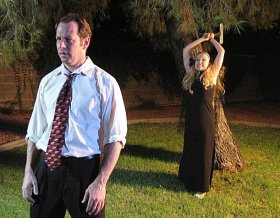 Invitation
Richard: I had read a short story by Mr. Brandner called Mark of the Loser that I always felt would make a terrific short film. The story is quirky, different and has a chilling ending. I wrote a treatment for it years ago that I showed Laurence, and we agreed we should try to make this the third story in Voices from the Grave. Mr. Brandner had script approval and when we were extending the ending, he had a great suggestion for one of the characters that we loved and used! Mr. Brandner has been great.
Laurence: Richard had written a rough draft of Gary's story Mark of the Loser, which is the story that ultimately became Invitation in the film. We revised the script, sent it for approval to Gary, and he gave us the green light to film it. The script is very close to Gary's original story, with a few changes for cinematic reasons.
How would you describe your approach as directors, and what is your collaboration like? Also, do you think along the same lines, stylewise, or do your ideas often clash?
Richard: It has been fun. Laurence and I have similar approaches and more times than not we have agreed on how to proceed. We talked a lot early on so style-wise we knew what we wanted and have been pretty good at sticking to it. Sometimes our tone might be different but we never clashed, it's been a good collaboration.
Laurence: Right from the start, we wanted to do a film that betrayed its budget. I think we accomplished that because of everyone involved with the production. Our crew and actors put in 110 percent and it definitely shows. Richard and I see eye to eye on all levels. We have no ego-clashes, so we're not afraid to compromise with new ideas and direction. Ego is the main destructive force behind a lot of failed collaborations, I think.
How would you describe Voices from the Grave's approach to horror, as in gore vs atmosphere, sudden shocks vs well built-up suspense, comedy vs thriller and the like?
Richard: We concentrated on making Voices from the Grave atmospheric, suspenseful and creepy. All the stories are character driven but it has gore, and shocks as well. Our main goal is to get under the viewer's skin and make the gooseflesh rise.
Laurence: I'd say Voices from the Grave is definitely more geared toward the atmosphere, suspense, and creepy–feel types of films Richard and I grew up with in the 1970's and 80's.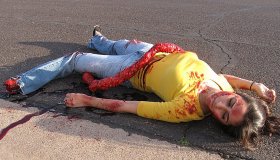 Re-Possessed
... and since it's a horror film, you also have to talk about the gore and special effects of course!
Richard: Our third story Re-Possessed about a haunted car is the goriest of the three, but we have sprinkled in some nasty bits throughout. Overall it will play more like an exercise in style and suspense than an out and out gore film.
Laurence: Honestly, we're concentrating more on style and substance than just a splatter fest. We do have some juicy bits, but they're there to help propel the story.
With Voices from the Grave being a horror film, is horror a genre especially dear to you and why?
Richard: The horror genre has been the nearest and dearest to my heart since about my mid-teens. When a horror film is done right and it really works, there is no other thrill like it. I've always liked all things scary, especially horror films.
Laurence: Horror has always been of great interest to me. I was raised on drive-in excursions to see the latest horror films to come out with my parents. We watched everything, and it's definitely instilled a dark thrill to my life. I'm an illustrator and makeup artist because of its influence on me; horror and comedy evoke a dual sense of emotional release that I love.
What can you tell us about your cast and crew?
Richard: We have been incredibly blessed with a top notch cast. From the beginning I thought that the three male leads in each short would have to carry their story. If they succeeded then the film would work, and I do believe they succeeded. We had very talented actors in Voices from the Grave from the leads down to the extras. Because there are three separate stories we had three different casts and we have just been very lucky. As far as crew, well it has been small, but our Cinematographer/Editor Roman Aguirre has saved us countless times and we would have no movie without him.
Laurence: We couldn't have asked for better people, especially with the fact that they know of our budgetary limitations. I can't express my gratitude in words. Everyone took hold of the project, and contributed monumentally to the quality and energy behind it. To all of you: Thank you, thank you, thank you!
Even though it might be much too early to ask: Any idea when and where the film will be released?
Richard: It is too early to say, but we plan on a direct-to-DVD release and hopefully get streamed as well.
Laurence: We're, of course, shooting for distribution, and possibly festival circuits for exposure. But right now, we're really concentrating on putting it together with great care to make the film the best it can be. We'll update as a release date approaches. Hopefully, early 2013.
Let's go back to the beginnings of your careers for a bit: What got you into filmmaking in the first place, and did you receive any formal training on the subject?
Richard: I picked up my father's Super 8 film camera when I was nine and have been making films and shorts since. I just always loved movies and the high of making something yourself was the height of creativity for me. I did get some formal training in College but most of what I do is self taught and figuring it out as I go.
Laurence: My brother and I made short videos in the late 1980's/early 90's for fun. My dad taught video filmmaking classes, and used our little opuses as examples to the class! That was really pretty gratifying!
What can you tell us about your filmwork prior to Voices from the Grave?
Richard: This is my first feature. I have made many short films through the years but Voices from the Grave is my first time doing it at this level.
Laurence: My film before Voices from the Grave was Nightmare Alley, made with my friend Walter Ruether (aka Scarlet Fry) [Walter Ruether/Laurence Holloway interview - click here]. It was distributed by Brain Damage Films, and is on Netflix. It's a throwback sleazy grindhouse-style bit of fun, made on no budget.
Any future projects you'd like to talk about?
Richard: I've written a Horror feature called The Housesitter that I think is really juicy and would be very scary. I'd love to do that next.
Laurence: Richard and I have discussed some pretty cool and I think fan-pleasing ideas, but that's still a little way off.
Directors who inspire you?
Richard: That's easy: John Carpenter has been my biggest influence. He is a true master and has been underrated in the United States his entire career. James Wan has by far been making the best horror films over the past 9 years. Outside the horror genre I love films by Clint Eastwood and Robert Redford.
Laurence: Oh, wow… John Carpenter, David Cronenberg, Romero, Hitchcock, Mario Bava [Mario Bava bio - click here], Dario Argento… Too many to mention. On the more recent front, James Wan is definitely up there.
Your favourite movies?
Richard: If we are talking about the Horror genre, the original Halloween, the 1980 Peter Medek haunted house film The Changeling, James Wan's 2011 film Insidious and Carpenter's 1982 remake of The Thing.
Laurence: I love zombies, so I'd say the original Night of the Living Dead - It's perfect… Peter Medak's The Changeling - best haunted house move ever. Halloween ('78), of course, is top five. Again, I have a lot of favorites.
... and of course, films you really deplore?
Richard: Staying in the Horror genre I really dislike the torture-porn films that have been so popular the past 10 years. There is no entertainment or fun in watching humans suffer slowly. It is usually just grueling and disgusting which makes you feel horrible when it is over. I like horror films to be more of a thrill ride that is scary as hell but when it is done you feel alive and had fun. The biggest sin of these torture-porn films is they aren't scary, just nasty in all the wrong ways.

Feeling lucky ?
Want to
search
any of my partnershops yourself
for more, better results ?

The links below
will take you
just there!!!

Find Voices from the Grave
at the amazons ...

amazon.com

amazon.co.uk

amazon.de
Looking for imports ?
Find Voices from the Grave here ...
Something naughty ?
(Must be over 18 to go there !)

Laurence: Well, first off, I love bad films! LOL! John Waters, Russ Meyer, all that stuff. I guess I just deplore films with no determination. If you stand behind your film, then I'm with you!
Your/your movie's website, Facebook, whatever else?
Richard: At this point you can follow the production on our facebook page under Voices from the Grave. https://www.facebook.com/#!/pages/Voices-From-The-Grave/181405091900187
Laurence: Check out our movie production page on Facebook, under Voices from the Grave. Tons of photos for your perusal.
Anything else you are dying to mention and I have merely forgotten to ask?
Richard: I feel we have something special with Voices from the Grave. The stories are fun and I believe it will be a scary good time for all those who watch it.
Laurence: I only want to mention that we thank you for letting us rap with you about or project! Thanks again, Mike!
Thanks for the interview!