Your new movie Crisis Point - in a few words, what is it about?
It's about two lifelong friends who were raised as sisters in an orphanage, and the good and bad things they go through together.
What were your sources of inspiration when writing Crisis Point?
To be honest, I found inspiration in a lot of different places. Horror films, classic literature, music, especially from the 1970s and 80s. But one of the main things was that I've always wanted to tell a more introspective, personal story. So a lot of the film is based on experiences I've had, and secrets entrusted to me by close female friends. I had to be very respectful of their stories because it's their truth. Their names aren't used because they wanted to remain anonymous. But their hearts and souls are all through the film.
According to my information, Crisis Point is your first feature after directing a number of shorts - so what made you pick exactly this script for your feature debut?
If I'm being honest, at first... it was the cost. I didn't have a big budget available to me. Actually, it was more of a short film budget (AUD $20,000). So I couldn't really do anything blasé or grandiose. After my investor died of emphysema, I had to make a life-changing decision. Either I used the funds that I saved for a long overdue holiday or I scrapped the project. It seems like an easy choice in retrospect but it kept me awake for weeks. I contemplated re-purposing my efforts into perhaps doing my own version of Mary Shelley's Frankenstein, or Tod Browning's Freaks. And for a long time, I even toyed with writing the scripts to both. Since they're both in the public domain. But nothing held my attention like Crisis Point. It was like being in love. There aren't words to properly describe why I felt like I needed to do this film. But it was most definitely a NEED. I'd still love to adapt Frankenstein, and some of the elements of that book are featured - albeit in a different way - in Crisis Point. But, I really didn't want to make a horror film as my first feature. I love horror but I thought I couldn't compete with the good directors. People like Jen and Sylvia Soska [Jen and Sylvia Soska - click here], Alexandre Aja, and even Sam Raimi. Also, horror is all-too-frequently used as a genre for debut directors who make awful films because they can't afford to make decent ones. So, if I was going to make a feature film, I wanted to play with a new approach, by instead making a very dark drama about the traumas of life. Terrifying truths. And I realised that these were things I could shoot for cheap as long as I had the right anchor point and the right team. I don't think it could work without actors who were willing to give their all. Or a crew that was just as passionate about making this as I was.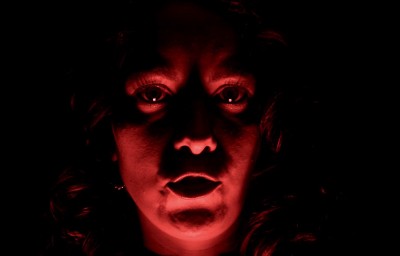 What can you tell us about your movie's approach to horror?
My overall thought process toward Crisis Point was that real life is horror. The news tells us everyday that someone was killed, or attacked, or harassed. Someone killed their own wife. A woman drowned her infant children. Decapitations. You name it. We're seeing it and hearing it every single day. I've dabbled in horror before (ghosts, zombies, etc). But this time I wanted to tell a more real-life horror story. So I stripped the film of all but events that could happen, that - in some cases - have happened. Some of the things are still happening to people around the world right now. Taboo subjects such as rape, drug abuse and sexual violence became the tools of horror instead of hulking murderers with machetes. Monsters were, as they are in real life, the people and/or the choices they make. In keeping with this approach, I adopted a faux documentary style. There are interviews, re-enactments, narration, photographs, etc. All of it combined to create this sense of raw humanity. Which was entirely the point. But I've also wanted to make a giallo film for as long as I can remember. And Crisis Point was a story about two women, sisters by rote but not by blood. And I started thinking about how a witch's coven is a kind of sisterhood. While Crisis Point isn't about witches or magic, I incorporated an aesthetic that paid loving homage to my favorite horror film - Dario Argento's Suspiria (1977). Crisis Point was, of course, an experiment. I had no idea whether this was all gonna work or not. Only the audience can tell you that, unfortunately. But I am proud of the film. Probably the most satisfied I've been with any of my previous work.
A few words about your overall directorial approach to your story at hand?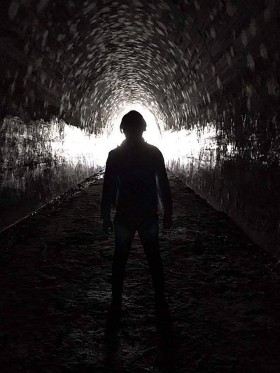 One thing I've noticed with a lot of other Australian directors is that they don't give much thought to some of the aspects involved with making a film. For example, if they know how they want the actors to perform, they might focus on them and leave the technical aspects to their crew. I'm far too invested in my work and I've been accused several times of micromanaging but I've always been very hands-on with all of the departments. I like being the primary source of creativity. And I don't think it's possible to really get YOUR vision across unless you stamp your foot down firmly. That said, I keep my eyes and ears open, and sometimes things turn out better when somebody else has an idea. But you have to know what fits and never ever go against your own concept. If somebody else's idea complements the story you're trying to tell, good. And some of my favorite moments in Crisis Point were actually things I didn't write. Certain looks. Ad-libs. An extra moving through the frame to make a more dynamic camera movement. You can become too close to something if you don't allow any kind of outside interference. Having worked in the industry for the last 15 years, I made a fair few contacts with some amazing people who signed up based on the strength of the script. And they worked for "mate's rates", which meant I didn't have to pay them an arm and a leg. I would have if I'd had the money. But I wouldn't be able to afford even one of them with the budget I had. We all worked like a family and I think it shows. I think, in order to be a good leader, you need to listen as well as trust your team. And I found it really easy with this group.
What can you tell us about Crisis Point's key cast, and why exactly these people?
Casting was interesting. We actually held auditions this time. The first time I've ever done a professional casting call because I've always used actors that I met on other directors' sets. I usually cast according to the personality of an actor. It's something I learned by reading an interview with Tim Burton about why he always worked with Johnny Depp. I met Cassandra Smith, for example, on the set of Into Black (Jay A. Glen's first feature). And I instantly saw her in the role of... Alex. But Cass turned the role down because she didn't have the time to commit to it. So I offered her Erin instead, and she agreed. At the time, though, the character of Erin was a bit part. I think she only featured in a handful of small scenes and that was it. Oddly enough, circumstances forced script changes and Erin ended up becoming just as important a part of my film as Alex. Maybe more so. I originally wrote Erin as a blond because she was inspired by Greta Gerwig in Frances Ha, one of my favorite films. And I'd love to meet Gerwig or Noah Baumbach one day, if only to praise their work and thank them for their inspiration. But I think Cass' portrayal was really what made the character lovable and identifiable, and human. Being a faux documentary, I had the distinct challenge of not only casting an anchor point to Erin but to also cast someone who could play the real life version of her. Chantal Elyse was the only actress who bedazzled me when we did the auditions. But I still didn't know for sure that she'd fit until I discussed it with Dan (my producer) and Krista Potter (my 1AD). Out of the entire cast, I think Chantal was the only risk I took. And, in my opinion, she did an amazing job countering Cass. Their Alex/Erin dynamic was perfect. I hired Holly Rooth to play the real Erin because I saw her in another actor's show reel. That sounds awful, I know. But sometimes these things happen. My producer, again, was instrumental in setting up a meeting and we (Holly, Dan and I) had a personal discussion rather than talking about work. Holly's open approach was why she was cast. Well, that and she had the look we were after. And she was wonderful to work with. So much of her performance packs an emotional punch. On the first day, during real Erin's interviews, Krista and Cody Murray (my clapper) were in tears. And I was in awe. Just as I was with Kylie Stephenson, who played the real Alex. But for very different reasons. She brought a freshness to the character that was both humorously twisted and deadly serious. A double-edged sword. I couldn't have asked for a better cast.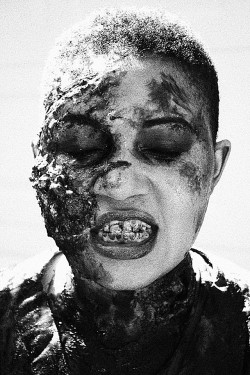 Do talk about the shoot as such, and the on-set atmosphere?
I read once that with comedy you have to be strict but with horror you should have fun. I am, of course, paraphrasing. But I found this to be true. I mean, there is a lot of disturbing content in Crisis Point. So I made sure the vibe was fun and full of laughs. I don't remember a single day on set where there wasn't at least one small chuckle. And we were all giving up our free time on weekends, between paid work (film or otherwise) during the week. This made it absolutely imperative that the on-set vibe was positive. Obviously, we all worked very hard to reach the daily goals. And more often than not we succeeded. But it wasn't a slave driver environment at all. By the end of it, I had some of the cast and crew thanking me for having them on board. I always felt I should have been thanking them. But it was an honor to be praised by such amazing talent. Most of them I still consider part of my family.
The $64 question of course, where can your movie be seen?
Unfortunately, Crisis Point won't be available to the general public for a little while. It has just started on the film festival circuit. Which Dan and I, and everyone involved, are very excited about. Obviously, we are aiming very high. But my main target is Toronto After Dark because I love the vibe. And I love Canadian horror. In fact, both David Cronenberg's Videodrome and Panos Cosmatos' Beyond the Black Rainbow were a huge influence on Crisis Point.
Anything you can tell us about audience and critical reception of Crisis Point yet?
I've privately shown a fair few friends and industry professionals who didn't work on the production, and really didn't know much about it. And the consensus is generally positive. I mean, there have definitely been criticisms. Some of them unfortunately I can't change. But these are lessons you learn as you keep making films. And everyone's favorite character tends to change with each viewers' individual perspective. My favorite is obviously Erin.

Feeling lucky ?
Want to
search
any of my partnershops yourself
for more, better results ?

The links below
will take you
just there!!!


Any future projects you'd like to share?
I'm actually dabbling in adapting Joseph Sheridan Le Fanu's gothic classic, Carmilla. I've always wanted to make a vampire film. And with the resurgence of vampire fiction (i.e. - BBC's Dracula, Marvel's Morbius and Blade, etc), it seems like the perfect time. Except I'm looking at changing the setting to modern day with the focus of vampirism being more akin to the real-life subculture. I can't say too much else right now because it's still early days yet. But it's coming together really well so far. So, this is the likeliest concept I will be making next.
Thanks for the interview!