Your new movie Krampus Unleashed - in a few words, what is it about?
Krampus Unleashed is a non-sequel follow up to the film I did last year, Krampus: The Reckoning. But in a few words, itís a straight up monster movie. A bit retro, a but comedy, but basically a creature feature staring my favorite yuletide demon.
You have previously made another movie about the Krampus actually, Krampus: The Reckoning - so in what way are the two films related (if at all)?
Other than the obvious, they both feature Krampus, there are no real similarities. With last yearís film I was going for that Twilight Zone kind of twist ending. This year it was basically monster movie 101. We replaced the digital Krampus and went full on practical. Blood, guts, mayhem but most of all fun! Fun was the underlining theme I was going for and I think we pulled that off. There are still a few scenes that are kind of sad but for the most part, I tried to keep it lighthearted. A big influence for this was the Monty Python sketch from the Meaning of Life. The live organ donor sketch was kind of the tone I wanted to go with. Violent yes, but often silly.
Why did you choose the Krampus as the villain of your movie in the first place, and did you do any special research on the character?
Iíve been in love with Krampus ever since I first heard of him a few years ago. There are a lot of darker elements to the myth of Krampus, not least of which is dragging children to hell, but I steered away from that kind of content this time. I think my film last year presented Krampus as the punisher of people who deserve it, where this year our log line was ďnaughty OR nice, heís coming for you!Ē Most of the research I did was for last yearís film. But itís not Tolkien. Other than a few blurbs here and there that give a general description, most of Krampus lore in my films, I needed to come up with myself. And that was a fun exercise in its own right as it gave me a chance to do some fantasy writing.
(Other) sources of inspiration when writing Krampus Unleashed?
I wanted to make the film fun so I looked to some of the more light-hearted horrors such as Tremors. I wanted an eclectic group of characters pitted against a powerful monster. Predictable plot lines and funny one-liners are great camp that I didnít shy away from. Another influence was the ultimate classic creature-feature, King Kong. A big hairy monster whoís out to wreak havoc on an unsuspecting and unprepared world. The 1930ís King Kong was one of my favs as a child and, as with many filmmakers, I tend to want to make films that remind me of my first cinematic influences. Decades later when we go to film school, we learn about the master works of cinema but for me at least I like to draw inspiration from the movies I saw early in life that made me a fan of film in the first place.
With Krampus Unleashed being a slasher movie, is that a genre at all dear to you, and some of your genre favourites?
Yes, slashers are a lot of fun. Itís amazing but when you introduce a bit of comedy into a film, you can make even the most grotesque violent imagery palatable. Again, going back to my childhood, I was a big fan of Friday the 13th. Dumb people doing dumb things that inevitably lead to their demise. Things one should never say if they find themselves in a monster movie such as ďIs someone there?Ē or ďIím going to take a look around outsideĒ are instant death sentences. But then admittedly there are some troubling death scenes. One scene that stick out is when Emily Lynneís Amber character bites the dust. Amber is Tommyís (Bryson Hollís) mom and seeing her get gutted in front of her young son provides some shocking imagery. I felt this was necessary though in order to avoid the film becoming too silly and predictable. I donítí want to provide any more spoilers but I think we made it clear after the first few kills that anyone was fair game and it would be hard for an audience to guess who was going to live and who was Krampus food. People do things that should, by monster movie logic, lead to a quick death but they manage to survive. Others who I built up as potential leads and survivors, end up getting the ax pretty quick. So I embrace all the stereotypes then try to turn it around so the audience is left guessing.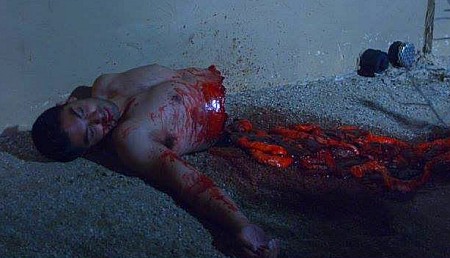 No slasher movie without at least a bit of blood and guts - so you just have to talk about the gory bits of your movie for a bit, and how were they achieved?
Very true and all the credit for the blood and guts goes to the amazing FX team I had. Cat Bernier and Marcus Koch [Marcus Koch interview - click here] did an amazing job making the mayhem. They also did a wonderful job with Krampus himself played by Travis Amery. Cat and I have worked together on several projects but it was my first time working with Marcus and all credit for the gore belongs to them. Cat and I decided early on that this was going to be the bloodiest Krampus movie anyone has seen and I think we pulled that off. I wanted it bloody and gory and I told them just make it look as gross as possible. Iím not an FX artist and its tuff when working on a tight budget to know just what your limitations are so I deferred all the creative kills to Cat and Marcus. My only real direction to them was not to worry about what was in the script, just make it as cool and bloody as time and budget will allow. They took it from there and did a fantastic job.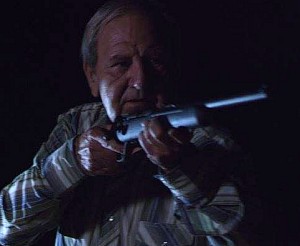 What can you tell us about your overall directorial approach to your story at hand?
As a director, I more or less approach all of my films the same way. First and foremost, I tell my actors that regardless of the overall tone I am going for I want them to think of every scene they do as if it were a serious film. Keep it real and keep it credible. The humor and craziness on the page will take care of itself but I never want an actor to approach a character as if they are supposed to be funny. I donít want them to act like they know they are in a film with comedic elements. Iím also very hands-on in the camera department. I know what lens I want to use for a particular shot and how I want the scene lit. Travis, Joe (camera department) and I start our day with me giving them a brief rundown of how I want to film the scene and they take it from there. Weíve all worked together for a while now so itís kind of 2nd nature. The one area I try to be very careful with is FX. As I said, Iím not an FX artist. So I listen to Cat and Marcus. I tell them what I want and then let them figure it out. Once they have a solution I ask them where I should put my camera. This is very important and you have to listen carefully to your FX team. They are the people who designed the gag and they know where you need to be to get the full effect of what they are doing.
Do talk about your cast, and why exactly these people?
My favorite part of being a film director is working with actors. I try and make sure I give them as much time as I can to discuss their character and I listen to them. I try to develop the character with the actor and listen to what their instincts are telling them. This is a process that begins in pre-production and I was lucky to have not only a great cast, but a great casting director in Tami LaRovere. This was a relatively big cast and we had the added challenge of casting a lot of people who are supposed to be related to one another so the chemistry needed to be there. Married couples, children and parents. All that meant we did a lot of chemistry reads to come up with actors who were not only talented but convincing members of this on-screen family. This was my first time working with the majority of the cast and I was very happy and proud of all of them.
A few words about the shoot as such, and the on-set atmosphere?
For the most part it was great. We had our bumps along the road but nothing unexpected. On indies we have little time and less money to make a film so at times the shoot can be tuff on all of us. But really, overall I think we had a great time. Indie films donít pay a lot so you know that everyone who is there is there because they love what they do. No one had it easy with the hours we were pulling but everyone gave this project their all and I am very grateful for that. For us, itís a lot of seriousness. The film might be a corky little monster movie, but when weíre shooting a scene itís all about making it the best it can possibly be and trying to squeeze in as much fun along the way as the situation allows.
Anything you can tell us about audience and critical reception of Krampus Unleashed?
So far the response has been great. Itís funny because after six movies I never know what people will think of it. Last year I got beat up pretty hard by audiences and critics but the film performed well enough for us to make another go at it. I stand by all my work but it is nice when critics and audiences appreciate it. I make these kinds of films to entertain people. I want the fans to get their money's worth and I work as hard as I can to see that they do. People have so many choices in entertainment today and itís always a compliment when fans take a chance on small indies that they end up enjoying.
Any future projects you'd like to share?
I have a film called The Covenant that comes out in early 2017. About as far from Krampus Unleashed as it gets. Itís a dark tale of demonic possession. A bit of a serious drama that addresses serious social issues. Iím really hoping people are ready for a serious film form me as I havenít made one in a while. I guess weíll see. But itís a film I fought hard to get made and itís a movie thatís very close to my heart. So look for it on VOD/DVD after the new year. Also, working with the very talented Paul Shrimpton (Inbred, 2011) on a new script that Paul has just finished the first draft on. Itís a thriller/slasher with a very gritty undertone and I am very excited about it.
What got you into filmmaking in the first place, and did you receive any formal education on the subject?
Iíve been a filmmaker all my life. I started out as a child making films with my grandmother's VHS camcorder and kids from the neighborhood. I made a lot of little projects with my brothers and friends until the high school years. I didnít do anything productive during that time of my life as I was big on ďexperimentationĒ. I tried drugs, partied a lot and got into way too much troubleÖ my poor parents L But after that crazy time, I went to college. My grades were not even close to good enough for a university but I studied film at a trade school and the local community college. This paid off as I was able to make my first feather with my film school classmates and I havenít stopped since.
What can you tell us about your filmwork prior to Krampus Unleashed?
It started in film school. After a few shorts, I made my first feature Redemption: A Mile into Hell (2009). The film was a dark Western that I was able to do for a very small budget of about 30K because the crew were all my fellow students and I got an enormous amount of help from Wild West reenactors with everything from period clothing and firearms to horses. I live in Arizona so there was no shortage of local history buffs who wanted to help. The film went on to make a lot of money on home video but sadly for me I got screwed out of every dime by the crooked sales rep. I wonít say his name again because I think heís been run out of the business but I learned very quickly how shady the independent film world can be. Luckily when it came to my second film, Exit to Hell (2013) I found a great company in Uncorkíd Entertainment and CEO Keith Leopard and Iíve been with them ever since. My upcoming film The Covenant will be my fifth time partnering with Uncorkíd and I couldnít be happier with how my career has been going.
How would you describe yourself as a director?
I think others should do that J I hope they would say nice things. LOL. I guess what I can say safely is that I love what I do. I get to play make-believe for a living so it just doesnít get any better than that.
Filmmakers who inspire you?
A big listÖ Here are a few Martin Scorsese, Quentin Tarantino, Robert Rodriguez, Clint Eastwood, Rob Zombie, Mel Gibson, David Fincher, Michael Man, Tim Burton, John Carpenter, George Lucas and of course Steven Spielberg. Then Ridley Scott, his brother Tony RIP L Danny Boyle, The Coen Brothers, Peter JacksonÖ Itís a big list that goes on but here are a few.
Your favourite movies?
Again a big list. Here are a few, Silence of the Lambs, Goodfellas, Pulp Fiction, Grindhouse (both films) Unforgiven, Braveheart, The Godfather 1 & 2, Trainspotting, Ed Wood, The Thing, Star Wars (originals not prequels), Jaws 1, True RomanceÖ a big list.
... and of course, films you really deplore?

Feeling lucky ?
Want to
search
any of my partnershops yourself
for more, better results ?

The links below
will take you
just there!!!


Yes but I never say. I think filmmakers who criticize other peopleís work publicly truly suck! J
Your/your movie's website, Facebook, whatever else?
Twitter: @RobertMConway
FaceBook: facebook.com/rmconway79
Anything else you're dying to mention and I have merely forgotten to ask?
Just a big shout out to the amazing cast/crew of Krampus Unleashed. You guys Rock!
Thanks for the interview!
Thank you!!