Your new movie Afraid of Nothing - in a few words, what is it about?
Afraid of Nothing is an experimental documentary about life and the afterlife. It is a mash up of the paranormal, consciousness and quantum mechanics viewed through different human lenses: actor/seeker, astronomer, author, paranormal curio shop owner, EVP expert, ghost researcher, medium, past life regressionist, shaman, thanalogist and witch. I have seen several "paranormal" films on Netflix and Amazon Prime, but nothing quite like this. You can watch the trailer here: https://vimeo.com/311354855
The movie's title is a bold statement, so let me ask you this if you don't mind: What are you personally afraid of?
Death would be front and center: The Last Gasp. Stage Right. Fade to Black. The End. Oy!
Sometimes I catch myself thinking of the world before I was here and after – and it literally freaks me out. I have to stop thinking about "nothingness" or I start slipping into a chasm of craziness. I am not sure if other people ever have those thoughts and fears.
But then again you try to think logically that in the tremendous clock of time – of all the time that ever existed and will be – we are all here. In the Now. What are the odds of that? Statistically it doesn't make sense. And quantum is a science of probability so it makes you think that maybe consciousness never goes away; only our material shell fades and reappears. That gives me some comfort.
The title is also a double entendre. Half the world thinks there is nothing when we die and the other half think there is nothing to fear. It is a personal search for relevance inspired by my mother's death.
From what I know, Afraid of Nothing is your first directorial effort - so what made you choose exactly this topic for your movie?
My mother passed when I was in post-production on my first feature back in 2013 – an independent drama called Blessid (that you reviewed – thank you!) – and it was the first time an immediate member of my family had died. And I am not a super young guy, I am 56 now. Anyway, the whole experience left me … cold. My mother suffered from Alzheimer's (and other maladies), had stopped eating, and was dying as her mind and body were breaking down on her. Yet she fought, literally with every breath, for seven days. She was at her weakest, most vulnerable state (other than birth, which was more healthy) – and she battled to cling to life. Probably because she was late stage Alzheimer's she didn't communicate about seeing dead relatives in her dreams or any of that. She just had a vacant look staring up at the ceiling.
Needless to say, it was heart-breaking and life altering. And mortality clicked in like a piano dropping on my head. Fast forward two years and my wife brings a shaman over to meet our autistic daughter. I was skeptical but he had this great presence – a big, burly baritone guy that was gentle, calm and kind. He had worked in rock merchandise for most of his life, played the electric guitar, looked more like a biker than a healer and then – WHAM! – had an amazing awakening in mid-life. Ironically, this was after his mother passed and left him questioning existence and the afterlife.
I thought, "Whoa, I could do a documentary on this dude." And that was how it began. I directed the film because it was cheaper, I knew what I wanted and who I would like to talk to and, well … things fell into place.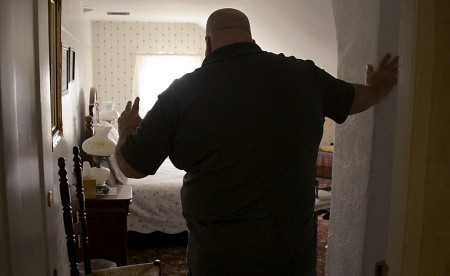 shaman Brad Hudson in the Lizzie Borden house
Before making Afraid of Nothing, you have written quite a few narrative shorts and features - so how does writing a narrative movie compare to compiling a documentary?
Documentaries are like research studies – you don't know the outcome until you get the data. Whereas
narrative films are pre-determined – you know the outcome going in because you wrote it. But both require execution – getting the right talent, crew and post-crew to stitch it all together.
I enjoy making documentaries more because they can be done at a slower pace, at less cost and with a smaller team. I get to put my own imprint on the final product. Plus I didn't have to deal with all the SAG paperwork that I went through for Blessid.
Weirdly, I had good timing on both films – Blessid was about a suicidal woman who meets a man who has lived forever. This was right before 13 Reasons Why and all the suicide-related films on Netflix, Amazon Prime, etc. Unfortunately I picked a lousy distributor for the film (that's a whole other article).
With Afraid of Nothing I also find myself releasing it at a good time – i.e., when documentaries are in their hay day. I am still mulling over whether I go with a distribution company (an "aggregator" who gets me onto various streaming platforms) or if I should self-distribute with DIY aggregating platforms like Quiver or Distribber. Feedback and connections from film festivals should help me sort all that out.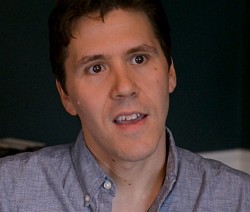 ghost researcher Jeff Belanger
How much research did you put into the topic of Afraid of Nothing prior to filming, and how did you get some of the info even?
People ask me that – "How did you meet all these people?"
Well, I had an advantage going in – I knew a shaman (Brad "Little Frog" Hudson) and the director of my first film owned a curio shop in Salem, so he had connections in the most paranormal city in the country.
From there it just grew, although for budgetary reasons I tried to keep it local to Massachusetts.
Do talk about your interviewees for a bit, and how did you find all these people? And were there some people you wish you could have interviewed but couldn't get?
There were a few people (best-selling authors, scientists) I reached out to that politely passed. But my credo is to focus on the people the universe brought to me, so here it goes:
Brad "Little Frog" Hudson – he came to me, literally. Brad was the first person I reached out to that said, "Hell yeah!" He appears in the film at various locations – walking haunted venues such as the Lizzie Borden House (Fall River) and SK Pierce Haunted Victorian Mansion (Gardner); and depossessing an Ouija board at The Magic Parlor in Salem.
Jeff Belanger – Jeff is a well-known and highly regarded ghost researcher, author, lecturer and podcast host of New England Legends. Jeff was kind enough to invite me to his home for an interview and appears many places in the film.
Bob Berman – Bob is one of the country's most respected astronomers and co-authored two books that changed the paradigm of quantum and consciousness – Biocentrism and Beyond Biocentrism. He is amazing at taking complex subjects and explaining them clearly.

astronomer Bob Berman

Ken Watson, Memie Watson, Marion Luoma – three of my favorite new people! Ken and Memie are spearheading the renovation of the SK Pierce Haunted Victorian Mansion. Marion is a nanager at SK Pierce with tremendous knowledge and history on the backstory of this amazing venue that is one of the most haunted spots in the country.
Culye Carvin [Cuyle Carvin interview - click here] – Cuyle is professional film and television actor, but he is genuine and humble (to a degree). He took a day out of his vacation to traipse through Salem with me and even helped carry equipment. Cuyle had been told through several readings that he was executed during the witch trials in Salem, Massachusetts. Even before discovering this, Cuyle had always been drawn to Salem even though he was born in New York and lives in Atlanta. I am a fan of this guy.
Ruthie Larkin – AKA "The Beantown Medium", it was Ruthie who introduced me to Cuyle. Ruthie also appears in the film, sharing her experiences and awakening to mediumship. She is one of the most sought after mediums you may not have heard of – she is booked ahead for months on end and, even more impressive, is often dead on in her intuitive readings.
Tim Maguire – Tim is a Salem historian, medium, shop owner and also runs ghost tours. He provides historical perspective on the witch trials and his personal experiences/beliefs as a medium.
Susan DameGreene – Susan is past life regressonist in Salem. She spent time with Cuyle regarding his belief in reincarnation and past life in Salem.
Lori Bruno – Lori is a witch in Salem at her Magika shop. Never having met Cuyle, Lori did a reading and confirmed what other mediums had felt … and a few new things as well. She is a high priestess and direct descendant of Giordano Bruno, an Italian philosopher, mathematician, poet, cosmological theorist and hermetic occultist who was unjustly convicted of heresy by the Roman Inquisition for theories ahead of his time that conflicted with core Catholic doctrines.

EVP specialist Michael Markowicz

Michael Markowicz – Mike is an EVP specialist and author who shared some of his recordings and conducted a live spirit box session for the film. We captured some surprising EVPs live!
Rob Fitz – Rob is the director of my first film who also owns The Magic Parlor in Salem. Rob had an Ouija board brought in that was donated to the Talking Board Historical Society. The board was in a display case and stopped a medium in his tracks one day. "Do you know that board has 7 demons inside?" Rob promptly sold the board to me and I brought in Brad (shaman) to do a depossession during a live filming. Our audio cut out right as Brad started to clear the board and we had to use a boom mic for the rest of the day.
There are others who contributed too, but you'll just have to watch the film to meet them J
Do talk about the shoot(s) as such!
I shot the film over 5-6 days over the course of about 18 months. My process was to film one location, then work with an editor to whittle it down to the "best of" footage. Then, once the process was completed I did a transcript of these separate days and literally went through each of them with a yellow highlighter to pick out the best parts and flow. Then I watched and cut and cut again to keep the pacing as tight as I could.
As for the shoot locations, they ranged from haunted houses like the Lizzie Borden B&B and the SK Pierce Haunted Victorian Mansion in Gardner. The people at both locations were beyond cool to work with. I also visited the Peter Oliver House in Middleborough but after bringing a small crew and taping – they never signed the release. That is a lesson to filmmakers – get the release signed right away … or leave. Other venues were in Salem as we taped Cuyle Carvin on a witch tour with Dr. Mike Vitka from Spellbound Tours, visited with Susan Damegreene (a past life regressionist) and had a reading and chat with a real-life Salem witch (Lori Bruno, proprietor of Magika). We also taped in Bridgewater, Newton, Westford, Shrewsbury and went to upstate New York (Woodstock) to film Bob Berman and check out his observatory. During our New York overnight trip we stayed at the haunted Shanley Hotel where I recorded some EVPs in my room.
Some other weird paranormal stuff happened to me outside of the shoots. For one, I started getting EVPs on my car radio ("They're hiding … me!") which I worked with Mike Markowicz to clean up and include in the film. Other strange stuff happened, but I don't want to get into that here.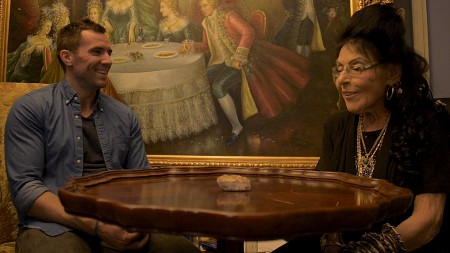 actor/seeker Cuyle Carvin, witch Lori Bruno
The $64-question of course, where can Afraid of Nothing be seen?
Right now it is being submitted to festivals. It had its world premiere on February 12th (during a snow storm) at the 44th Boston Sci Fi Festival in the venerable (and haunted) Somerville Theater. A few additional screenings are scheduled – the next one is on March 30th with a live Q&A following and some other cool post film activities. Here is the link: https://www.facebook.com/events/796585744029879/
Later this year it will be on digital streaming platforms. I am also thinking of doing screenings at local libraries.
Anything you can tell us about audience and critical reception of Afraid of Nothing yet?
As I mentioned, the film had its world premiere in February and, despite the snow, still had a very respectable turnout. The audience loved it. Plus, the festival's program events manager (and renowned paranormal author Sam Baltrusis) liked the film so much he organized a follow-up screening at the theater. The link, once again, is here: https://www.facebook.com/events/796585744029879/
Any future projects you'd like to share?

Feeling lucky ?
Want to
search
any of my partnershops yourself
for more, better results ?

The links below
will take you
just there!!!


Filmmaking is a passion but it also takes a ton of time and money, as my films are largely self-funded. As for now I plan to hone my craft and practice some filming and editing and perhaps release a short documentary in the next 18 months or so. In the interim, I will probably go back to the keyboard – where I began as a screenwriter – and polish existing scripts or write new stories. That is what keeps me up at night. ;-)
Your/your movie's website, Facebook, whatever else?
IMDb page: https://www.imdb.com/title/tt5928920/
Facebook page: https://www.facebook.com/AfraidofNothingDocumentary/
My personal IMDb page: https://www.imdb.com/name/nm2785165/
Feel free to visit the links and like the Facebook and IMDb pages.
Thanks for the interview!