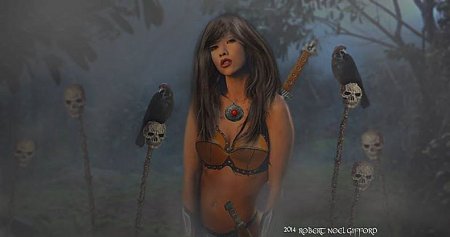 Cannibal Warrioress - model: Debra Lamb
First and foremost, you are known as a digital artist - so how would you describe your art to those who have never seen any of your pictures?
I guess the best way to describe my works is they are horror and fantasy based. I have done works such as portraits and such outside of the horror/fantasy themes I am known for, but I mostly do works such as that for family and friends. My love of horror and fantasy is my main driving force when doing a new piece.
What are some of your techniques to bring your pictures to life?
Pennywise - model: Suzi Lorraine
I traded in all my pencils, paints, drawing pads, etc a long time ago and now work only on my computers. I was trained in art and my father is a professedly trained artist. I grew up learning all the skills from my dad and then in college enhanced those skills under the teachings of a great art teacher. I now prefer to work digitally and in layers. So if and when I mess something up I can delete that layer without affecting the overall work. This is why I choose to call myself a digital fabrication artist.
In your pictures, you frequently depict horror and fantasy motives - why is that, and what do you find so fascinating about these genres?
The answer is simple; I love horror and sci fi. I think I have seen almost every low budget cheesy to big budget film ever made in those 2 genres. I think the reason I love those genres so much is they are make believe. Where the imagination can be set free to make up anything or everything possible and not have to follow the laws of set reality - The Great Make Believe.
Going through your list of models, one can't help but notice that quite a percentage of the women you work with are frequently labelled as "scream queens" (many of whom are covered on this here site, too) - so do talk about some of the women you've worked with, and how do you choose your models?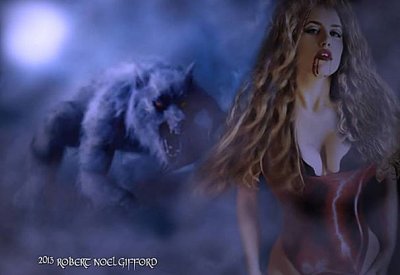 The Wolf Queen - model: Melantha Blackthorne
I have been very lucky in my life to have made friends with many of the models I do works of and also some of them have starred in some of my films as well, such as
1) Brinke Stevens (No Strings 2: Playtime in Hell)
2) Melantha Blackthorne (No Strings 2: Playtime in Hell) [Melantha Blackthorne interview - click here]
3) Max Wasa (No Strings 2: Playtime in Hell)
I have also done works of some of the most amazing musicians around today such as the amazing Doreen Taylor who is my absolute favorite singer. Just feeling bad these days because the last few shows she has played near me she invited me too and after promising to make the shows I was unable to attend because of last minute things I needed to do. My life is on the run 24/7 so I am truly the one who missed out on seeing Doreen live. But I strongly suggest if she is playing near you go and see her, she is amazing and rocks the house down.
I also did a piece of the amazing Roxy Petrucci drummer for Vixen and Madam X, and was thrilled when she loved it. I have been a fan of Vixen and Madam X from the start.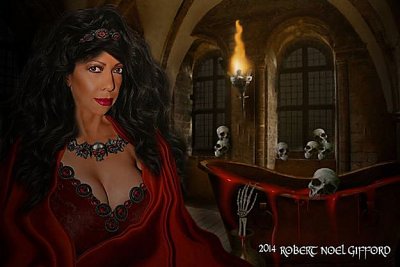 The Blood Countess - model: Debra Lamb
One of favorite models I have done works of is the amazing Debra Lamb [Debra Lamb interview - click here]. Debra is so talented and such a wonderful person. She has pushed me to bring out the best in some of my works.
So when it comes to choosing what models I do works of, well there is no real rhyme or reason. I just do works of amazing people I respect and call friends. Everyone I have done artworks of are the absolute most amazing, ultra-talented people in their chosen fields, from music to films.
How did you get started in this line of work to begin with?
I got seriously injured a few years back and was out of everything for a very long time. Basically had to learn to walk again. So the only thing I had that I could do was my art. Now that I have slowly began getting back to my old self and picking up where I left off I have chosen to keep doing my art along with my film work as part of my film company, even have a registered comicbook company these days.
You've recently also shot a segment of the anthology movie Blaze of Gory, Masque of the Red Rape - so what can you tell us about that project?
I was given the segment Masque of the Red Rape and from the moment I was given it I began to put together my crew. I wanted to add a small hint of the supernatural to it and was given free rein to do whatever I wanted with it. It is a very twisted little tale of the slow dark descent into madness when love is lost to death.
How did you get involved with Blaze of Gory in the first place?
I was asked by the great David V.G. Davies [David V.G. Davies interview - click here] to direct one of the segments for this amazing project. I got to know David through a mutual friend of ours, Suzi Lorraine [Suzi Lorraine interview - click here], who I have known for many years. So when asked by David I immediately said yes, loving the project from the start.
Do talk about Masque of the Red Rape's approach to horror for a bit?
Masque of the Red Rape is twisted into a classic horror story when the loss of love is so great that making others suffer is the only way of dealing with the pain.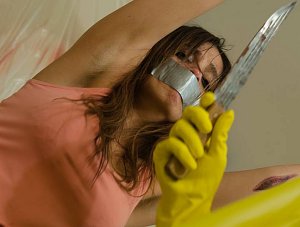 Vania Bezerra
A few words about your cast, and why exactly these people?
My cast in the film is the amazing and ultra-talented Damien Colletti, Vania Bezerra and also myself as the Video Madman. But Damien and Vania are so talented and so wonderful to work with having worked with them both before on other films. From the moment I was given my segment I wanted both of them in it.
What can you tell us about the look and feel of Masque of the Red Rape?
Without giving anything away the overall vibe of the film is dark. A slow descent someone takes into their own Hell while tortured by the thoughts of the love they lost and wanting others to suffer as they suffer. Cursing God and Death in their dark crusade to seek a twisted justice for their suffering and pain.
A few words about the shoot as such, and the on-set atmosphere?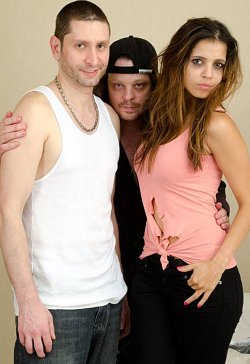 Damien Colletti, Robert, Vania Bezerra
I always try to keep my sets light and fun, and working with Damien and Vania is always a joy and great pleasure. Both Damien and Vania are such professionals, always fully prepared that the shoot went so easy.
Any future projects (in whatever medium) you'd like to talk about?
I do have a film planned for 2015 titled Mouse Trap. It will be my biggest film to date. Plan to have my first comic out also in 2015 and of course many many new artworks.
What got you into filmmaking in the first place, and did you receive any formal training on the subject?
Yep I had the old 123ís of film making classes. Learning all the dos and doníts, but I have always been thick headed and do things my way. I have been involved in low budget films since the mid 90ís with little projects here and there. But being a bit of a wild child I was into everything. I settled into films as a second career back in 2006 when I did my first semi-pro short film Something Evil starring the great Suzi Lorraine [Suzi Lorraine interview - click here]. It was only a 10 minute short but was shown at an Italian film festival. From there projects, costs, equipment got bigger and bigger that I decided to open my own little film company.
How would you describe yourself as a director?
I would like to believe I am very easy to work with and have heard that from many people. I do have one rule and that is the no bullshit rule. If anyone comes to set with an attitude of any kind I will recast that part in a heartbeat. Did it a few times already.
Filmmakers and artists who inspire you?
The only artist that has influenced me is the late, great Boris Vallejo. His works are breathtaking. As for filmmakers I am inspired most by all the indie filmmakers out there. The big studios have tons of money to throw at a film to make it good, but the indie filmmakers are the ones who know how to make a film by any means possible and with little money. That is true film making in my eyes.
Your favourite movies?
My favorite movies of all time are: The 1950ís classic Them, The Exorcist, Star Wars, Children Shouldn't Play with Dead Things, Trilogy of Terror, the original Don't be Afraid of the Dark, Galaxy of Terror, Dance of the Damned, Return of the Living Dead, the original Night of the Demons.
... and of course, films you really deplore?

Feeling lucky ?
Want to
search
any of my partnershops yourself
for more, better results ?

The links below
will take you
just there!!!

Find Robert Noel Gifford
at the amazons ...

amazon.com

amazon.co.uk

amazon.de
Looking for imports ?
Find Robert Noel Gifford here ...
Something naughty ?
(Must be over 18 to go there !)

So many to name, I guess every remake of every movie ever made.
Your website, Facebook, whatever else?
My official website is www.rngworks.com
My Facebook pages are
https://www.facebook.com/DFabrication
https://www.facebook.com/Giffordfilms
https://www.facebook.com/pages/The-Devils-Show/284365695052897
https://www.facebook.com/NoStrings2
https://www.facebook.com/pages/The-Greatest-WOMEN-of-HORROR-and-SCI-FI/124882534219142
https://www.facebook.com/pages/DIRTY-Little-DEAD-Things/132679952615
Anything else you are dying to mention and I have merely forgotten to ask?
Nope pretty much covered it all J
Thanks for the interview!