Your film One Hour to Die - in a few words, what is it about?
The darkness of the human soul, that we are all players in a game of death, switching alliances and making new enemies on a daily basis, all, ultimately, desperately alone. Or another reading is that its 6 friends at a party, and someoneís poisoning them all, punishing them for perceived wrongs, a bit like Saw, really.
What can you tell us about your experience working on One Hour to Die?
I wrote an article for Awesome Magazine - http://www.awesomeonlinemagazine.com/ - about no-pay acting, which is what 99% of Ďfledgingí actors have to do to get a foot on the very bottom rung in the industry (and Iíd say only 1% of them end up getting off that rung). To get experience; build your CV up and put together a show reel; that will hopefully lead to gaining paid work, you have to get involved in projects that you do for free. In the article I give pointers at how to make the right choices and avoid the dud projects, which end up being a complete waste of time. 6 months before writing that article, One Hour to Die was one of the first ever projects I got involved with, before I even found out about dud projects, and it remains the best thing Iíve ever attached myself to.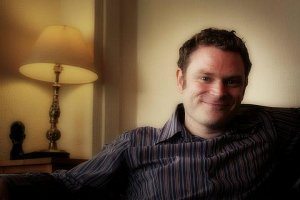 It may not be the best movie ever made (itís not even the best movie Phil Gardinerís ever made [Philip Gardiner interview - click here]), but itís now a DVD with a printed disc, a proper case and a sleeve, that you can order off Amazon, and itís got me in it and my name on the front. There are very few fledging actors that can claim that, but most people who have worked with Phil Gardiner can.
Iíve been involved in projects that you might say had more artistic value, or were on a bigger, more ambitious scale, but all of them so far remain unreleased. If there is one thing you can say about working with the good people at Chemical Burn - http://www.chemicalburn.org -, itís that they follow through on their promises [Interview with Chemical Burn's Warren Croyle - click here].
As for the making of One Hour to Die, it was fun, and a challenge. I have done lots more filming since, and as most actors will tell you, working on films is, for the most part, intensely boring. You wait around for hours, and then when you do get to perform, you find your mark, get the lighting and sound levels right, repeat your lines a dozen times, and obviously, act out the story non-linear and piece meal. This all rather detracts from the experience in theatre, where youíll be trying to feel every bend and straight of your characterís journey. I recall discussing this with a terrifically talented actress Eva Thorne, on the set of the as yet unreleased Ghost Train - http://www.ghosttrainmovie.co.uk -, and she said in theatre, the most important person is the actor, but in filming, they appear to be the least important.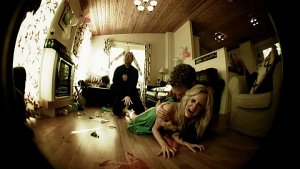 Robert Holden, Anna B., Rob Ireland
The point I am making, is that this was not the case in One Hour to Die. Itís a very unconventional way of filmmaking, but we improvised around the plot for 90 minutes, from start to finish, producing a very unique and exhilarating experience for all involved, which I hope comes through to the viewer. Obviously to make a film this way leads to losing a lot that could be achieved through editing, music, camera angles (although I think the fish eye adds a lot of atmosphere) and other cinematic devices, but it was extremely experimental, and I think what you are left with is an unusual, interesting and arresting piece of work.
To what extent could you identify with your character, the rather square banker, to begin with?
I donít share much with Nate, other than that heís quite similar to me facially, about the same height and build, and like him Iíve got a very good-looking girlfriend. Unlike him, Iím not already related to her (spoiler alert!).
What can you tell us about your co-stars and the on-set atmosphere?
It was lovely. We filmed over three days, most of which consisted of three good looking girls walking round in their bras and knickers! An actorís life for me!
Iíve still got all the cast on Facebook, and I message them occasionally. Itís interesting to see what theyíre up to. Melanie Denholme [Melanie Denholme interview - click here], as you know, has been working on A Killer Conversation (incidentally, I was originally offered the part of Karl on that film).
Robert Holden is the Actorís Actor (we were all taking the mickey out of him for doing his vocal warm ups before the shoot!), and always seems busy down in Brighton. Heís always posting invites to come to fringe shows that heís performing in, or directing, or both, but unfortunately Iíve not been able to make the 500 mile round trip to see one just yet! He would hate it if I didnít mention the fact that heís done a lot of professional acting work, as well. So I wonít!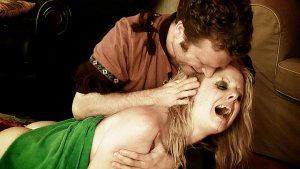 Rob Ireland, Anna B.
Anna B. [Anna B. interview - click here] is in a YouTube soap called Platform 2c - http://www.youtube.com/user/nfdproduction?feature=results_main. I saw her in an episode recently in just her underwear, it evoked memories of my time with her in the Lake District!
Jessica Messenger [Jessica Messenger interview - click here] I have actually worked with since. One Hour to Die was actually her first ever acting job, she had been a glamour model by trade. We both appeared in another Phil Gardiner production [Philip Gardiner interview - click here], which was, amazingly, another Ďone take wonderí, Awesome Killer Audition - http://www.youtube.com/watch?v=FxoJ-ydt9_o. Jess played the complete opposite of a model, and produced a very funny turn as a failed ventriloquist, so itís great to see sheís stretching her acting meter (but wonít complain if she takes on more roles like she did in One Hour to Die either!).
As for Phil, as you know heís been filming The Exorcist Chronicles - http://vimeo.com/45981808. I donít know much about it, as I declined to be involved over other commitments, but the photos coming out on the internet are making it look like his biggest film yet.
Anything else you can tell us about the actual shoot?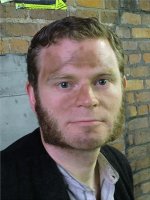 Hard Times, Library Theatre
We shot dream sequences that were meant to go in the film before each character died, that revealed their true desires or fears. They are in the trailer, and I canít think why the director left them out of the final cut because I think theyíd have added to the film tenfold, but what do I know! Nateís sequence was about being his sisterís protector, and it involved me dragging an almost naked Anna B. along the corridor, whilst we were pursued by the rest of the cast. As she was topless, her boobs were rubbing against the wooden floor, so she poured olive oil on them to ease the painful friction. After the scene, we saw there were two thin oil trails along the corridor made by her nipples. How we laughedÖ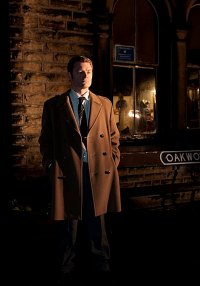 Ghost Train
Any future projects you'd like to talk about?
Loads of my fledging actor friends are always posting legends on Facebook along the lines of ĎI may never make it as an actor, but when I look back on my life, Iíll think, at least Iíve triedí (probably after someone has questioned them doing it, or theyíve had yet another rejection). But will they? I doubt Iíll wish Iíd spent more time in the office on my death bed, but Iíll probably be glad if I spend less time in the job centre.
I start the answer like this because, after probably less than a year of trying to become a professional actor, about 3 months ago, I had to reassess my situation. Iím 34, Iím a single parent and I have all the responsibilities and worries attached to living in Coalition Britain. To establish myself as a professional actor would probably take years, and a lot of no-pay acting, which means losing money at work as well. I know a lot of professional actors, and very few of them are Ďcomfortableí, most spending more time out of work than in it. I was in a play with the Library Theatre in Manchester, as a member of the community cast, and one of the professionals who had been in the business for 20 years, including long term roles in Emmerdale and Coronation Street, told me, at 50 years old, he was struggling to make £12k a year. After hearing too many stories like this, I decided it wasnít fair for me to keep pursuing what is ultimately a very selfish profession, and gave up on the dream.

Feeling lucky ?
Want to
search
any of my partnershops yourself
for more, better results ?

The links below
will take you
just there!!!

Find Rob Ireland
at the amazons ...

amazon.com

amazon.co.uk

amazon.de
Looking for imports ?
Find Rob Ireland here ...
Something naughty ?
(Must be over 18 to go there !)

However, I wanted to keep my hand in, as I love the craft. It was difficult for me to do fringe theatre, as it required a lot of time for rehearsals, and this wasnít very fair on my son. About the one thing I could do was Murder Mystery Dinners. When performing in an MM, you are sent the Ďscriptí (which isnít a script, because you are improvising in character around a plot), and usually, just turn up an hour before the performance, so there is very little time required. After performing in a few of these, I thought, why not strike out on my own, and To Die For Entertainment - http://www.facebook.com/todieforentertainment - was born.
So Iím now the Creative Director of my own Murder Mystery Company. The reports of my acting death were clearly over-exaggerated! We performed our first show in August to a full house and to great acclaim. Our second is at the end of September, and we are almost sold out for that. I am actually making a profit from this venture, as are my actors (an achievement rarely experienced as a fledgling!), and I hope that one day in the not too far distant future I can actually give up the day job to do it full time.
Another thing which is brilliant about being in charge of the project yourself is that you donít have to pretend you are working on something brilliant, and arse lick the producers, when you are working on an absolute load of crap, which is a position most fledglings find themselves in more often than not! That release is probably better than getting paid!
Thanks for the interview!