Quite a few years ago, you were involved in shooting the documentary 95 Miles to Go, which got released on DVD only just now. So what can you tell us about the film?
95 Miles to Go is a very unique film that we got to make during the height in popularity of Everybody Loves Raymond, right as the show hit number one in the ratings and Ray made headlines by becoming the highest paid actor in the history of television. It was a very unique time in Ray's life as he was starting to deal with his newfound fame and wealth. We wanted to try and document that while at the same time give audiences a glimpse at what life on the road is like for the many comics out there who have to do this day in and day out performing in comedy clubs around the country and driving around from city to city. Even though at the time we filmed the movie Ray was already a star, his fear of flying forced him to drive around the country rather than tour in a private jet, and he'd want to stop for Subway sandwiches rather than eat at 5 star restaurants - so in a way life on the road for Ray during 95 Miles to Go wasn't that different from that of your average comic.
When you got the job to film Ray Romano and Tom Caltabiano - then probably on the height of their success - for 95 Miles to Go, you were not exactly, shall we say, extremely experienced. So how did you get the job in the first place?
I was about to finish up film school as the opportunity came along to join Ray and Tom on the road. In fact I had already known both Ray and Tom for a year prior to the tour -- if that hadn't been the case Ray wouldn't have felt comfortable with the idea of having me tag along and follow him around with a camera during his time on the road.
I'd actually met Tom at the USC film school a year earlier -- he was there taking a summer class in TV directing since he wanted to make the jump from writing to directing on Everybody Loves Raymond, and so he felt it would be good to take a multi-camera directing class before attempting that. We weren't in the same class together but we wound up meeting up through one of our professors, and we hit it off right away. We have a similar sense of humor and we both loved jazz so we started to hang out and soon after he introduced me to Ray when the show went back into production. A year later when I was looking to do an internship he helped me out by introducing me to the production people on the show and at the same type he got the idea to try and document his road tour with Ray so everything sort of fell into place. It was a case of being at the right place at the right time and having the skills they needed to pull this thing off.
What was it like for you personally to be on the road, in cars, hotel rooms, backstage, with those two men for a full eight days? And how did they actually accept you?
It was great to be hanging out with these guys every day. As I said before we'd already known each other for some time so Ray was very comfortable around me so he never felt like he had to censor himself or act a certain way around me — he was just himself. Ray's one of the funniest, sharpest guys on the planet, he just comes up with the funniest things to say in milliseconds. He makes it seem so easy. There's a scene in the documentary where you see Tom trying really hard to come up with funny material for one of the shows and Ray would just be sitting next to him eating some Chinese food and bursting out with the funniest thing you'd hear. It was fascinating to see how his mind works and his process for coming up with material.
You must have returned from the trip with literally hundreds of hours of footage. Were you at all involved with the editing process, and how well do you think does the finished product represent the tour as such?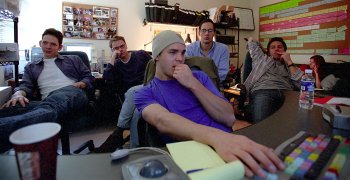 We came back from that first tour with about 100 hours of footage which I had to watch and log in order to figure out what we had and if there was some type or story we could tell with this footage. You have to figure out how to put it all together, what the thread or drive will end up being and that is a very long and tedious process. With documentaries, since you're typically not working from a script you could make 50 very different versions of the same movie with all your footage so we had to sit through all this material and get on the same page about issues such as the structure of the film, pacing, how much reality footage and how much stand up footage — finding the right balance. Then after a year of working on the editing, Ray went on a second tour which we also filmed and we came back with about 60 more hours of footage. On that second tour I really focused on getting more footage of the actual stand up shows since we'd realized we did not have enough coverage during the first road tour to put the concert part of the film together. By then we had another key person join our team, Cheyenne Pesko -- who's a really talented editor and camera man -- so the two of us set out to get the footage we needed to fill in the pieces we were missing to tell the story we wanted to tell. Anyone who sees the film thinks all the footage came from the tour of the south but in reality about 40% of the footage is from another road tour we did through the midwest the following year.
With today's hindsight and several years of experience down the road, could you be tempted to do something similar (as in being the fly on the wall for someone else) ever again?
I've actually produced and or directed a couple of other documentaries since 95 Miles to Go and ultimately it's all about finding a compelling subject and an interesting story. I have another one coming out later this year called Toy Masters which deals with the rivalry between a bunch of toy designers over the creation of Mattel's billion Dollar-grossing He-Man and the Masters of the Universe action figure line. We premiered the trailer at last year's San Diego Comic Con and it's been getting amazing buzz. It's being hailed as the Social Network of the toy industry and it's also being compared to King of Kong which is a great documentary I've loved since it first came out. I also produced a documentary called The Table which is out now, it was acquired by the folks at New Video Group and it's been getting amazing reviews. It tells the story of a support group for filmmakers in Hollywood which has been meeting once a week for the last 16 years and it features some really compelling and talented people including Guillermo Del Toro, George Takei, Armin Shimerman, and Marc Zicree, who is one of the most interesting people I've ever met. Here's a guy who years ago was one of the most successful writers in TV animation and science fiction programming and it sort of came to an end - so in the documentary we get to follow him around for a year in his life as he tries to make his big comeback and it's just a really fascinating look at how difficult it is to make it in this industry and to stay relevant. It's just a really inspiring film thanks to Marc's indomitable spirit and his incredible skill at motivating others to follow their dreams. In a way it's about the power of community as you see the impact Marc and this group has in the lives of it's members, so I'm really proud of that movie and I got to work on it with fellow indie filmmaker Ana Barredo [Ana Barredo interview - click here] who's one of my favorite people on the planet.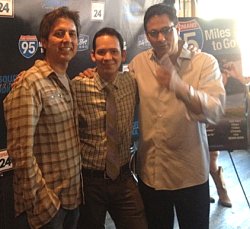 Are you still in touch with Ray or Tom, actually?
We all just got together last week for the DVD launch party and we worked on some of the special features on the DVD, recorded commentary tracks and I also gave some input during the actual production of the disc over at Sonic Pool Post-Production for a couple of weeks just recently. Unfortunately I didn't have as much time to get in there with them and work on everything since I'm currently working on a couple of other projects which are in production, but it was great fun to at least get together briefly for the DVD release.
What can you tell us about critical and audience reception of 95 Miles to Go so far?
The experience of seeing the film in front of an audience is something I will never forget. Not only was it my first film but it did incredibly well at film festivals and the majority of the reviewers loved it. Daily Variety said Ray was funnier in this then in Everybody Loves Raymond and I just read a piece on the Huffington Post were our movie was described as the Citizen Kane of stand up comedy movies, so that's very satisfying. When we premiered it at the South by Southwest Film Festival a couple of weeks before it's theatrical release it really brought down the house. It was one of the best screenings I've ever been to, for any film I've worked on. People were missing out on hearing lines of dialogue because they were still laughing so hard from the previous joke. To me that was just fascinating. You become addicted to those big laughs after you see the film perform so well in front of an audience so we'd go into each screening anxiously awaiting those moments we knew would get the huge laughs, like the toxic smell sequence and that whole bit were Ray has to get a hotel room in the middle of nowhere so he can use the bathroom. To see something you'e created play in front of an audience and be able to make them laugh, forget about their troubles and enjoy themselves is a really rewarding experience.
What got you into filmmaking in the first place, and what can you tell us about your training as a filmmaker?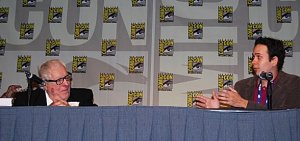 Ray Bradbury and Roger Lay jr at the Comic Con
I grew up on a steady diet of science fiction and fantasy books and films. I had always loved the work of writers like Ray Bradbury and shows like The Twilight Zone and Star Trek, so very early on I knew that I wanted to tell stories like the ones I was finding in that genre. I found out that some of my favorite filmmakers had gone to film school at USC so I tried my best to do the same. I ended up graduating from high school and moving to LA a couple of weeks after graduation. I was fortunate enough to get to go to USC and also do a one year immersion program for directors at The Los Angeles Film School which helped me immensely, especially with the technical side of filmmaking. Fortunately for me, film school worked out the way we all hope it will. I got my first gig right after my internship and have been working ever since.
Since 95 Miles to Go, you have worked on quite a few movies, mostly documentaries. Care to talk about any of those for a bit?
Right after 95 Miles to Go I went on to direct music videos and commercials but what I'd always wanted to do was work in science fiction since that was the genre I grew up loving and ultimately the type of movies I wanted to make. So I optioned the rights to a story by one of my favorite science fiction authors, Ray Bradbury. It led to a wonderful friendship and I ended up producing a film called Chrysalis, which is based on a story Ray wrote and first published more than 60 years ago. He had wanted to turn it into a film for decades and had made multiple attempts but was never able to get it off the ground. He even had Harry Essex take a stab at producing it at Universal back in the 60's. So it was very satisfying to help bring that project to fruition for Ray. I've gotten to produce two projects based on his works so far and I'm developing a third one so it has been one of the most satisfying relationships in my professional career.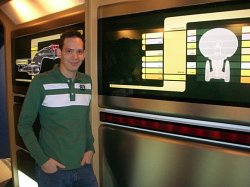 Almost every project I've been involved with since then has been in the science fiction or fantasy genre so I feel very lucky that now I get to work on the kind of material that helped inspire me in the first place. It's so hard to get any film or TV project off the ground that to be able to go from one project to the next and work on material you truly love and care about is really rare in this industry. There's not a day that goes by where I don't wake up feeling like the luckiest guy on the planet.
Any future projects you'd like to talk about?

Feeling lucky ?
Want to
search
any of my partnershops yourself
for more, better results ?

The links below
will take you
just there!!!

Find Roger Lay jr
at the amazons ...

amazon.com

amazon.co.uk

amazon.de
Looking for imports ?
Find Roger Lay jr here ...
Something naughty ?
(Must be over 18 to go there !)

Right now I'm working on the Star Trek The Next Generation High Definition restoration project. I'm part of the production team for those Blu-ray sets and I'm directing a series of documentaries on the making and the legacy of the show. The first Blu-ray set is out on sale in July and I'm really excited to be a part of this project which we all feel will make a little history since no other television series has gotten a restoration as complex as this one. That first set includes a feature-length documentary I produced and directed called Stardate Revisited: The Origins of Star Trek The Next Generation, which is a piece I'm extremely proud of and we believe will be considered the definitive take on the making of the series. We got every single member of the cast back for all-new interviews along with dozens of key members of the show's creative and production staff and never before seen behind the scenes footage, so it's quite in-depth.
I'm also developing a new science fiction series with Gary Goddard who produced Terminator 2/3D and a ton of other groundbreaking projects over the years. We hope to be shooting a pilot next year, so it's a really busy and exciting time for me right now.
Anything else you are dying to mention and I have merely forgotten to ask?
95 Miles to Go is now available on DVD and you can find out more about it and all the other projects I've mentioned at www.urbanarchipelagofilms.com.
Thanks for the interview!