You recently saw the release of your film, Occupants. What is the plot for this?
It is about a documentarian named Annie Curtis who has roped her husband into a project that involves setting up cameras throughout their house. Complications arise when the cameras start showing that same couple in an alternate universe, with horrific results.
Robert Picardo stars in this. What's your impression of him and his performance?
I enjoy working with Bob, who stars as Dr. Alan Peterson of the Peterson Research Institute (which is responsible for presenting the footage we see in Occupants – case 831). This is actually my fifth time directing him, the other four being three feature films (P.J., Chasing the Green, The Legends of Nethiah), and a documentary feature (Restoration of Paradise). Coincidentally and as an in-joke, Bob mentions the documentary in Occupants.
Who else plays in this film?
The other two main actors are Briana White as Annie Curtis and Michael Pugliese as Neil Curtis. They play dual versions of themselves. Chalet Lizette Brannan also plays a character from Annie Curtis' previous documentary, and Aaron Retford plays the Parallel Pizza Man.
There are also various testimonial videos of people who saw parallel universes including Scott Brown, Edward Alma, Norie Onogi, Isaak Gracia, Cécile Calichon, and Larry Butler.
Furthermore, we have the Peterson Research Institute Representative played by Chris Winters, who is the main character of the comic book tie-in to the film, as well as Timothy Lee Conley whose case 285 is the main focus of that comicbook (currently being drawn by DC/Marvel Comics artist Dave Beaty and edited by our associate producer Eric Kask).
Is there a web page devoted to this film?
http://occupantsthemovie.com/ - this page is devoted to the film, the comicbook tie-in, and pretty soon the upcoming sequel to the first film.
What about a page for you, yourself?
http://www.russem.com/ - you can see my previous, current, and future films including The Assassin's Apprentice, an upcoming film I am directing in early December 2016 with Tarah Paige and Robert Picardo.
Did you study film in a school or did you pick up on film making as you went along?
I studied at the University of Southern California Cinema Program as well as taking UCLA Extension Classes. I also worked on various films including The Failures, a 2002 feature film directed by Tim Hunter, working under the tutelage of the producers Felix and Kathrin Werner.
Do you have any future works planned or are you mainly working to promote Occupants?
My most immediate project is the aforementioned The Assassin's Apprentice, which is shooting in early December 2016. The producer is Howard Nash (who produced all my features and the documentary), as well as Ryan T. Husk, and the writer is Paul Hickman (who had contributed legal services to Occupants).
We also have Occupants 2 in development, Howard having given the greenlight to our first Occupants film writer Julia Camara. We already have a basic gist of the story and it will also involve what happens in the comicbook tie-in which deals with a second parallel universe.
I also have another horror feature film in the works called The Dollhouse which is being produced by Julie D'Aloiso and we will be shooting in Macedonia, Ohio. It is currently being written by my longtime filmmaking partner Emile Haris (who was the director of photography and editor on Occupants).
Occupants is supposed to be seen at Shriekfest?
Yes. Denise Gossett, the festival director, called me up to let me know the film got in and I was absolutely excited (you can say I was shrieking!). We will be screening at the Raleigh Studios directly across from Paramount Pictures on Friday October 7 at 8:45pm. We are also nominated for Best Film, which is an incredible honor.
What about other festivals?
We had our premiere at the Phoenix Comicon Film Festival where we won the 2nd Place, Best of the Festival prize. We next screened at the Florida Supercon Film Festival winning the Best Director award. We also screened at the San Diego Comic-Con Film Festival where we were mentioned by the Huffington Post as one of the highlights of the festival. We next went to San Antonio Film Festival (in Texas), Action on Film Festival (in Monrovia, California), Toronto Independent Film Festival (in Canada), Great Lakes International Film Festival (in Erie, Pennsylvania), and most recently just screened at the Downtown Los Angeles Film Festival and the Velvet Rope Film Festival (near Sacramento, California) where Chalet Lizette Brannan was presented with a Breakout Star award.
Upcoming screenings are Shriekfest, Ellensburg Film Festival (in Washington), Louisville's International Festival of Film (in Kentucky), Stan Lee's Comikaze Expo (at the Los Angeles Convention Center, where Robert Picardo will be in attendance with us), Alien Con (in Santa Clara, California), the Kansas International Film Festival (where we are nominated for Best Narrative Feature), and Fright Night Film Fest (again in Louisville, Kentucky).
We also recently got both domestic and international distribution through ITN Distribution, so be on the lookout for release on DVD and Blu-Ray and possibly theatrical in countries around the world.
Are there any interesting stories to tell concerning the making of this film?
There were a few! For one, many of the cast and crew kept saying that the house we were shooting in was haunted. In fact, if you look in the film, you can see one of the lights dim all of a sudden. This wasn't done on purpose and it was in a room of the house where people heard "coughs" and felt a presence. I also was staying in this house during the production, so these stories people were saying definitely got to me (especially when I had to go to the bathroom in the middle of the night and was by myself and of course the only working bathroom is connected to the "haunted room")!
On top of that, the flies were everywhere! Our production assistants seemed to become full-time professional fly swatters! There were a few scenes in the film that had flies and we had to digitally remove them. If you get the DVD or Blu-ray, we have a blooper reel and it shows this in detail!
You are in Los Angeles, no? Isn't this city fairly supportive of indie arts and films?
One of the advantages of living in Los Angeles is that there are many artists and it's a great place to network. Such is the case when going to an event like Shriekfest. It's all about meeting new people, and perhaps working with them on a future project. Definitely is a great city for that!
I live in Washington, myself. The Pacific Northwest is big on indie films and festivals. Have you considered drifting this way and getting in on some of the action?
Oh yes I have considered that. I lived for a few months in Corvallis, Oregon and have visited Seattle, Washington as well as Vancouver, Canada. More recently, I was at the Rose City Comic Con where we were offered an Occupants panel discussing the film and comicbook tie-in, and it brought back memories of my times in Corvallis. I love the look of the forests and mountains; the scenery is truly amazing and not a palm tree in sight!
That said, Portland, Seattle, and Vancouver are great places for the arts and I wouldn't mind filming something in that neck of the woods!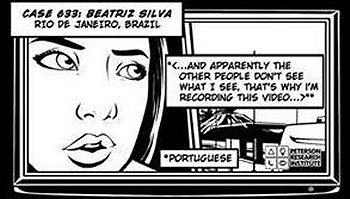 from the Occupants comicbook
In retrospect, how satisfied are you with Occupants?
I am extremely satisfied with the film and consider it to be my best film to date. It's definitely had the most traction and is still going. I'm grateful and blessed to be at this stage in my life and I have many people to thank for it including my parents Charles and Akemi Emanuel to my producer Howard Nash, my filmmaking partner Emile Haris, and to interviewers such as yourself. Thank you.
In thinking back, is there anything you would have done differently now that it is done?
There will always be things you want to correct in retrospect. I would tighten up the beginning, and do a few visual effects shots differently. But overall, I am very happy with the film and the franchise we are building.
Is there anything you would like to add, that we missed so far?
Here's a link to our award-winning trailer which itself gained traction when it came out a few months before the film was completed in December 2015: https://youtu.be/hGyA1T0C45Q
And the comicbook tie-in link:

Feeling lucky ?
Want to
search
any of my partnershops yourself
for more, better results ?

The links below
will take you
just there!!!

Find Russ Emanuel
at the amazons ...

amazon.com

amazon.co.uk

amazon.de
Looking for imports ?
Find Russ Emanuel here ...
Something naughty ?
(Must be over 18 to go there !)

https://www.indiegogo.com/projects/occupants-the-comic-book-tie-in-anime/x/7977592
And other links:
IMDb: http://www.imdb.com/title/tt3980310
Facebook: https://www.facebook.com/occupantsthemovie
Twitter: https://twitter.com/russellemanuel
Instagram: https://www.instagram.com/russem31/
Closing comments?
I just want to say thank you for taking the time to interview me. I really appreciate it, thank you!
Thanks for the interview!