First of all, why don't you introduce yourself to those of us who might not already know you?
My professional name and my real name are different. I mean, yeah, I've always been Russ (Russell to my family and Katelyn Lewis, my girlfriend) but you won't find my name in the phone book under Welsh. It's a pseudonym. And for very good reason. See, I like controversial subject matter. I'm not one to shy away from what would normally sicken or offend the average person. I often challenge established norms, even going so far as to outrightly insult certain groups. I've been accused of sexism, among other things, a few times in the past. I don't do it out of spite. On the contrary, I believe everyone should have their own opinion about everything. Politically correct or not. It's just that, since I was young, I've been finding more and more that perception is based on rumor and popularity. Marilyn Manson is NOT a Satanist. The many times I've seen him in interviews, he's proven to be an intelligent man. Same with Chuck Palahniuk, my favorite author (not just because of his novel Fight Club, but because his demented sense of humor is something I gravitate towards). Palahniuk always writes these disturbing tales, which are more often than not mistaken as nihilistic. I find them funny. But, in a world where closed-mindedness takes presence over acceptance, I pride myself on rocking the boat. Shock only exists to better current circumstances. When Saw first came out, it messed with people. Soon enough, we were all desensitized to that kind of violence. How many people followed the apparent example left by that franchise? I don't remember anything being on the news about a real Jigsaw Killer. I'm a firm believer that art and entertainment does not promote real violence. It doesn't even cause it. That's why nothing is beneath me. If it exists, I will write about it. I will direct a movie about it. If you don't like the direction I've taken, why should I care? I make films for myself and most of the time I don't see a line not worth crossing.
At the moment, you've got two shorts upcoming, right, This Time and Pale Horse ... let's start with This Time - do talk about that one for a bit!
I'd been working primarily on assessments for film school when I came up with the premise for what would become my first short film outside of university, This Time. It's a throwback/homage to silent era cinema and was heavily inspired by comedy legends of the time. For a long time, I wanted to do a good old-fashioned ghost story but I'm not really a fan of horror. Not what it's become anyway. I do enjoy sitting in the dark with a glass of ice cold rum and coke, and watching Kubrick's adaptation of The Shining or Lynch's Eraserhead. Lynch is my go-to-guy for scary (albeit unconventional) movies and he's one of my favorite filmmakers.
This Time was never going to be a horror/thriller. And I never wanted it to be. I wrote it as an ethereal romance about the eternal love between soul mates. The Artist, the 2011 Academy Award-winning silent film, proved that the genre wasn't dead. Give it to the French for proving that! I figured I'd try to create one myself. This Time was a 3-month pre-production schedule for a single night of shooting and approximately 4 more months of editing and music. The location was the most difficult place to find and, in retrospect, we could have shot in a much better place had we a larger budget. I paid for everything myself and the budget ended up being rather meager. Unfortunately, it was the first short film I made outside of university so it was purely experimental. Everyone did their best with the project and it did come out as close to the idea in my head as it could. But, due largely to inexperience, the short failed more than it succeeded. This Time ended up becoming a lesson in what not to do. Those that have seen it have mixed-to-negative reactions. I've received unanimous praise for the unique storytelling and creative direction but most viewers have expressed difficulty in understanding the premise or they find it boring. Because of this, I was disheartened by the experience. But it's all about learning what works and what doesn't. I'm no longer negatively affected by it. It forces me to push myself harder and faster with all of my subsequent pictures.
This Time will continue being exhibited in national film festivals throughout the rest of this year into 2014.
Pale Horse - what can you tell us about that one?
I spent the next few months trying to create a serial killer movie that dealt primarily with character depth instead of horrific events. I contacted an actor/friend named Raymond Massey because I had worked with him before, when I was in university. We spoke about the initial ideas I had and where I wanted to take the project, and Raymond expressed interest in being a part of the film. This was when I was considering the anti-hero/protagonist as much older than he ended up being in the final product. Raymond did play a character in Pale Horse but he did not end up portraying the lead character. Around this same time, I was trying to develop a vampire film that harkened back to Hammer Films. I ended up combining the two ideas and Pale Horse was born... as "Flesh & Blood".
I revealed the treatment to this new project to a few people, trying to garner buzz. A few people were deterred by it being a vampire film. Their skepticism was more of a reaction to the way vampire fiction was being treated. The fear, for the most part, had become a joke. But I wrote the screenplay nonetheless, transforming it into a disturbing gothic horror/docudrama about a man who believed he needed to feed on his victims' blood in order to appease his imaginary friend's insatiable hunger. Andrew Barnes, who has been in talks to play an important role in My Reprisal (Shea Moir's directorial debut feature, which I co-wrote over a year of sleepless nights [Shea Nathaniel Moir interview - click here]), won the lead role of Adam because I changed the character details to a more fresh-faced schizophrenic. Raymond is still one of my favorite actors to work with and, thus far, he is the only person I have approached to play a leading role in my own directorial feature debut Get Some! Mid-way through shooting, the title was changed from "Flesh & Blood" to "Pale Horse". The new title refers to two things:
1) Johnny Cash's song "When the Man Comes Around".
2) The biblical quote, in Revelation, about the apocalypse.
Pale Horse was far more ambitious than I initially intended and, at the beginning, it terrified me. On one hand, I'd just come from a failed attempt at creating a silent film. On the other, I had this amazing script that totally recreated the genre. A few people came on board based primarily on the script, which was exciting. Nevertheless, I didn't believe in Pale Horse enough to produce it myself. And that is one mistake I wish I'd never made. After a year-long pre-production and 3 months of on-again-off-again shooting, Pale Horse is nearing completion. It has a significantly larger budget than This Time and my two producers (Shea Moir and Darwin Brooks) demanded perfection. Some days I look at it and I'm angry, other days I'm excited. The edited footage has been met with acclaim from test audiences. When the post-production stage has ended, I am hoping to release Pale Horse to horror/fantasy festivals and maybe even Sundance in 2014.
Both films were produced by Shea Nathaniel Moir [Shea Nathaniel Moir interview - click here], a frequent partner in crime of yours. So what was your collaboration like, and how did you hook up in the first place?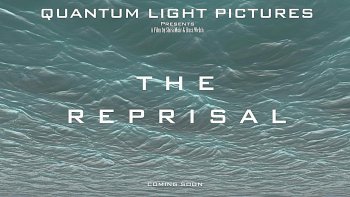 Shea Moir and I met in a screenwriting class lectured by author Stavros Halvatzis. But that wasn't until a couple months after the classes began. For a while, I was the only one in the class that knew how to manipulate the written word. Besides, of course, Stavros. Unfortunately, my talent had not been properly developed and I was like a blind man without a guiding stick. Strangely, I originally had grave doubts about attending these classes because the first two lessons seemed pretentious. I already knew where to get inspiration from and that was the subject we first "learned" about. I didn't want to hear it. But I cared about passing university at the time so I reluctantly went. And I'm very glad I did. After the second or third lesson, Stavros became increasingly more informative. I owe a lot to him for focusing my raw talent into something much more powerful. It's like that saying "give a man a fish and feed him for a day, teach a man to fish and feed him for a lifetime". Stavros told me a lot about Shea and I later discovered he had told Shea a lot about me. Eventually, Shea came out of his shell and started talking to me and a small group of animation students I was hanging out with about an idea he had. It was violent and disturbing, and I loved it. I was a little envious that I hadn't thought of it first. The idea became My Reprisal. But, in the beginning, it was darkness without light. Anyone who read it could see it was a story that needed to be told. However, it wasn't until Shea asked me to help him rewrite it that it went from good to great. That sounds vain, I know. I'm not saying it wouldn't be great without me. It could have been. I just happened to be the one who introduced a rich vein of humor. Shea and I worked together to create a brightness to counter the brutality. And it worked magnificently. The screenplay was forwarded to Darwin, who expressed interest in producing it. Since then, Shea and I have worked on each other's projects in various roles. We challenge each other to create the best damn films we can. Even when one of us works on something without the other, Shea and I always consult each other.
What got you into filmmaking to begin with, and did you receive any formal training on the subject?
The first movie I remember ever seeing in cinema was Disney's Aladdin with my dad and my stepmom. I was disappointed going in because Super Mario Brothers and Dennis the Menace were both out at the same time. And, stupidly, I wanted to see either one more but the showing times didn't coincide with when we arrived. Don't ask me how I remember that. I have no idea. But, as the lights went down and the screen came to life, something grabbed me. It was like an endorphin overdose, falling in love for the first time. When I think about it, it's strange that I went into film instead of animation. I mean, I know how to draw and cartoons (whether on TV or at the movies) have been a huge influence on me. Comic books too, actually. Jhonen Vasquez and Dave McKean feature prolifically in my life as an artist, so far as to consult their works when I write up my shot lists.
I didn't really visit my dad very much as a child or even as a teenager. But he is definitely one of two people that started me down the path toward filmmaking. The other person was my dearly departed nana, who passed in October 2005. Same year my first short film, Feb, was nominated for best drama. I spent at least 1/3 of my childhood at my nana's house and, basically, she was a second mother. Where my dad used to buy me comics, my nana got me stacks of paper and pens to draw or write with. She also took me to the movies a lot because she got great discounts and liked to keep me happy. We must've seen at least 50 movies together before she got sick. And she was the only person I respected enough to ask whether I should follow my filmic passion. Her permission is one of the few reasons I never gave up. Even though there were times I wish I could settle down and start a family, like SO many of my friends from school did.
My obsession with becoming a filmmaker would either kill me or get me where I needed to be. Thankfully, it ended up being the latter. In my adult years, I've had more to do with my father. He paid for me to get into film school after I was accepted. And I'm eternally grateful for that. It ended up being the place where everything changed for the better.
The first year I went, I discovered a whole new world of films. I saw Battle Royale and The Science of Sleep for the first time. Both are totally different in genre and approach but I was equally blown away. Because The Science of Sleep is the kind of movie I strived to make, I decided to find out more about the director (Michel Gondry). I didn't realize he was the same guy who made Eternal Sunshine of the Spotless Mind, one of my all-time favorite Jim Carrey movies. Gondry quickly became one of my favorite directors. Ever since, I've found the more offbeat a director is, the more I like them. I do have a soft spot for some of Spielberg's works. I'm also a sucker for James Bond-movies thanks to my dad taking me to GoldenEye when I was 10. But, for the most part, I like movies that aren't afraid to push boundaries and do something new. Charlie Kaufman is my favorite screenwriter because of this. A Clockwork Orange, Natural Born Killers, Blue Velvet, Bad Boy Bubby, Taxi Driver and Goodfellas are huge inspirations because they are in a league of their own. As are Beetlejuice, Edward Scissorhands, and Batman Returns. I don't really like much of Burton's latest stuff, although I did enjoy the first 5 or 10 minutes of Dark Shadows. Over time, my influences have changed dramatically. More recently, Sam Mendes and Darren Aronofsky have snaked their way into my Top 10. Road to Perdition and The Fountain both showed me how powerful silence could be. I have shamelessly tried and failed at editing like Requiem for a Dream. It really doesn't suit my personal style. The one film that doesn't influence me but is my number one favorite is David Fincher's adaptation of Fight Club. Normally I don't have favorite films that don't inspire or influence me. Fight Club is enjoyable and I've seen it many times before. It was even the subject I chose for analysis when I did film criticism. But it's totally different to how I make my own movies and I can't see that changing in the immediate future.
Any future projects you'd like to talk about?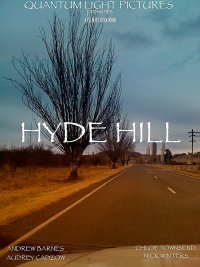 Quantum Light Pictures (the production company I am affiliated with) is experiencing a busy period at the moment. As well as getting pick-up shots and completing editing for Pale Horse, I am working as 1st Assistant Director on Hyde Hill (written and directed by Shea Moir). Shea and I are also in pre-production with producer Rachael Moore on Taste of Poverty, a family friendly drama about the power of children's imagination. Taste of Poverty was an idea born from Rachael and her children, and scripted by Shea. I'll be sharing the director's seat with Shea. The idea of a directorial collaboration is something we've both contemplated for a while now but haven't found the right project until now. I am also at the beginning of pre-production on a script called Soda Machine by Michael Joseph Kospiah (writer of The Suicide Theory). I will be directing and co-producing Soda Machine, a disturbing psychosexual journey into fetishism, as a segment in Kospiah's horror anthology Root of All Evil. After that, sometime at the beginning of next year, I will move directly onto my first feature, Get Some! That will be my first directorial role on a self-written project since Pale Horse. It is a Tarantino/Ritchie-inspired neo-noir set during a 24-hour time period full of drug use, violence, and sex. Hence the title.
How would you describe yourself as a writer and director?
I've never actually been asked to describe myself as anything, let alone as a filmmaker. It's kind of interesting actually. How do I answer that? I guess I've evolved artistically since I began back in 2005 when I made my first short film without having any kind of formal training. I've become more conceptual since then. I started out making dark and disturbing surrealist pictures, of which only a few ever were released. And only one of them I was ever really proud of. It was an 11-minute short called Feb, and it was about an isolated paranoiac who lived his lonely life doing the exact same things every single day except for on his birthday, which was once every 4 years (29th February). It was nominated for best drama at the inaugural Byron Bay Film Festival. Feb was also one of the reasons I was allowed to attend university. Going to film school didn't teach me much I didn't already know but the few things I did learn were invaluable. I discovered the works of George Méliès, Leni Reifenstahl, and Michael Haneke there. Attending certain classes definitely made me a stronger storyteller. I also found a unique sense of dry humor that I try to imbue in all of my subsequent films. If a project cannot let go and stop taking itself too seriously, I often find it boring or trite. That's not to say I don't enjoy watching a good drama or thriller. Sometimes they surprise me. I don't always expect to watch films with humor. I do, however, prefer to have a distinct comedy in my own stuff.
Jean-Pierre Jeunet, Michel Gondry, Terry Gilliam, David Lynch, the Coen Brothers, and Tim Burton (mainly his stuff before Planet of the Apes) all influence my style. Of course, I don't have the same interests as any one of them and, so, I'm forced to make my own kinds of films. Every artist steals. It's what they do with what they've stolen that sets them apart. I like long takes, as does Martin Scorsese and Paul Thomas Anderson. But I don't do them for the same reasons. I don't even make the same kind of picture as Scorsese or Anderson. In fact, the closest I'd come to either of their works is Bringing Out the Dead and Punch Drunk Love. And even they are a stretch. I like stark coloring and have a similar eye to Nicolas Winding Refn but I like to make faster films. I don't tend to dwell. That's not to say I've never had a 2-minute shot where nothing much happens. Pale Horse is very introspective. It's also somewhat of a revision on the horror genre. I've found that particular imagery appears frequently in my films. This includes but is not limited to damage (accidental or otherwise) to the throat, someone staring at their reflection in a mirror, and contrasted characters. Duality is a major theme that keeps popping up. I've never focused on good versus evil but, instead, feature characters with varying shades of grey. Even my villains have the capacity to do good things. Often times, they are good guys forced to do unspeakable acts or people reacting to the trappings of the society in which they live.

Feeling lucky ?
Want to
search
any of my partnershops yourself
for more, better results ?

The links below
will take you
just there!!!

Find Russ Welsh
at the amazons ...

amazon.com

amazon.co.uk

amazon.de
Looking for imports ?
Find Russ Welsh here ...
Something naughty ?
(Must be over 18 to go there !)

A friend once compared me to Werner Herzog but I don't know. He's good but he's too serious. I enjoy using cartoonish violence, heavily stylizing action. In the case of Soda Machine, which is set in a perverse world, I'm playing MOST things with a strong sense of normalcy. But there is the odd occurrence that allows me to shake things up a bit. It keeps everything fresh and fun, and exciting. I've been talking with Kospiah in order to establish the best way to direct Soda Machine. I fell head-over-heels in love with the script and, as a writer, I understand how painful it is for a director to take something you worked on and change it. I once allowed someone to direct a zombie dark comedy I had written and that person, who I will not name, transformed the script into a thriller and subsequently ruined it. It is for this reason that I will never allow anyone to direct something I wrote single-handedly AND why I always get the writer's opinion on the material if it isn't mine.
Thanks for the interview!